Awesome guacamole is homemade guacamole, made from ripe avocados, tomatoes, onion, fresh cilantro lime juice… and a secret ingredient! This is the best guacamole I've ever had!
I have a new favorite fresh guacamole recipe to share!  
This awesome guacamole recipe comes from a local Mexican restaurant that serves delicious guacamole, prepared at your table.  I asked the waiter to share what ingredients they put in it, and the secret ingredient is pickled jalapeno juice.  Brilliant!!  
So here's my re-creation of that incredible awesome guacamole I can't stop craving….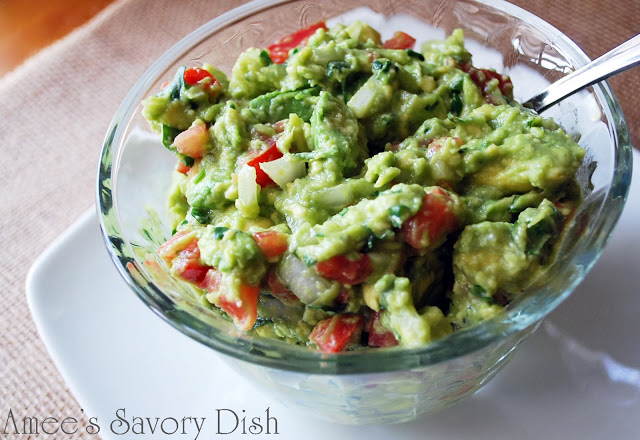 Awesome Guacamole

Ingredients:
3 ripe avocados
1/4 cup cilantro leaves, hard stems removed
1 small tomato, seeded and diced 
1/3 cup finely chopped onion (red or white)
juice of one small lime
1/2-1 tbsp pickled jalapeno juice
1/8 tsp garlic powder
1/4 tsp coarse sea salt
*optional for heat: 1/2 jalapeno, seeded and diced

Directions:
Slice avocados in half and remove pit.  Scoop out flesh and mash in a medium size bowl (a pastry blender works great for this) or in a mortar and pestle.  Work remaining ingredients in until well mixed and serve. 
You can serve the awesome guacamole as a dip, of course, but it's delicious in burritos or as a topping on grilled fish.
Want more awesome guacamole recipes to try? Check out all of these delicious homemade guacamole recipes from other great food bloggers!