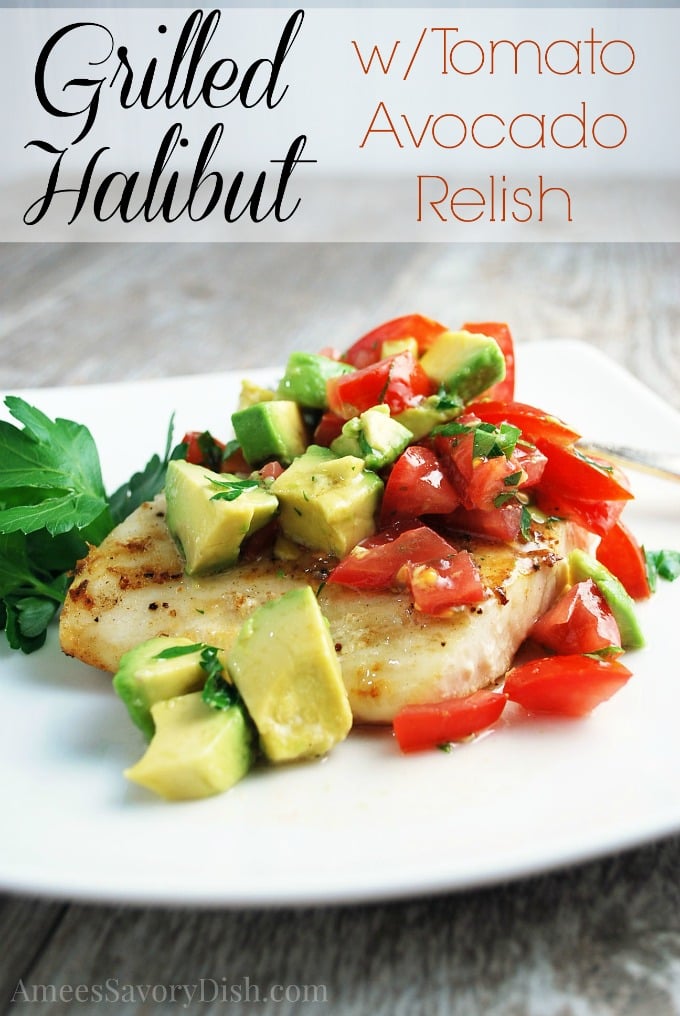 A simple recipe for grilled halibut topped with a fresh avocado tomato relish made with olive oil, white wine vinegar, fresh lemon juice, and spices. *This post is sponsored by Sprouts Farmers Market Inc. All opinions are my own.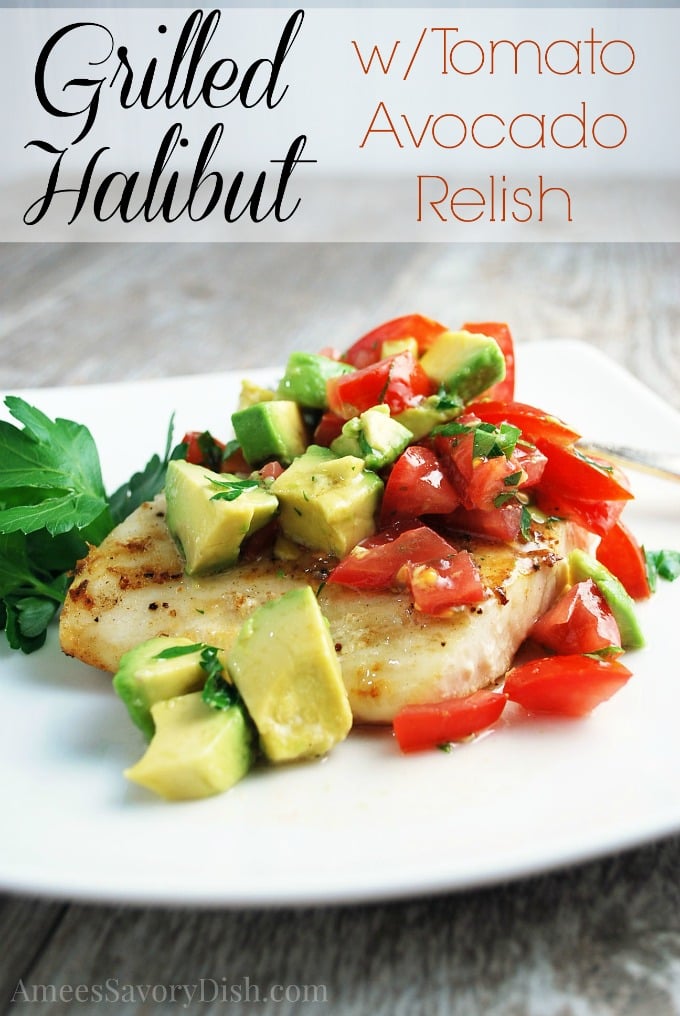 February is American Heart Month and I wanted to share some heart-healthy tips and a nutritious recipe to raise awareness for a great cause. Heart disease is the leading cause of death in men and women in the US, with as many as 1 in 4 deaths each year. As a healthy living advocate, I'm passionate about helping to make a difference in improving the quality in the lives of others, whether it's through my blog or as a fitness and nutrition coach. A few of my personal tips for overall wellness:
Eat less and move more. It sounds simple, but a large percentage of Americans eat unbalanced meals and large portions of food. Use your hand as a simple guide for portion control. For women: Eat a palm-sized portion of lean protein (about 4 oz of lean beef, chicken, fish, eggs, etc), a cupped handful of nutrient-dense vegetables, a fist-size portion of whole-grain starchy carbohydrates (potatoes, brown rice, quinoa, etc) and a thumb-size portion of healthy fat. For men: Simple, just double the portion for women
Eat slowly and stop eating BEFORE you are full. It takes 20 minutes for our brain to get the signal that we have had enough to eat, so stop eating when you feel about 80% full
Exercise for at least 30 minutes a day 5-7 days a week. Just walking at a brisk pace is an excellent way to increase your heart rate and burn some calories, you don't have to do extreme workouts to get your health in check. It's also a great stress reliever. Be active doing something that you enjoy and you will be much more likely to stick with it.
Cook with fresh herbs and spices to flavor food to help reduce your intake of sodium
Reduce your intake of sugar and processed foods. Try and eat as many whole foods as possible and enjoy indulgences in moderation
Eat a balance of fats (monounsaturated, polyunsaturated, and saturated), getting about ⅓ of your intake from each. Avocados are a great source of heart-healthy monounsaturated fat, so that's why I chose them for this recipe. Also, they're really delicious! 😉
Now on to this tasty heart-healthy Grilled Halibut with Tomato Avocado Relish recipe! I used a wild-caught halibut for this recipe. Food sourcing is really important to me. I learned so much about seafood sourcing on my trip to the gulf coast last year.
It's great having stores like Sprouts Farmers Market to shop for affordable, nutritious food. They have a great selection of wild-caught and farm-raised seafood and just about anything else on your grocery shopping list. Sprouts offers consumers a complete healthy grocery store experience featuring fresh produce, bulk foods, dairy, meat and seafood, bakery, vitamins and supplements, and more.
Sprouts' "Healthy Living for Less" approach and knowledgeable service gives customers a unique shopping experience. Hopefully, you have a sprouts store near you and if not, you can visit their website for a possible location coming soon! You can also find them on Instagram and Twitter @sproutsfm.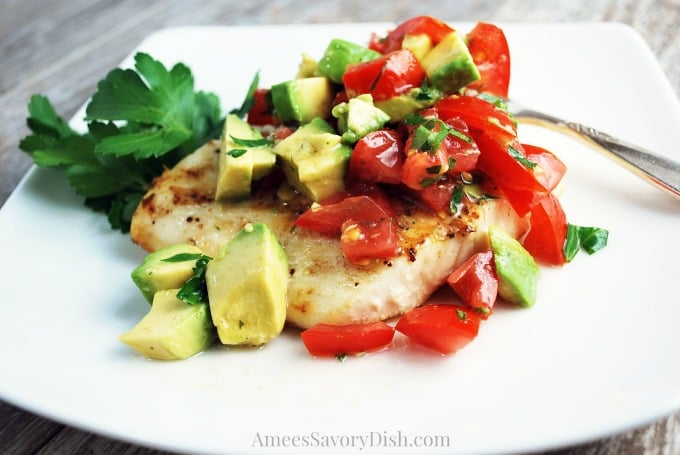 What is your favorite heart-healthy recipe? Share in the comments below.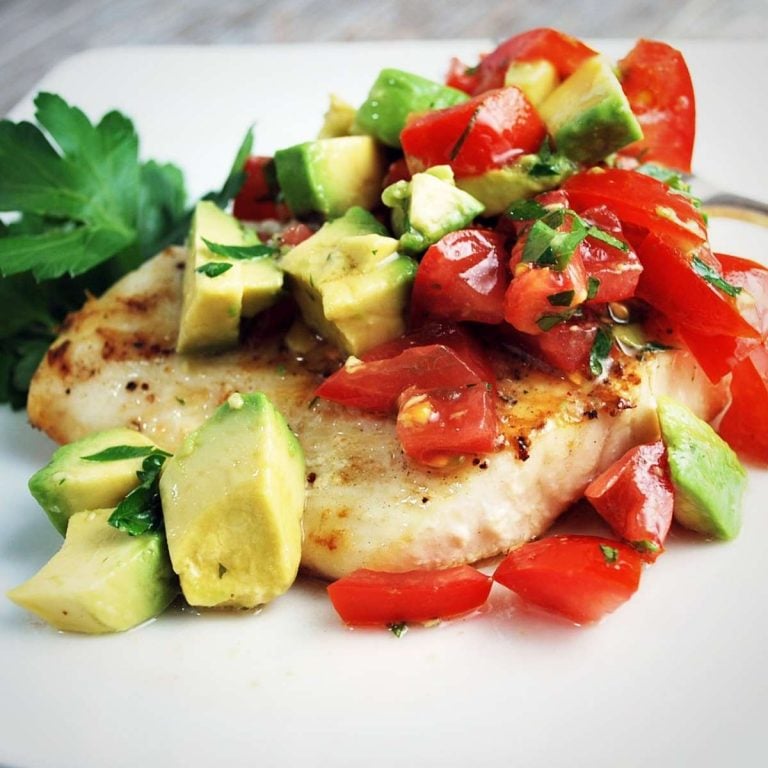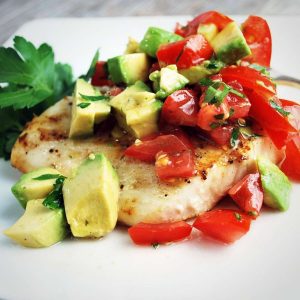 Grilled Halibut with Tomato Avocado Relish
A simple recipe for grilled halibut topped with a fresh avocado tomato relish made with olive oil, white wine vinegar, fresh lemon juice, and spices. 
Print
Pin
Rate
Ingredients
10

oz

Wild-Caught Halibut filets

(about 2- 5 oz filets)

3

tablespoon

olive oil

2

tablespoon

fresh lemon juice

1

teaspoon

white wine vinegar

1

cup

chopped fresh tomatoes

1

avocado

peeled, seeded and diced

1

tablespoon

fresh parsley

finely chopped

1

teaspoon

pepper

¼

teaspoon

garlic salt
Instructions
Preheat grill to medium-high heat

Combine 2 tablespoon olive oil, 1 tablespoon lemon juice, vinegar, tomatoes, avocado, parsley, ½ teaspoon of pepper and garlic salt in a small bowl

Toss to coat and set relish aside

Stir together remaining olive oil and tablespoon lemon juice and brush halibut filets to coat

Season with remaining ½ teaspoon pepper and dash salt

Grill 6-8 minutes, flip and grill for 5 more minutes until fish flakes with a fork

Top with relish and serve immediately
Nutrition
Calories:
496
kcal
|
Carbohydrates:
13
g
|
Protein:
29
g
|
Fat:
38
g
|
Saturated Fat:
5
g
|
Cholesterol:
69
mg
|
Sodium:
400
mg
|
Potassium:
1281
mg
|
Fiber:
8
g
|
Sugar:
3
g
|
Vitamin A:
1022
IU
|
Vitamin C:
29
mg
|
Calcium:
29
mg
|
Iron:
1
mg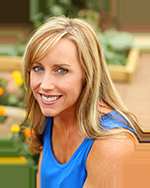 Latest posts by Amee Livingston
(see all)