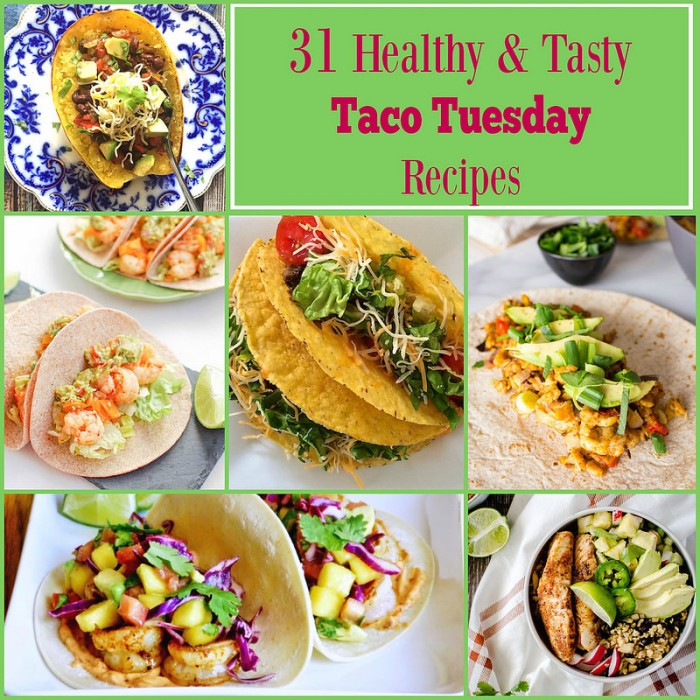 Happy Taco Tuesday everyone! We're super excited to share this dietitian-approved roundup of healthy and tasty taco recipes here at Amee's Savory Dish.
Since we're all about gathering families 'round the dinner table for simple, satisfying meals that are also brimming with great nutrition, we thought this sampling of 30-plus tacos would hit the spot.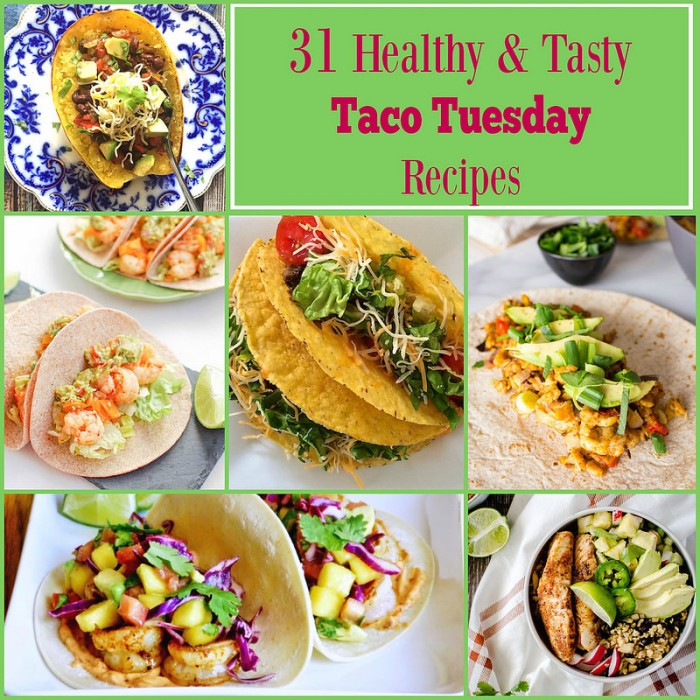 Tacos come in many shapes and sizes. They're also really versatile. This is always a plus, especially for families whose members may have different flavor, texture, and ingredient preferences. Looking for something gluten-free? Go for corn tortillas versus wheat.
Eating more meatless meals lately? Fillings like beans, lentils, and tofu should have you covered. Or maybe your kids are like ours, and traditional ground beef tacos are still a favorite.
No matter how you slice 'em, there's usually something for everyone when Tacos are served. Oh, and let's not forget about the toppings! Avocado, tomato, cheese, lettuce, plain Greek yogurt, and cilantro all boost the fun and nutritional GPA of tacos even more.
Tasty Taco Recipes
Beef Tacos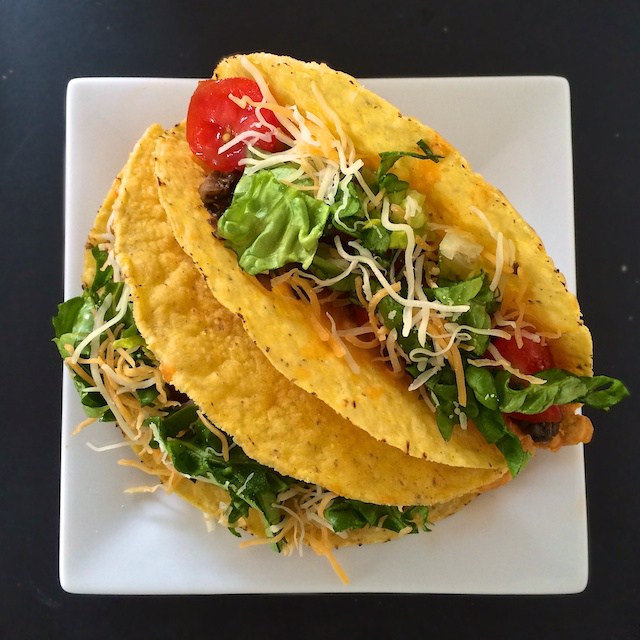 Sloppy Joe Tacos by Deanna from Teaspoon of Spice
Chipotle Beef Tacos with Watermelon Salsa by Jessica from Nutritioulicious
Slow Cooker Beef and Bean Tacos by Ann from My Menu Pal
Guinness Braised Short Rib Tacos by Abby from Abby Langer Nutrition
Shrimp Tacos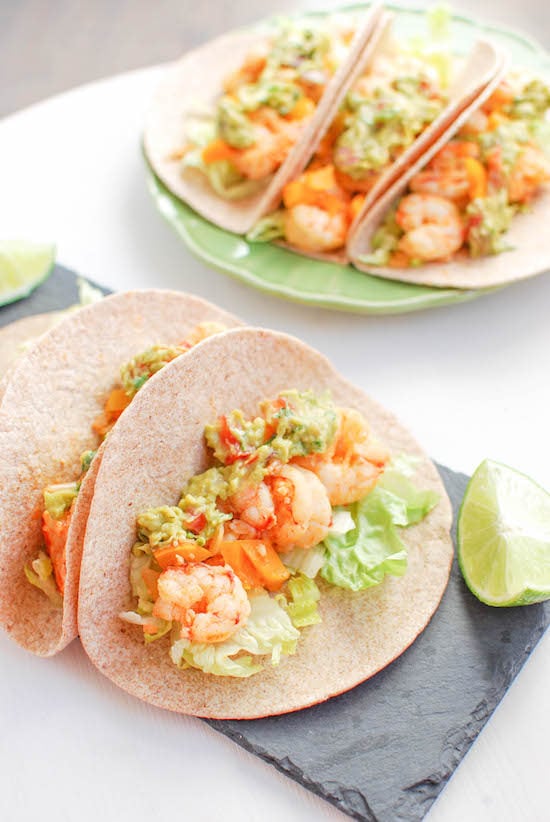 Spicy Shrimp Tacos by Lindsay from the Lean Green Bean
Shrimp Tacos with Black Bean Salsa by Liz from Liz's Healthy Table
Fish Tacos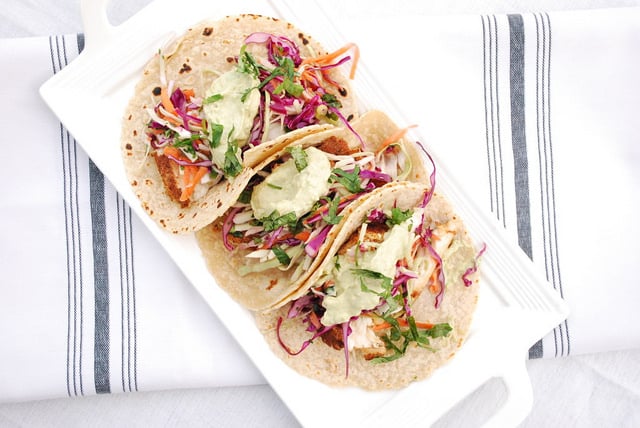 Fish Tacos with Avocado Crema and Citrus Slaw by McKenzie and Lisa from Nourish RDs
Easy BBQ Salmon & Kale Tacos by Marisa from Marisa Moore Nutrition
Crawfish Boil Tacos by Meme from Living Well Kitchen
Fish Tacos by Lauren from Eating with a Purpose
Chipotle Fish Tacos by Bethany from Kansas City Dietitian
Grilled Pevre Fish Tacos by Sarah from Family. Food. Fiesta.
Grilled Mahi Mahi Tacos with Chipotle Cream Sauce from Amee's Savory Dish
Vegetarian Tacos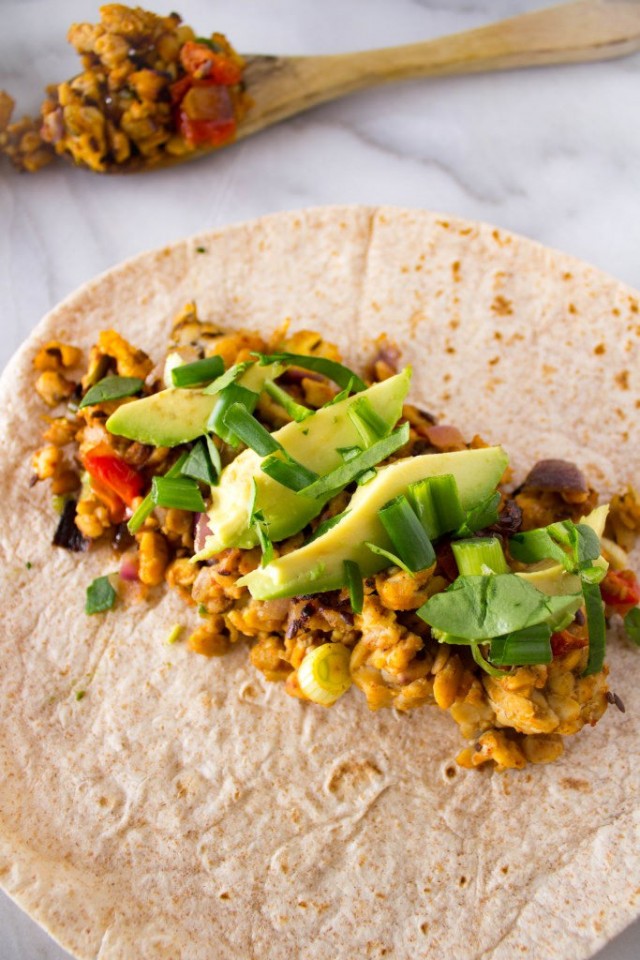 Vegan Tempeh Taco Filling by Steph from the Grateful Grazer
Fresh Summer Vegetarian Tacos by Amanda from the Nutritionist Reviews
Lentil Tacos by Cara from Words to Eat By
Grilled Vegetable Tacos by Amber from Homemade Nutrition
Collard Green Tacos with Tomatillo Salad and Creme Fraiche by Katie from Mom's Kitchen Handbook
Black Bean and Mushroom Tacos by Sara from Sara Haas, RN
Avocado & Lentil Vegan Tacos by Tammy and Lyssie from the Nutrition Twins
Zucchini Black Bean Tacos with Avocado Crema by Kara from the Foodie Dietitian
Huevos Rancheros Tacos by Ann from My Menu Pal
Chicken and Pork Tacos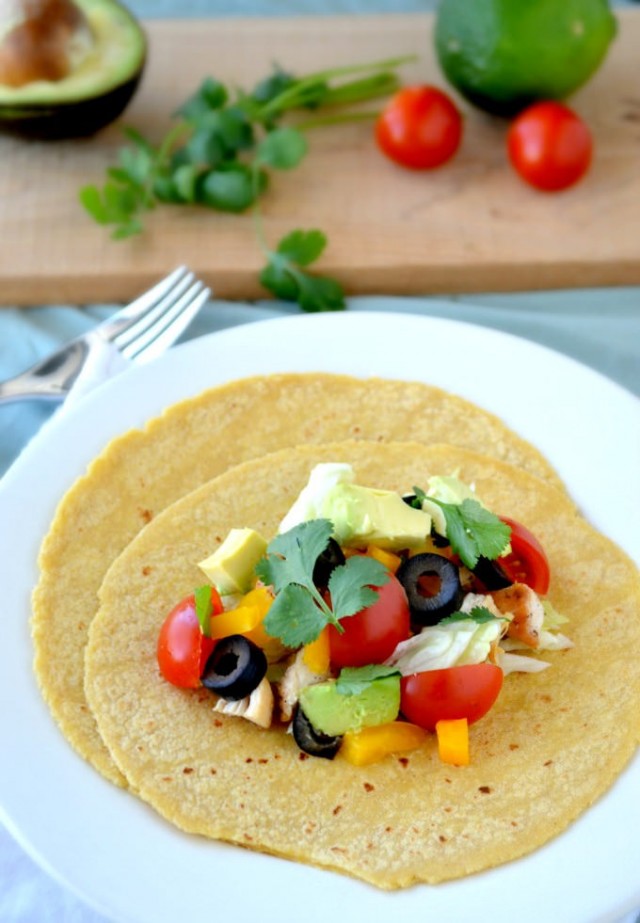 Chicken Tacos by Meri from Real Living Nutrition
Quick & Easy Pork Tacos with Cucumber Salad by Sarah from Family. Food. Fiesta.
Tacos with a Twist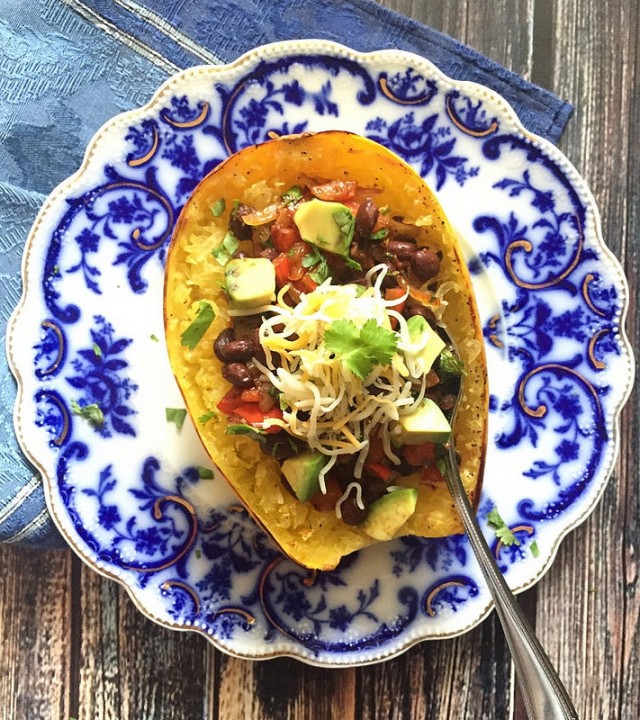 Taco-Topped Spaghetti Squash Bowl by Liz from Liz's Healthy Table
Fish Taco Bowls with Plantain Rice and Pineapple Salsa by Whitney from Sweet Cayenne (in a bowl)
What's your favorite Taco Tuesday recipe? We'd love to add YOUR recipe to this delicious list.
Liz Weiss, MS, RDN, and Janice Newell Bissex, MS, RDN are registered dietitian nutritionists and The Meal Makeover Moms, and together, they're on a mission to help busy families eat better. Liz and Janice write the award-winning food blog, Meal Makeover Moms' Kitchen, host Cooking with the Moms podcast, and they just released their newest book: THE SMOOTHIE BOWL COLORING COOKBOOK: Healthy Recipes and Playful Mandala Food Designs for Kids and Adults.
*Update: Liz Weiss, MS, RDN can be found now at her new website, Liz's Healthy Table.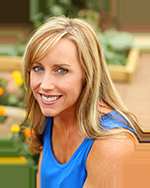 Latest posts by Amee Livingston
(see all)