This breakfast casserole is the bomb!!  It is a great way to use up leftover baked potatoes, since you use chilled baked potatoes in this dish.  I incorporated homemade Hollandaise sauce in the casserole for incredible flavor.  This is definitely not your mama's egg casserole dish! 😉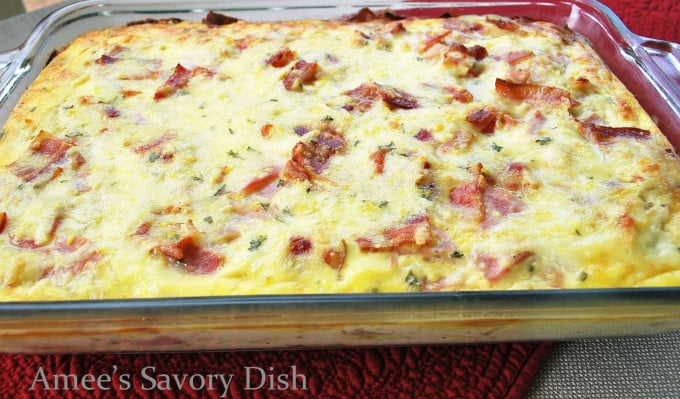 Slice a few pieces off the end of the potato and remove the peel. Slice the potatoes in thin pieces, about 1/4″ width and set aside.  Then whisk the milk and egg mixture together until blended.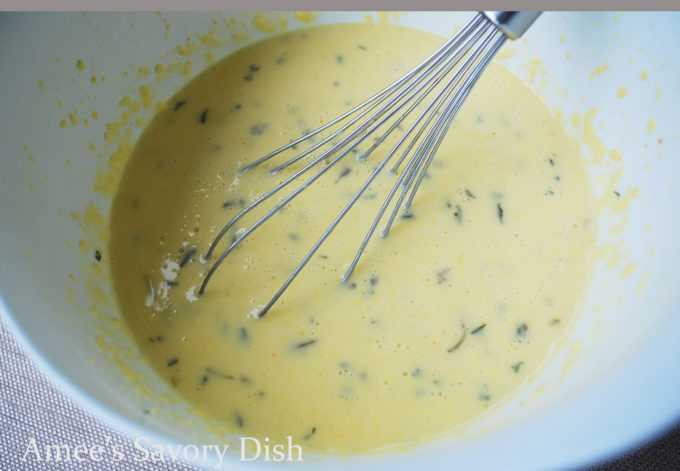 Now make the Hollandaise.  Homemade Hollandaise sauce gives this recipe great flavor.  Be sure and whisk constantly when preparing.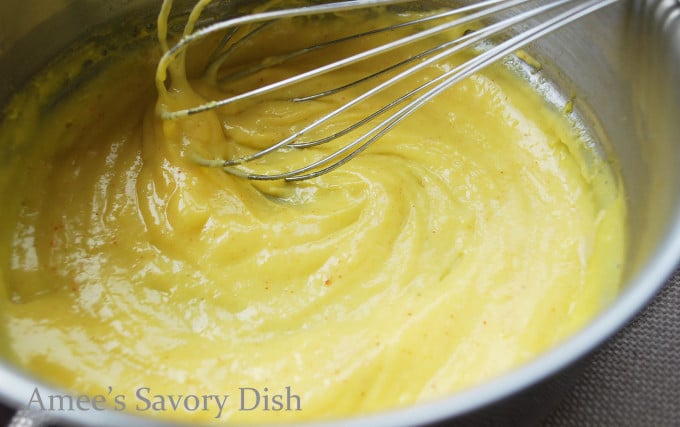 Cool the Hollandaise and add into the milk mixture.  Place half of the potatoes in the bottom of your baking dish.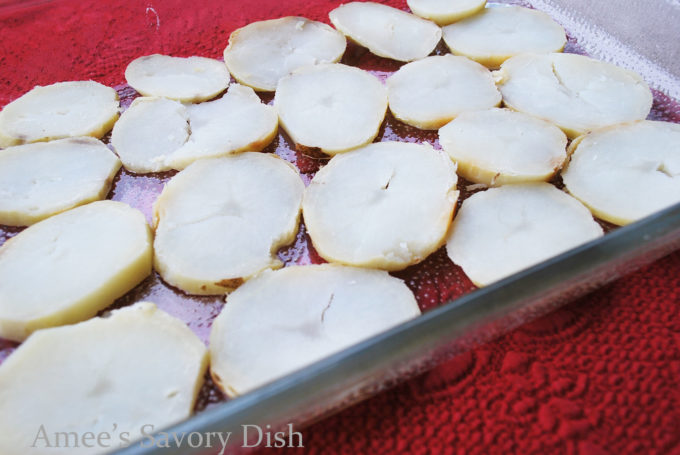 Top with ham, bacon and cheese.  Pour half of the milk mixture on top.  Repeat with one more layer and pour over with remaining liquid.   Cover with foil and chill overnight.  See full recipe below.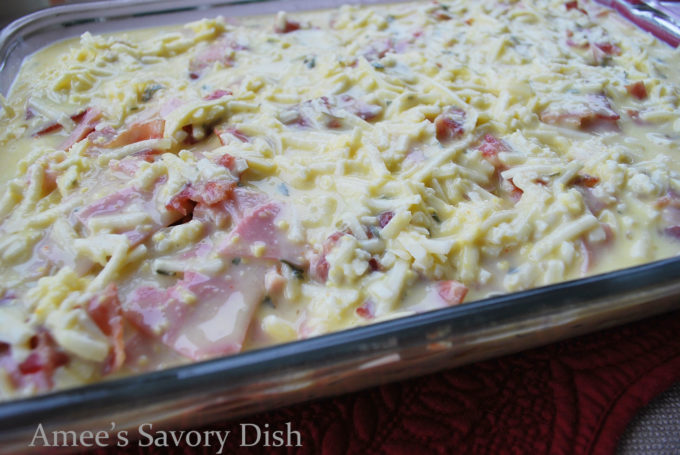 Loaded Potato Breakfast Casserole
Ingredients
For the casserole:
8 whole eggs
1 lb thinly sliced cooked ham, chopped into bite-size pieces
8-10 slices cooked bacon, chopped into bite-size pieces
8 ounces sharp white cheddar cheese, freshly grated
4 large Idaho potatoes, baked, cooled, wrapped in foil and chilled overnight
¼ tsp garlic powder
¼ tsp onion powder
¼ tsp paprika
1 tbsp flat-leaf parsley, finely chopped
1 cup whole milk
½ cup half & half
1 recipe for Hollandaise sauce
*optional ¼ cup finely chopped chives
For the Hollandaise:
4 egg yolks, room temp
2 tbsp freshly squeezed lemon juice
1 tsp dijon mustard
1 stick butter
dash cayenne pepper
Instructions
To bake the potatoes:
Wash potatoes, pat dry and rub skins with olive oil
Bake at 425 degrees F for 40-50 minutes, depending on the size of your spud
Let potatoes cool completely, then wrap in foil and refrigerate overnight (just make extra for dinner the night before you assemble your casserole)
For the casserole:
Grease a 9x13 baking dish and set aside
Slice baked potatoes into ¼" slices and remove the peel, they should peel easily after being chilled overnight
Whisk the milk, half & half, parsley, onion powder, garlic powder, paprika and whole eggs in a large bowl until mixed, now prepare the Hollandaise sauce
Whisk egg yolks and lemon juice briskly in a stainless steel bowl until thickened and doubled in volume
Place yolk mixture in a double boiler over simmering water and continue to whisk rapidly until mixture thickens
Slowly drizzle in melted butter while continuing to whisk until sauce is doubled in volume
Remove from heat and stir in dijon and cayenne pepper
Add Hollandaise to milk mixture and whisk well until combined
Place a layer of potatoes in the bottom of your greased baking dish, then add a layer of chopped ham, bacon, cheese and chives, if using
Pour half of the milk mixture on top of first layer
Repeat with one more layer and pour remaining milk mixture on top
Cover with foil and refrigerate overnight
Bake at 350 degrees F, uncovered, for 45-50 minutes until edges are golden brown and casserole is set
Allow casserole to sit for for a few minutes before slicing and serving