Slow cooker vegetarian chili is the perfect weeknight dinner, because it's so incredibly easy to make. The perfect meatless meal recipe for busy days.
This vegetarian chili is an easy dump and go meal, with the exception of a little saute prep for some of the veggies.  Don't let the baked beans scare you away from making this recipe! It sounds weird, I know, but it's good in this dish…I promise. 🙂  Go for an organic brand that doesn't use high fructose corn syrup (Whole Foods and Trader Joe's should have good options).  
This chili has great flavor without the meat, but feel free to add in 1 lb of cooked grass fed ground beef for extra protein.  Serve over brown rice, if desired, along with some baked veggie chips.
Slow cooker vegetarian chili is good and easy comfort food.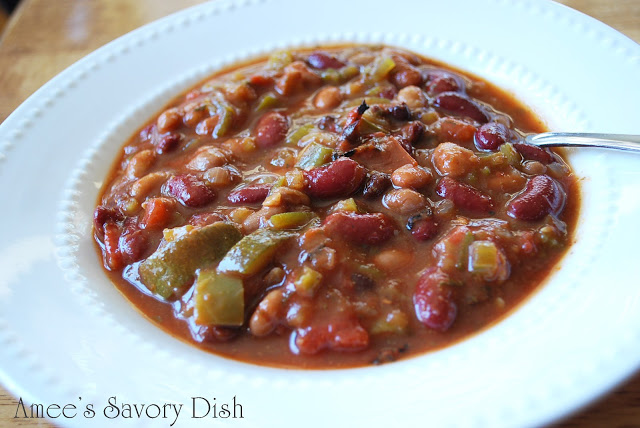 Slow Cooker Vegetarian Chili

Ingredients:
1 (15oz) can black beans, undrained
2 (15oz) cans kidney beans, drained and rinsed
1 (15oz) can great northern beans, drained and rinsed
1 (16oz) can vegetarian baked beans (without HFCS)
2 (14 1/2oz) cans Muir Glen Fire Roasted crushed tomatoes
1 cup frozen white corn, thawed
1 tbsp olive oil
1 sweet onion, chopped
1 green pepper, chopped
2 zucchini, chopped
2 stalks celery, chopped
2 garlic cloves, minced
1 (4oz) can diced chilies
1 jalapeno, chopped
1 1/2 tbsp chili powder
2 tsp cumin
1 tbsp dried parsley
1 tbsp dried basil
1/4 cup Franks red hot sauce
sea salt and pepper to taste

Directions:
Saute onion, bell pepper, zucchini, celery, garlic and jalapeno in olive oil over medium heat for about 5 minutes or until soft.  Combine with all other ingredients into a large slow cooker and cook for about 6 hours on low.  Serve over brown rice, if desired.