We southerners sure love our casseroles!  I don't know what's more to love, having less dishes to clean or having all the food groups in one pan.  Either way, casseroles are convenient and simple and I love them.  This Almond Chicken Casserole recipe came from "The Blue Willow Inn Bible of Southern Cooking".  It contains over 600 recipes from generations of southerners.  I am here to tell you, this book is a fabulous compilation of delicious dishes, most very indulgent (the southern way, of course).  The Blue Willow Inn is located in Social Circle, GA, just south of Atlanta.  It opened in January of 1991 in a renovated Greek revival mansion.
The food is delicious, southern style cuisine.  I promise you will not leave hungry!  The food has been consistently amazing and keeps customers coming back year after year.
Nancy Morris of Covington, GA submitted this recipe to The Blue Willow Inn's recipe contest in 2004 in the meats and main dishes category.  Her Almond Chicken Casserole won first place and let me tell you, it's well deserved!!!  I made a few substitutions to the original recipe to make it healthier, but I didn't take away from the amazing end result.  Enjoy~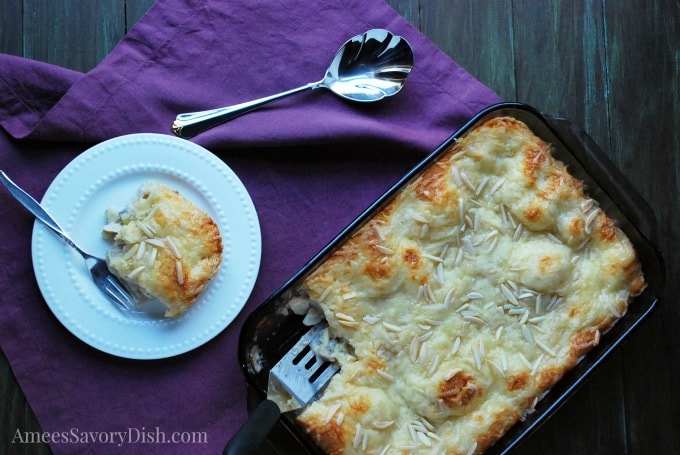 Almond Chicken Casserole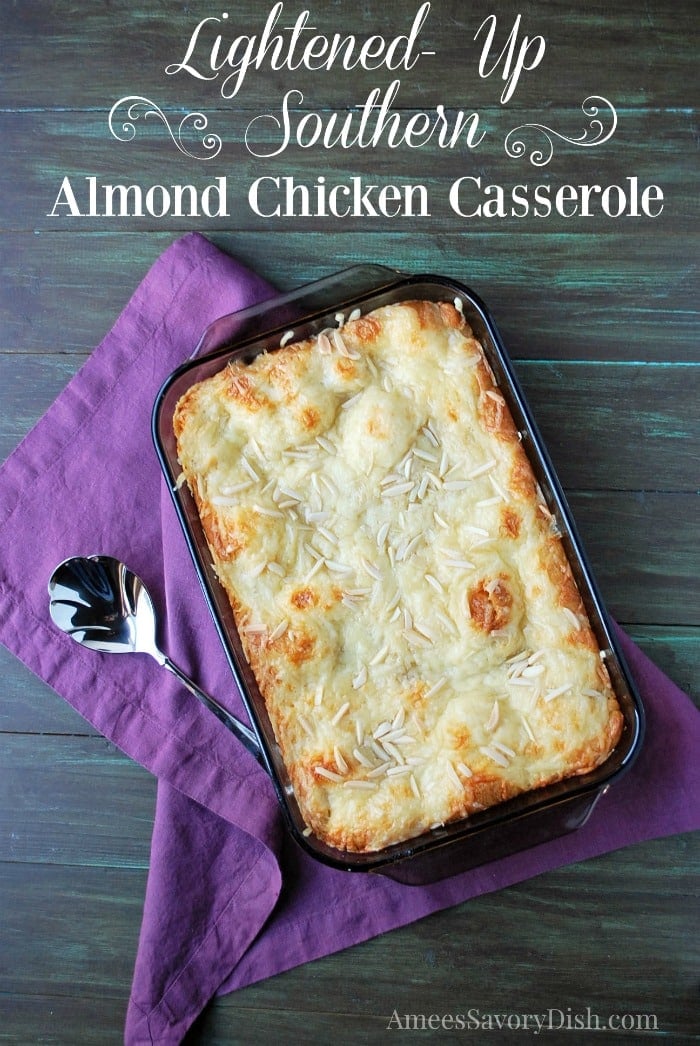 The "Bible of Southern Cooking"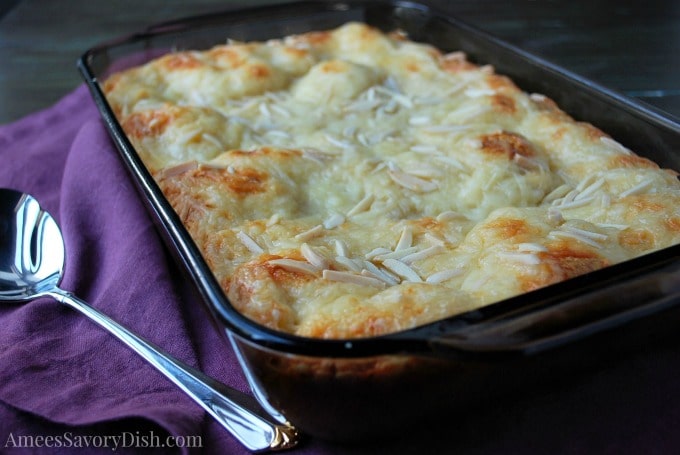 Ingredients:
1/2 cup chopped onion
1/2 cup chopped celery
1 (8-ounce) can sliced water chesnuts, drained
1 (10 1/2 ounce) can condensed cream of mushroom soup *I used Pacific foods organic condensed cream of mushroom soup (the flavor is great and it comes in a small carton, instead of a can)
2/3 cup mayonnaise *a low-fat, olive oil based mayo is recommended
2 cups chopped cooked boneless chicken breast
*you can use low-fat sour cream for half the mayo.  I have made it both ways and like the sour cream/mayo blend the best
Topping:
1 (8 ounce) can crescent rolls *Trader Joe's makes a healthier crescent roll made with unbleached flour and without hydrogenated fats
2/3 cup shredded swiss cheese *low-fat to lighten-up
1/2 cup slivered almonds
3 tbsp organic butter *can use smart balance butter sticks
Here are some of the items that I loved for this dish that are healthier options:
Directions:
Preheat the oven to 375 degrees.  Put the chopped onion and celery into a bowl and microwave on high for 2 minutes.  In a medium-size saucepan over medium heat, combine the onion, celery, water chesnuts, mushroom soup and mayonnaise.  Cook this mixture until bubbly all the way through.  This will blend the flavors.  Add the chicken and pour into a 9×13 inch casserole dish lightly sprayed with cooking spray.  For the topping: unfold the crescent rolls and lay on top of the casserole.  Sprinkle with the shredded swiss and then with the almonds.  Melt the butter and drizzle on top.  Bake for 25 minutes.  Makes 10-12 servings.
Round out this Almond Chicken Casserole meal with a salad and steamed vegetables.