*This Balsamic Glazed Chicken Arugula Pizza recipe is sponsored by Table5 Pizza.  All opinions are my own.  My husband said that this was the best pizza that he's ever eaten.  True story.

Gourmet pizza is definitely worth the effort to make, but what if you could whip it up in half the time without sacrificing quality and taste?  I've partnered with Table5 Pizza to show you how to make a simple gourmet recipe with healthy ingredients using their deliciously different cornmeal crust pizza.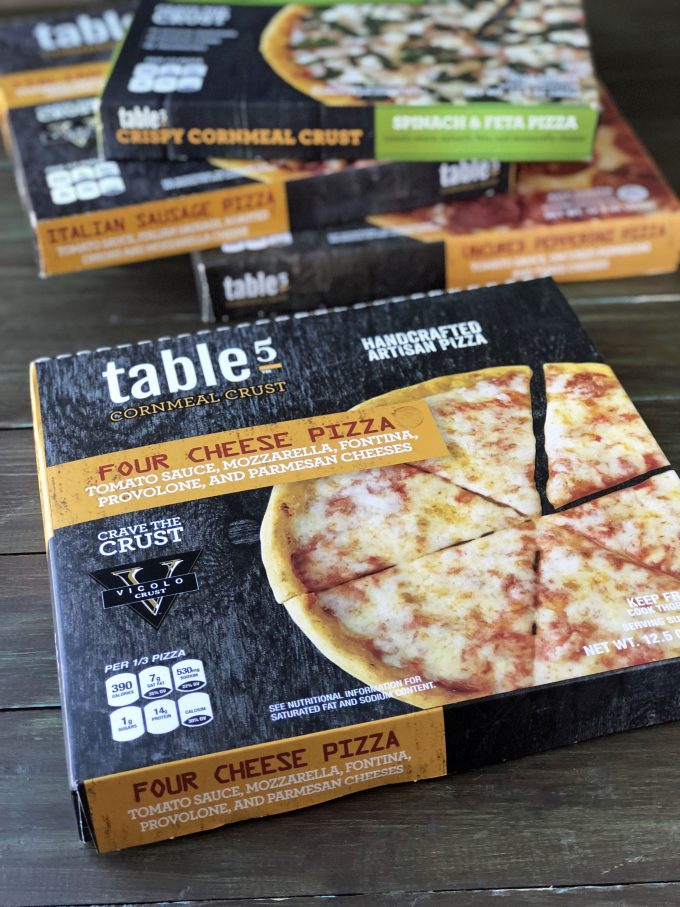 What sets Table5 frozen artisanal pizzas apart from the rest?  They start with a cornmeal crust and prepare them in small batches (in a kitchen, not a factory) using simple, top-quality ingredients.  Table5 pizza company was born out of a partnership between Table 5 restaurant and Vicolo® cornmeal crust pizzas in the San Francisco Bay area.  You can read more about Table5 and where to order your own frozen pies by checking out their website.
Table5 has a great selection of pizzas!  Spinach and Feta, Italian Sausage with Roasted Onions, Goat Cheese with herbs, Grilled Chicken, and Uncured Pepperoni are some of their tasty options.  It's not your typical frozen pizza.  It really tastes like it's been whipped up from scratch.
For my recipe creation, I used the Four Cheese Pizza made with a blend of artisan cheeses.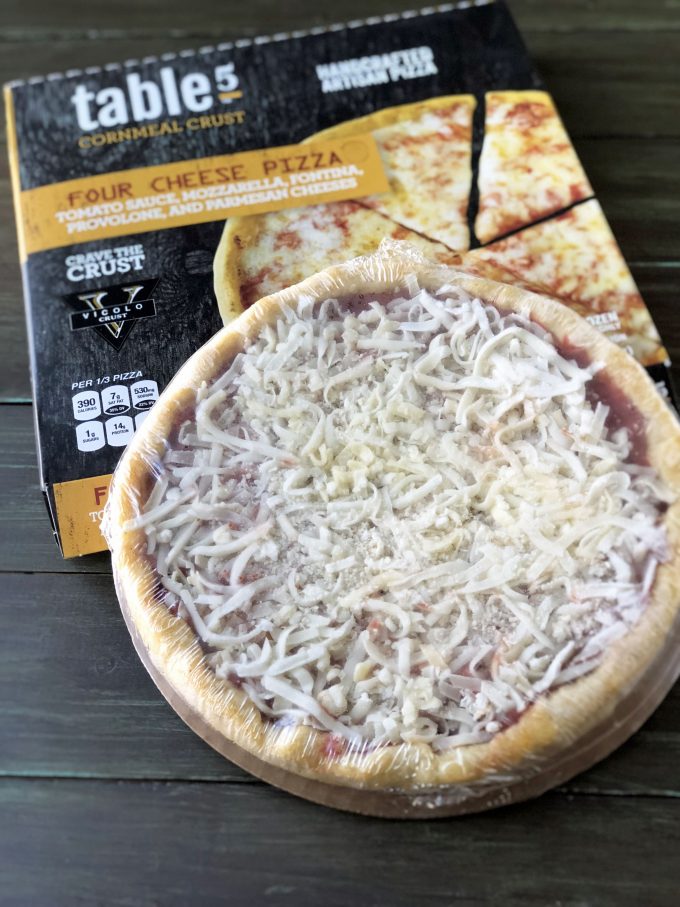 When brainstorming my toppings for this post, I wanted to include an extra protein source, leafy greens and a few flavor-enhancing ingredients that would make the pizza sing.
Balsamic Glazed Chicken Arugula Pizza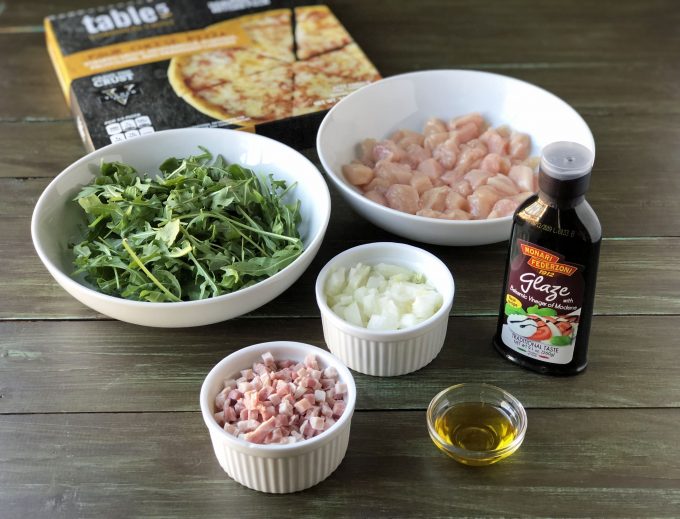 I love greens on pizza, especially arugula with it's spicy kick and great texture.  If you've never tried it, you might be surprised at how delicious it is, even my kids love this combo!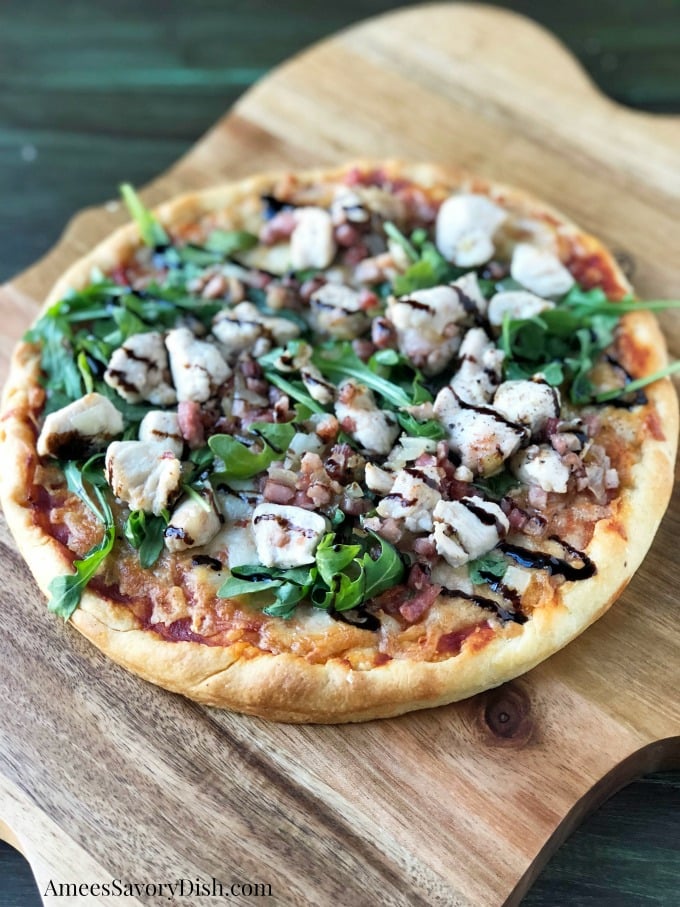 Want a bite?!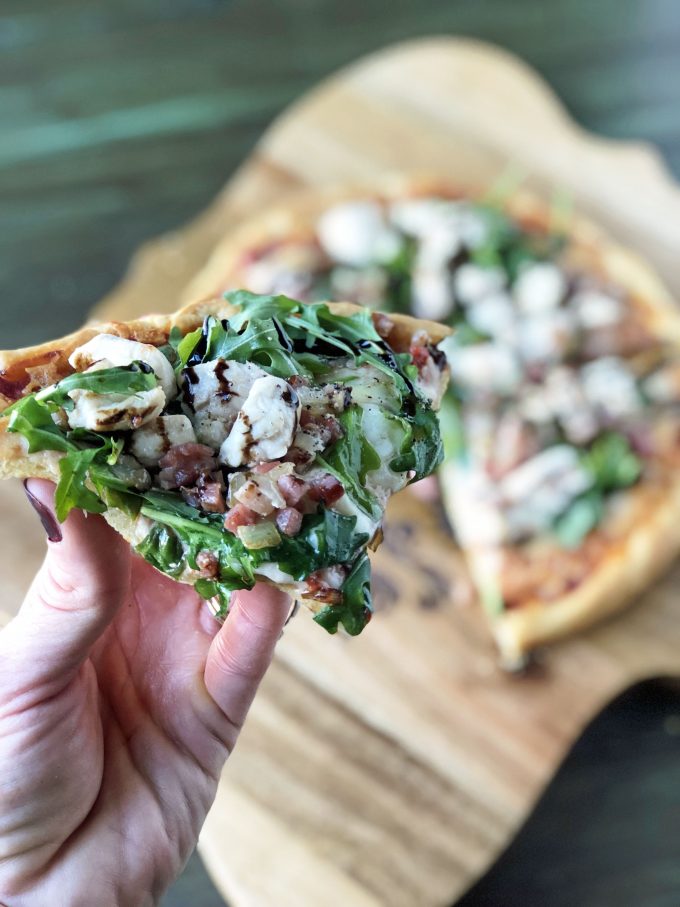 Balsamic Glazed Chicken Arugula Pizza
Ingredients
2

Table5 Four Cheese Pizzas

8

oz

boneless chicken breast

chopped

1/2

cup

onion

diced

3

oz

pancetta

finely diced

1

cup

fresh arugula

1

tbsp

extra virgin olive oil

balsamic glaze

for drizzling

salt and fresh cracked pepper

to taste
Instructions
Preheat oven to 425 degrees F. While oven is heating, chop the chicken breasts into small bite-size pieces. Finely dice the onion and pancetta. Heat the olive oil in a sauté pan over medium heat and add chicken. Cook for 3-4 minutes, stirring often. Add onions and pancetta to pan and cook for another 7 minutes or until onions are soft and chicken is done. Set aside and cover to keep warm. Cook pizza for 12-15 minutes then top with arugula, chicken mixture, salt and pepper and drizzle with balsamic glaze. Slice and enjoy!