This Simple Crockpot Italian Chicken is a quick and easy clean-eating crockpot recipe that the whole family will love.  Let your slow cooker do all the work, while you go about your day!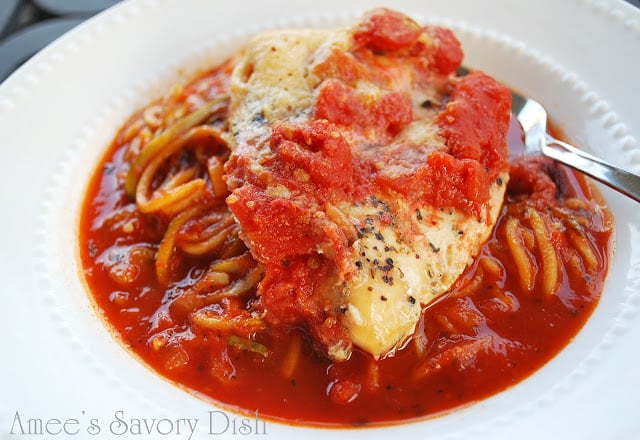 Simple Crockpot Italian Chicken

Ingredients:
6-8 boneless chicken breasts
2 tbsp extra virgin olive oil
2 garlic cloves, mashed
1 1/2 cups chicken broth (reduce to 1/2 cup if not using crockpot meat rack*see below)
1 tbsp Italian seasoning
sea salt and pepper to taste
1 (15oz) carton diced tomatoes, drained
1 1/2 cups freshly shredded parmesan cheese

*I highly recommend using a crockpot meat rack when preparing this recipe.  They are very inexpensive (see below for ordering information) and the texture of the meat is better when it's not sitting in a lot of liquid while cooking.  This can cause the muscle fibers to be too broken down and creating a texture that's too soft.  

Directions:
Place chicken breasts on the cooking rack and pour the chicken broth in the bottom of the slow cooker (it should come to just the top of the rack).  Add garlic cloves to the chicken broth.  Drizzle chicken with olive oil and season with Italian seasoning, sea salt and pepper.  Pour drained, diced tomatoes on top and then sprinkle with parmesan cheese.  Cook on low for 4-5 hours.  Serve over top Zucchini Spaghetti.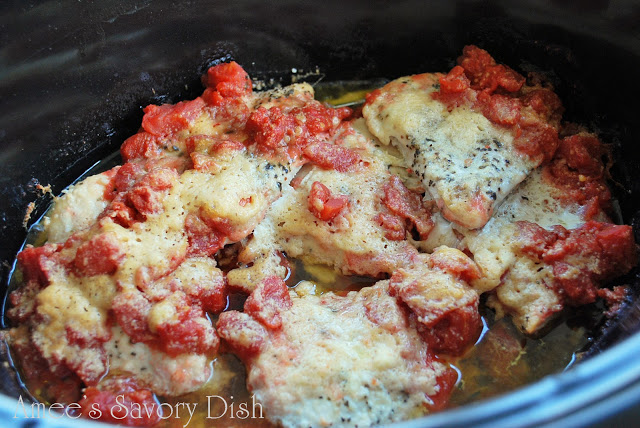 Don't forget to reserve that delicious, rich broth for another recipe.  Pour the liquid through a strainer and refrigerate or freeze until ready to use.