Paleo coleslaw is just as delicious as traditional mayo-based coleslaw, but it uses homemade paleo-friendly mayonnaise. This paleo coleslaw recipe is loaded with flavor, too!
This slaw tastes just like our favorite regular coleslaw, but now we have a new and improved Paleo version to enjoy. The secret to paleo coleslaw is using homemade Paleo-diet friendly mayo, instead of store-bought mayo. It's better for you, a clean-eating recipe and tastes fantastic!
I also love adding diced dill pickles to my coleslaw for a great flavor enhancer. Make sure your pickles don't come with a lot of preservatives and hidden sugars, though. Homemade pickles are best, but you can buy the ones in the refrigerator section of the grocery store (Boar's Head Dill Pickles are a personal favorite).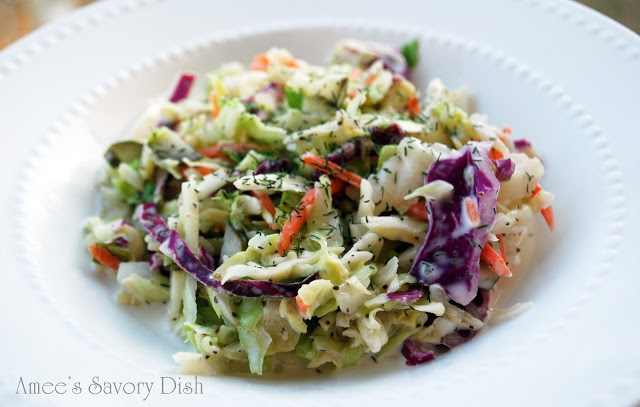 Paleo Coleslaw

Ingredients:
1/2 cup Paleo mayonnaise 
1/4 cup white vinegar 
3 tbsp raw organic white agave nectar (I use a blend of white and blue)
1 tsp celery seed 
1/2 tsp celery salt 
2 tbsp pickle juice (from the jar) 
1 large kosher dill pickle, finely diced 
4 1/2 cups shredded slaw mix (I use a blend of purple and green cabbage and carrots)
*Optional: 1 tbsp finely chopped fresh or dried dill weed 
sea salt and pepper to taste

Directions:
Mix first six ingredients in a large bowl with a wire whisk until well blended. Stir in diced pickle and slaw mix and mix well. Season to taste with salt and pepper and garnish with fresh dill. This slaw needs to marinate at least an hour in the refrigerator before serving for best flavor.
This paleo coleslaw is the perfect side dish to go with barbecue shrimp, fried chicken, ribs, or in fish tacos.