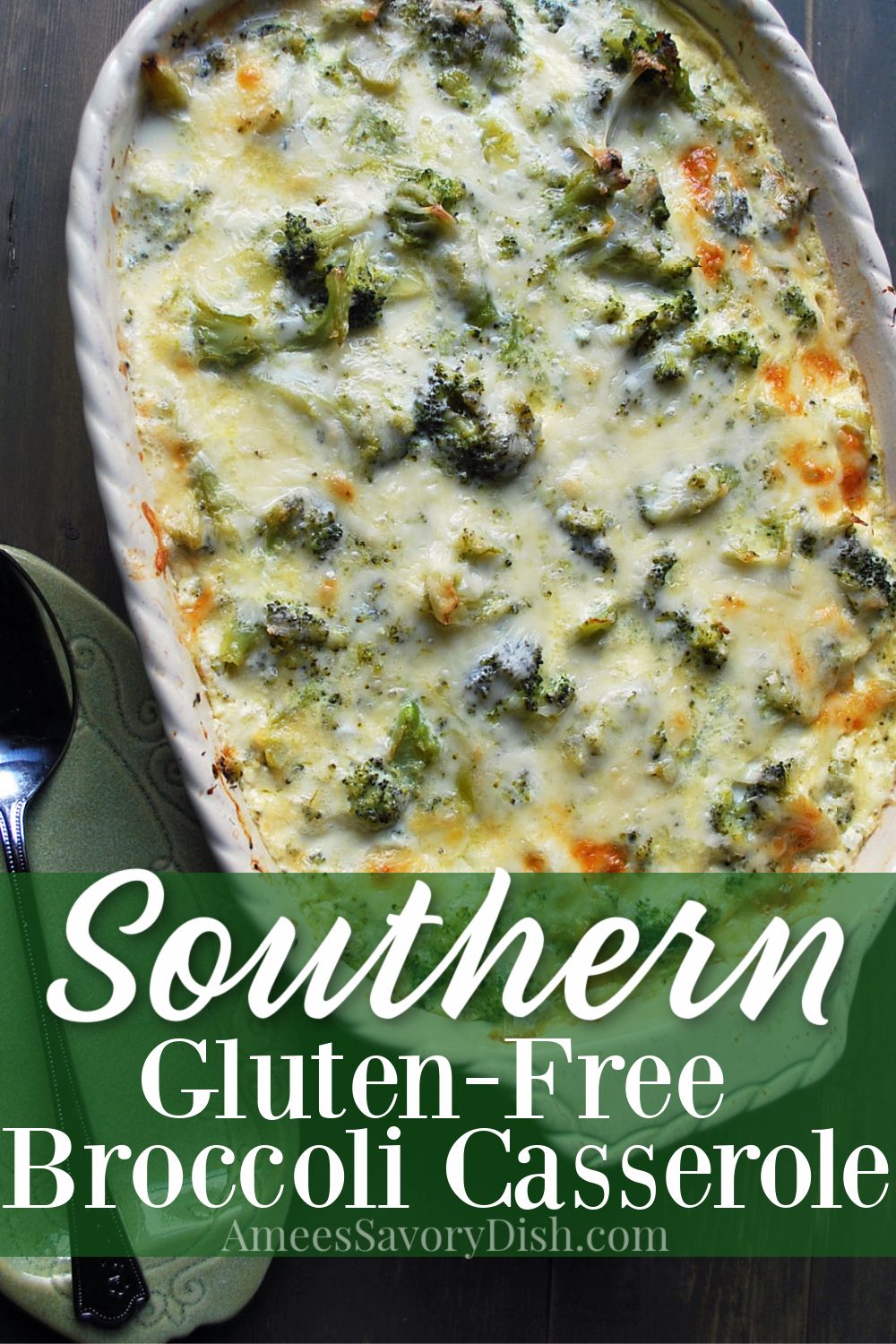 This Gluten-Free Broccoli Casserole is a delicious and easy broccoli casserole recipe made with fresh broccoli florets, white cheddar cheese, eggs, sour cream, and butter. It's a perfect flavorful side dish for any meal!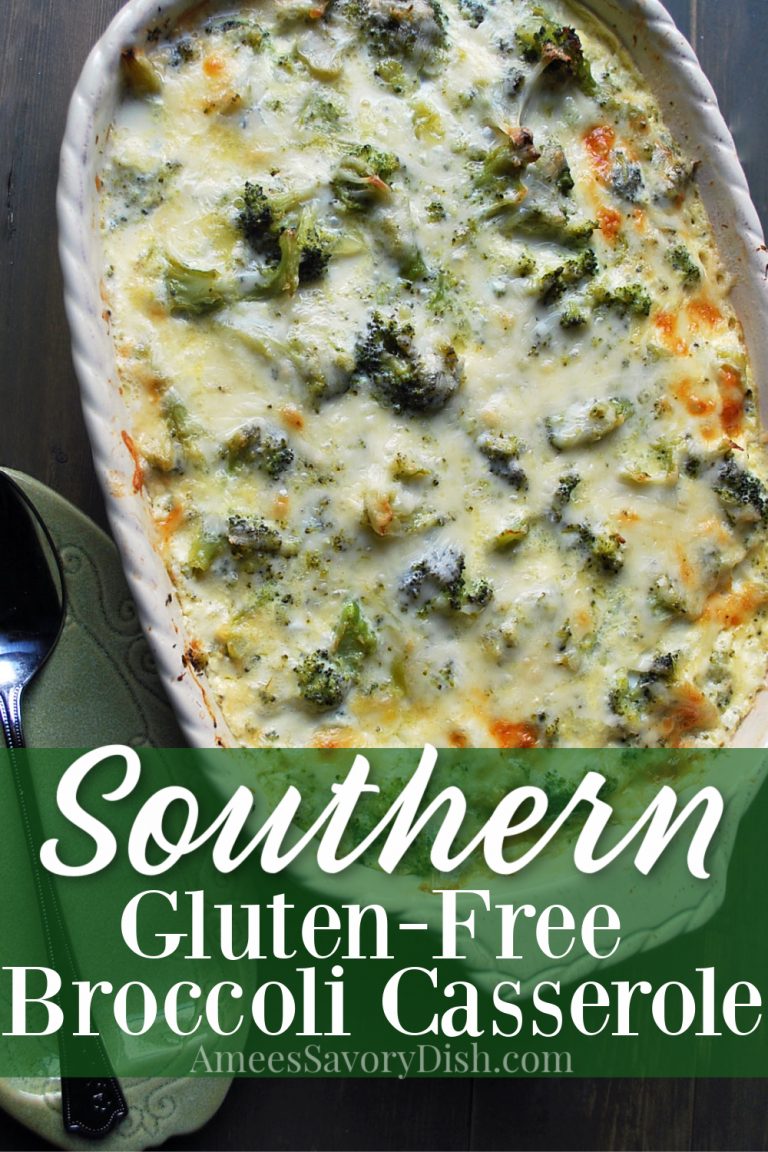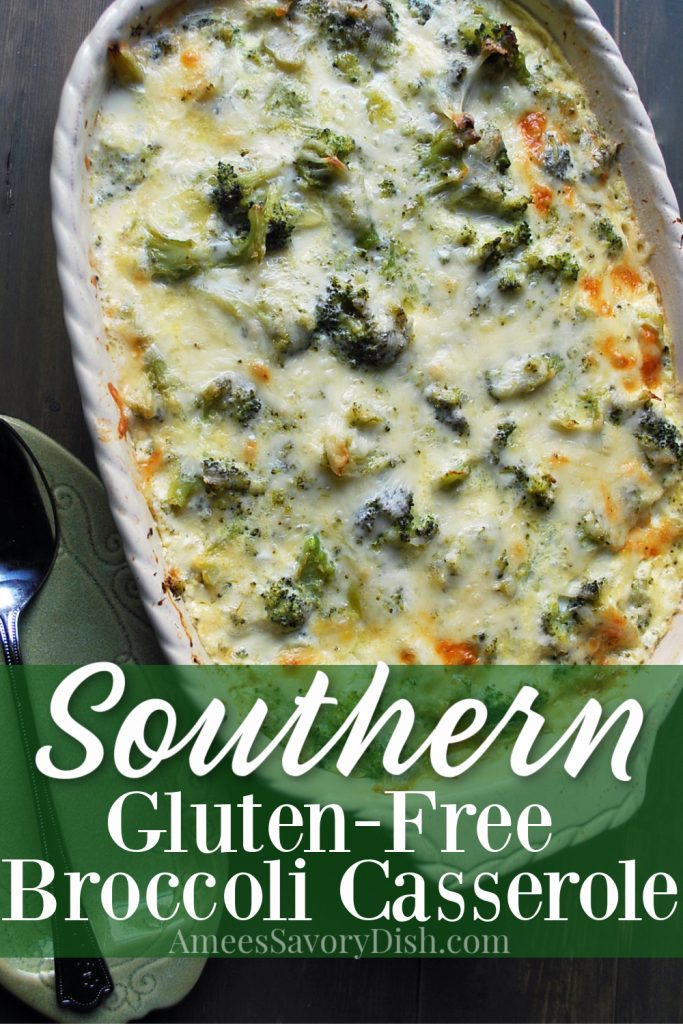 What's a great way to get kids to eat broccoli?....cover it with cheese!!! Not to mention, this cheesy broccoli bake is wicked delicious.
Most traditional southern broccoli casserole recipes are loaded with mayonnaise, butter, eggs, cream-based condensed soup and topped with buttery Ritz crackers and cheese. Don't get me wrong, this version is epic and worthy of the occasional splurge, but I wanted to come up with a lighter version that was gluten-free and equally delicious. It still contains all of the usual cheesy goodness with less butter and made with whole-food ingredients. We think it's a winner and I hope you do, too!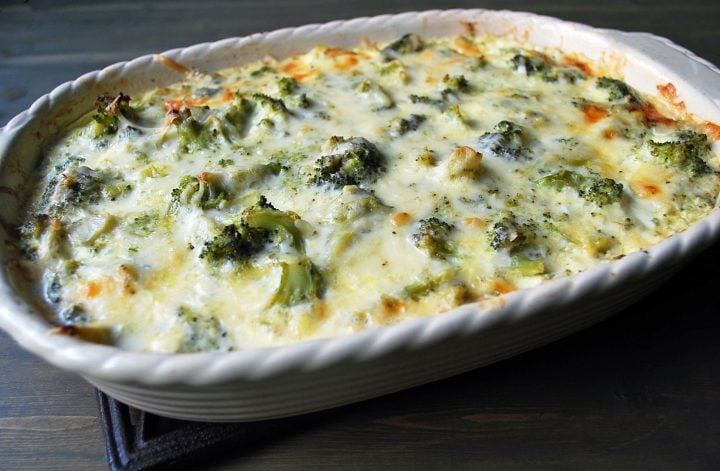 How To Make Gluten-Free Broccoli Casserole
Here's What You'll Need For This Recipe:
5 cups of fresh broccoli florets
2 large eggs, lightly beaten
12 oz sharp white cheddar cheese, grated
4 tablespoon melted butter
½ cup sour cream
1 cup milk
¼ teaspoon garlic powder
dash cayenne pepper
salt and pepper, to taste
Preheat the oven to 375 degrees F. Bring an inch of water to a full boil in a large pot and add steamer basket with broccoli. Cook, covered, 5-7 minutes until the stem pierces easily with a fork. If you are using the microwave bags of broccoli florets, that's even easier, just follow the instructions on the packaging. Drain broccoli, thoroughly (very important), and set aside. Mix all of the remaining ingredients, reserving ½ cup of cheese, in a large bowl. Add broccoli and stir to combine. Pour mixture into a 9x13 inch casserole dish greased with butter or sprayed with olive oil and top with remaining cheese. Bake for 30 minutes or until cheese is lightly golden.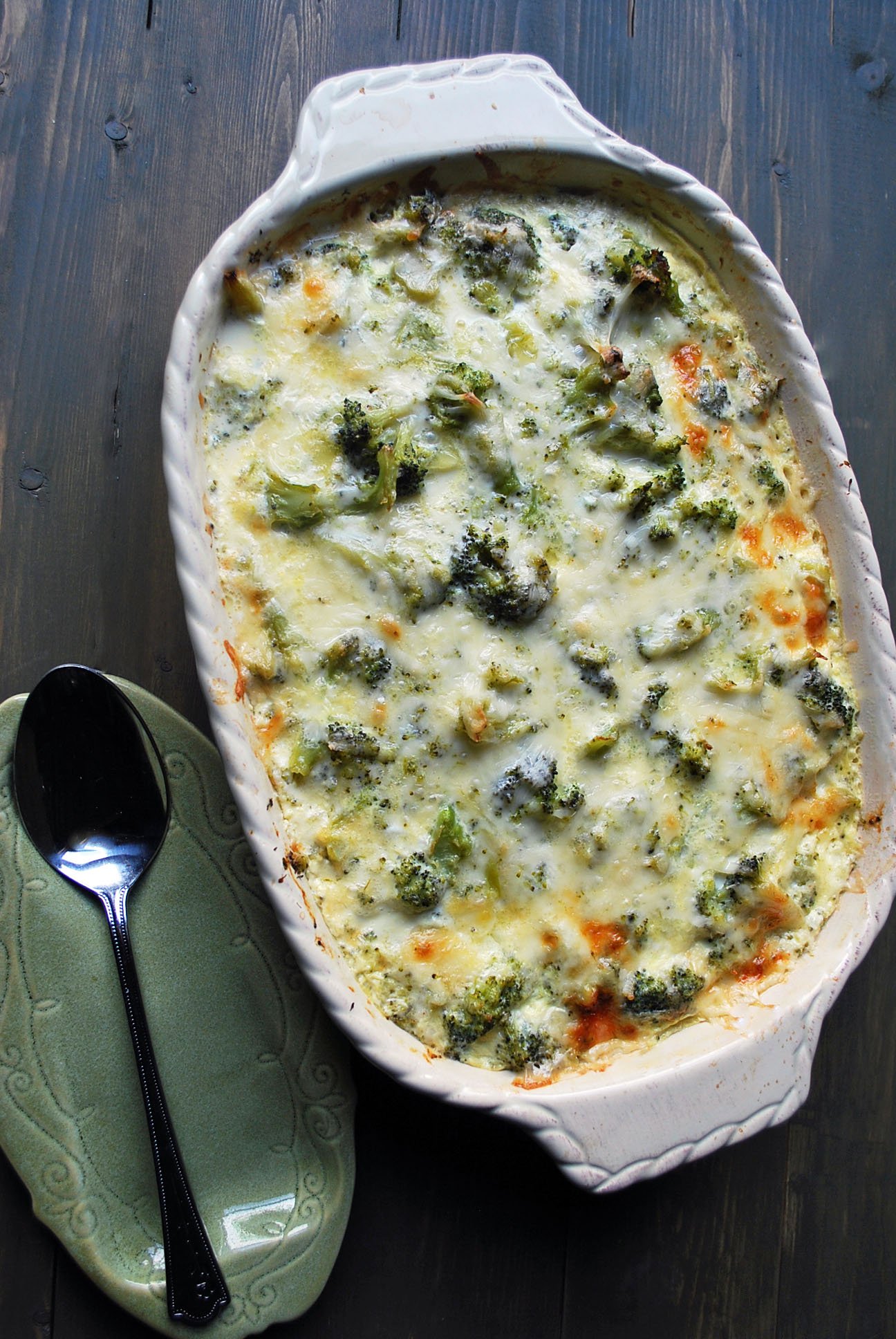 What To Serve With Broccoli Casserole
Some main dish ideas to go with this recipe would be Smoked Beef Brisket (always a winner!), Grilled Bourbon Pork Tenderloin, Sheet Pan Roasted Chicken, and Grilled Flat Iron Steak.
How To Store Broccoli Casserole
Broccoli casserole will keep for 3-4 days in the refrigerator in a sealed container after it has been cooked. Make sure to allow the casserole to cool completely before refrigerating.
This cheesy broccoli bake will have you craving your greens!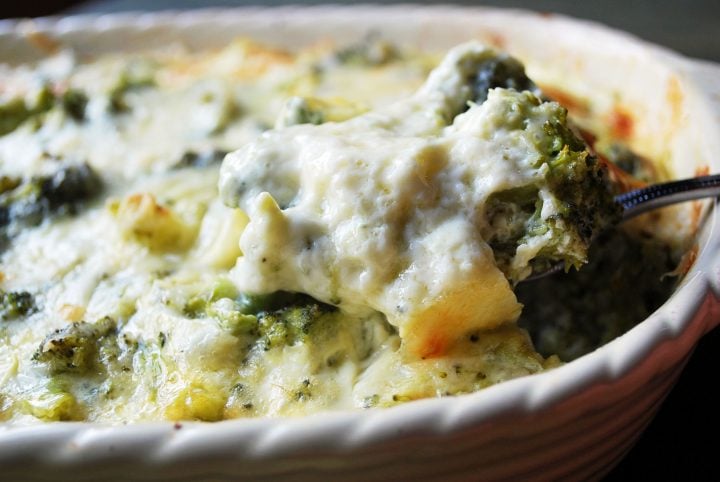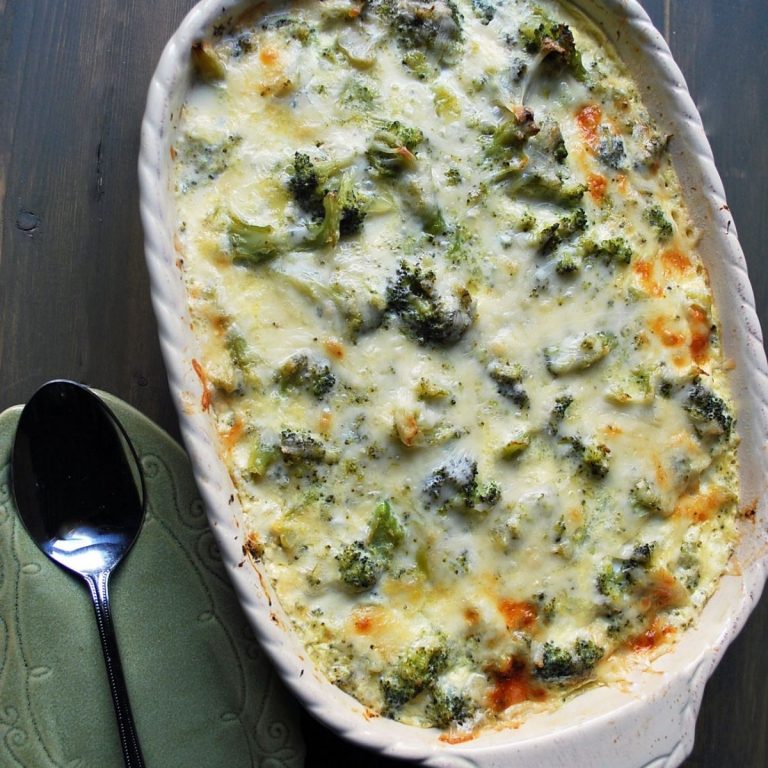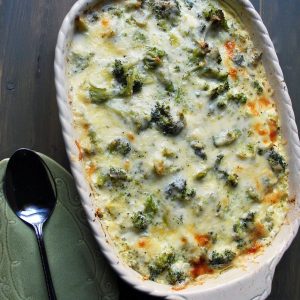 Gluten-Free Broccoli Casserole
An easy gluten-free broccoli casserole recipe made with fresh broccoli florets, white cheddar cheese, eggs, sour cream, and butter
Ingredients
5

heaping cups fresh broccoli florets

2

large eggs

lightly beaten

12

oz

sharp white cheddar cheese

grated

4

tablespoon

butter

melted

½

cup

sour cream

1

cup

milk

¼

teaspoon

garlic powder

dash cayenne pepper

salt and pepper

to taste
Instructions
Preheat oven to 375 degrees F

Bring an inch of water to a full boil in a large pot and add steamer basket with broccoli

Cook, covered, for 5-7 minutes or until the stem pierces easily with a fork

Drain broccoli, thoroughly, pat dry, and set aside

Mix all remaining ingredients, reserving ½ cup cheese, in a large bowl

Add broccoli to the mixture and gently mix

Pour broccoli mixture into a 9x13 casserole dish lightly greased with butter

Top with remaining cheese

Bake for 30 minutes or until cheese is lightly golden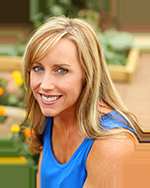 Latest posts by Amee Livingston
(see all)