*The sponsored event was paid for and funded by The Beef Checkoff. All opinions are my own.
A couple of weeks ago, I attended Live Well 2016: Celebrating New Heights in Food and Health hosted by the National Cattlemen's Association in beautiful Aspen, Colorado. I was a presenter, on a panel along with Dr. Mike Roussell Ph.D., on Making the Healthy Choice the Easy Choice: Achieving Health through Food where I shared my top tips on making healthy eating easy for your readers.
During this amazing week we learned about the latest culinary trends to inspire a fit and healthy lifestyle, how to incorporate meal planning (you all know I'm already a big fan), how to improve our skills for shooting live video (which I really needed), the role of beef for strength and vitality and so much more. I'm going to hit some educational and fun highlights from this trip and share important take-aways that I feel will be helpful information for all of you.
We had educational sessions daily with some added downtime to explore. They also planned a few fun group activities to get in a good workout and expand our culinary skills. This is the first time that I've traveled to Aspen and it definitely won't be my last. Unless you're an avid skier, visiting Colorado in the fall is a great time to go. There are no crowds and the foliage was breathtaking.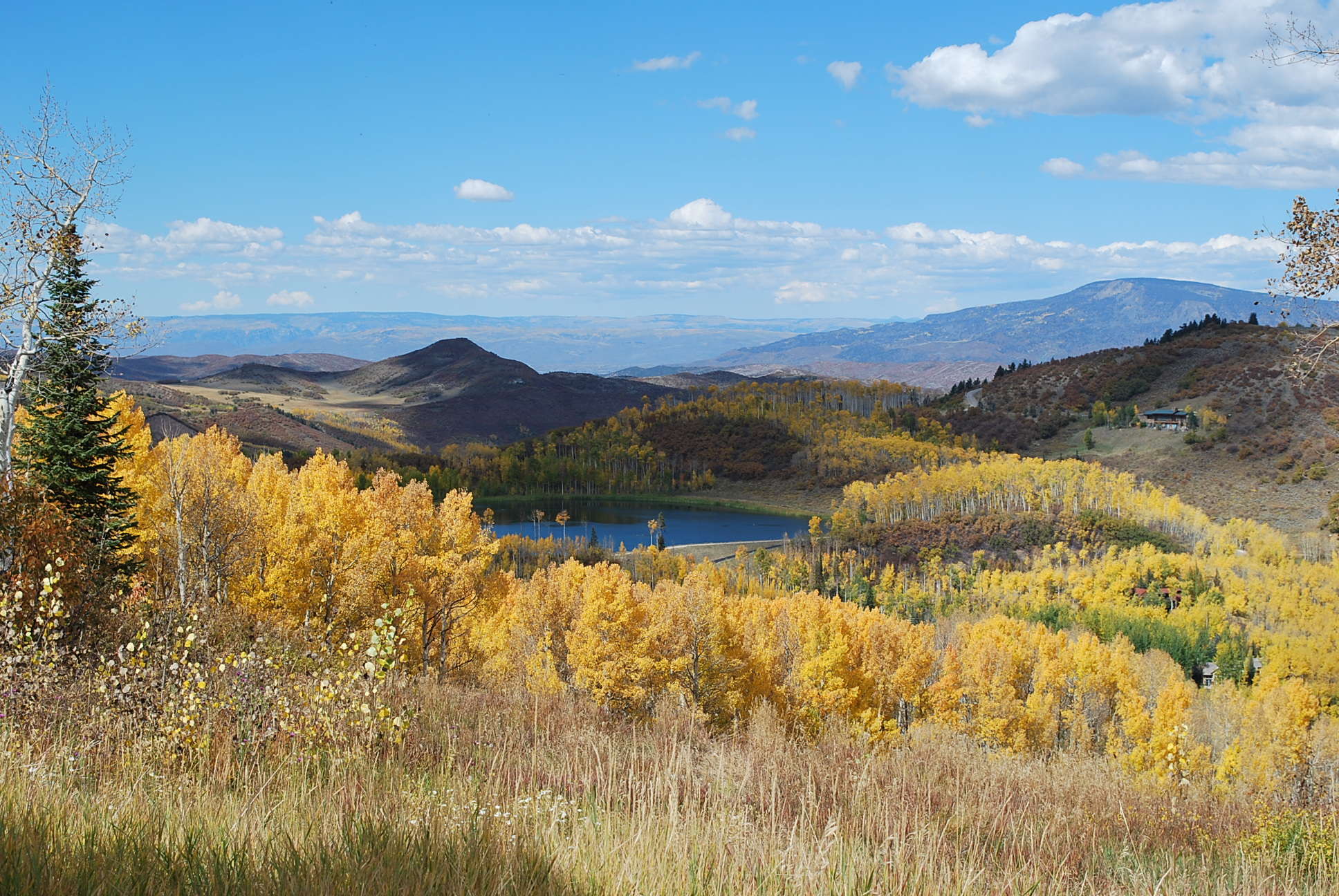 We stayed at The Little Nell located right in the heart of downtown Aspen. Everything about this five-star hotel was exceptional from the food to the attentive service.
The lobby sitting area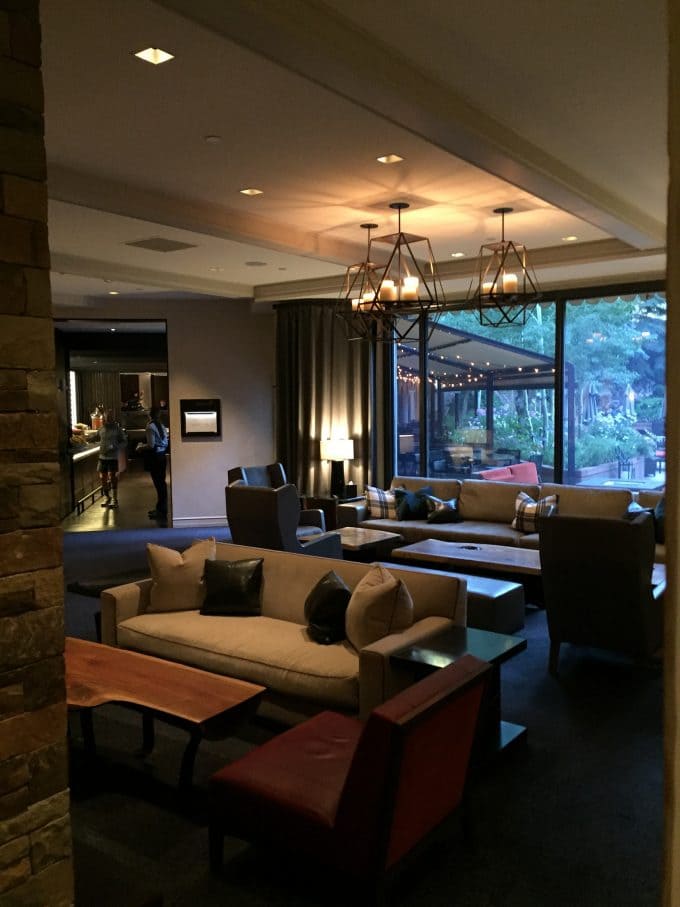 The rooms are cozy and spacious. Every evening, they leave chocolates and slippers by the bed.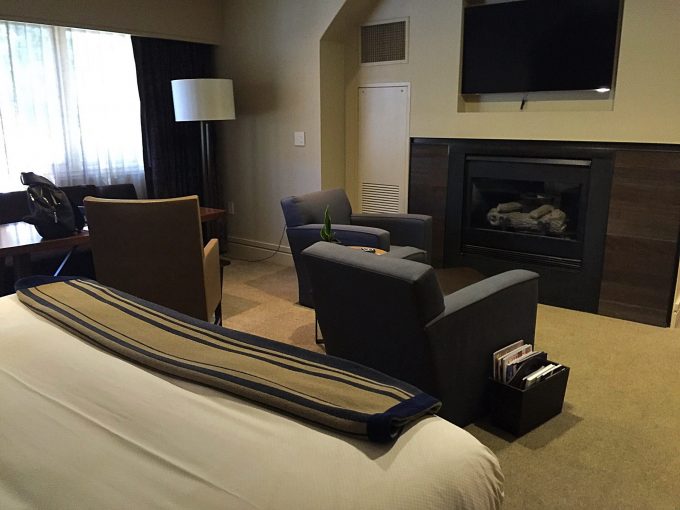 And the bathroom y'all!!! Every girl loves a big, spacious bathroom!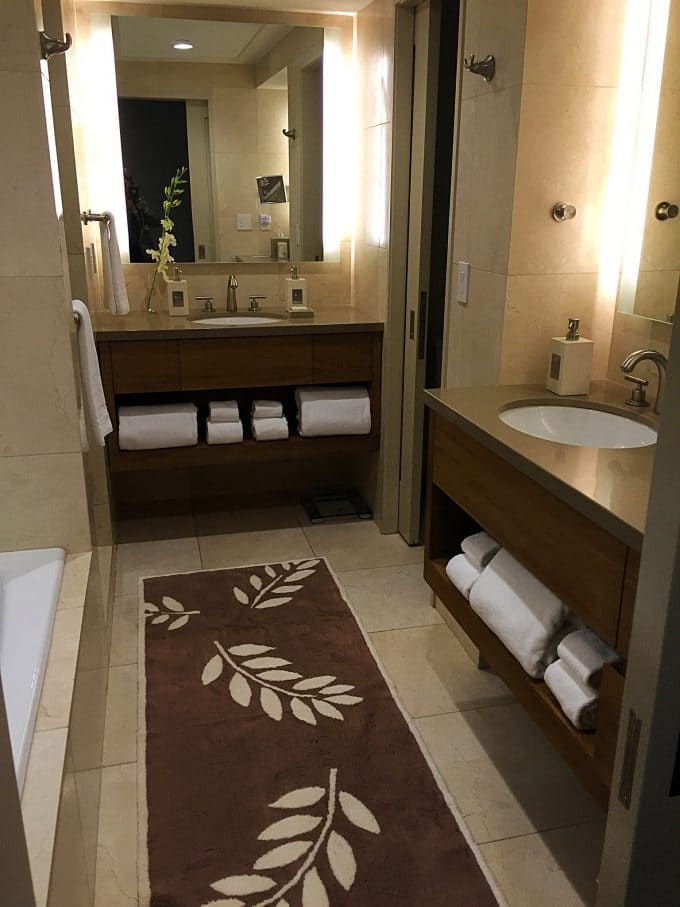 A few of us even got a personal tour of The Little Nell wine cellar, thanks to Carolyn O'Neil, who arranged a private tour with the sommelier. This cellar isn't just a storage area, but houses around $5 million dollars in wine in this invitation-only Red Light Lounge tasting room. You can read more about What Happens In The Cellar from the secret parties to vintage wines. As soon as you entered, you knew this place was special from the seductive red lights to the signatures on the wall. We even got to add our own mark before we left!
How about a $41K bottle of burgundy?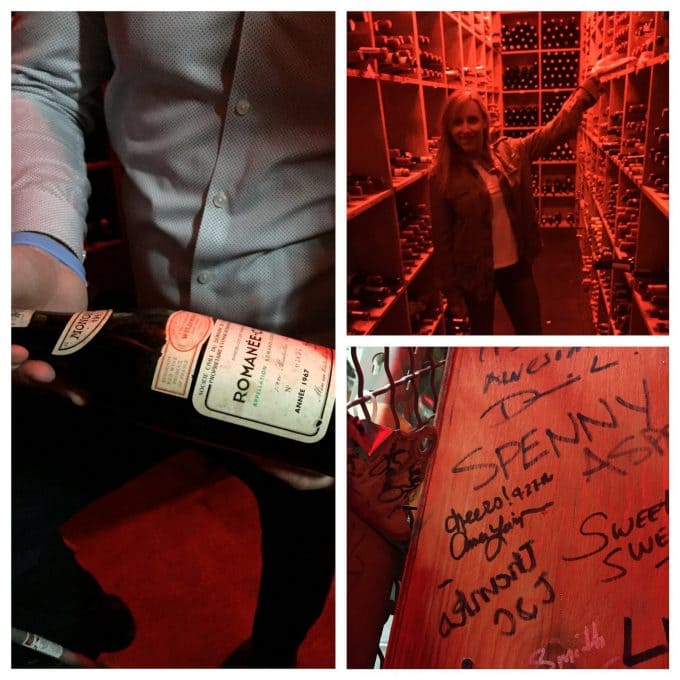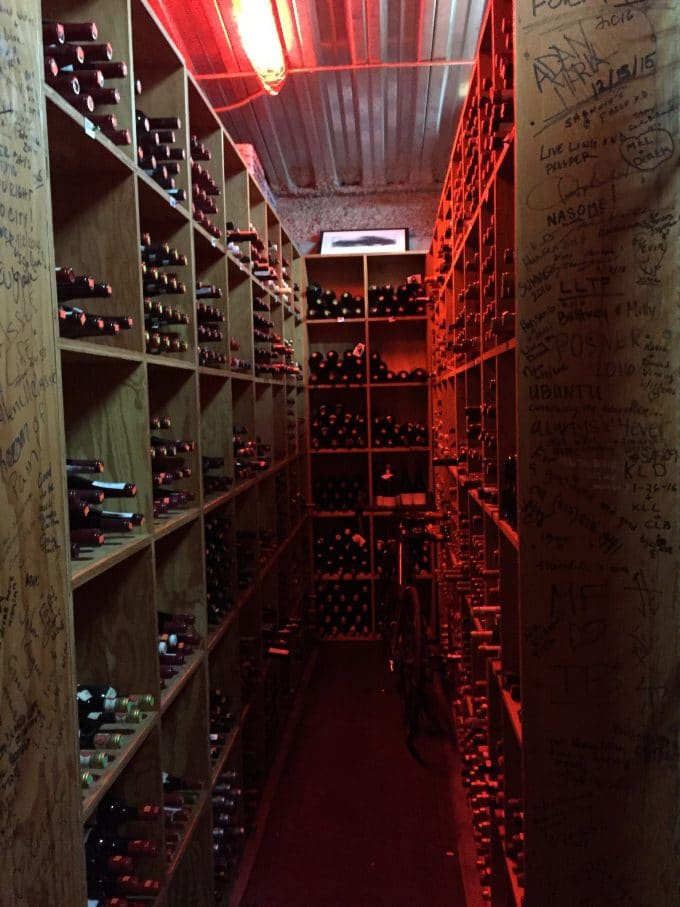 To kick-off the event, we enjoyed dinner at Element 47 at The Little Nell with a nice presentation from the executive chef, Matt Zubrod. The following day started with a delicious breakfast buffet followed by a presentation from Olympian Noelle Pikus-Pace, author of Focused and silver medalist in the 2014 Olympic Winter Games. Her speech was amazing! I don't think there was a dry eye in the room. My favorite take aways from Noelle's keynote speech:
Use the curveballs thrown at us in life as an opportunity for growth
Write down 3 goals every day and work on them until they're mastered
Focus on what you can do right, instead of what you're afraid you'll do wrong and you will succeed
These are valuable tips applicable to everyone when setting personal and professional goals.
I even got to hold an Olympic medal! So cool!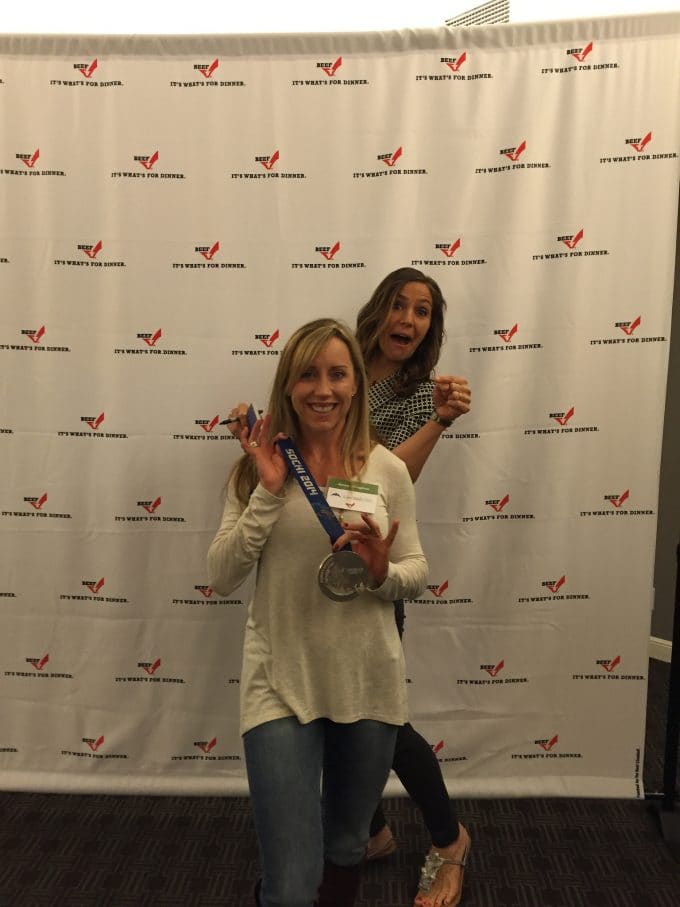 In one of our sessions that day, we learned about beef as a first food with research presented by Leslie Schilling, MA, RDN, CSSD, CSCS. Beef includes great nutrients that babies need, like iron and zinc. She also gave a great talk on self-feeding of solid foods. Stuart M. Phillips, PhD spoke about the role of protein for health and longevity. He had a lot of great nuggets that applied to coaching athletes and overall wellness.
You cannot store protein, like carbs and fat, so it's important to eat it throughout the day, getting at least 20-30 g each meal.
Favorite takeaways from this session:
Beef contains key nutrients and high-quality protein important at every stage of the lifecycle, from active, young parents to aging Boomers, beef's nutrients fuel energized, vibrant lifestyles.
New research suggests that pureed beef can be recommended as a complementary first protein food for breastfed infants to not only promote healthy growth but to also provide zinc and iron, which are key nutrients needed during this life stage.
Equal distribution of protein intake throughout the day (approximately 30 grams of protein at each meal) is important to lean muscle mass preservation and healthy aging.
Leucine is a key amino acid responsible for lean mass. Great whole-food sources are beef, eggs, wild game, fish, chicken, turkey, and low-fat dairy. Consuming a variety of protein foods with a focus on whole food/high-quality sources that include all of the essential amino acids is best.
Athletes should focus on the 3 R's: Rehydration, Refueling, and Repair
Taylor Wallace, PhD, CFS, FACN gave a great presentation on assessing the research behind the latest headlines, how to read the news with an educated eye and where to turn for credible sources of information. Dr. Wallace pointed out the different types of case studies, the hierarchy of nutrition evidence and how to identify nutrition quackery because we all know it's rampant on the web!
We had lunch on The Terrace at The Little Nell that day and they set up a Beef Pho Bar. What a great idea for a party or a quick and easy dinner! This would be a great way to use leftover flank steak.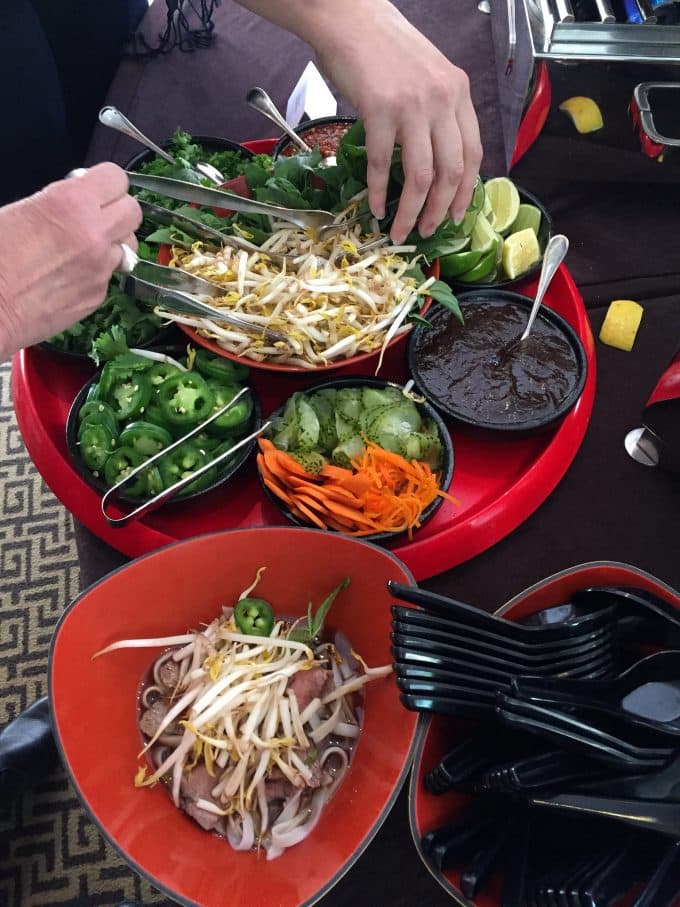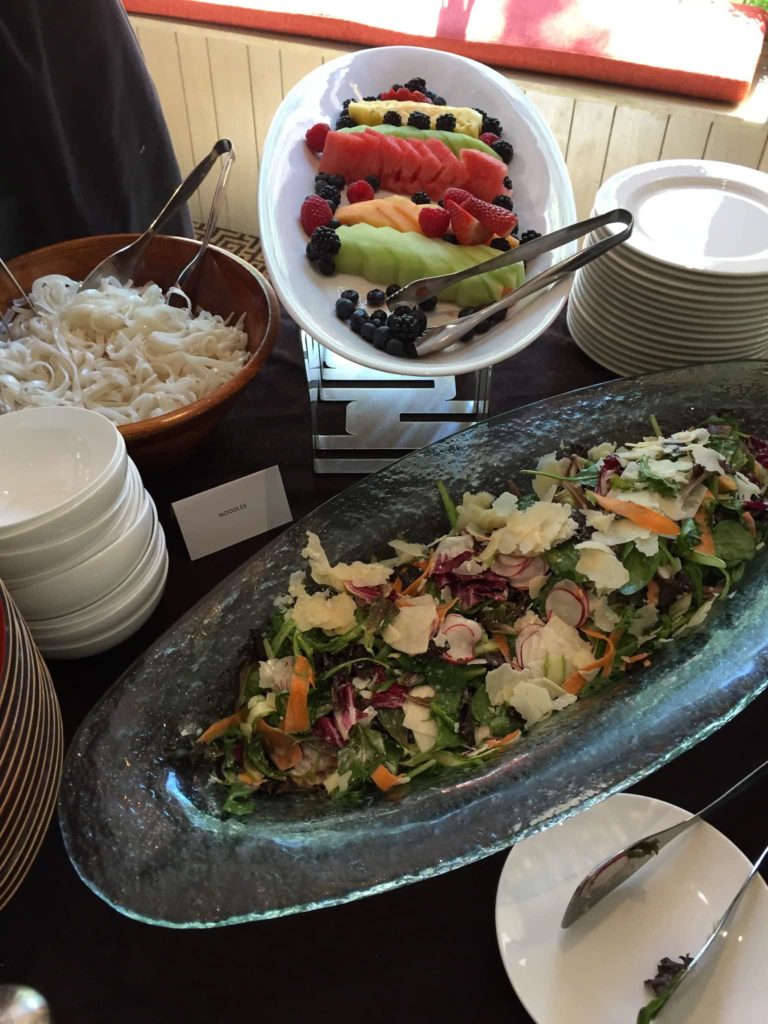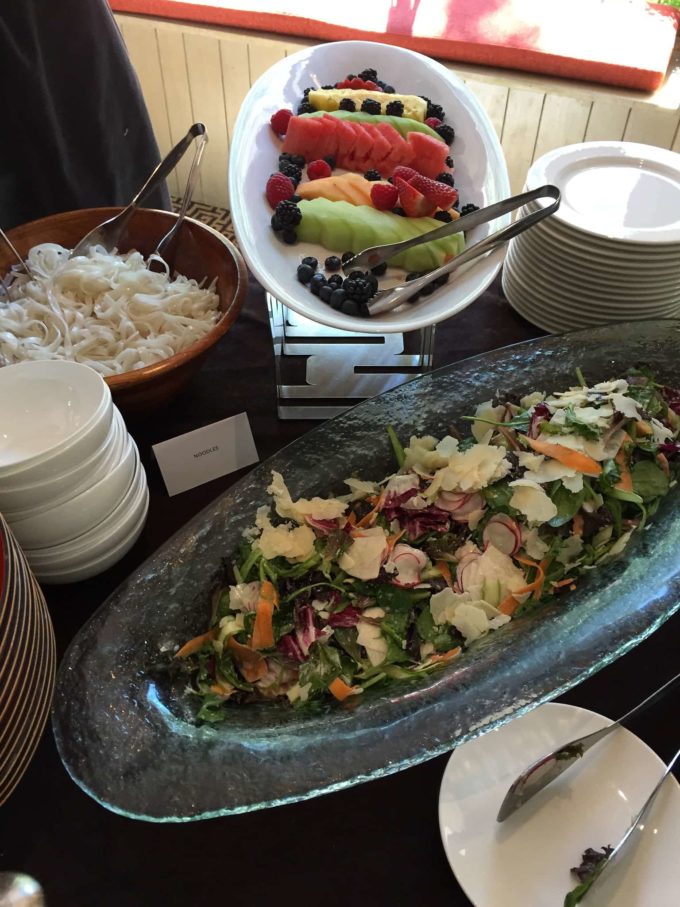 They thinly sliced pre-cooked flank steak and added it to a bowl with cooked rice noodles and beef broth. You got to chose your other toppings. It was so light, healthy and delicious!!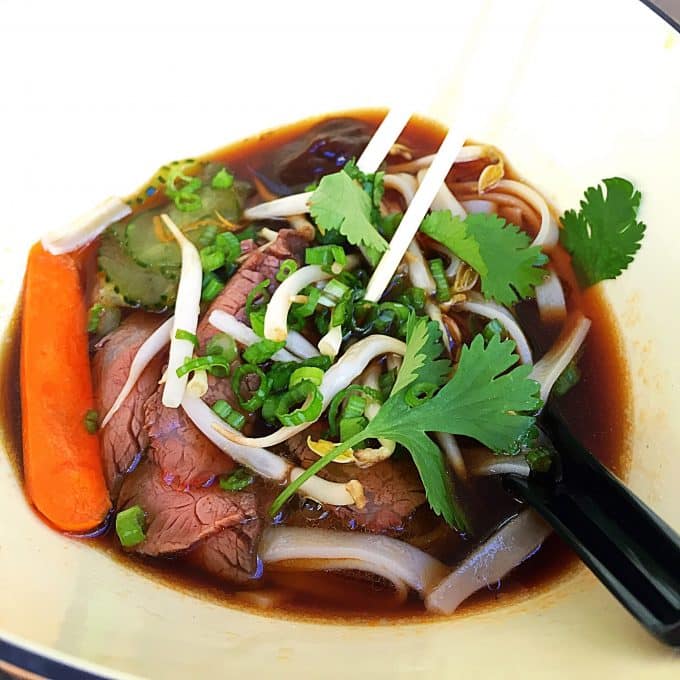 We had a couple of hours of free time to rest or walk around town. I took the opportunity to browse the shops and take a long walk.
If you're an art buff, Aspen is the place to be. There are several art galleries to browse and cool sculptures around town.
I love dogs, so this cute guy was a favorite...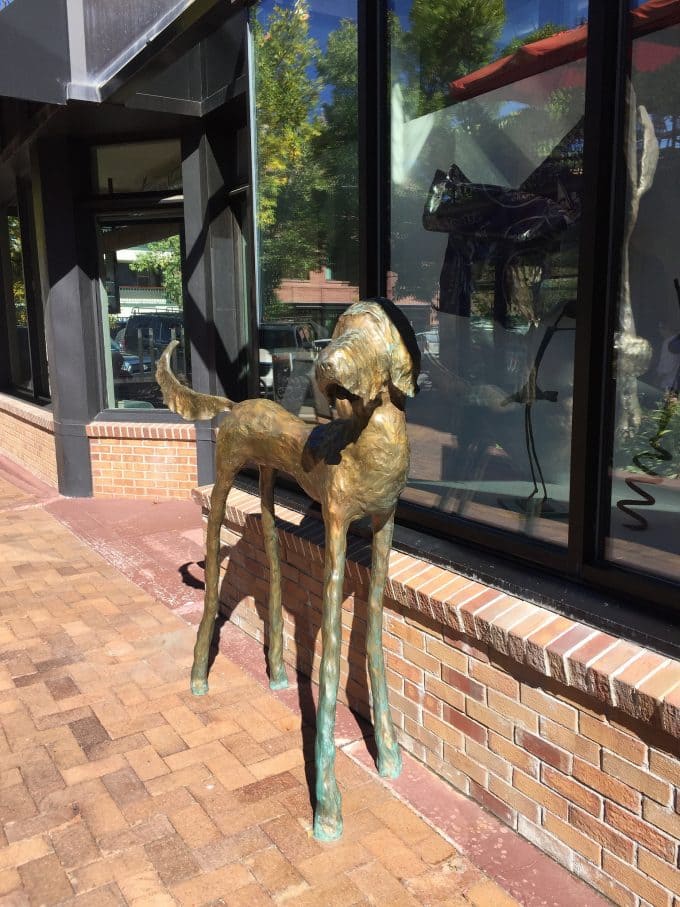 The center of town is paved with cobblestones and has a plethora of outdoor dining spots. The ambiance is lovely. I love being outdoors this time of year!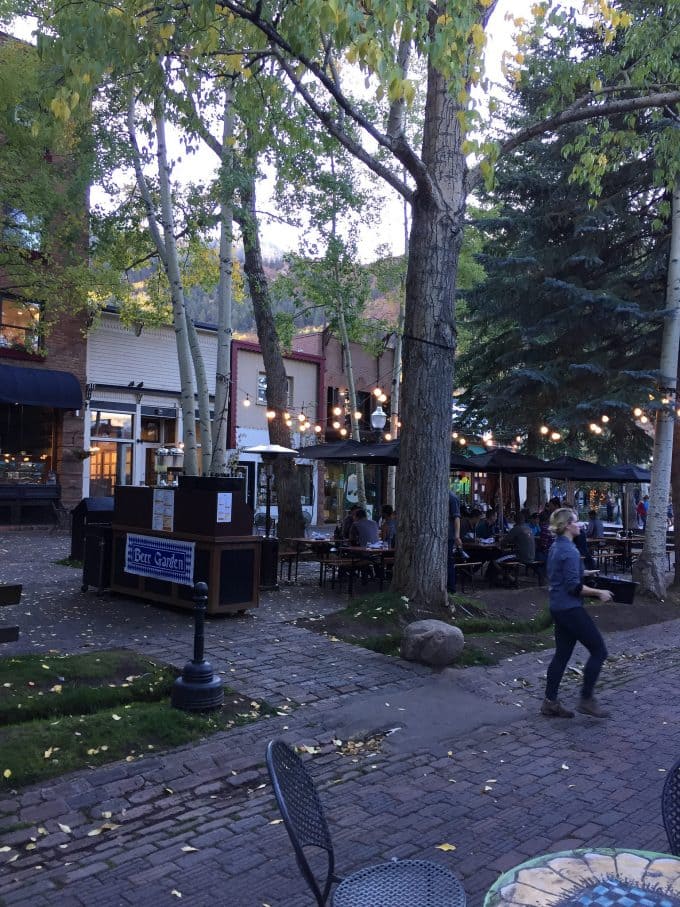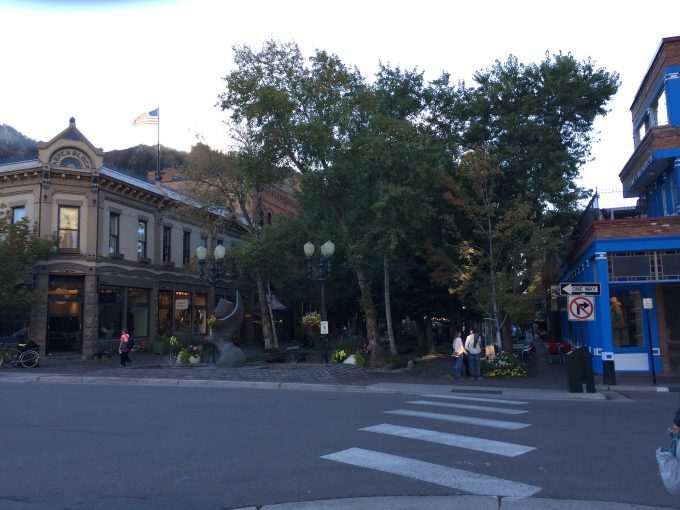 That evening, we took a gorgeous gondola ride to Elk Camp at the top of Snowmass resort for a presentation, dinner, and campfire with s'mores.
This view!!! Pictures can't even do it justice. The fall color was just amazing!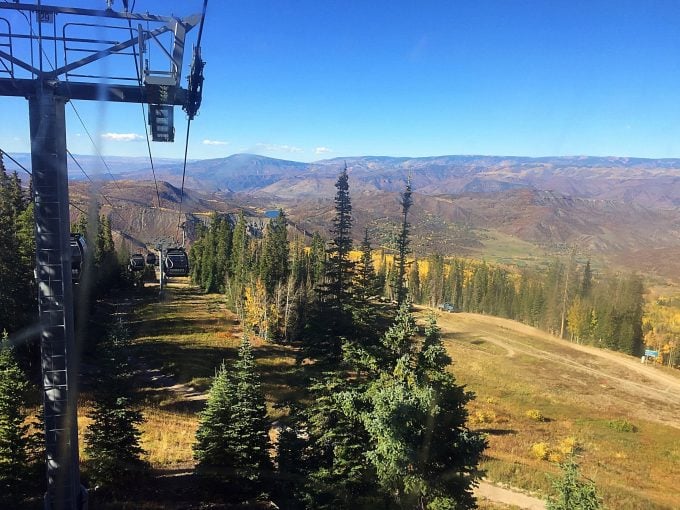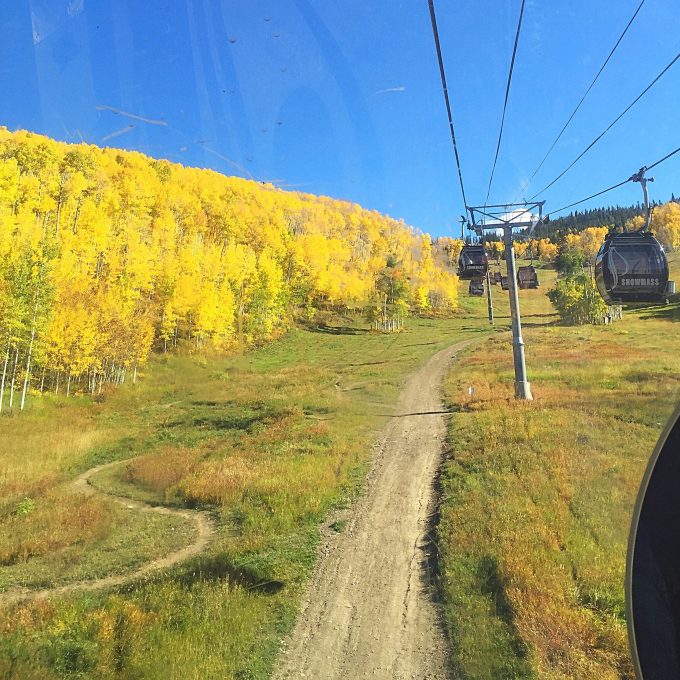 I was so glad that we were able to get together for a group picture. I loved spending the week with this fun and talented group of people!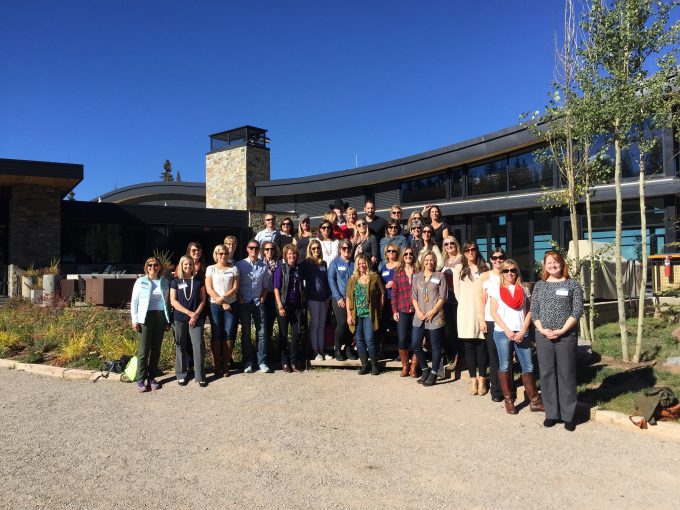 After settling in our room at the top of Snowmass, Regan Miller Jones, RD/founding editor and owner of Healthy Aperture and Vijay Karunamurthy, CEO and co-founder of Nom.com gave a presentation on Facebook live and video content creation.
I was one of the two lucky guinea pigs to stand up in front of the group and do a mock Facebook live, complete with audience hecklers. I have to say, these guys were a tough crowd! Nothing but tough love, though, it was all in good fun.:)
Dinner was, as always, amazing with a variety of appetizers and huge spread!
Some of our yummy eats from that night...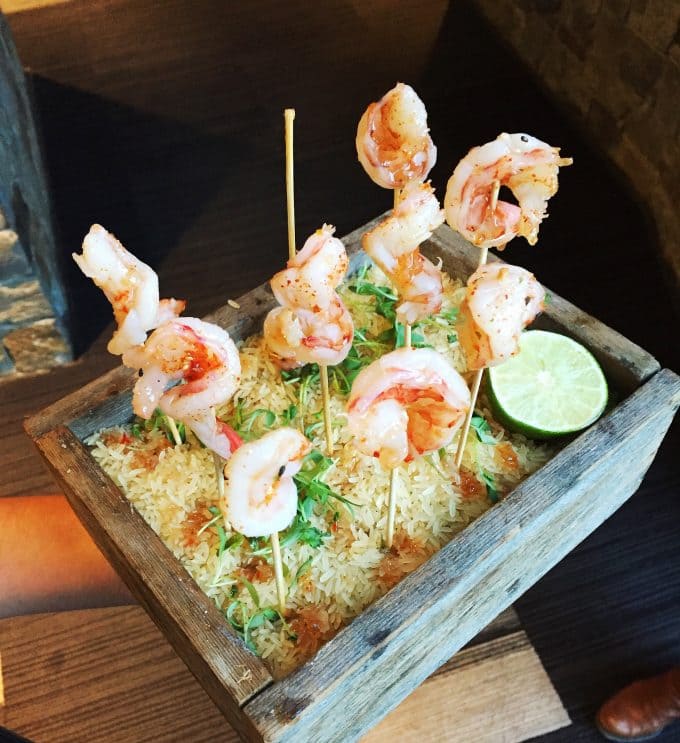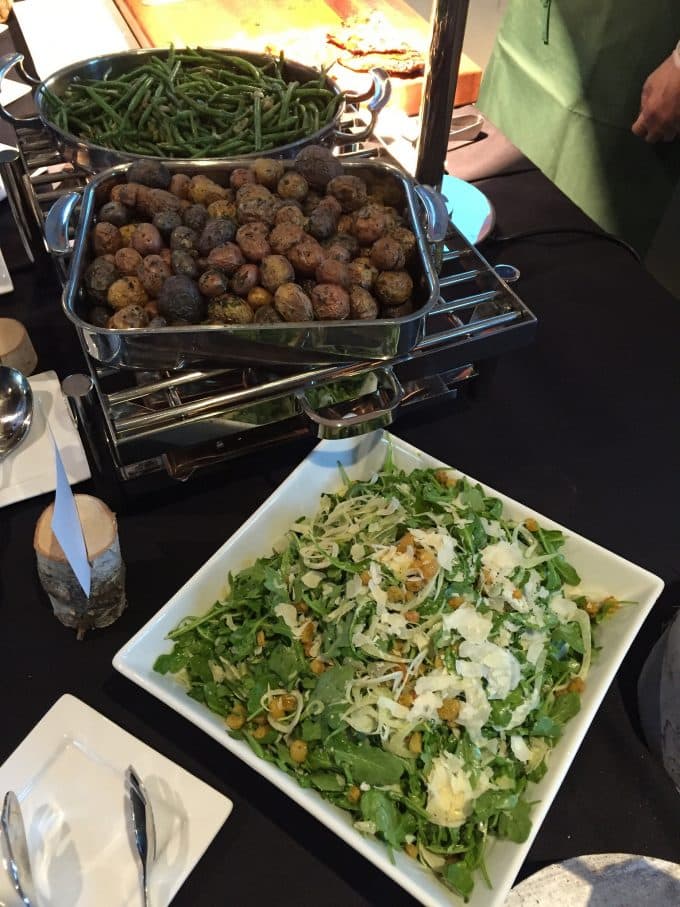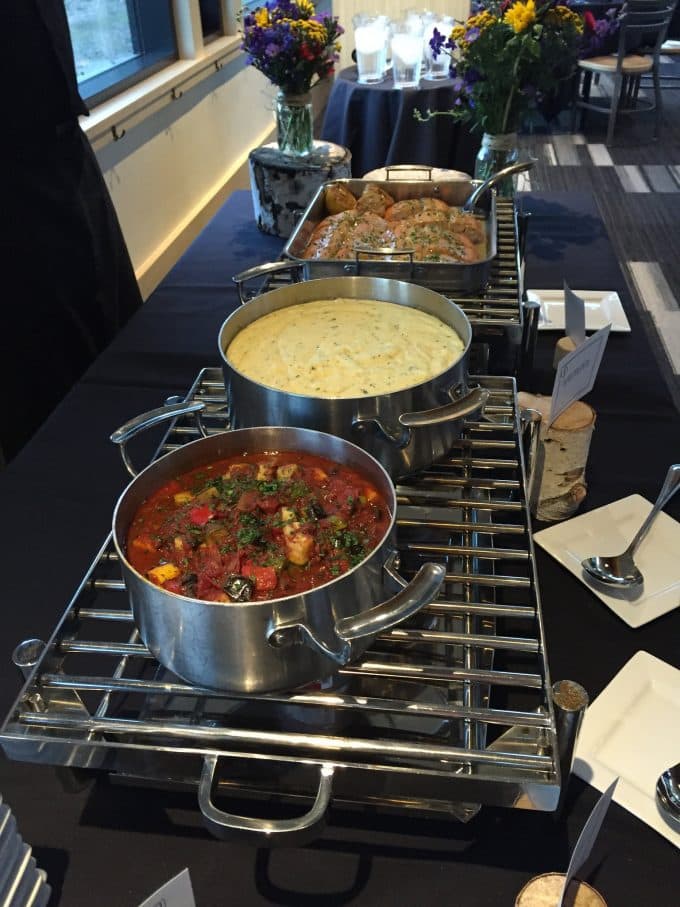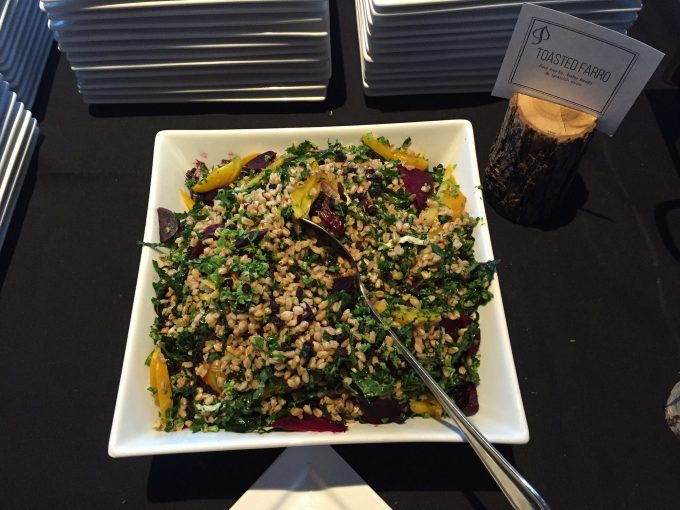 I definitely got plenty of recipe inspiration with the meals we enjoyed! I love a good salad and we had so many different types of salads and veggie-filled side dishes prepared for us daily. This is the way that I love to cook and eat at home, so I was really loving all of the food!!
Day 3 of our trip started with a fun group hike on Hunter Creek Trail. It was chilly, but the cool air was a welcome change from the Atlanta heat. This year has felt like the never-ending summer for those of us in the south.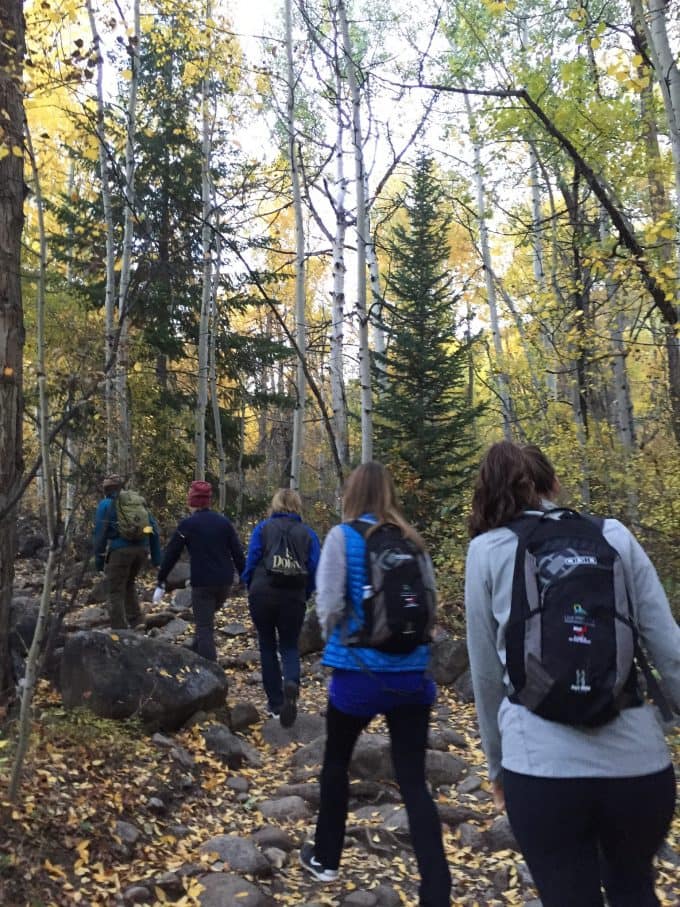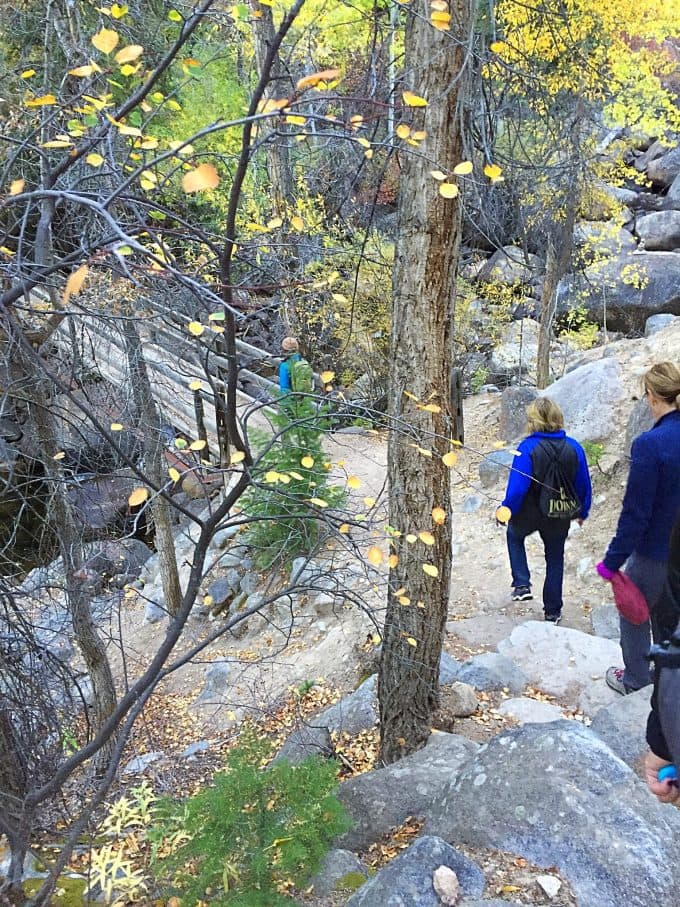 The landscape was gorgeous.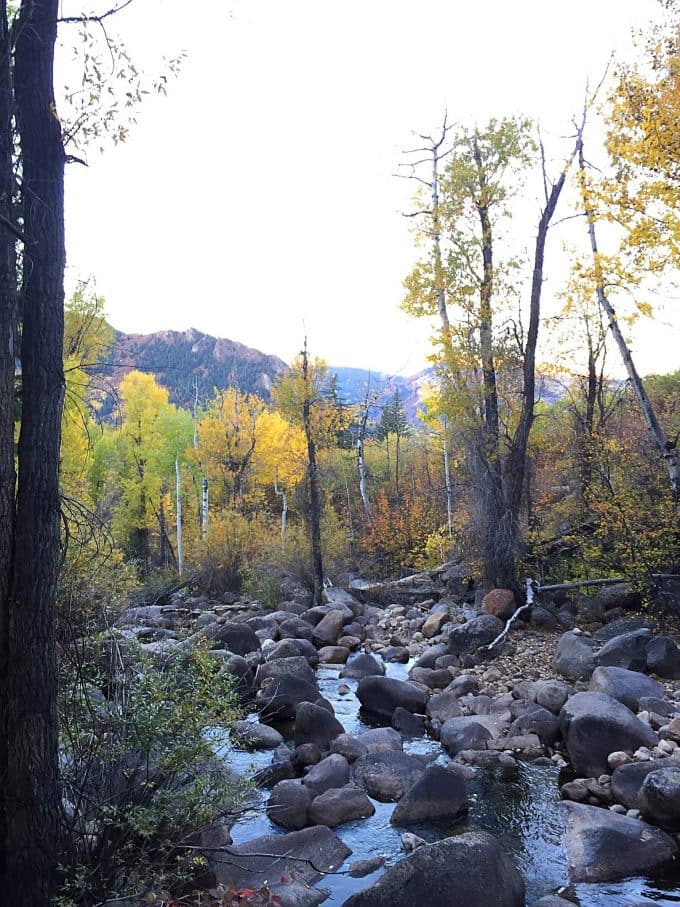 After an invigorating hike, we headed back to The Little Nell for breakfast. My presentation with Dr. Mike was the first thing on our agenda that day. Mike talked about the BOLD diet study and the importance of anchoring the plate with lean protein.
I discussed my 5 key components that help make healthy eating easier, meal planning tips and tricks, easy and healthy recipes with beef and tips on helping to make healthy eating affordable for everyone.
We need to take into account the challenges people face with healthy eating and how they can overcome them. In this Washington Post article, The Slow Death of The Home-Cooked Meal, they predict that supermarket takeout meals are the future of the American diet. Fewer people cook now and more opt for the convenience of take out meals. How can we ignite a passion for others to prepare their own meals and bring families back to the dinner table? What are your biggest healthy eating/cooking challenges? Do you have your own strategies for cooking healthy meals at home? I'd love to hear your thoughts on this topic in the comments below!
After a short break, we traveled to Lynn Britt Cabin at the top of Snowmass for an educational conversation with cattle ranching experts, Josh White and Rick Machen, Ph.D. and a fun sensory activity on the science of flavor and understanding beef cuts with Bridget Wasser, MS and Erin Weber, RD.
In our "Savoring the Flavor" lesson, we sampled 4 different flavors that we identify with beef.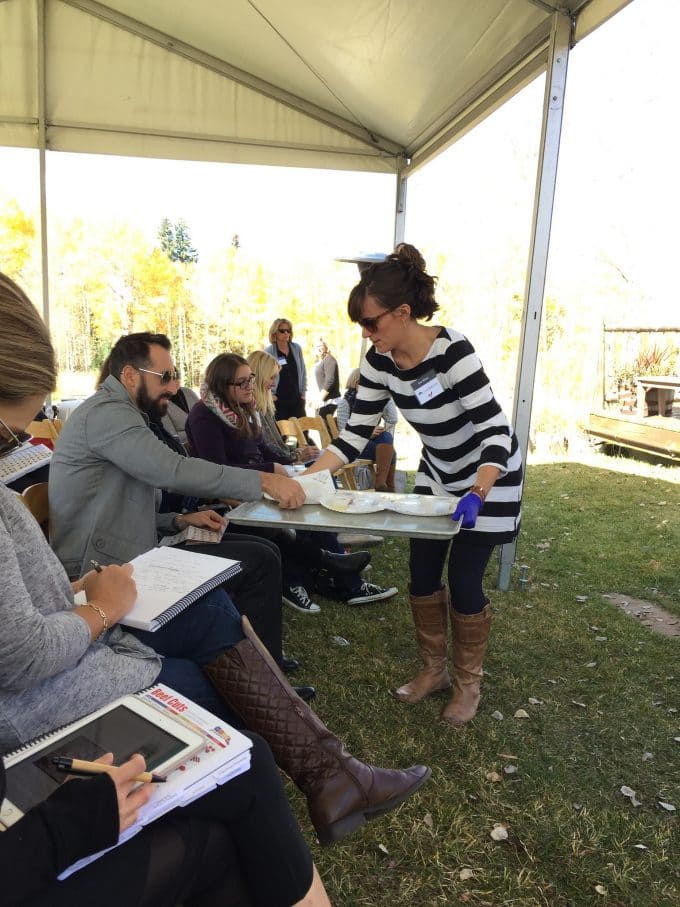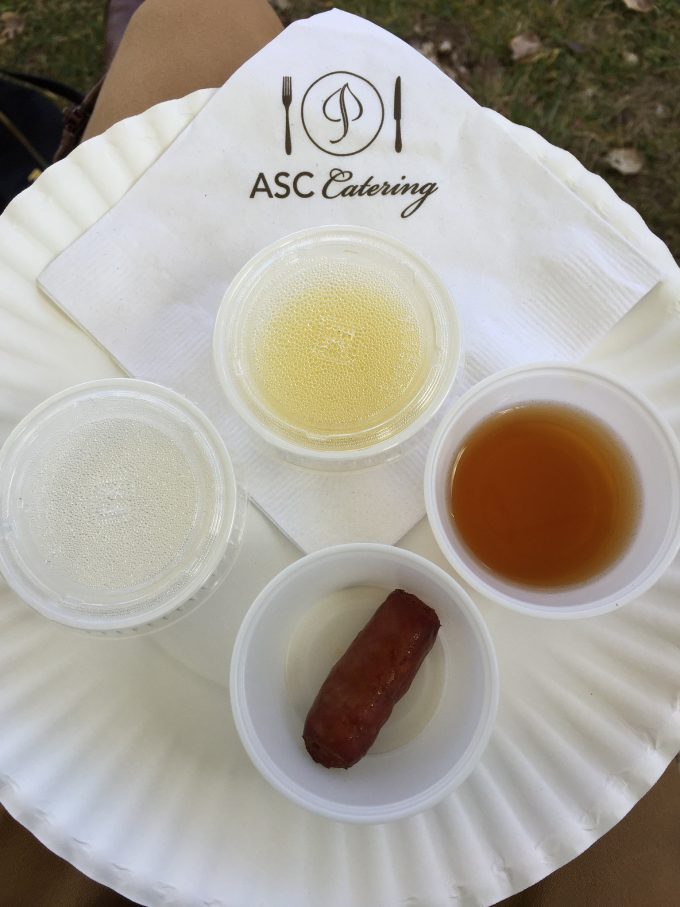 The bottom cup is a lil' smokie sausage to associate with the taste of fat in the fattier meat, the left cup was water with a little Accent seasoning to associate with Umami, the top cup was canned pineapple juice to associate with a metallic taste and the right cup is beef broth for a more true beef flavor. We did a similar sensory testing experiment at the Live Well event that I attended in Chicago. You can read more about that trip here.
Bridget also talked about the best ways to use different beef cuts. I've talked about my favorite beef cuts for affordability and lean eating in previous posts. These Balsamic Beef Asparagus Roll-Ups, 12 Delicious Ways To Enjoy Lean Beef For Breakfast, Slow Cooker Steak-Stuffed Collard Rolls, Beef & Vegetable Stir Fry, Healthy Beef Recipes Ready in 30 Minutes or Less , Meal Prep Ideas Using Flank Steak and Beef Sausage, Kale & Aged Cheddar Stuffed Sweet Potatoes are a few of my blog favorites.
As you can see, I'm a big fan of lean ground beef (90% or less-preferably 93%-96% lean), flank steak and top sirloin for our family meals. These just seem to be our go-to's, especially the ground and top sirloin for affordability. You can get great prices on flank when you shop butcher's specials and price clubs for discounts.
Here are the lovely ladies preparing beef cuts for us to sample. We had to try and guess what they were. There was a distinct difference in the flavor of grass-fed beef versus grain-fed beef.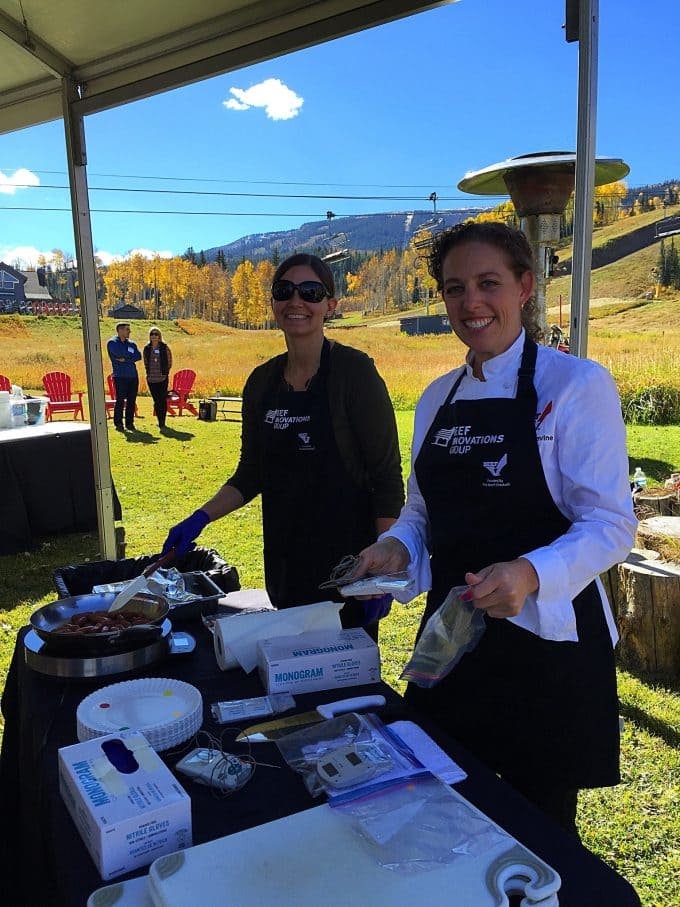 A few of my top takeaways from the sessions that morning are:
90% of beef in the US is Grassfed and grain finished
The flat iron steak is the second most tender muscle behind the beef tenderloin
External fat in retail beef cuts has decreased by 80% since the 1960's
Americans have a wide variety of choices when it comes to the beef you chose to feed your family, whether it's grain-finished, grass-finished, naturally raised or certified organic. It's up to you to decide what's best for you and gathering facts on farming methods from credible sources.
After our sessions we had lunch at the cabin and took some beautiful photos from the top of the mountain.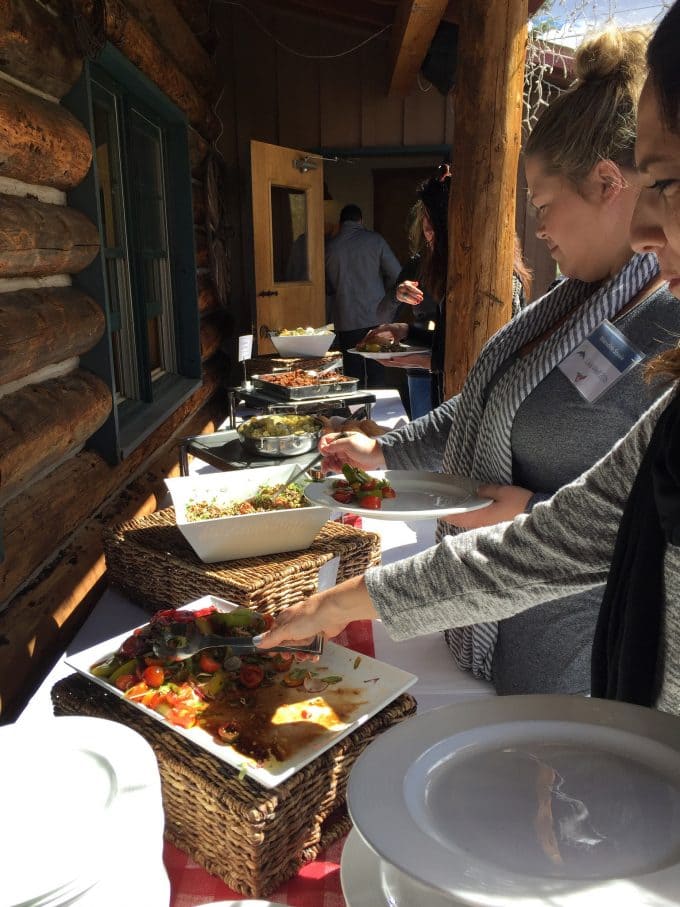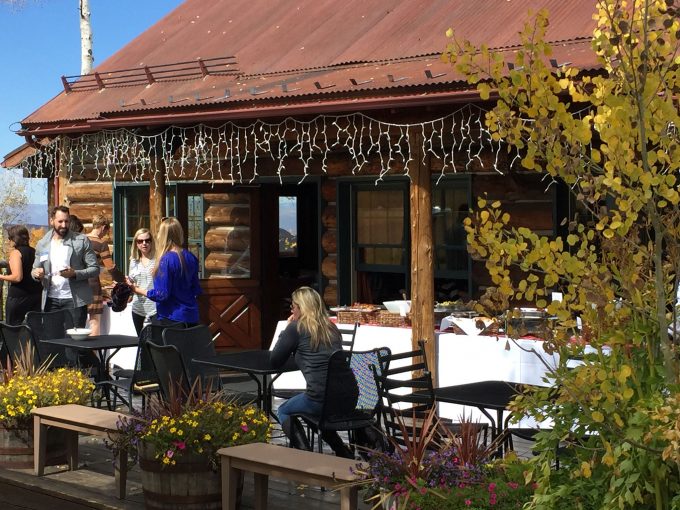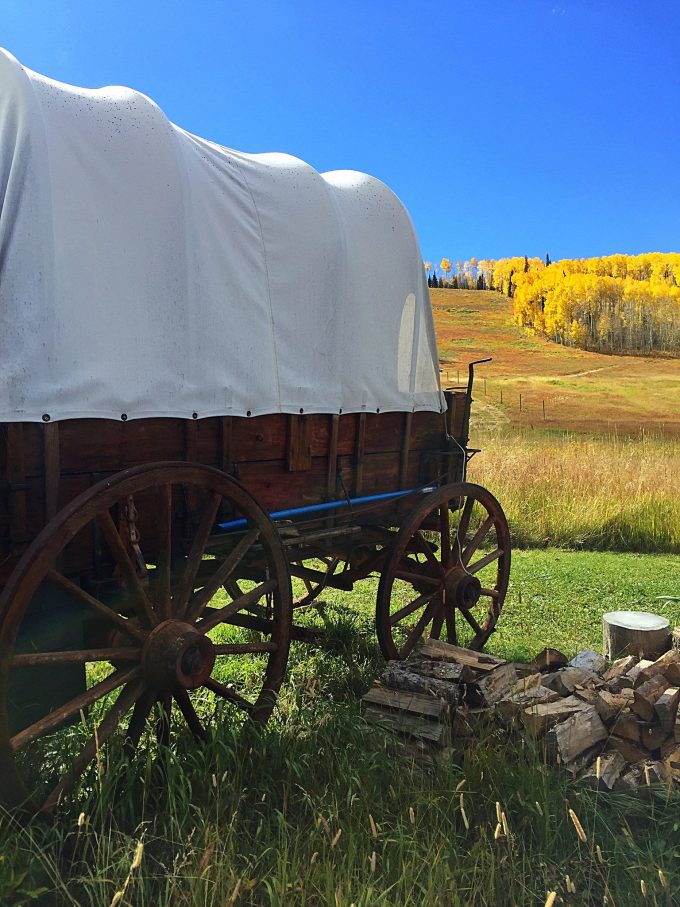 We had to snap some photos with this incredible backdrop. Here I am posing with my beautiful friend and fellow Beef Bureau member, Toby Amidor from Toby Amidor Nutrition.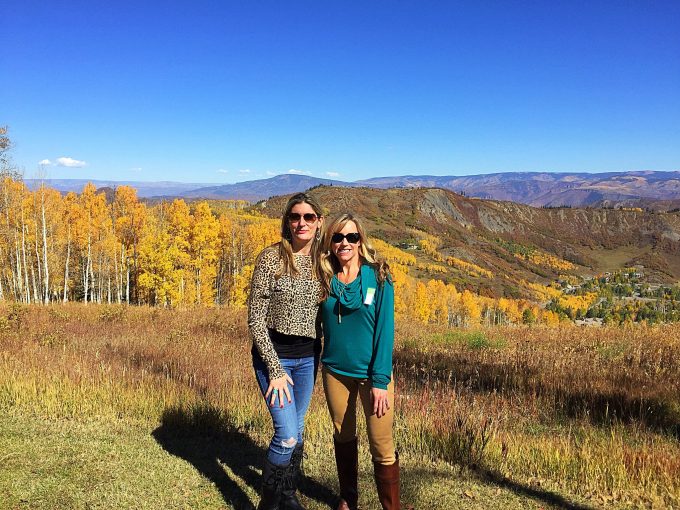 I learned some cool camera tricks from Jessica Crandall, RD!

Clowning around with these cool peeps, Leslie Shilling, RDN and Rebecca Scritchfield, RDN.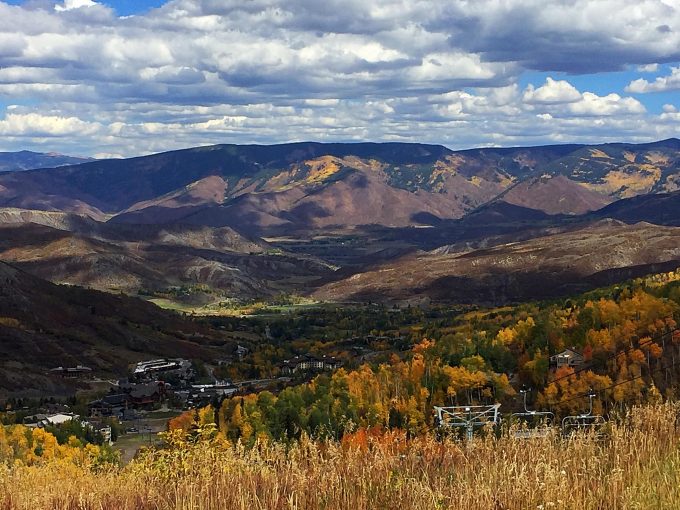 It was also wonderful to spend some time with Isabel Laessig from Family Foodie and the founder of the Sunday Supper Movement. She's so much fun! I had the best time at her Food and Wine Conference a couple of years ago where I won the Idaho Potatoes recipe contest with my Loaded Baked Potato Casserole (not lean eating, but GOOD eating!)
I really hope to make it back there this year. I loved catching up with her and learning about everything she's been up to, lately. She's quite the ambitious entrepreneur. I also fully credit Isabel for getting me hooked on Insta stories. 🙂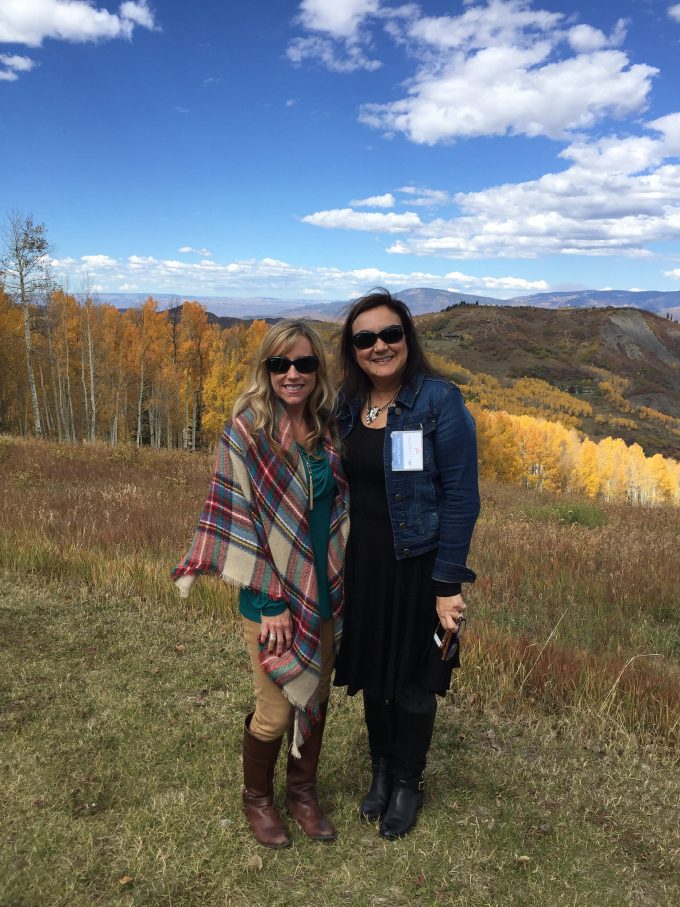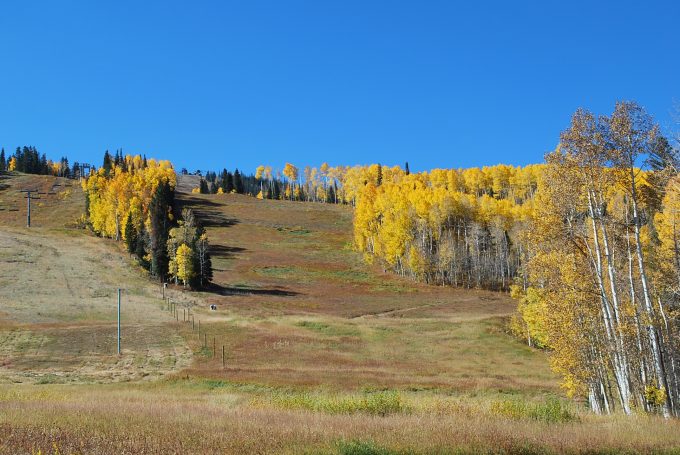 That evening we walked from our hotel over to the Cooking School of Aspen for a session on meal planning with beef presented by Executive Chef Matt Zubrod, Erin Weber, RD and Jessica Levinson, MS, RD, CDN.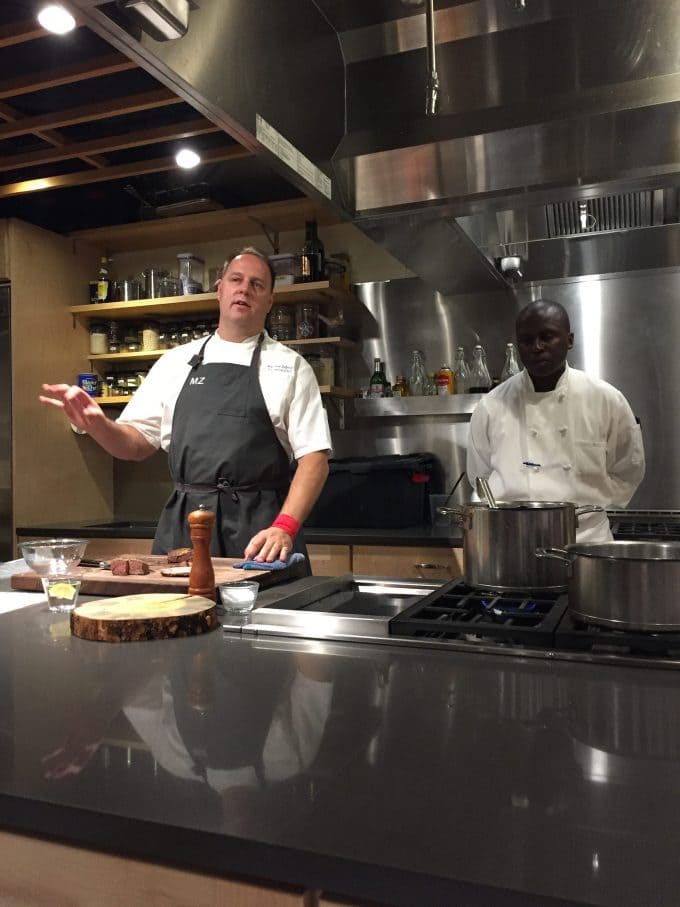 A Great tip from Jessica when cooking for your family:
Meal planning can save you money and time in the long run, helps reduce food waste and allows for more variety. Building beef into your meal plan creates tasty and nutritious options the whole family can enjoy while promoting a balanced plate.
The evening concluded with an amazing meal at the Chef's Club by Food & Wine at the St. Regis Hotel.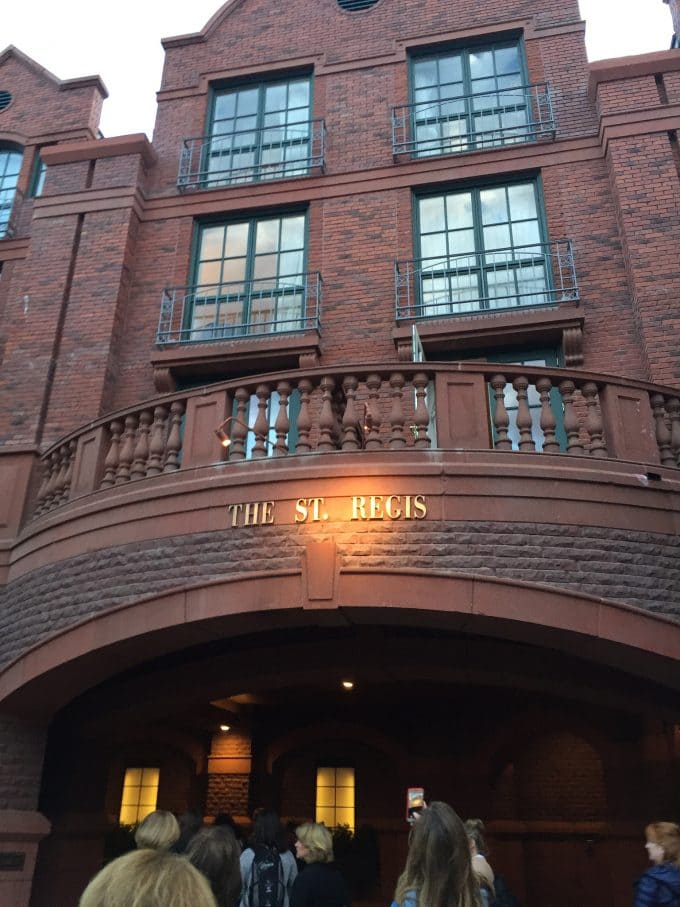 I love the open-air kitchen. Everything was so organized and you would definitely know if someone tried to pull a five second rule in here. 😉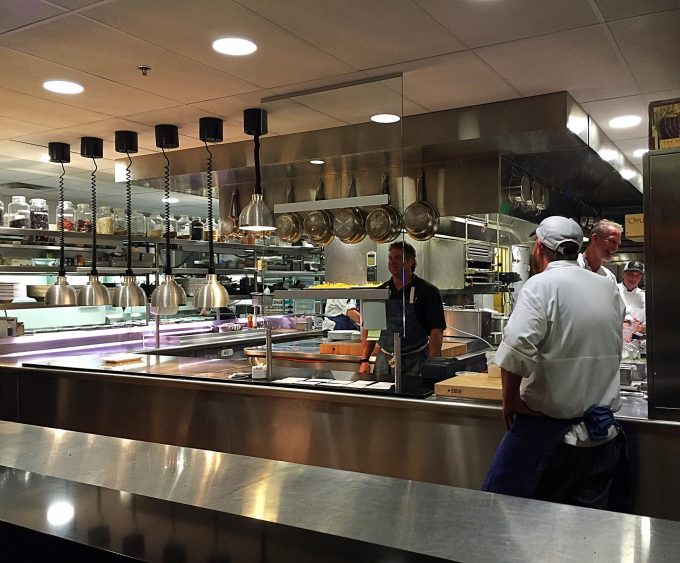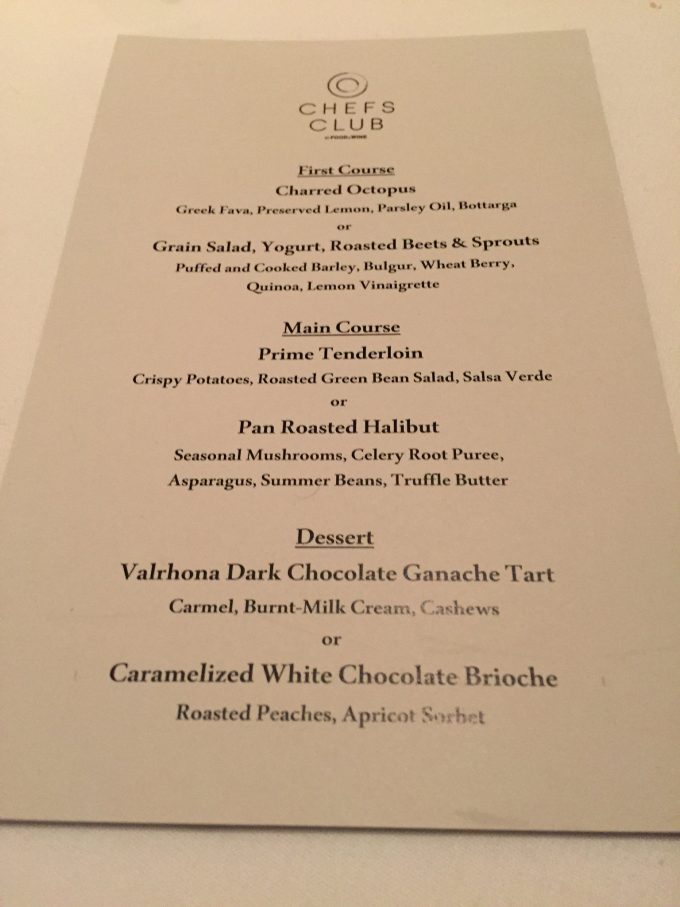 This was the second time that I've had octopus, the first being at Kyma in Atlanta. It's absolutely delicious when prepared properly. The texture was perfect. I really enjoyed everything about my meal here and the service was impeccable. I asked the manager about the relevance of the signature wall near the restaurant's kitchen. The frequently changing menu is curated by four honorary members of Food and Wine's Best New Chefs list each year and they each take turns traveling to Aspen to create their own unique menus in collaboration with local farms. Each chef that's carefully chosen, leaves their mark by signing the wall.
On the last day of our Live Well experience, we started with morning yoga at Aspen's Shakti Shala yoga studio.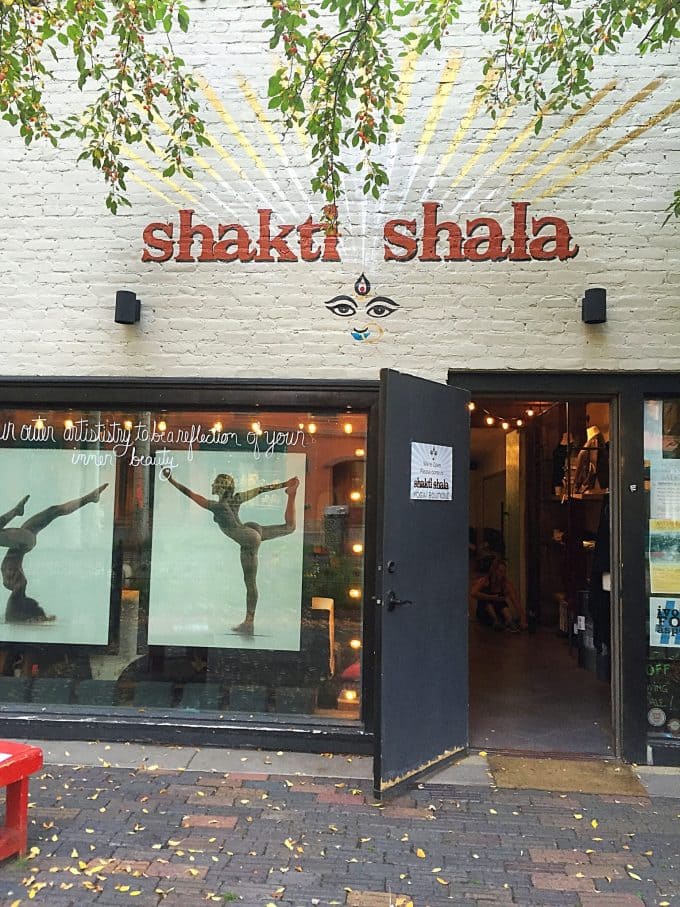 I really needed this session. It felt so good to start off the morning with a yoga flow and a deep stretch!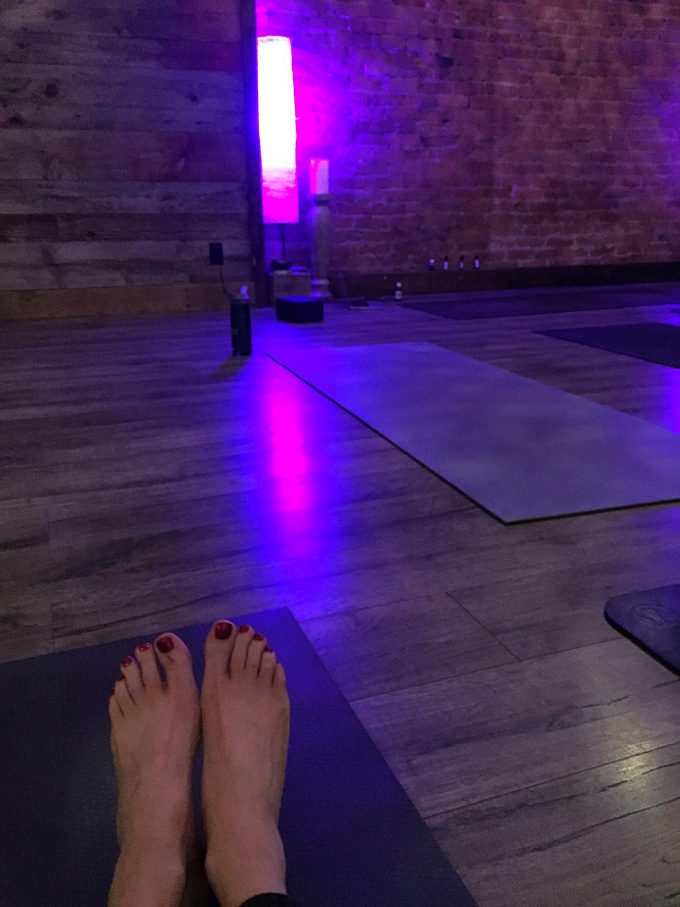 Our final session of the trip was about Putting Our Work Into Practice presented by Melissa Joy Dobbins, MS, RD, CDE, and founder of Sound Bites RD, Toby Amidor, MS, RD, CDN and Tera Miller. This session sparked a great dialogue with presenters and attendees recapping all that we had learned and how we can apply it to our business and daily lives.
They had a graphic artist come in and put it all into illustrations. This was a great visual recap of all the useful information that we learned throughout the event. It was really cool seeing everyone's thoughts and ideas come to life on paper.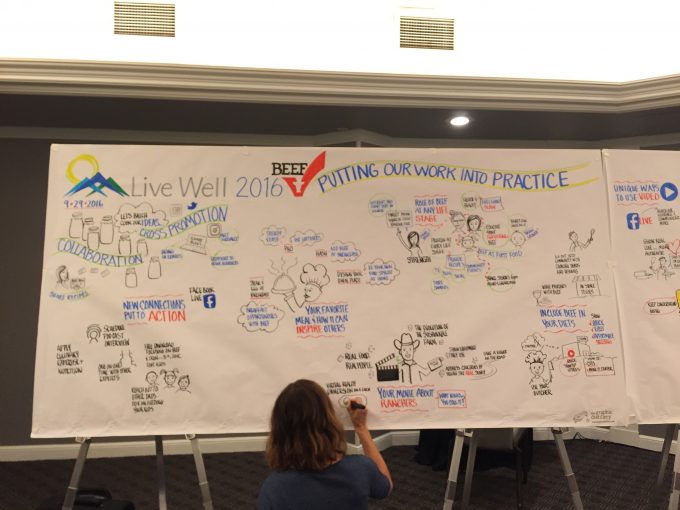 I had a wonderful experience at Live Well 2016 and look forward to putting all this great knowledge into practice in both my writing and my coaching.
Enjoy wholesome food, move & nourish your body and soul and live well!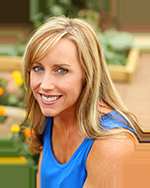 Latest posts by Amee Livingston
(see all)