I'm not much of a donut eater ( I know…gasp), but my kids certainly love them.  My daughter gets so excited when we drive by Krispy Kreme and the hot donut sign is on.  I cringe knowing how much saturated fat and sugar is in those fried balls of dough, but I still allow them a treat, on occasion.  I believe in moderation and enjoying a decadent splurge every now and then.  It makes for a healthy relationship with food.  I wanted to make a healthier version for a breakfast treat that would still taste delicious, so I created these healthier baked maple donuts adapted from a favorite Ina Garten recipe.
I replaced most of the fat in the recipe with Siggi's skyr yogurt, applesauce and extra virgin olive oil and baked them instead of the traditional frying method.  For the glaze, I went for a drizzle instead of drowning them in icing.  It's made with natural maple sugar, which has a rich maple flavor, so a little goes a long way.
The glaze adds the perfect amount of sweetness.  These healthier baked maple donuts are a guilt-free indulgence.  I would know, because I've already eaten two.  I should probably save some for the kids.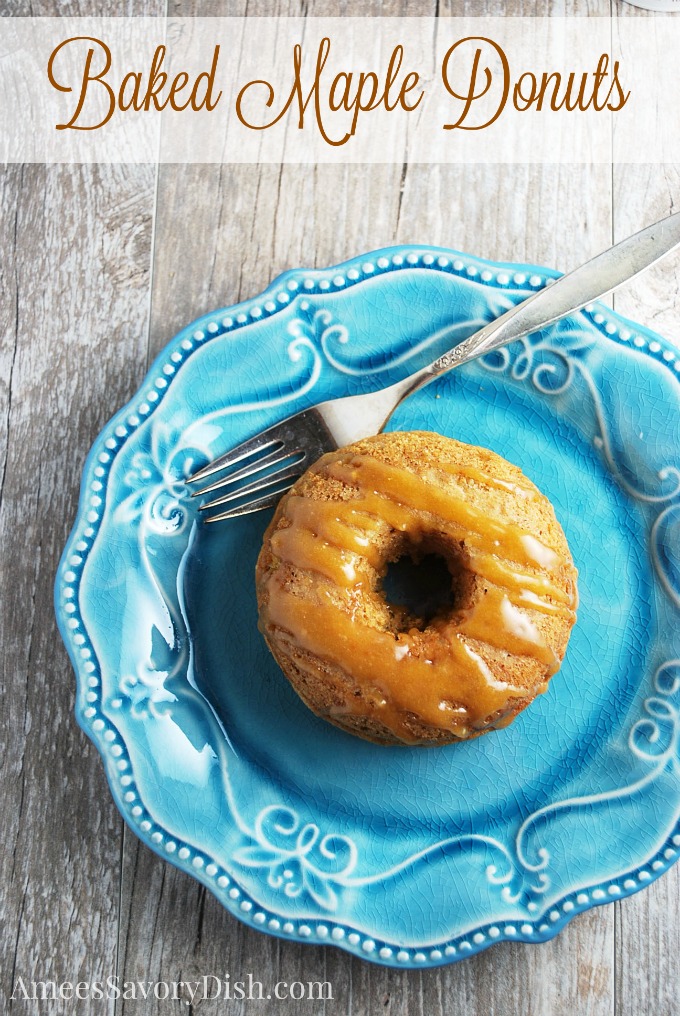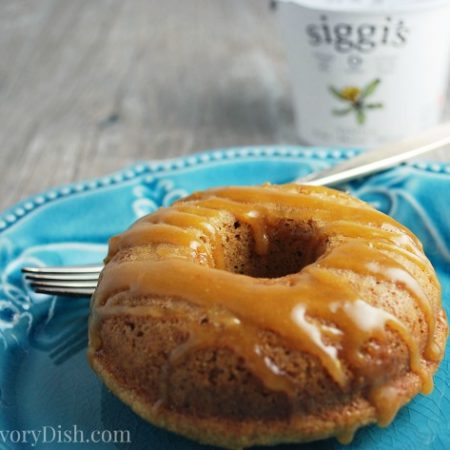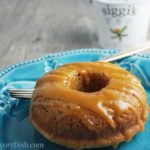 Healthier Baked Maple Donuts
*Recipe adapted from Ina Garten's Cinnamon Baked Donuts
Ingredients
For the donuts:

1

cup

unbleached white whole wheat flour

I use King Arthur brand

1/4

cup

maple sugar

1

tsp

baking powder

1/2

tsp

baking soda

1/4

tsp

salt

1/2

tsp

cinnamon

1/8

tsp

nutmeg

1

large egg

lightly beaten

1/3

cup

vanilla skyr yogurt

1/3

cup

applesauce

1/2

cup

whole milk

2

tbsp

extra virgin olive oil

1/2

tsp

vanilla extract

For the glaze:

1

tbsp

unsalted butter

2

tbsp

maple sugar

1/8

tsp

bourbon vanilla powder

1

tsp

half and half
Instructions
Preheat oven to 350 degrees F.

Grease a donut pan and sprinkle with extra flour to evenly coat all sides of the donut molds.

Stir all dry ingredients for the donuts together with a whisk

In a separate bowl, whisk all of the wet ingredients together until well mixed

Pour the wet ingredients into the dry and stir until combined, using a spatula to scrape down the sides

Pour batter, evenly, into the 6 molds

Bake for 15 minutes

Remove from oven and allow donuts to cool for 5 minutes in the pan

Place donuts on a cooling rack to continue to cool while you make the glaze

For the glaze:

Melt the butter in a microwave-safe bowl for a few seconds

Stir in maple sugar and allow to sit until sugar melts

Stir in vanilla powder and half and half and microwave for 10 more seconds until smooth and pourable

Drizzle glaze over the donuts and serve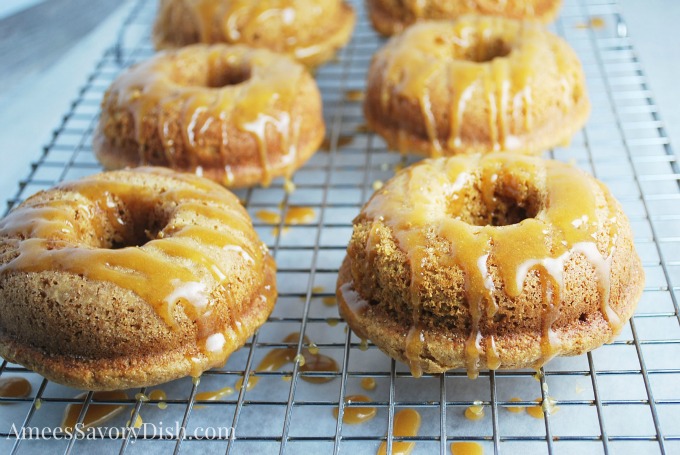 My friends at Siggi's Dairy have offered to giveaway a month's supply of their delicious skyr yogurt to one of my readers!  Be sure and leave a comment on how you would enjoy your Siggi's skyr yogurt, whether it's topped with your favorite fruit, nuts, seeds or parfait ingredients or in a recipe creation to replace some of the unhealthy fats.
Give me your best creative ideas using Siggi's Icelandic skyr yogurt and I may reshare some favorites or even create them for the blog!
You can tag me on Instagram and Twitter or in the comment section below.
I can't wait to see what you make!