I just started experimenting with chia seed flour in my baking.  I love the nutritional stats for chia seeds and want to incorporate them more into my baked goods.  I found a great gluten-free blend that contains ground chia seeds, rose tapioca, millet and chestnut flour.  It's delicious in quick breads and muffins.  
I also use Pamela's gluten-free baking mix and an unflavored protein powder called Whole Nectar in this gluten free zucchini bread recipe.  You can leave the protein powder out and just use the chia flour and baking mix for this bread, but I love adding a little more protein in my recipes.  This zucchini bread turns out very moist.  I don't even miss the wheat flours or refined sugar in the classic recipe.  

Gluten-Free Zucchini Bread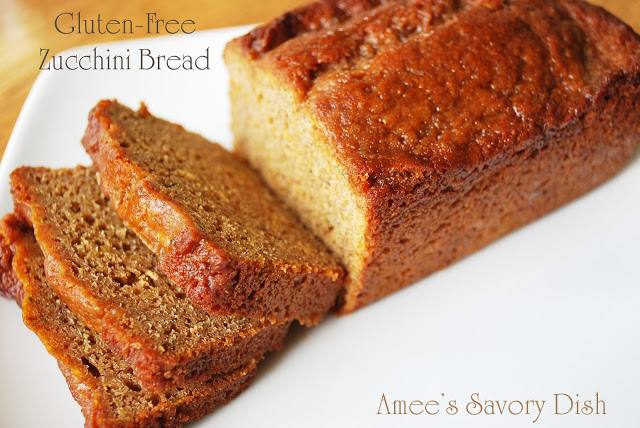 Baking Flours/Protein Powder I used for this gluten free zucchini bread recipe: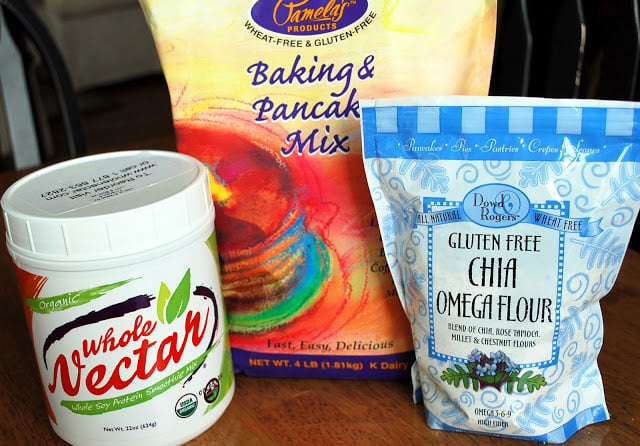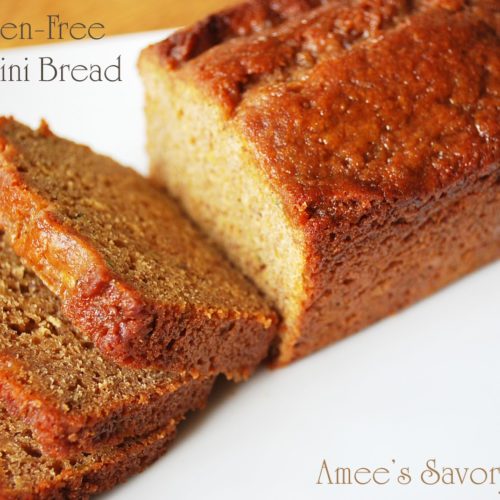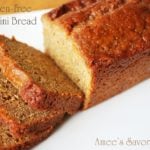 Gluten Free Zucchini Bread
This gluten free zucchini bread is incredibly moist, and so healthy, with an added boost of protein powder and extra fiber from chia seed flour.
Ingredients
1 1/2

cups

Pamela's baking mix

or any other GF baking mix with leavening ingredients

1/2

cup

chia seed flour

or make your own by grinding the seeds to a powder

1/4

cup

plain

unflavored protein powder (can be whey or non GMO soy based)

1

cup

coconut sugar

or raw sugar

1/2

cup

agave nectar

honey or real maple syrup

1/4

cup

unsweetened applesauce

3/4

cup

unrefined coconut oil

melted and cooled

2 1/2

cups

shredded zucchini

2

eggs

2

tsp

ground cinnamon

1/2

tsp

nutmeg

1

tsp

lemon juice

*optional- 1/2 cup chopped walnuts
Instructions
Preheat oven to 350 degrees F.

Combine coconut sugar, agave nectar (or honey or maple syrup-your preference), applesauce, coconut oil (make sure it's room temperature), lemon juice and eggs. Mix thoroughly.

In a separate bowl, combine flours, protein powder, cinnamon and nutmeg.

Add dry ingredients to wet mixture and blend until mixed. Fold in zucchini and nuts.

Divide mixture into four greased mini loaf pans and bake for 35-40 minutes, or two regular loaf pans for 55 minutes or until baked through.