*NuNaturals provided me their stevia products for review for this Lemon Cheesecake with Fresh Cherry Compote recipe.  All opinions are my own and not influenced in any way.
This is one dessert recipe that I would definitely consider eating for breakfast.  This Lemon Cheesecake with Fresh Cherry Compote is so delicious and has no refined sugar!

I have been sampling some products from NuNaturals with very pleasing results.  This crust for this Lemon Cheesecake with Fresh Cherry Compote is made with the NuStevia granulated stevia packets.  The lemon cheesecake is sweetened with NuNaturals Lemon Stevia Drops and I used the PreSweet Tagatose for the fresh cherry compote.  These products are a great alternative for sugar.  
I am thrilled with how natural these products taste in my recipes.  There is no bitterness and it has a nice mild sweetness with no unpleasant aftertaste.  The texture is perfect for replacing refined sugar in your recipes.  Tagatose is naturally occurring in milk, fruits and vegetables, it's lactose free, it's safe for diabetics because it doesn't raise blood sugar levels.
The Presweet is a prebiotic ingredient that feeds probiotic bacteria like the acidopholis found in yogurt.  A sweetener that aids in multiplying the good bacteria in your gut…love that!  You can use this product as an equal replacement for sugar in your recipes (1 tsp Presweet Tagatose is equal to 1 tsp sugar).  Also, it browns and carmelizes just like sugar!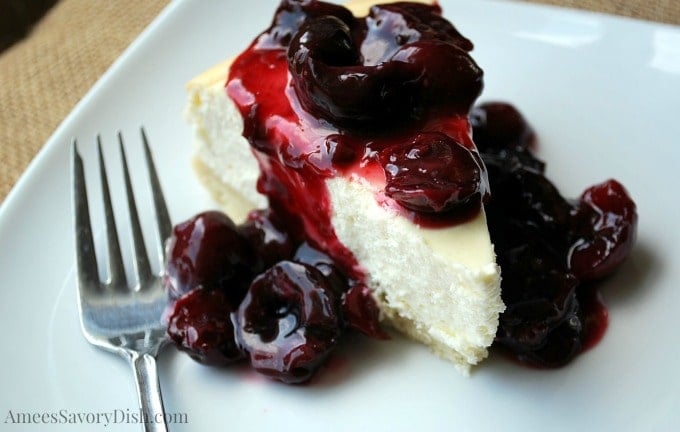 Lemon Cheesecake with Fresh Cherry Compote

Ingredients:
For the crust:
2 cups almond flour
2 packets NuStevia sweetener 
3 tbsp butter, melted (or coconut oil)

Blend all ingredients in a large bowl and press into the bottom of a springform pan.  Bake at 350 degrees for 15-20 minutes or until crust is lightly golden.  Set aside to cool.

For the cheesecake:
3 (8 oz) packages of cream cheese, softened
1 tsp NuStevia Lemon Stevia Drops (or more/less according to your taste)
2 tbsp cornstarch
3 whole eggs
1 egg white
1/2 cup sour cream (can use full fat greek yogurt, too)
1 1/2 tsp fresh lemon juice
1 tsp good quality vanilla extract

In a large mixing bowl, add cornstarch and cream cheese.  Blend at low speed until smooth and creamy.  Add eggs, egg white and sour cream (or yogurt) and beat on low for 1 minute.  Stop and scrape bowl, then add the remaining ingredients and blend on medium speed for 1 minute.  Pour into prepared crust and bake at 325 degrees for 45-55 minutes until center is firm and edges are lightly golden.  Allow to cool completely and refrigerate several hours or overnight.  

For the compote:
4 cups pitted fresh sweet cherries
1/4 cup NuNaturals PreSweet Tagatose
2 tbsp water
2 tsp cornstarch
1/4 tsp almond (or vanilla) extract

Combine all ingredients in a medium saucepan.  

Bring to a boil (stirring constantly) and cook for 1 minute until mixture has thickened nicely.  Cool and serve over cheesecake.  



NuNaturals great line of products….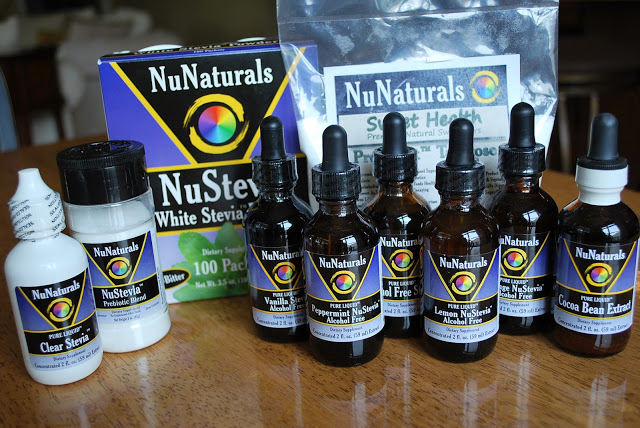 I'll definitely be making more recipes to share with this wonderful product line!  NuNaturals is the first company in the U.S. to introduce these breakthrough products targeting a healthier approach to cooking.  They taste great, much better than some of the other stevia products on the market.  Stevia sweeteners are NOT created equal, so don't hesitate to try another brand.  
The beauty of these stevia products is that they have no artificial or synthetic flavorings.  The vanilla in their vanilla stevia is made with PURE vanilla extract.  This creates a very natural tasting, non-bitter sweetener for your favorite recipes.
Please visit NuNaturals for more information on their products, so you can make this heavenly Lemon Cheesecake with Fresh Cherry Compote, too!  

SaveSave