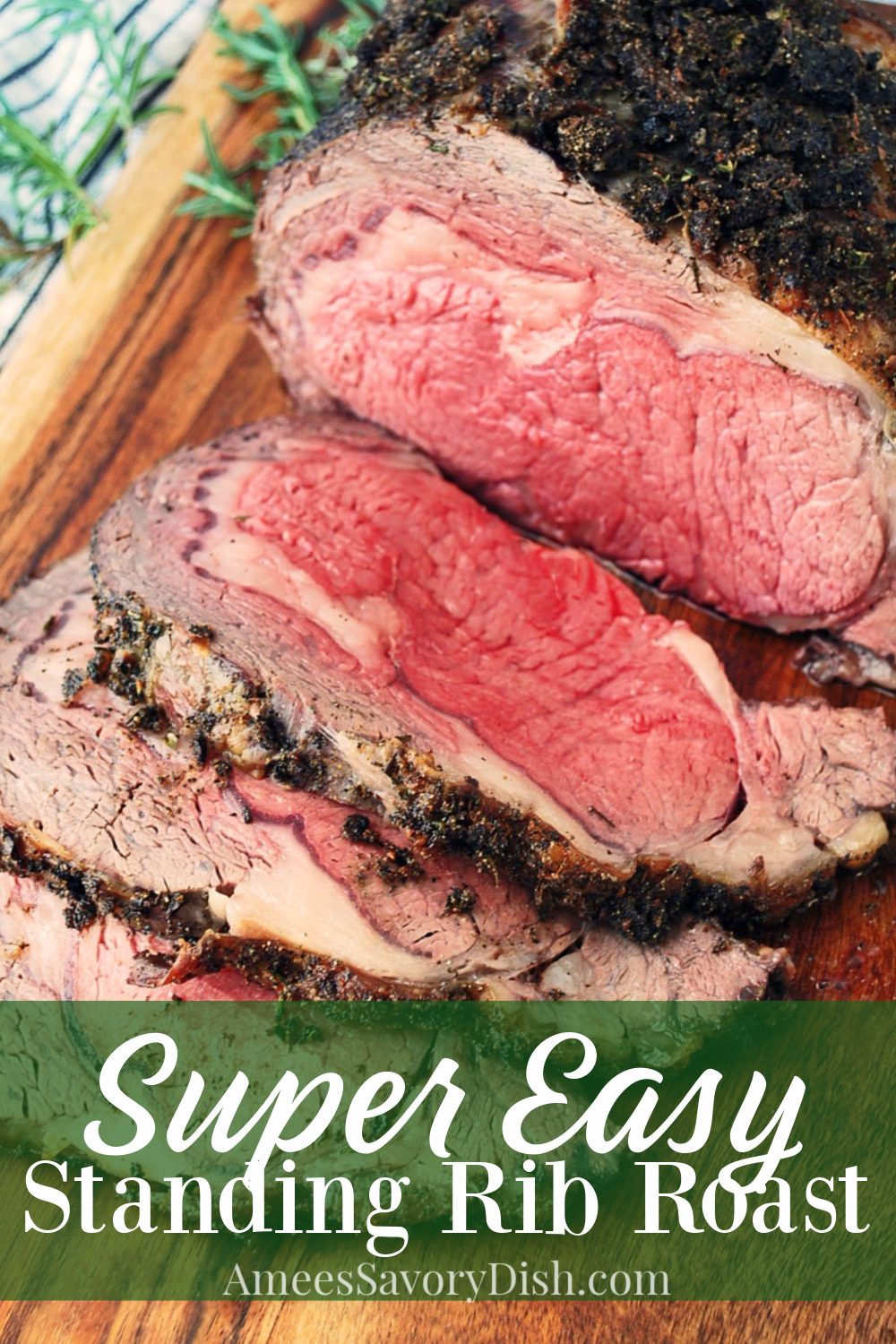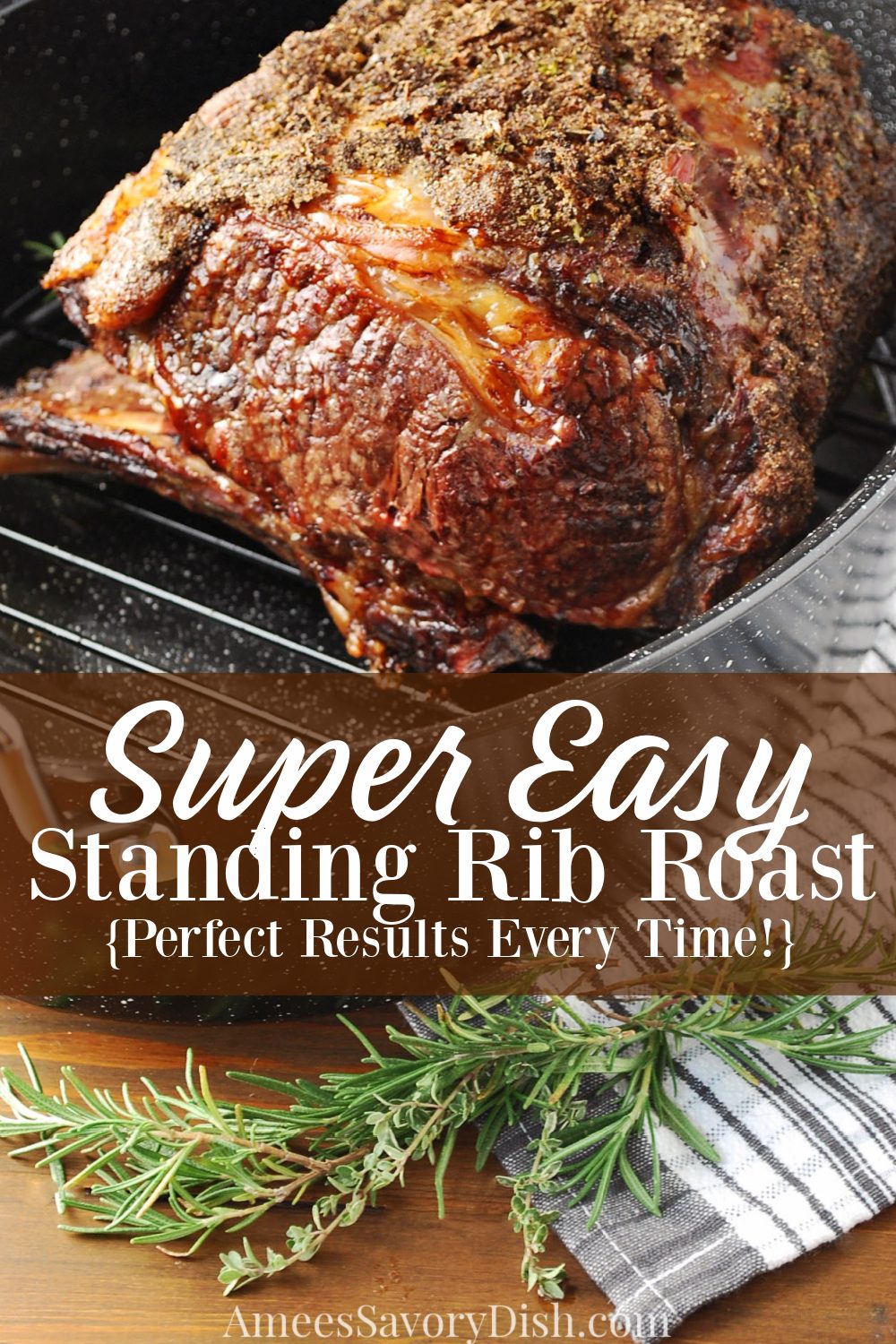 Standing Rib Roast aka Prime Rib Roast is a rich beef roast, perfect for serving on special occasions. As impressive as it is, this roast beef recipe is incredibly easy to make, and will be the star of your special occasion or holiday meal!
*This post is a collaboration with Beef. It's What's for Dinner., on behalf of the Beef Checkoff, as part of my role as a compensated member of the Beef Expert Bureau. However, all opinions are my own and not influenced in any way.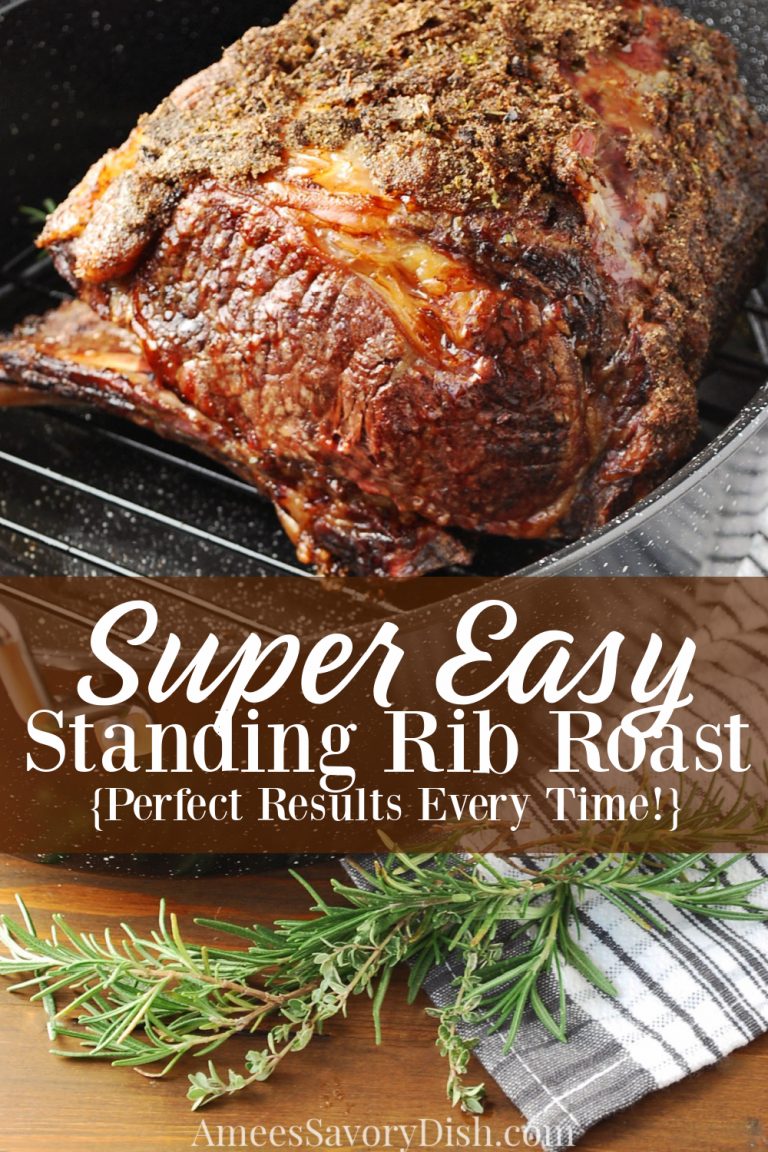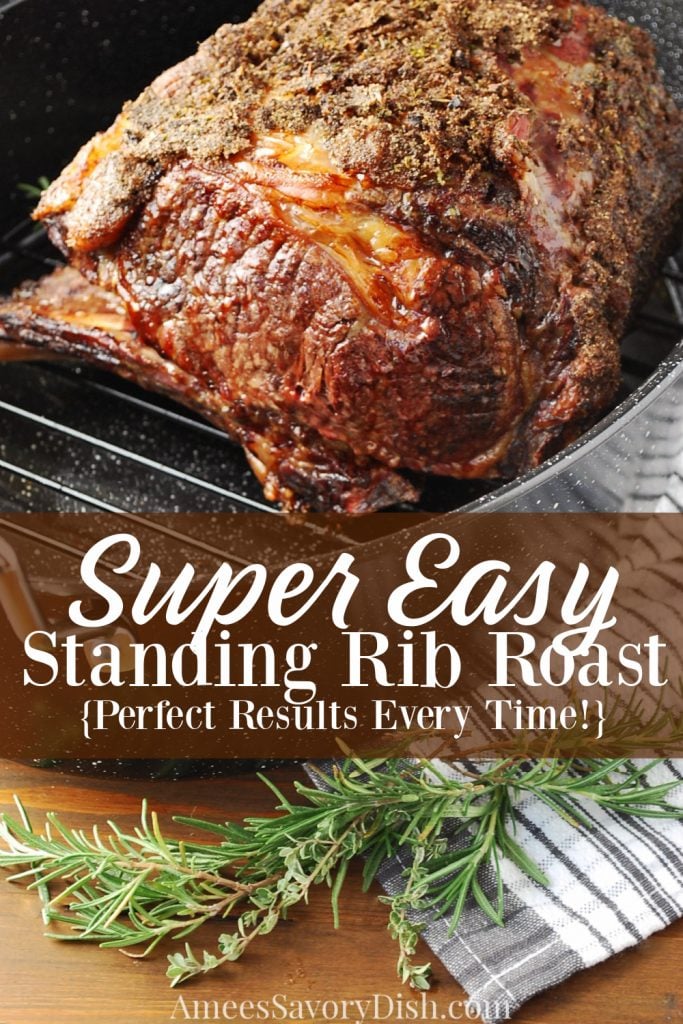 Standing Rib Roast is a holiday tradition in our house. My husband requests it every year. It's the perfect roast for a special occasion or anytime that you want to really impress your guests. Let's face it, nothing beats the flavor of a perfectly aged and beautifully marbled beef roast. Even when it's just the four of us during the holidays I still make a Standing Rib Roast. One of the best things about cooking a large roast is having leftovers for more quick and easy meals!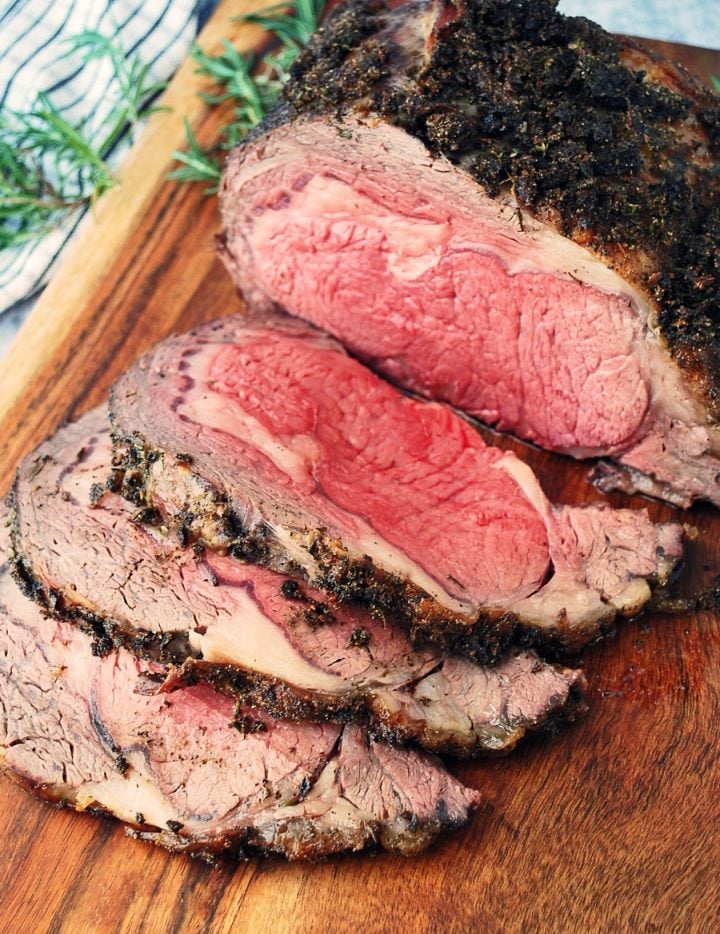 How To Choose A Beef Rib Roast
Ask your butcher for a USDA Prime grade roast, if available. It can be hard to find since most of the Prime cuts go to restaurants and specialty butchers. If Prime is unavailable, go for Choice, still amazingly delicious. Our local warehouse store carries a large selection of Prime beef. I often buy beef in bulk and package it up in smaller servings to freeze. During the holidays, they should have plenty of Standing Rib Roasts in stock. If you can't find a Standing Rib Roast cut in the size that you need, you can ask your local grocery store butcher, or specialty butcher to cut one for you. They are usually more than happy to provide this service. You can also call ahead to order the size roast that you need. For bone-in roasts, purchase a roast that has 1 rib for every 2 people.
Tip For Cooking A Perfect Rib Roast
This recipe for Standing Rib Roast is really simple, as long as you use an oven-safe meat thermometer. If you don't already have one of these handy-dandy meat gadgets, I highly recommend using one when cooking a Rib Roast. It doesn't have to be expensive, but I seriously can't imagine cooking meat without it. It takes all the guesswork out of meat timing and preparation. This way you're not stuck in the kitchen watching a timer. I love being able to do other things around the house while the roast is cooking. This is especially helpful during the holidays!

Easy Standing Rib Roast
Ingredients:
A 6-7 pound Standing Rib Roast (about 3-4 ribs)
Fresh garlic cloves
Extra virgin olive oil
Fresh rosemary
Fresh thyme
Salt
Freshly cracked pepper
Start by mixing the chopped fresh herbs and seasonings together. A well-seasoned exterior creates a delicious crust and really flavorful drippings.

Gather your rub ingredients and prepare the roast. First, place the roast fat side up on a rack in a roasting pan and give it a good rub-down with extra virgin olive oil. Next spread the minced garlic on top. Then evenly coat the top and sides of the roast with the dry spice mixture. That's it! Now you are ready to cook the roast.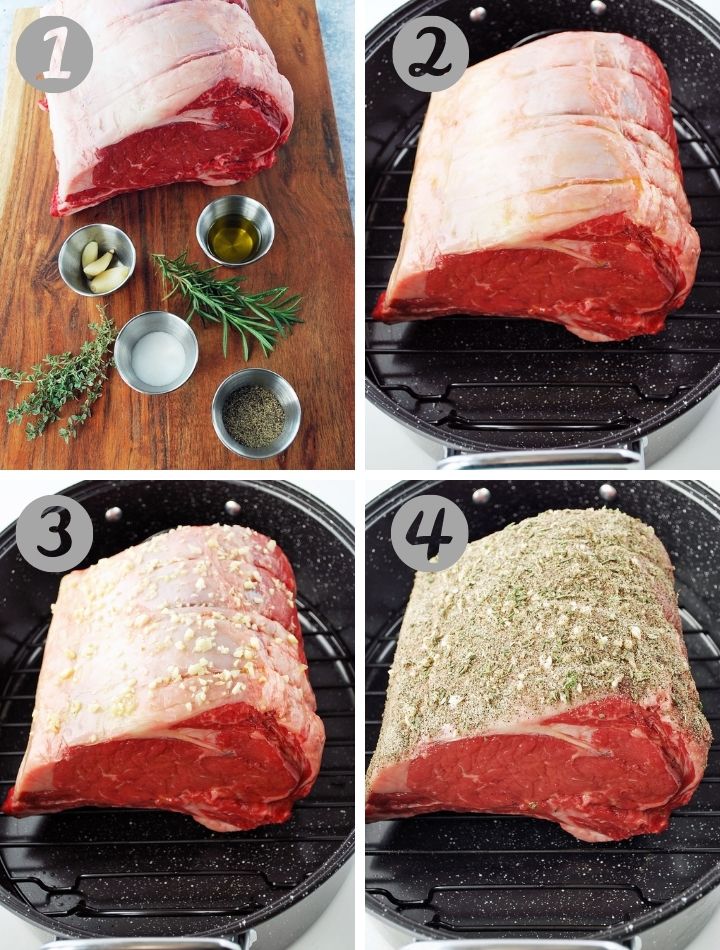 How To Cook A Perfect Standing Rib Roast
First, preheat the oven to 450 degrees F. If you want perfect results every time you make a Rib Roast, make sure that you use a good quality oven-safe meat thermometer that keeps track of the internal temperature of the roast. When roasting large cuts, like a Prime Rib Roast, an ovenproof meat thermometer that stays in the roast while cooking is preferable to an instant-read meat thermometer. This helps you avoid opening the oven unnecessarily and poking multiple holes in the roast and losing the delicious juices.
To use, place the oven-safe meat thermometer into the roast, away from the bone. Make sure it's inserted deep into the middle of the roast. Reduce the oven temperature to 350 degrees F. Place roast into the oven. It will cook for 2-3 hours, depending on the size of the roast and desired internal temperature.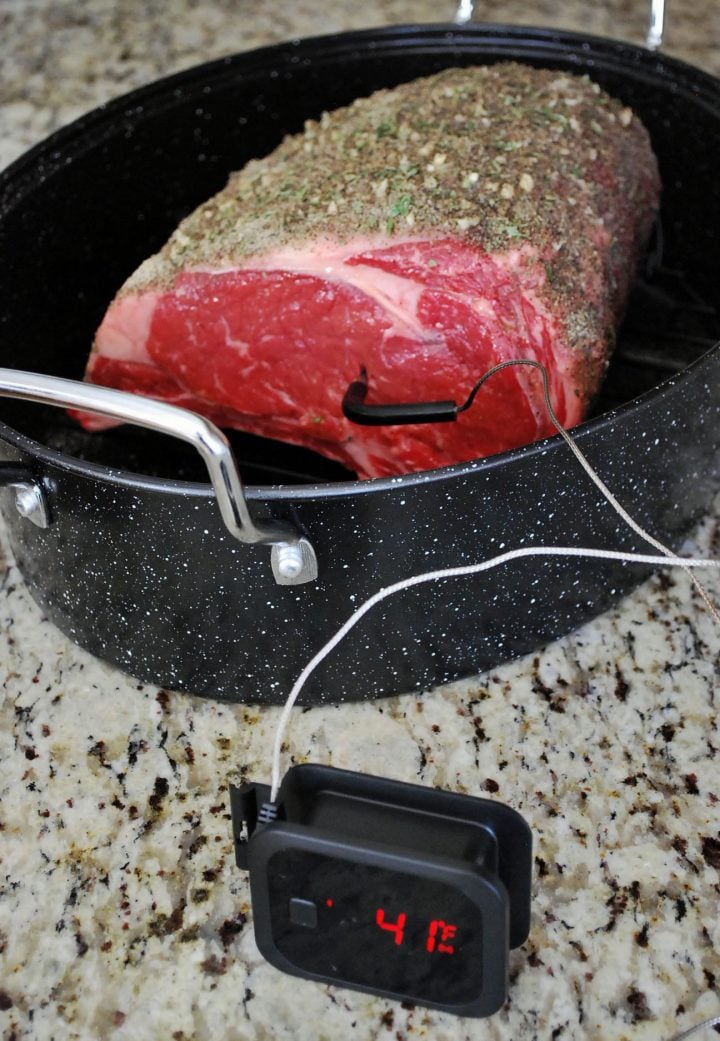 Don't Forget To Rest The Meat
After you remove the roast from the oven, allow the meat to rest. Cover it loosely with aluminum foil (this is called tenting) and let it rest for 15-20 minutes. The roast should be the perfect level of doneness after resting. The reason for resting meat is so that the juices can redistribute throughout the roast and be reabsorbed. In simple terms, it creates a juicer roast so you don't want to rush this process.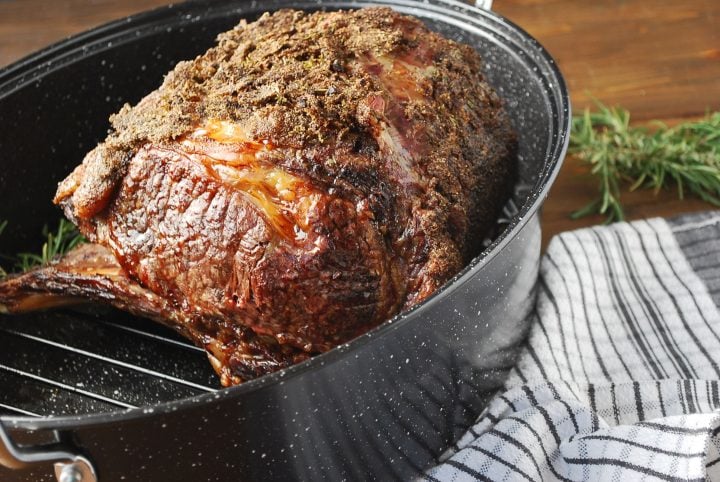 Carving Tips For Prime Rib Roast
For carving the roast, a good-quality sharp knife is essential. Instead of using a meat fork to hold the roast in place (you want to avoid piercing the meat), use a set of tongs and cut across the grain for maximum tenderness.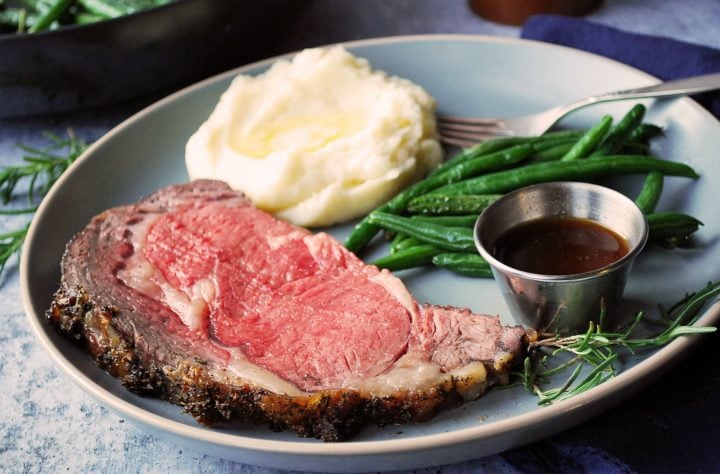 What To Serve With Standing Rib Roast
Here are a few of my favorite side dish recipes to serve with Rib Roast:
Lightened-Up Southern Macaroni and Cheese
Rosemary Roasted Sweet Potatoes
Easy Southern-Style Collard Greens
Also, don't forget the horseradish. I can't imagine eating prime rib without burning my nasal passages with a really big hunk of fresh horseradish on top. The spicier the better!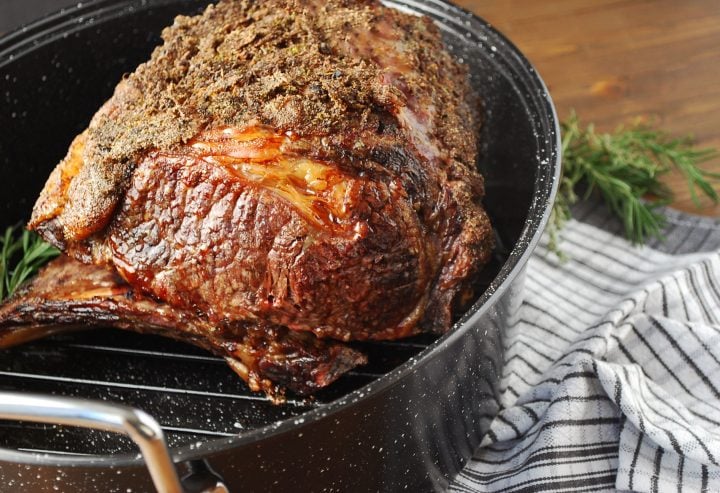 Ideas For Using Leftover Prime Rib Roast
One of the best parts of making a big roast is repurposing the leftovers for more delicious meals! Here are a few tasty ways to enjoy leftover Prime Rib Roast:
French Dip Sandwich- This is one of my favorite flavorful sandwiches! Top a sliced French baguette with thinly sliced Prime Rib Roast, provolone cheese (I pop it into the toaster to broil and melt the cheese), and sautéed onions. Whip up a quick Au Jus for dipping using a packet of Au Jus mix. Serve with a garden salad and you've got a quick and easy lunch or dinner ready in under 10 minutes.
Roast Beef Salad- You can never go wrong with a hearty salad loaded with veggies and topped with beef for a quality source of muscle-building protein. One of my favorite combos is mixed artisan salad greens, sliced avocado, cherry tomatoes, shaved red onions, and leftover Prime Rib Roast. Top with your favorite salad dressing. My favorite picks are homemade ranch dressing, Thousand Island, or chunky blue cheese.
Prime Rib Vegetable Soup- Don't toss out the rib bones! After slicing the Rib Roast you'll be left with a bottom piece that includes the rib bones. This makes an amazing pot of soup, so save those bones for creating a rich, delicious soup stock.
*This post was originally published in January 2015 and updated in December 2020.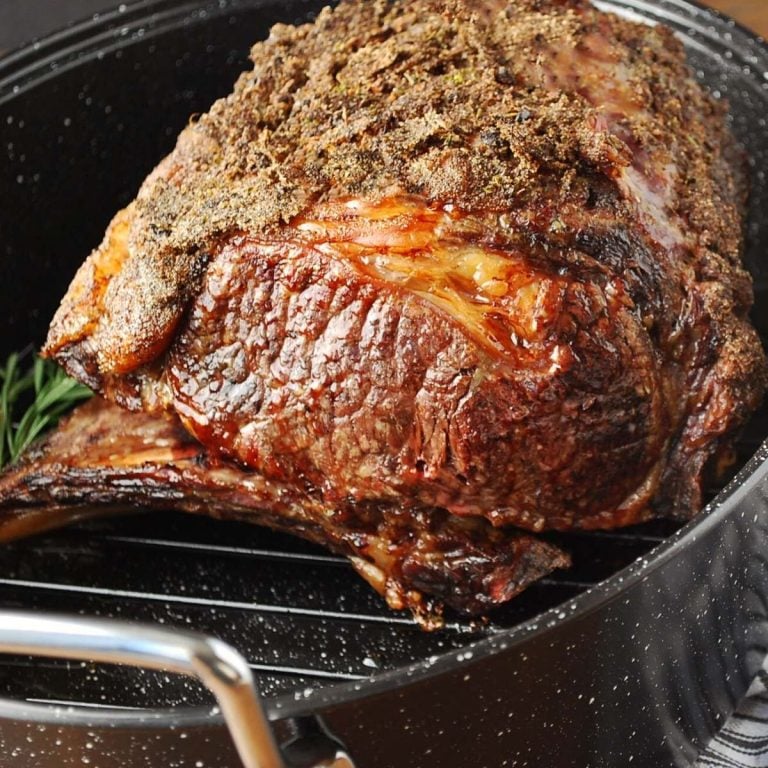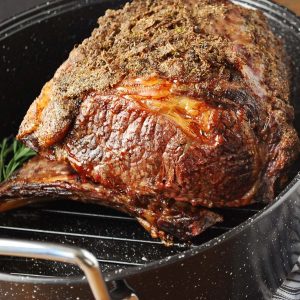 Easy Standing Rib Roast
Standing Rib Roast is a rich beef roast, perfect for serving on special occasions. As impressive as it is, this roast beef recipe is incredibly easy to make, and will be the star of your dinner! 
Print
Pin
Rate
Ingredients
6-7

lb

Standing Rib Roast

(a 3-4 rib roast)

3

garlic cloves

minced

¼

cup

extra virgin olive oil

2

teaspoon

chopped fresh rosemary

2

teaspoon

chopped fresh thyme

1

tablespoon

sea salt

2

tablespoon

freshly cracked pepper
Instructions
Preheat oven to 450 degrees F

Massage roast all over with olive oil

Place roast, fat side up, in a shallow roasting pan

Spread minced garlic all over the top of the roast

Mix remaining seasoning ingredients in a small bowl, then sprinkle all over roast until the top is evenly covered

Place oven-safe meat thermometer in the center of the roast, away from the bone. Make sure that it's inserted deep into the middle of the roast

Set thermometer for 135 degrees F for medium-rare, 145 degrees for medium

Reduce oven temperature to 350 degrees F

Place roast into the oven, The roast will cook anywhere from 2-3 hours until the thermometer registers the desired temp

Remove from the oven and allow the roast to rest for 15-20 minutes, the roast should be a perfect medium-rare (145 degrees) after it's given proper time to rest.
Notes
Nutrition info is for a 6 oz portion of the rib roast.  
Nutrition
Calories:
452
kcal
|
Protein:
44
g
|
Fat:
29
g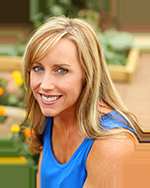 Latest posts by Amee Livingston
(see all)