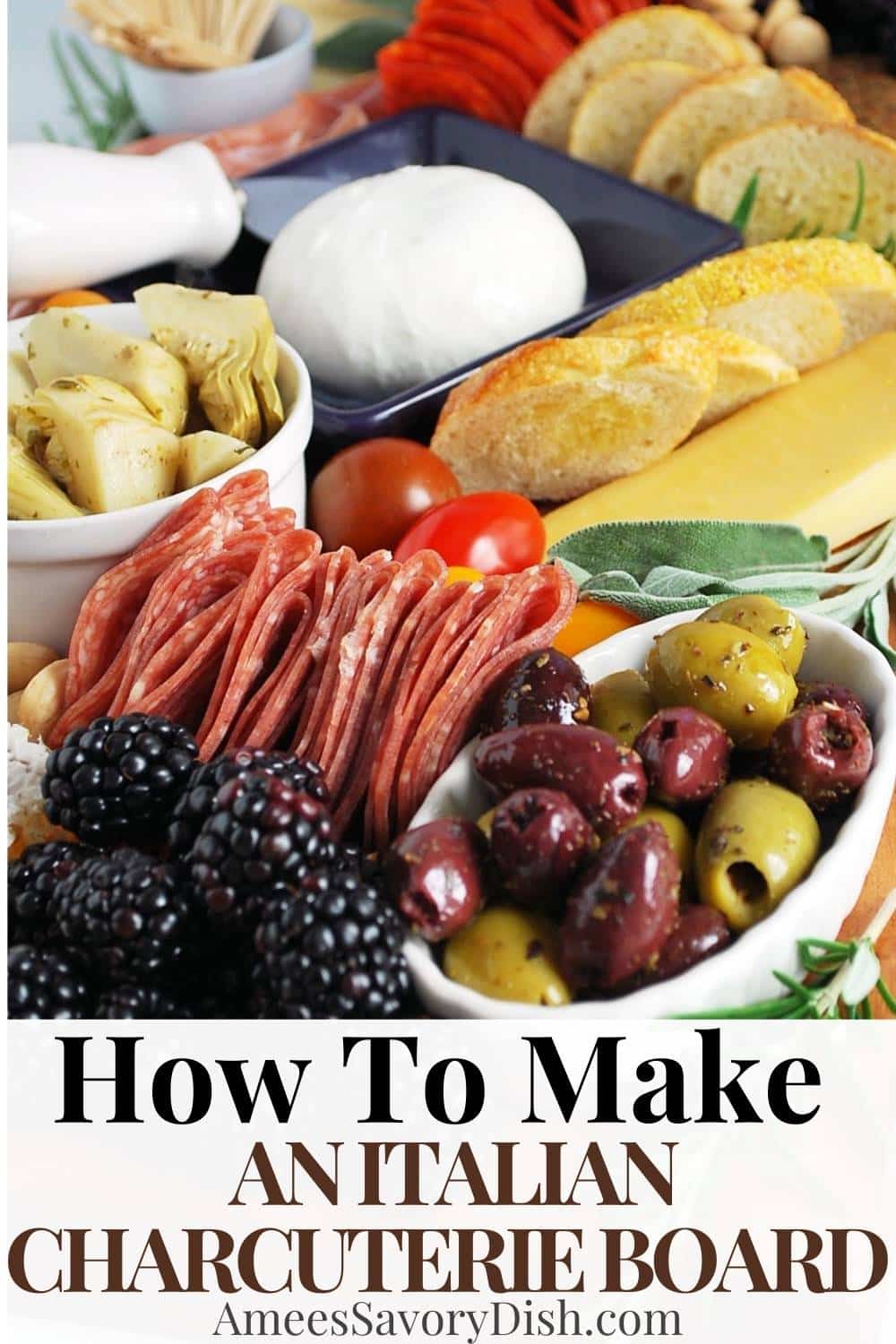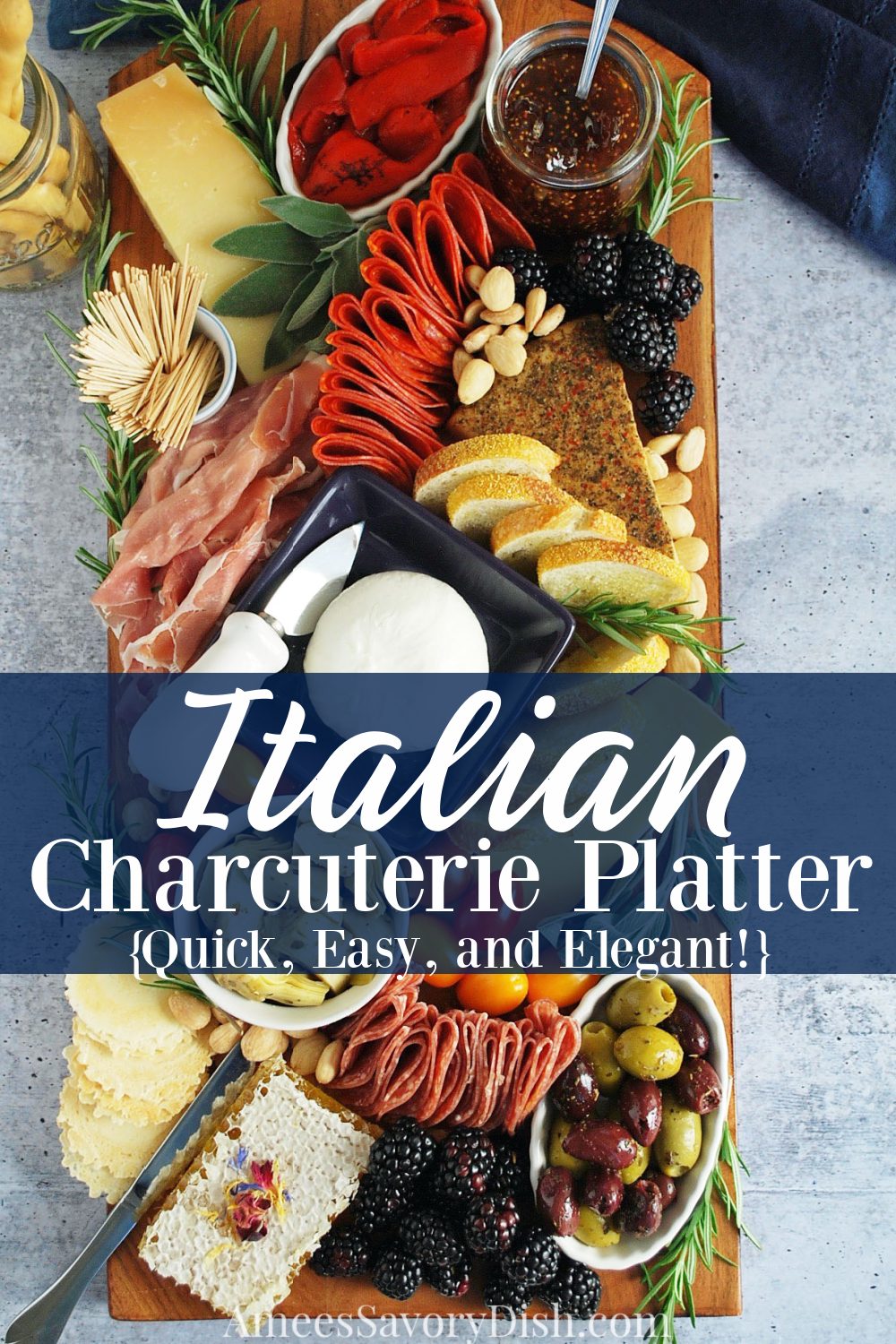 I'm going to show you how to build a beautiful, yet simple, Italian Charcuterie board for effortless entertaining. This Italian Charcuterie platter is not only a cinch to throw together, but it makes a gorgeous presentation for serving guests.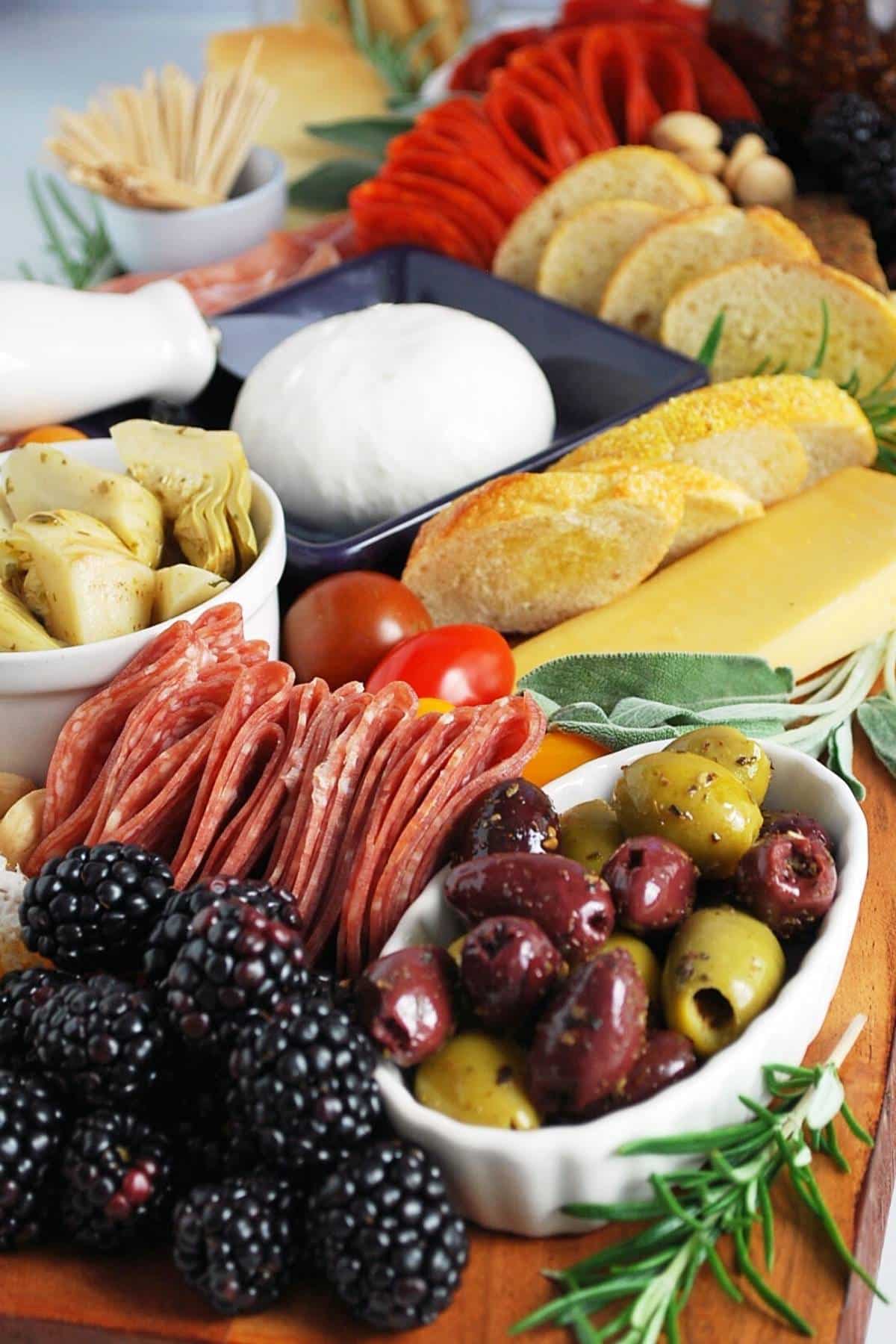 Charcuterie is perfect for a light dinner with friends, family gatherings, and the perfect grazing appetizer for parties. Whether it's a holiday celebration or casual dinner, everyone loves a beautifully arranged Charcuterie board. Not to mention, it's extremely versatile and easy to prepare.
The Origin Of Charcuterie
Charcuterie (pronounced "shahr-ku-tuh-ree") been around for hundreds of years, but it's definitely a current hot and trendy menu item for restaurants, catering events, and home entertaining. The word Charcuterie is derived from the French words for flesh (chair) and cooked (cuit) where the meat is prepared by salting, brining, or smoking. Traditionally, Charcuterie included various types of sausages, rillettes (shredded meats mixed with spices and fat), and pâté. Modern Charcuterie has evolved to include a variety of different meats, cheeses, fruits, nuts, dips, and vegetables. A wooden board is your canvas and honestly, nowadays anything goes!
Charcuterie Essentials
I love how sharable platters bring people together around delicious food. Not to mention, they are an Instagram-worthy work of art. There are really no hard-and-fast rules to assembling your board, you just need to start with a few essentials. To arrange your ingredients you need a good quality wood cutting board, tray, or platter. They have a great selection of charcuterie boards on Amazon. HomeGoods is another great place to search for boards. It's hit or miss, but that's where I found the board used in this post. I love the round and octagon shaped boards for charcuterie, as well as the long skinny wood boards that I used here.
If you are making a Charcuterie board on a budget, you can often find a good selection of quality cured meats, gourmet cheese varieties, and other board ingredients at your local wholesale club. Trader Joe's is another great place to find ingredients at a fair price. You don't have to spend a fortune to put together an elegant platter!
Favorite Italian Charcuterie Board Ingredients
Italian Cheeses
You want to go for a blend of flavors and textures when selecting cheese varieties for a charcuterie board. You can't have an Italian board without a few staple Italian favorites. Burrata, one of my personal soft cheese favorites, is an Italian cow's milk cheese with stracciatella and cream encased in a shell of mozzarella. When you slice into it, the creamy center oozes out and you have the perfect cheese texture for spreading. Serve it at room temperature spread on top of crostini with cherry tomatoes and a drizzle of olive oil. It's pure heaven.
Fontina cheese (semi-hard cheese), Parmesan cheese (hard cheese), and Alpine cheese (semi-hard) are a few other top picks for an Italian-themed board. I like to do at least one of each of the texture varieties on a grazing board. Having a mixture of creamy, soft, firm, and crumbly cheese is the goal. Cheese is best served at room temperature, so allow the cheese to sit out for 20-30 minutes prior to serving.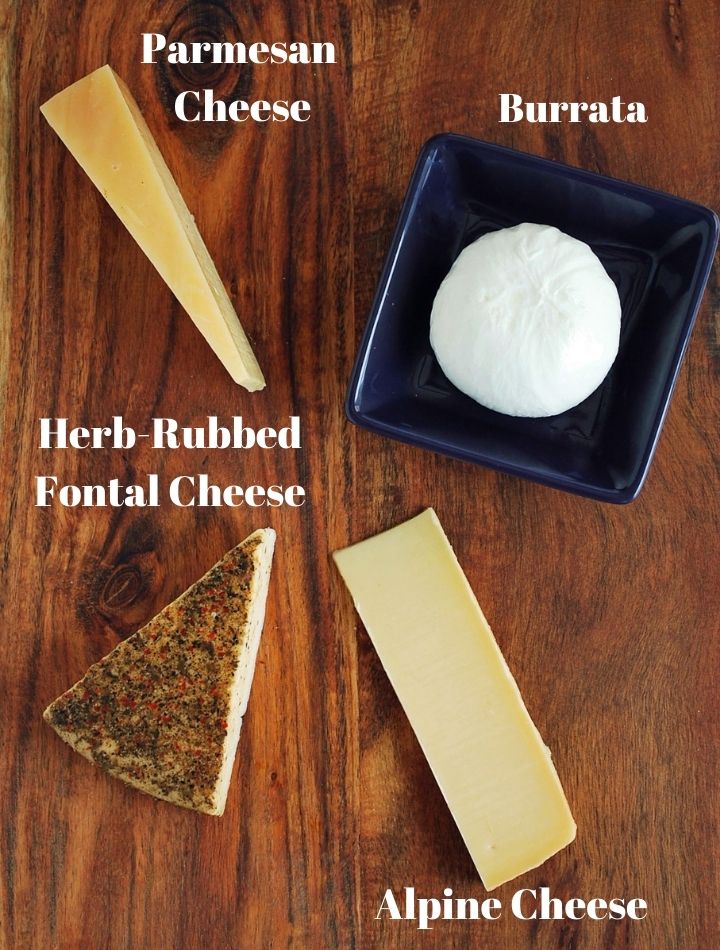 Italian Cured Meats for Charcuterie
I kept things simple for this board and included Italian cured meats that are easy to find in your local grocery store, including pepperoni, two different types of salami, and prosciutto. If you want to jazz things up a bit you can also use artisan cured meats like Speck, Soppressata, Coppa, Lardo, Mortadella, and Bresaola. These cured meat varieties can be found in specialty butcher shops or online.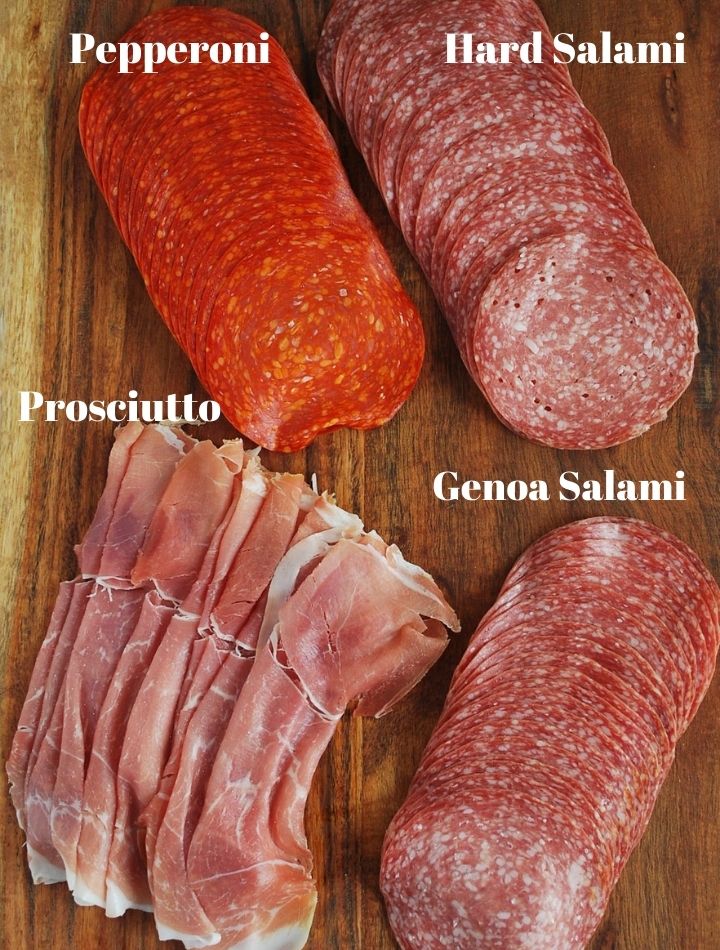 Sweet Charcuterie Complements
Real honeycomb is one of my favorite additions to a Charcuterie board. It's an elegant splurge, but worth the extra expense for presentation and quality. There's no better complement to cheese and fresh fruit than honey. Here in the south, there's no shortage of incredible local honey, and this southern hostess wouldn't build a grazing board without it. Savannah Bee Company Raw Honeycomb is easy to find locally in the south, but you can also buy it online for convenience.
Fig jam and fresh berries are also great sweet additions to complement the salty flavors in the meat. Feel free to switch up the berries and jam flavors or do a combination of fresh fruits that are currently in season.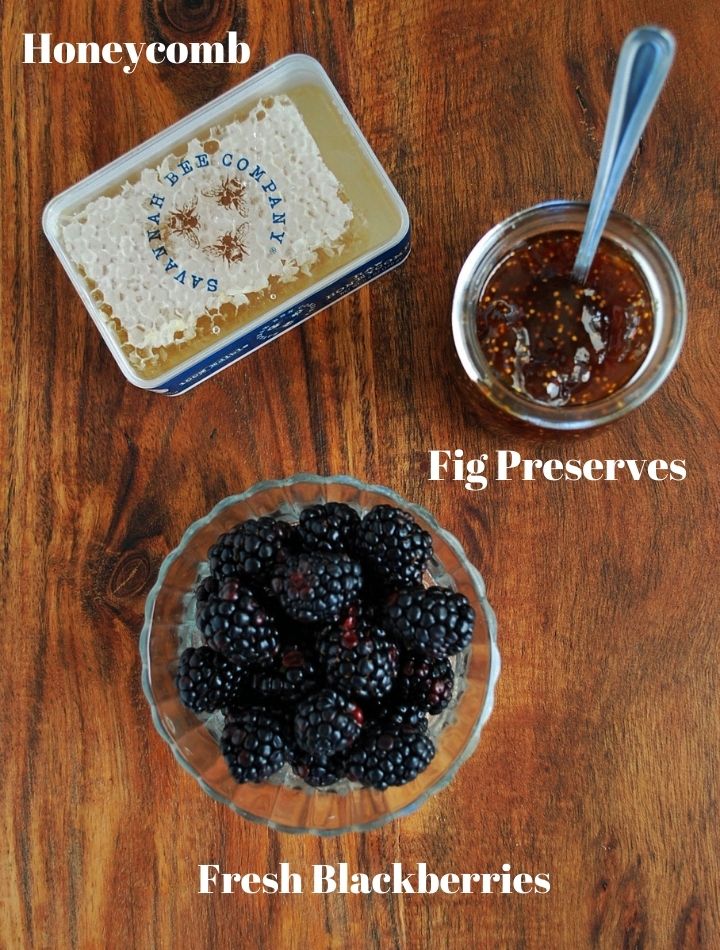 Savory Charcuterie Complements
The savory ingredients that I used for this board, in addition to the meat and cheeses, are fresh cherry tomatoes, roasted red peppers, marinated artichokes, marinated olives, and Marcona almonds. Although I didn't use them today, pickled asparagus and pickled okra are other salty favorites with Charcuterie. Here in the south, we love our pickled veggies!
I didn't include it on my board today, but I also love homemade pesto sauce for spreading onto crackers and crostini.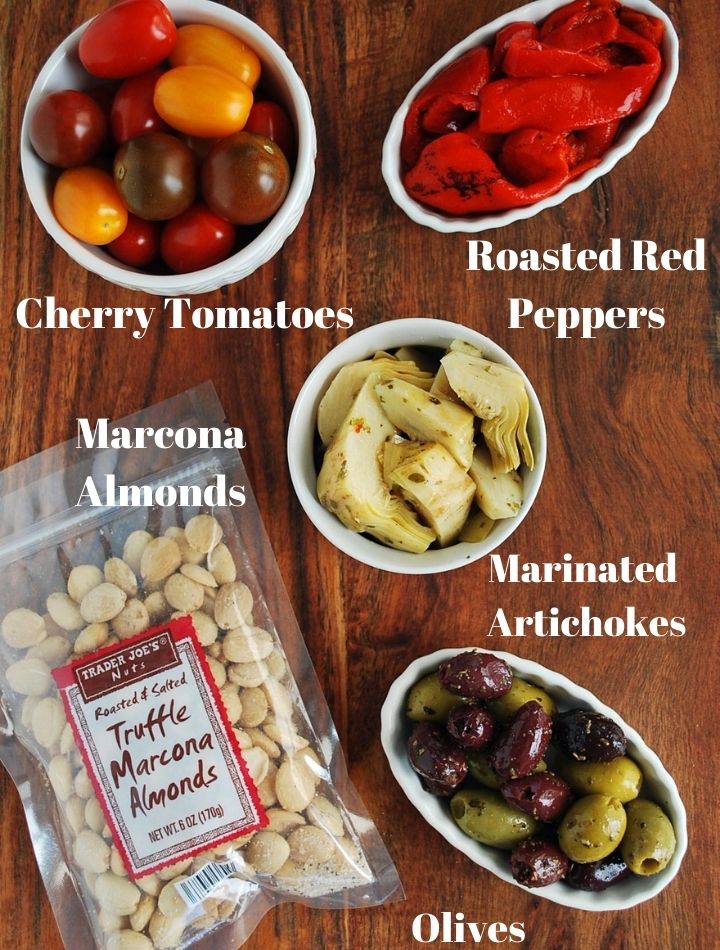 Bread and Crackers For Charcuterie
Like I said before, a great Charcuterie board has a variety of flavors and textures. Crackers, breadsticks, and crostini provide that essential crunch and a base for layering your favorite meats and cheeses. You can also serve some additional untoasted sliced bread on the board for a different option.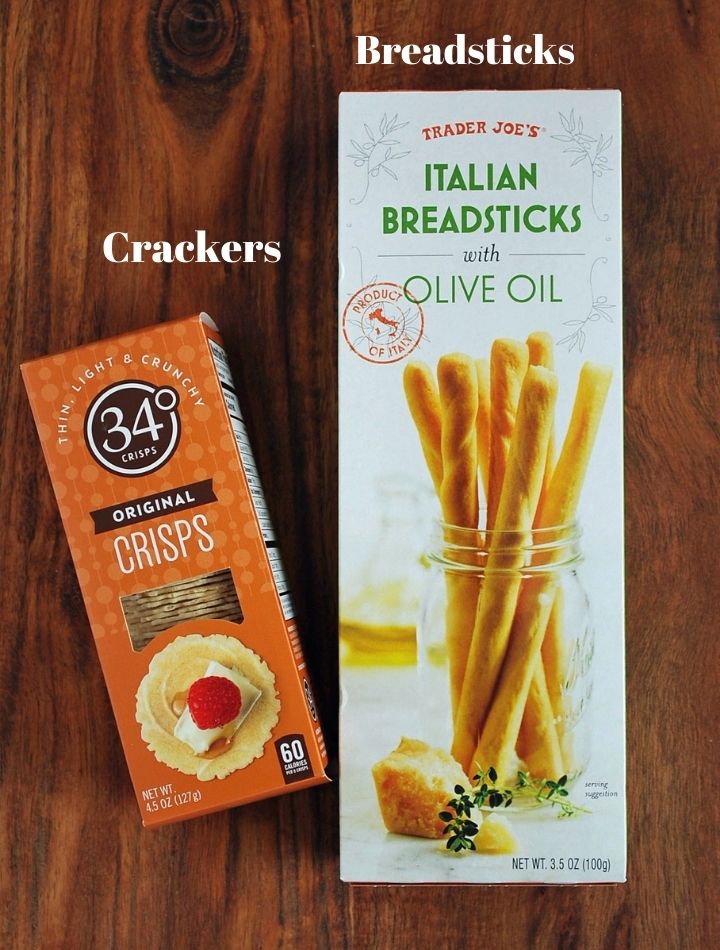 Sliced baguette for crostini...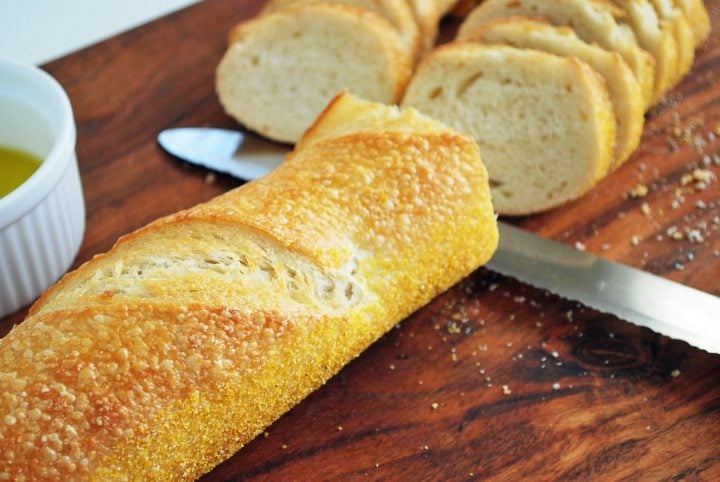 Charcuterie Garnishes
Fresh herbs add a nice aroma and a gorgeous pop of color to a charcuterie board. I chose fresh sage and rosemary for my board because they are currently in-season. In the summertime, fresh basil and basil pesto are fabulous additions for serving with the burrata and tomatoes. A good-quality balsamic vinegar would also be great to serve on the side for drizzling.
The dried flowers are a nice finishing touch to sprinkle around the board and on top of the honeycomb. My niece, Kate, recently made a charcuterie board for a family party and used the dried flower petals. It looked so pretty! Since I was smitten with this garnish, she gave me the rest of the bag to use. She also wasn't sure where to buy them, since she had gotten them from work. Luckily, I was able to find them on Amazon for when I run out, so you can grab your own bag of edible flowers for adding that extra special touch. After all, it's the little things that make such a difference. 🙂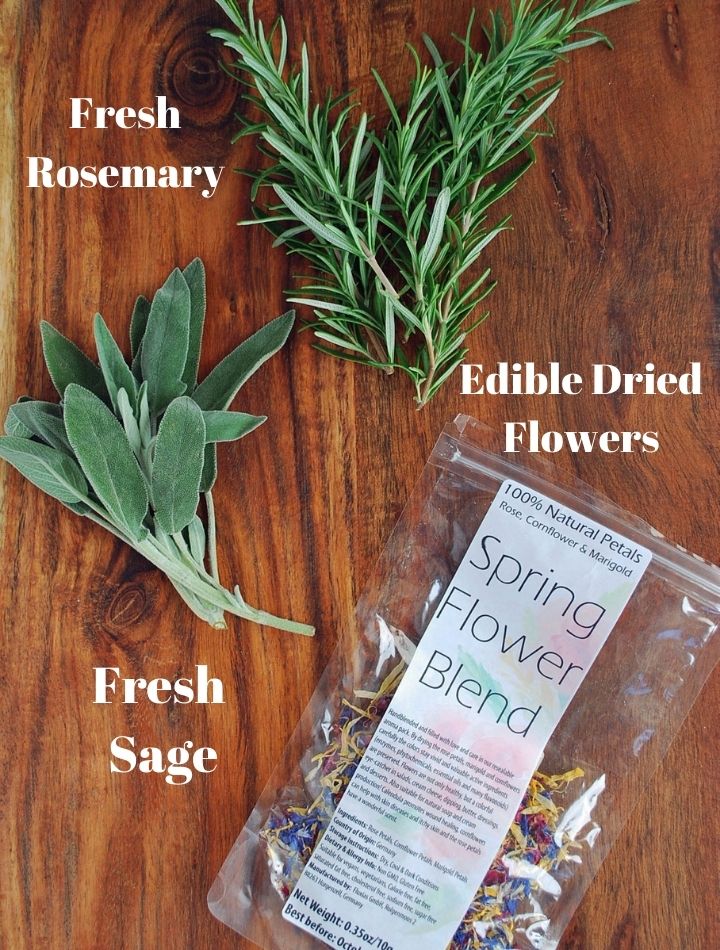 How To Make Crostini For Charcuterie
Crostini is a classic Italian appetizer made with grilled or toasted bread and toppings. It's the perfect addition to an Italian Charcuterie platter. I like to make crostini toast so guests can build their own appetizer with a variety of delicious toppings.
To make the baked crostini, preheat the oven to 375 degrees F. Slice a fresh French baguette into thin slices (about ¼ inch thick). Arrange the slices on a baking sheet and using a pastry brush, brush each slice with a little extra virgin olive oil. Sprinkle each slice with a pinch of coarse salt and bake for 5-6 minutes. Allow the bread to cool to room temperature and set aside.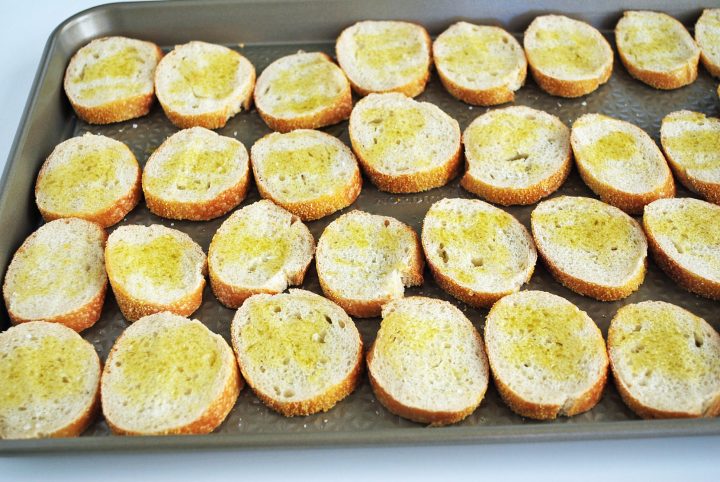 How To Fold Meat For Italian Charcuterie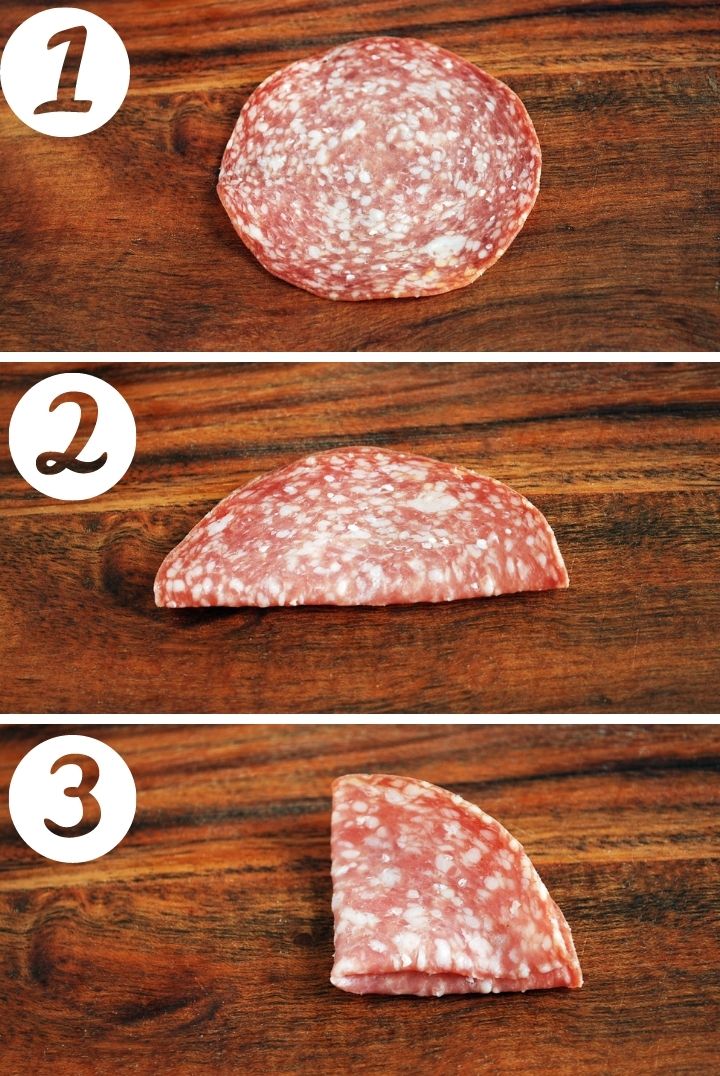 How To Assemble A Charcuterie Board
Using jars and serving dishes in a variety of colors and sizes can add a nice visual element to the board. I like to arrange the dishes on the board first, placing them in opposite corners of the board and one in the middle, then fill in with the cheeses (you can slice it, leave it whole, or have a combination of both), then adding in the folded meats, followed by the honeycomb, bread, fruit, crackers, herbs, and nuts.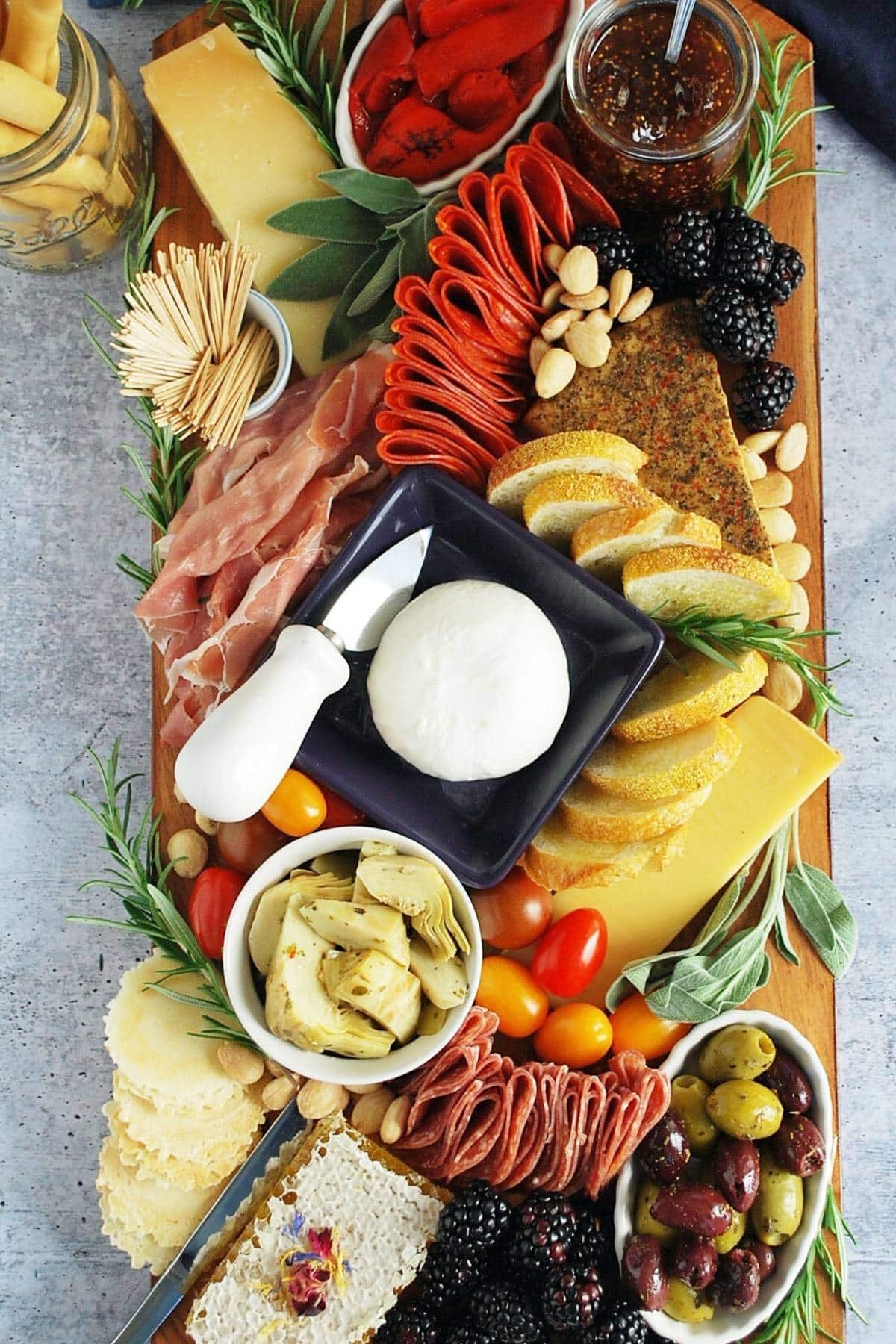 Just look at that oozing honeycomb! It's absolutely worth the splurge.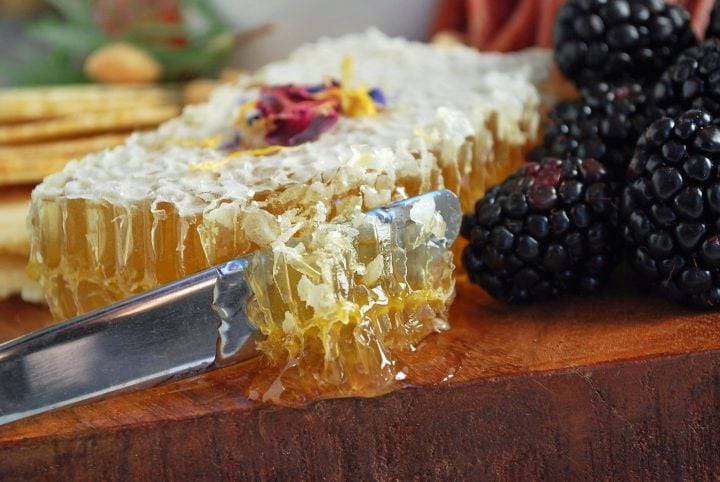 I also added a small jar of toothpicks to the board for picking up the olives and artichokes. Small serving forks will work great, too.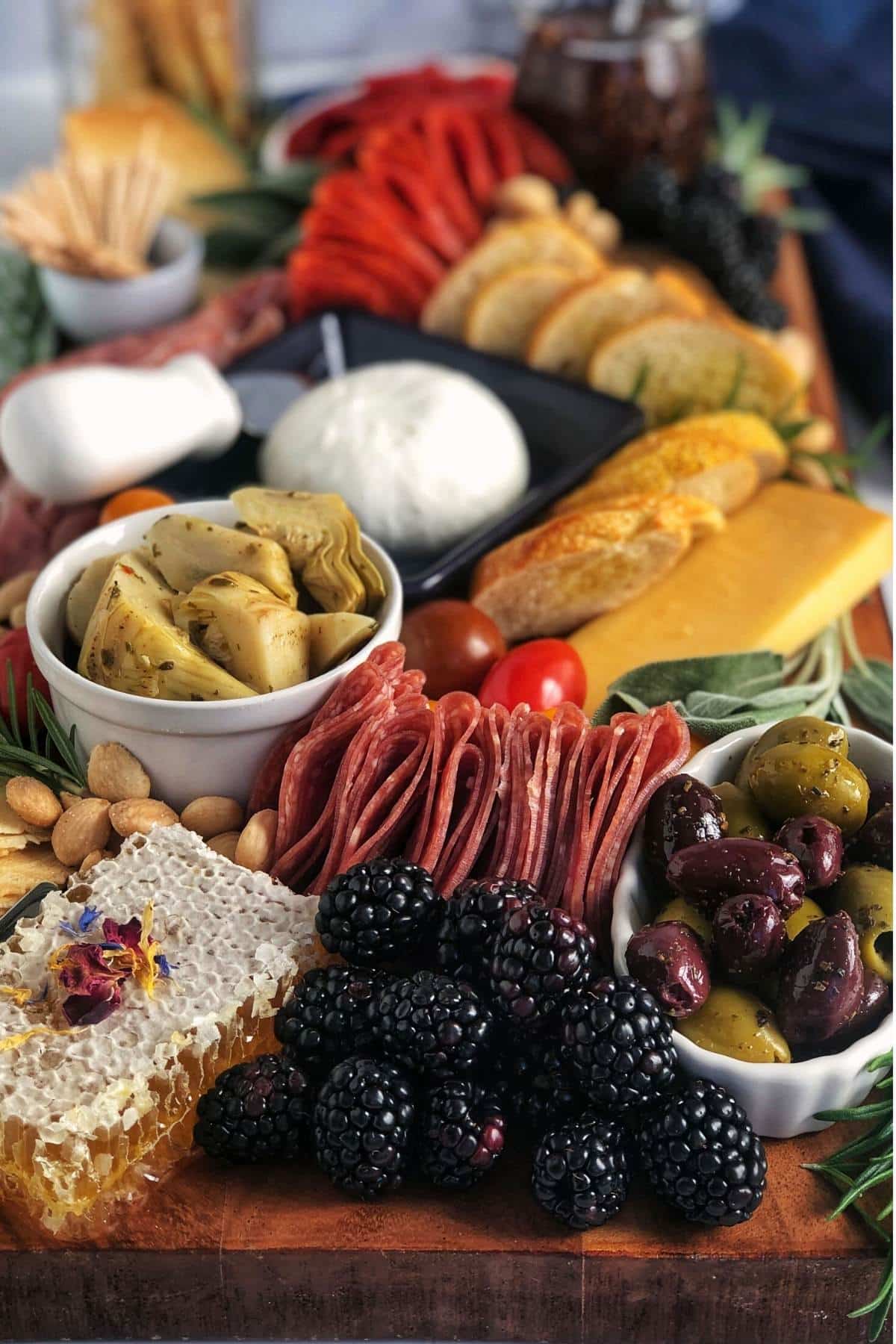 Don't forget the wine! Charcuterie without wine is like peanut butter without jelly. They're better together but can still stand on their own. I prefer to go with a light to medium-bodied red wine with fruity notes and avoid anything with firm tannins. Cabernet Sauvignon and Pinot Noir are personal favorites. If you prefer white wine, Riesling, Chardonnay, and Sauvignon Blanc are great options.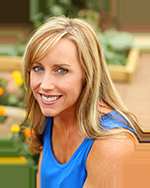 Latest posts by Amee Livingston
(see all)