Caramelized bananas with vanilla bean frozen yogurt and maple drizzle is a delicious healthy dessert option! This clean eating dessert recipe is perfect for summer!
Need a "clean-eating" solution to a nagging sweet tooth??  I needed to find a fix since I have sworn off refined sugar in my diet.  This delicious caramelized bananas dessert fits the bill and it's so simple to make!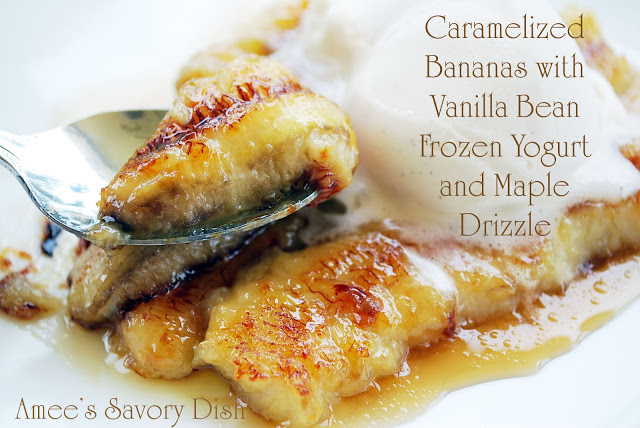 Caramelized Bananas with Vanilla Bean Frozen Yogurt and Maple Drizzle
Ingredients for one serving (for the bananas):
1 large ripe banana, sliced in half and then slice again lengthwise (you will have 4 pieces)
1 tbsp organic salted butter
1 tbsp real maple syrup
Directions:
Heat butter in a skillet over medium heat until melted.  Add bananas and turn up to medium-high and cook on both sides until they are golden brown.  Transfer to a plate and drizzle with maple syrup.  Top with a scoop of homemade vanilla bean frozen yogurt (see recipe below).
Ingredients (for the frozen yogurt):
1 cup whole organic milk
2 cups plain whole milk yogurt 
(you can use Greek yogurt-it will have a more tart flavor but a higher protein count, I go for Greek)
1/4 cup Stevia in the Raw brand granulated stevia
3 tbsp light amber agave nectar or maple syrup
1 tsp real vanilla extract
1 vanilla bean
Directions:
Slice the vanilla bean lengthwise and scrape all seeds into a mixing bowl.  Add all other ingredients and whisk until thoroughly mixed.  Pour into an ice cream maker and freeze according to manufacturer's instructions.  I prefer this in soft-serve form right out of the ice cream maker.  The taste and texture is best served immediately.  You can transfer to a covered container and freeze up to 2 hours.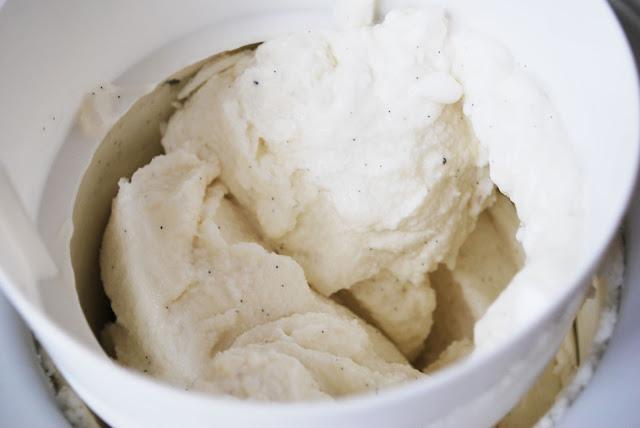 More delicious healthy summer dessert recipes: