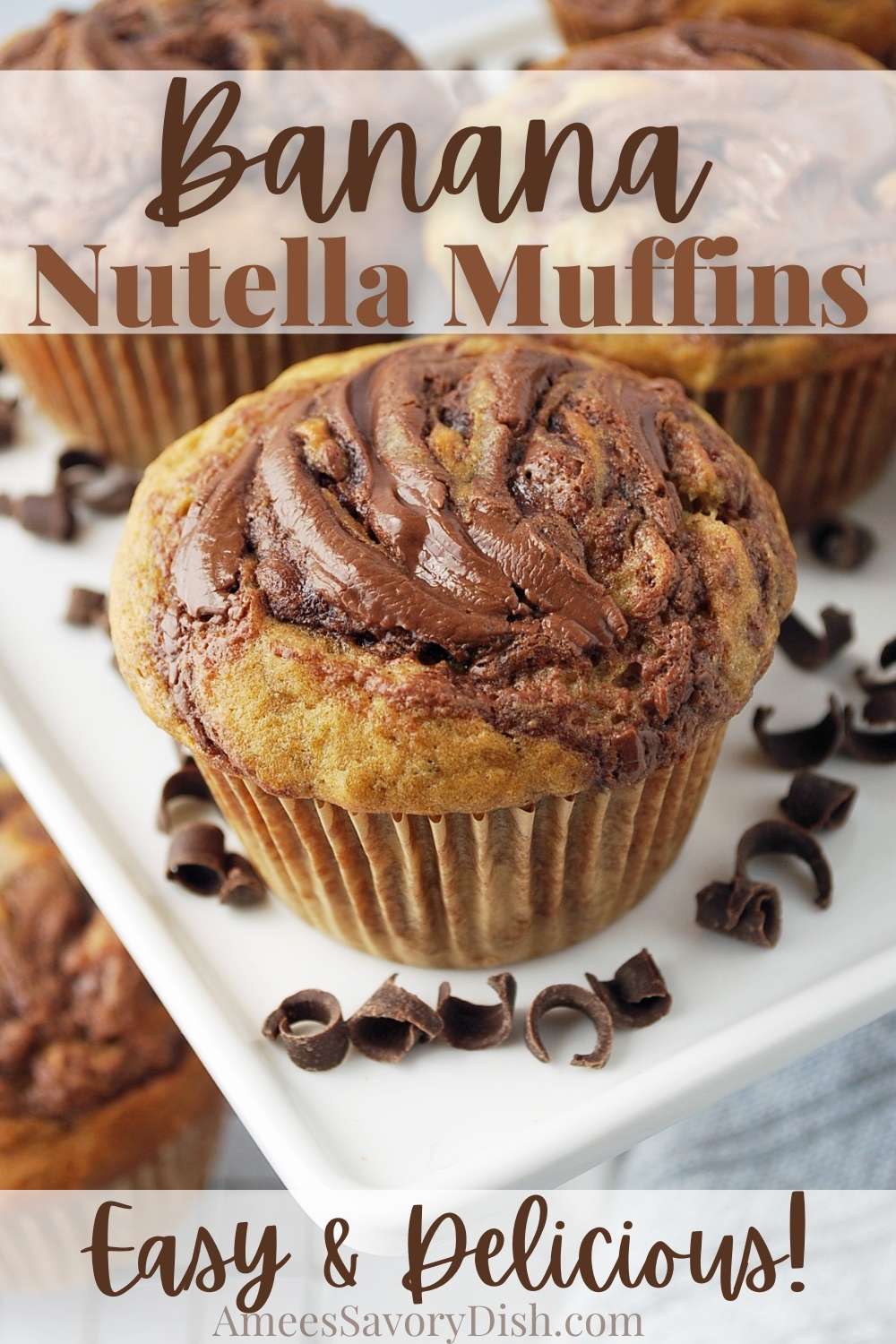 This easy recipe for Banana Nutella Muffins is loaded with a great balance of banana chocolate flavor! Moist banana muffins with a delicious swirl of chocolate-hazelnut spread throughout. This easy muffin recipe is kid-friendly, ready in 30 minutes, and, quite honestly, the best banana muffins I've ever tasted! Banana Nutella muffins are simple to make and a family favorite in this house. I mean...how can you possibly go wrong with Nutella?!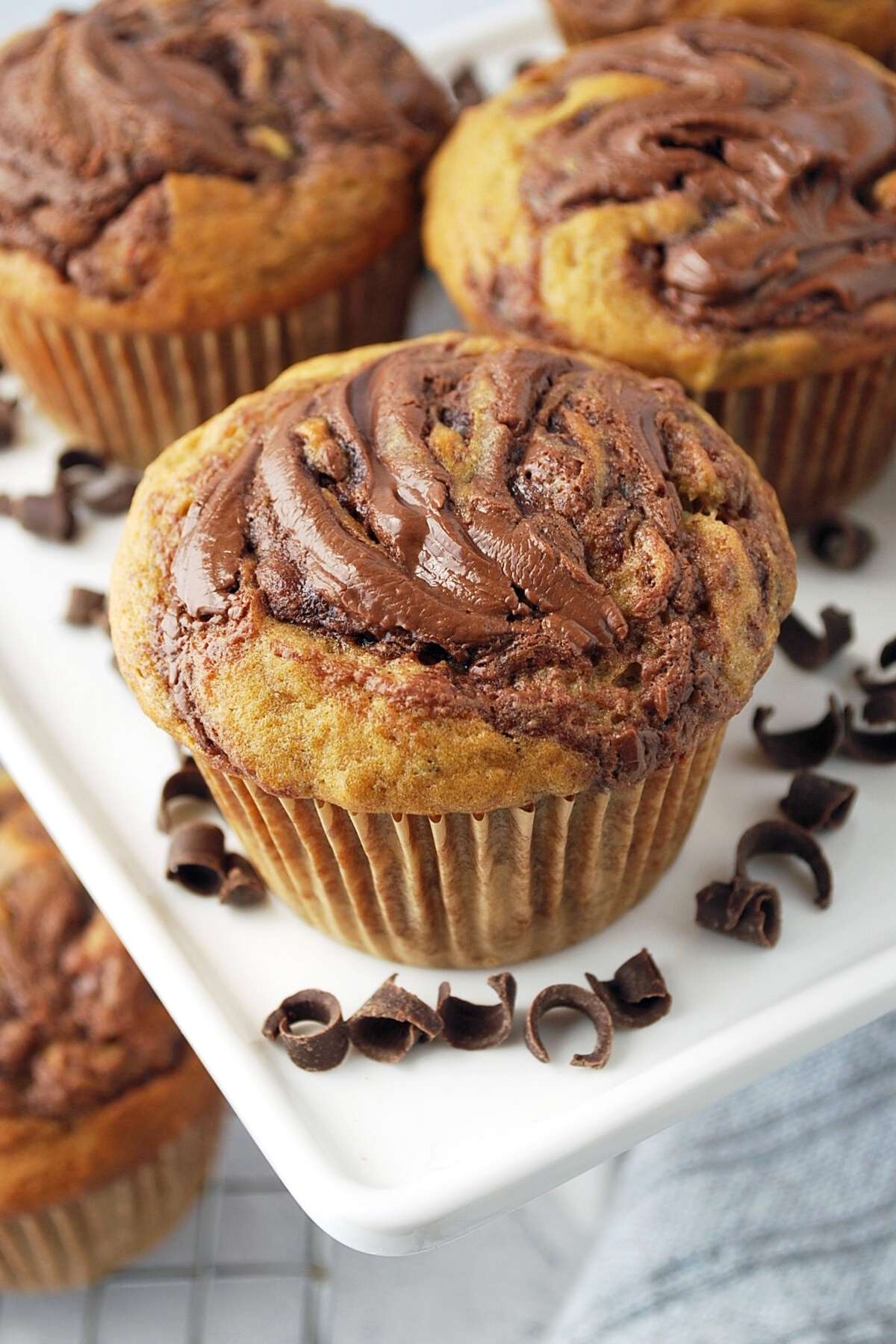 Nutella is such a magical chocolatey treat. I usually have to refrain from buying it because I have to fight the urge to grab a spoonful every time I walk by the jar. It never lasts long because I'm not the only one in the house that has little self-control over that chocolatey hazelnut goodness. When I splurge and buy it, it's to whip up a batch of these muffins or my favorite Nutella frosting Recipe. 😉
I can't think of a better way to use up ripe bananas than making a batch of these scrumptious muffins. Breakfast will never be the same after you take a bite of this moist deliciousness that can also be used as a great after-school snack or dessert!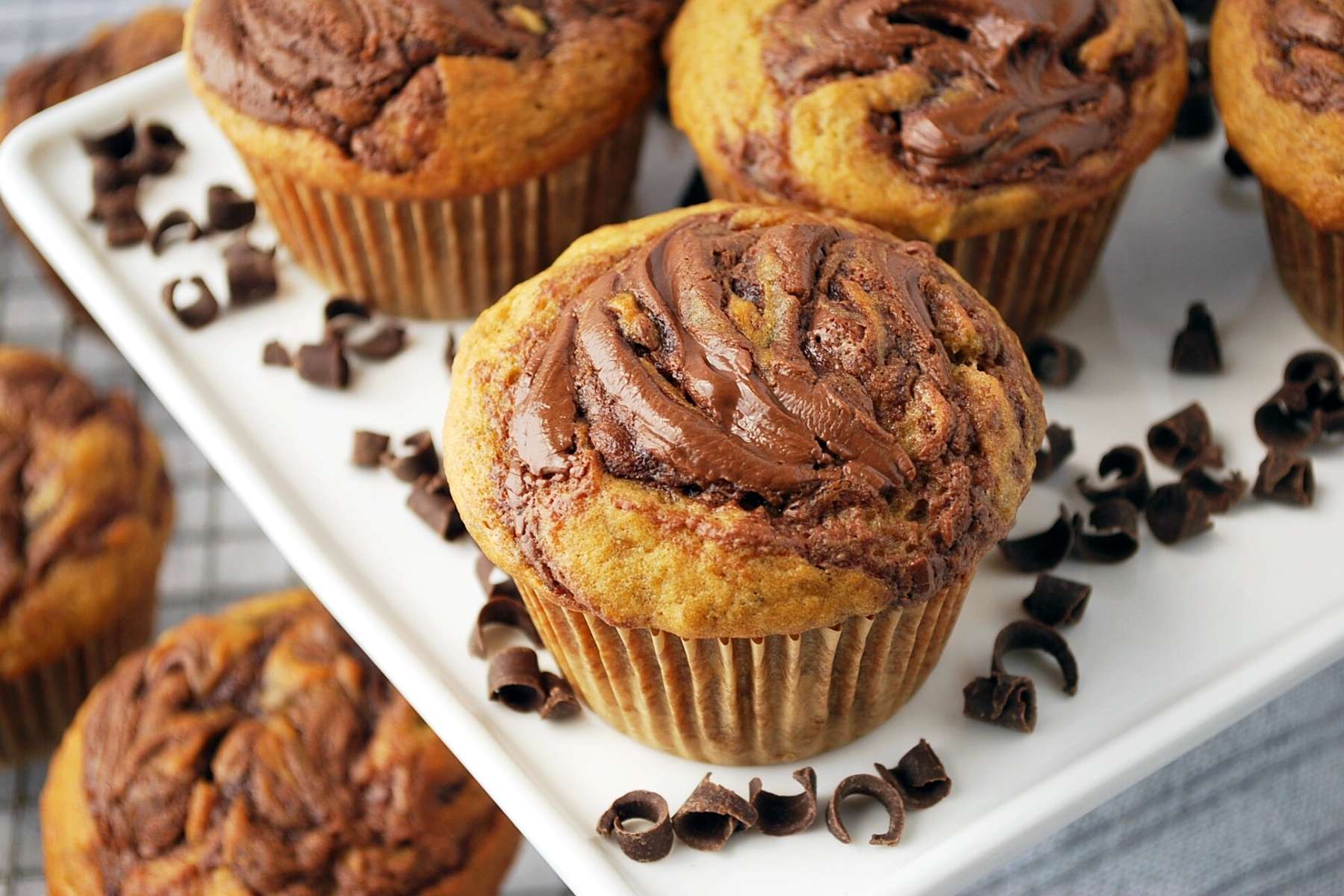 Why You'll Love This Recipe
It's a great way to use up any overripe bananas you have in the house.

The combination of banana, chocolate, and hazelnut is a flavor match made in heaven.

You can make a double or triple batch and freeze them for later.

They make a great breakfast, snack, or dessert.

They're the perfect gift for a new mom, neighbor, or teacher.

These muffins are ready in just 30 minutes making it a great dessert to make in a pinch.

It's a great way to eat chocolate for breakfast!
Ingredients You'll Need
Ripe Bananas- You'll need bananas that are ripe to make this recipe. Allowing your bananas to ripen to the point of browning results in a tender, sweet, and flavorful muffin.
Butter- Butter adds a smooth texture and buttery taste to the muffins.
Coconut Sugar- Coconut sugar is natural and compliments the flavors in these muffins well, but feel free to use brown sugar if preferred.
Egg - Helps bind the ingredients to the muffins together while baking and creates a "crust" on top.
Unbleached All-Purpose Flour- I prefer unbleached flour in my recipes but any all-purpose flour will work for this muffin recipe.
Salt - Salt helps balance the flavors of all the ingredients in the muffin.
Baking Soda - Helps the muffins rise while still staying dense and moist.
Nutella- Nutella is a well-known hazelnut spread that's mixed with chocolate and blended together into a smooth consistency that's great on anything!
How To Make Banana Nutella Muffins
In a large mixing bowl, mash the bananas. You can do this with the paddle attachment on a stand mixer or with a potato masher.
Add the room temperature melted butter to the bananas and blend. Then blend in the coconut sugar or brown sugar, and the egg.
Whisk the dry ingredients together in a separate bowl until mixed.
Turn the stand mixer on low and slowly mix the flour mixture into the wet mixture until smooth.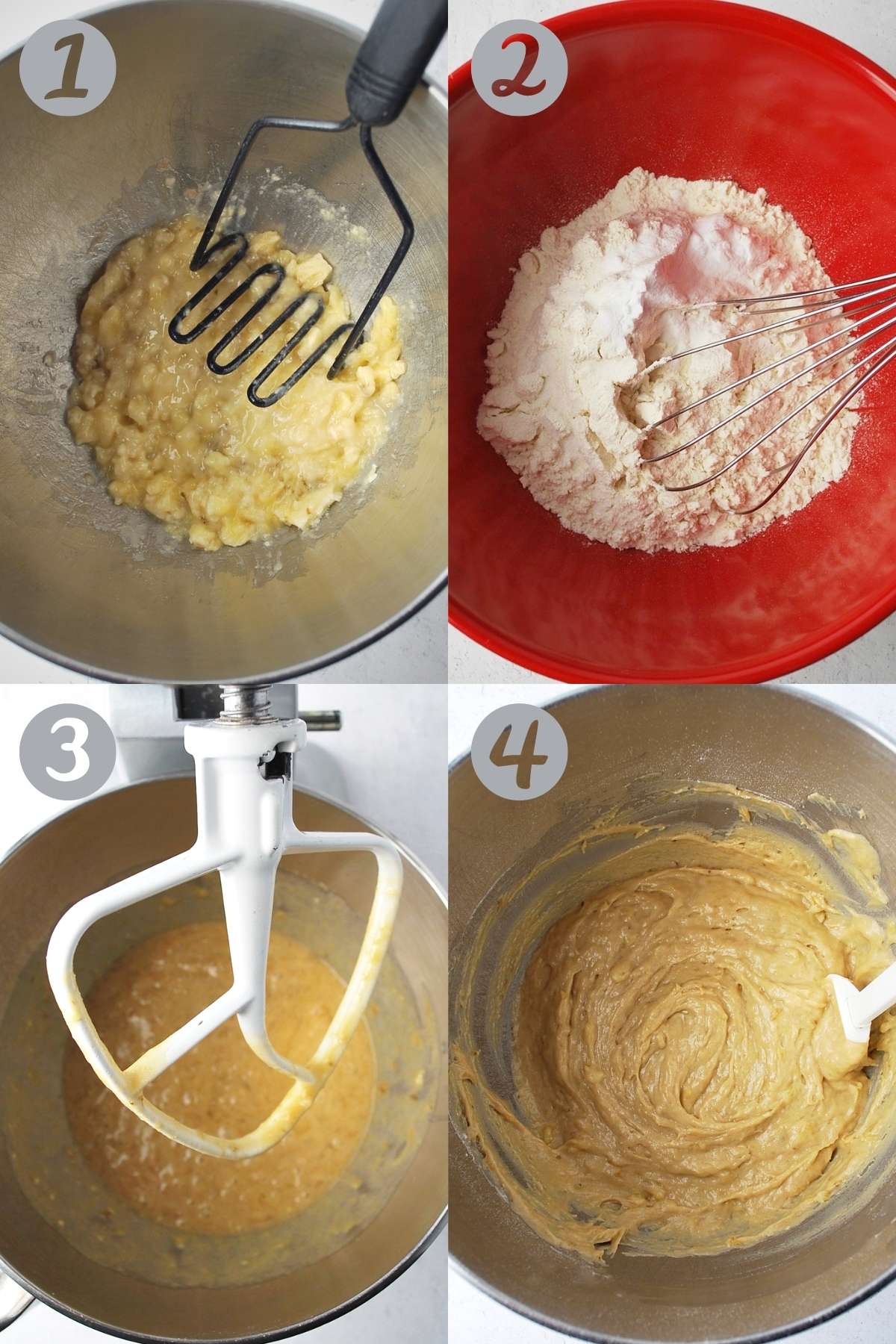 Place cupcake liners into 12 muffins tins and evenly divide the batter into the liners.
Top each batter cup with a tablespoon-size dollop of Nutella onto the top of the batter.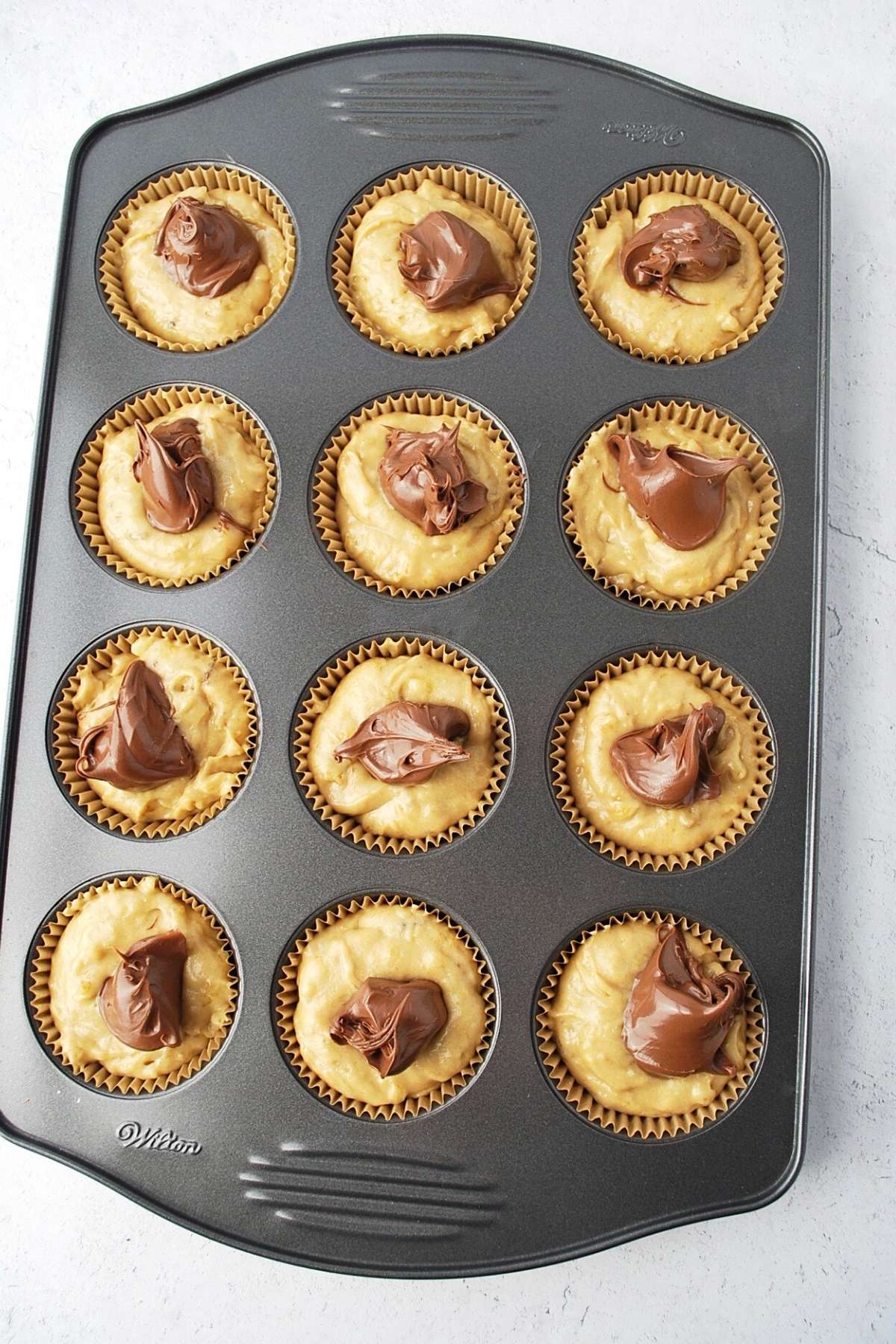 Gently swirl with a toothpick or knife.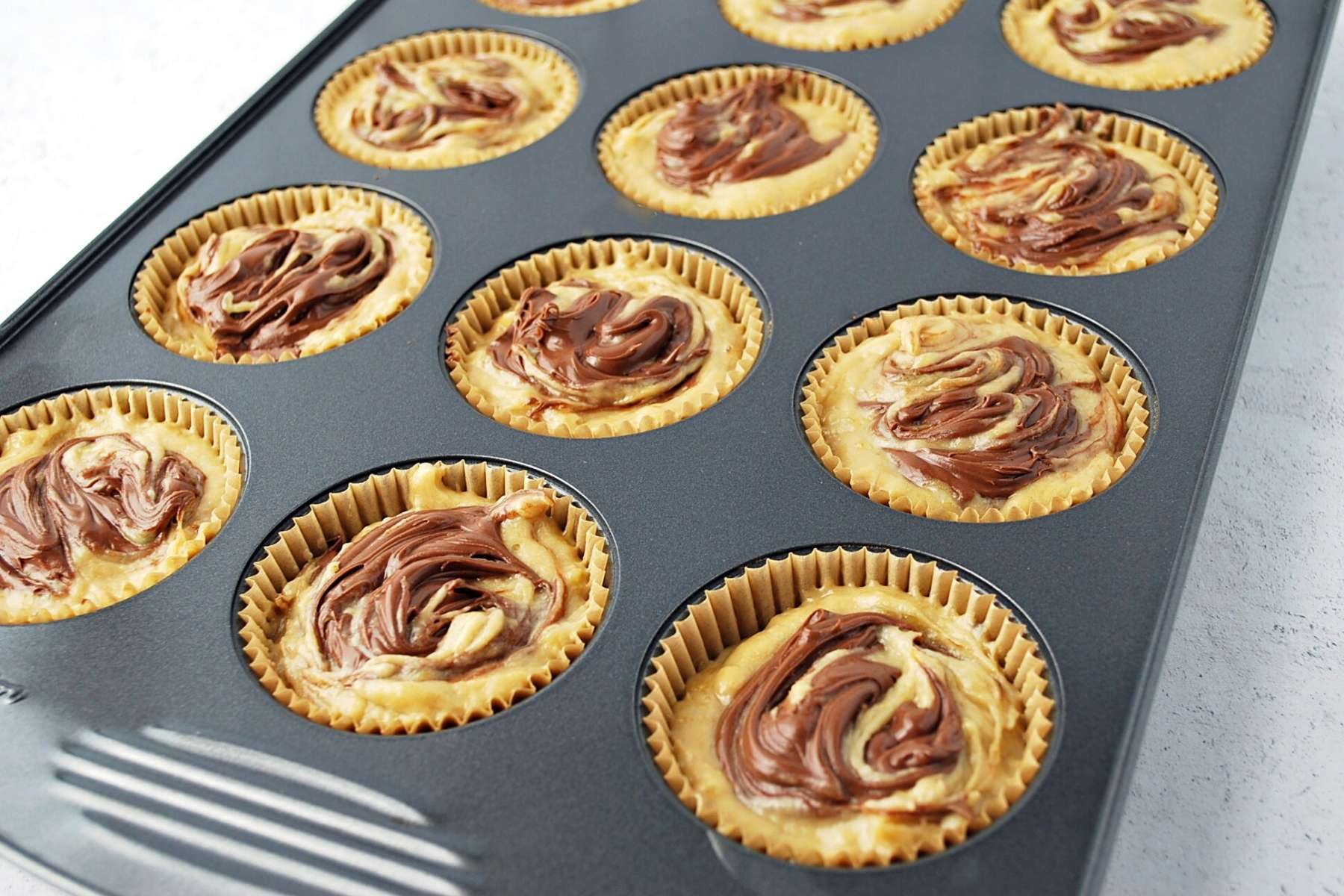 Bake at 350 degrees F for 20 minutes or until a toothpick comes out clean.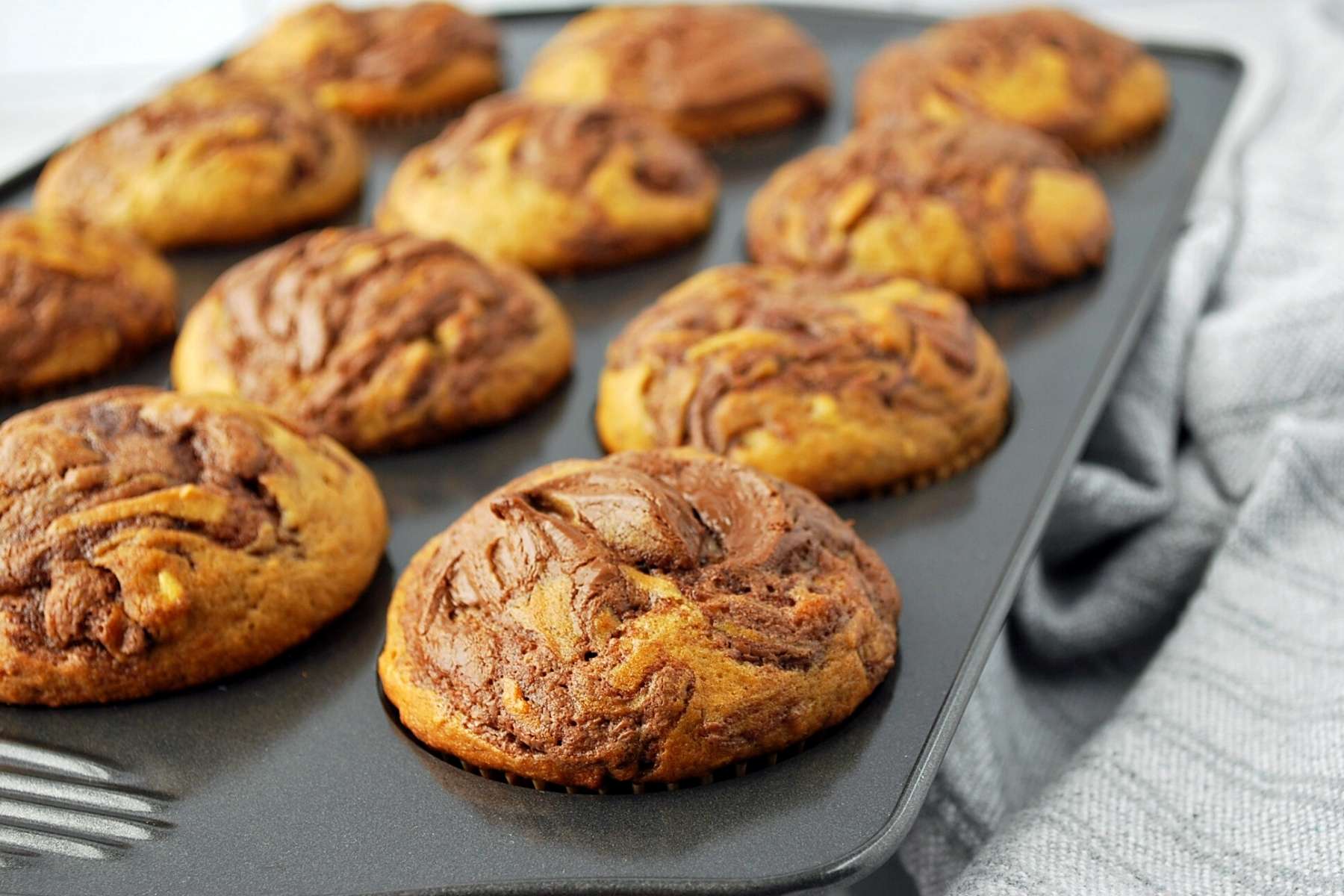 Helpful Baking Tips
Make sure all of your perishable ingredients are at room temperature before mixing up the batter. This helps to make sure that all of the ingredients are absorbed and bake evenly.
Make sure your bananas are ripe enough before using them in this recipe. An overripe banana has mostly brown skin and is soft to the touch. Overripe bananas are very sweet and break down easy giving the muffins a natural sweetness and smooth texture.
Make sure that you measure the butter before melting and allow it to cool to room temperature before adding to the batter. This will help make sure you have the correct measurements and that all the ingredients absorb properly.
Do not overfill the muffin liners as the batter will rise and could spill over. Fill them ¾ of the way full. This can be made easier by using an ice cream scoop.
Let the muffins cool before serving as it gives the muffin time to set at room temperature which makes it stay together better.
It's best to use muffin liners in this recipe to make sure the muffins do not stick. If you don't have muffin liners, grease the muffin tin very well before adding the batter.
Do not overmix the batter. Overmixing flours could cause the batter to become tough which doesn't make a great muffin texture.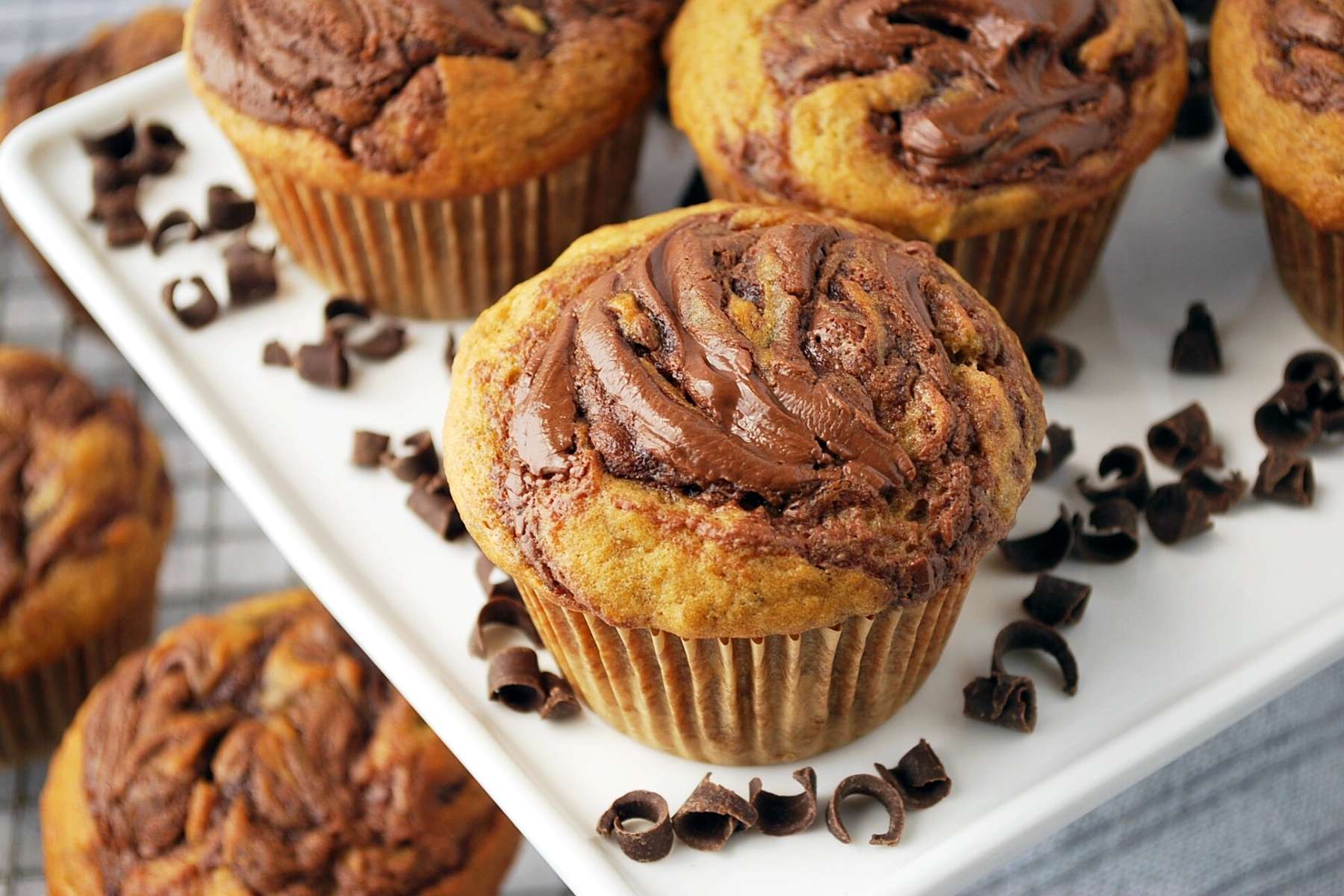 Recipe Variations
Use a mix of half whole wheat flour and half all-purpose flour to add more whole grains to the muffins.
Replace butter with melted and cooled coconut oil. This may give the Nutella muffins a slight coconut flavor unless you use triple refined coconut oil.
You can use brown sugar in place of coconut sugar in this recipe, both turn out great!
If you like some texture in your muffins, add some chopped walnuts or pecans to the batter and sprinkle some on top.
Generic hazelnut spread is absolutely fine to use in place of the Nutella brand. Most have the same exact ingredients with only slight variations and taste just the same!
If you want to change up the flavor, try replacing the Nutella with your favorite peanut butter or almond butter.
Add a pinch of cinnamon or pumpkin pie spice for a delightful warming flavor.
Make this recipe gluten-free by using a gluten-free flour blend that's a 1:1 ratio for all-purpose flour. Make sure it also contains xanthan gum.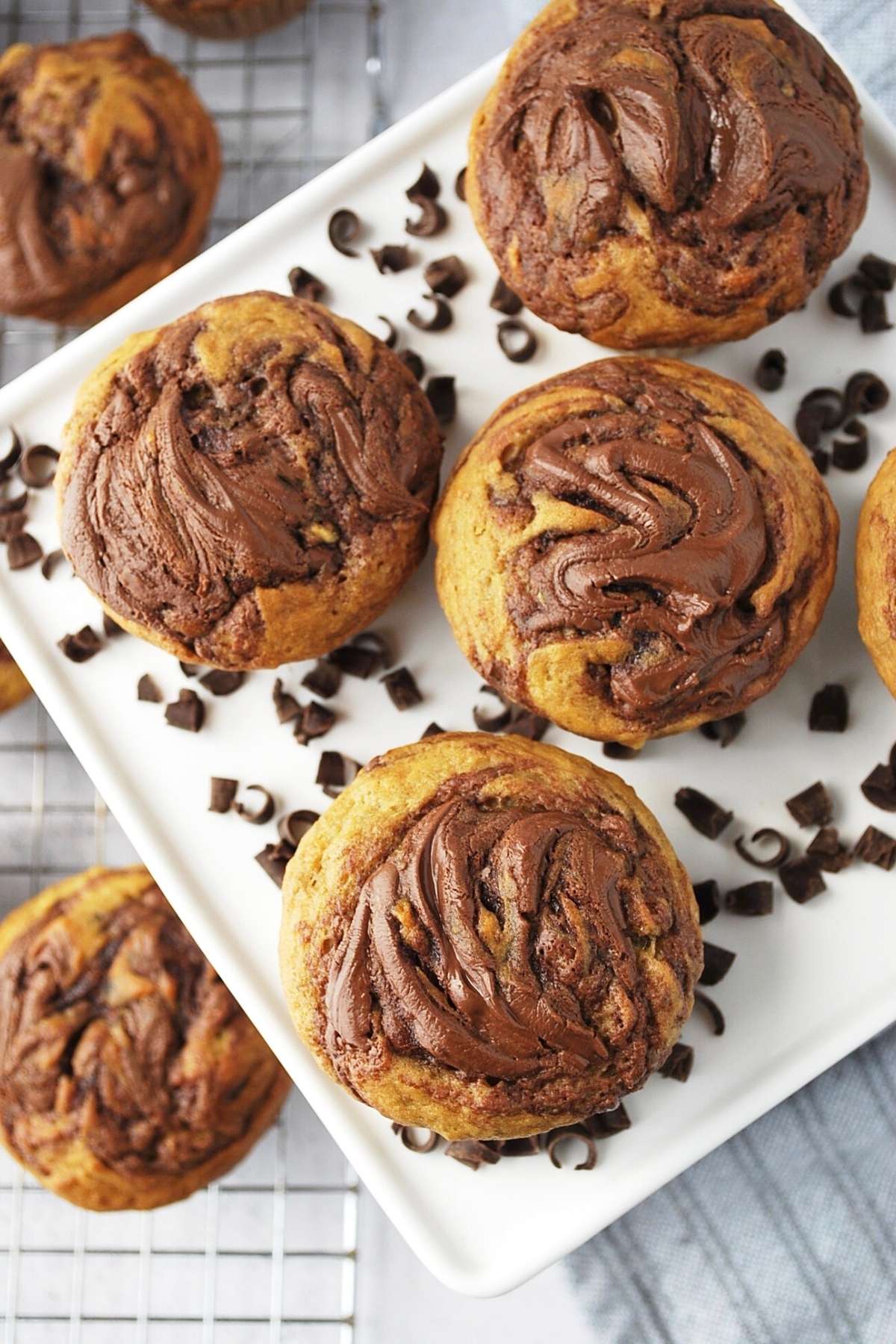 Storing and Freezing
Storing: Before storing muffins, make sure that they have cooled completely. If they are still warm condensation will form in the storage container and it will end up making your beautiful muffins sad and soggy. Place cooled muffins in an airtight container lined with a few paper towels. The paper towels will help absorb any excess moisture in the container. Muffins will keep for up to four days this way for maximum freshness.
Freezing: Any uneaten muffins can be frozen for up to 3 months. To freeze the muffins, place them in a zipper freezer bag and then place the freezer bag in a sealable freezer-safe container to prevent freezer burn. Muffins and quick bread freeze beautifully this way. Using the freezer bag and container together adds an added layer of protection for your baked goods. To eat from frozen, leave the muffins out on the counter until they are thawed completely.
Want a bite?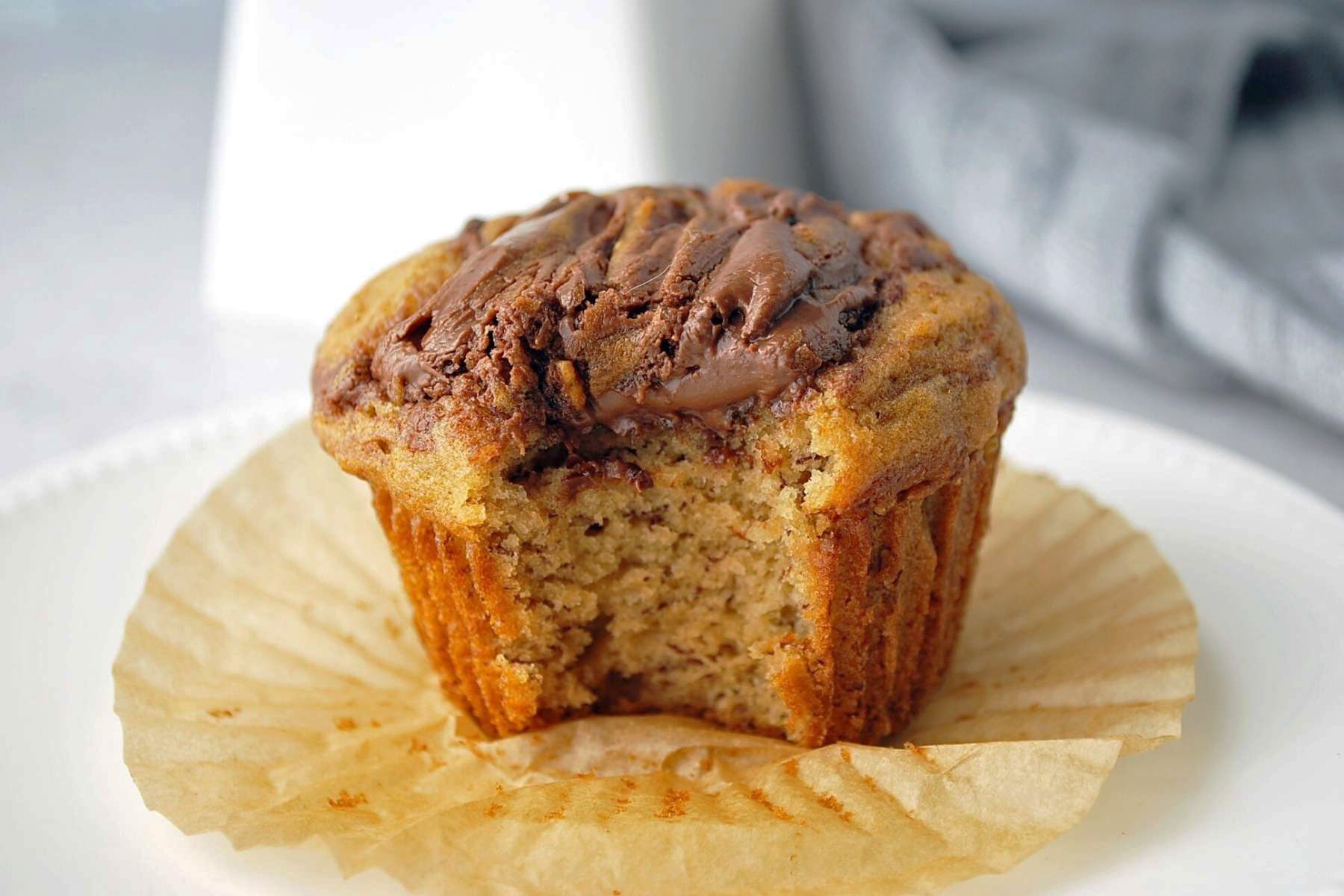 More Muffin Recipes You'll Love
Double Chocolate Gluten Free Bran Muffins
Greek Yogurt Strawberry Muffins
*Editor's note: This recipe was originally published in June 2014. It has been updated throughout.
LIKE THIS RECIPE? DON'T FORGET TO PIN FOR LATER, RATE, COMMENT, AND SHARE!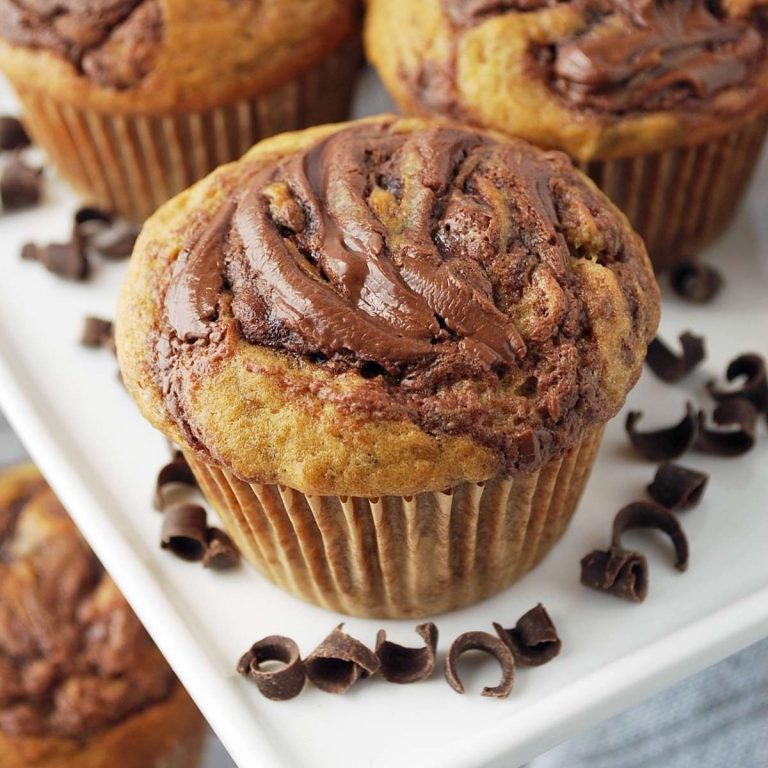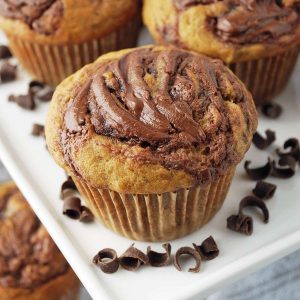 Easy Banana Nutella Muffins
Makes 12 of the best banana muffins you'll ever eat. These babies are amazing warm!!
Print
Pin
Rate
Ingredients
4

small

very ripe, bananas (the more ripe the sweeter the muffin)

⅓

cup

melted butter

cooled to room temperature

1

cup

coconut sugar

1

whole egg

1 ½

cups

unbleached

all-purpose flour

½

teaspoon

salt

1

teaspoon

baking soda

12

tablespoon

Nutella
Instructions
Preheat oven to 350 degrees F.

Mash bananas in a large mixing bowl.

Add melted butter and combine with an electric or stand mixer until smooth.

Add coconut sugar and egg and blend.

Whisk all dry ingredients in a separate bowl and add to banana mixture.

Line a muffin pan with baking cups and fill about ¾ way full with batter.

Top each batter cup with a tablespoon of Nutella and gently swirl with a knife.

Bake for 20 minutes or until a toothpick comes out clean.
Nutrition
Calories:
285
kcal
|
Carbohydrates:
43
g
|
Protein:
4
g
|
Fat:
11
g
|
Saturated Fat:
9
g
|
Cholesterol:
27
mg
|
Sodium:
286
mg
|
Potassium:
237
mg
|
Fiber:
2
g
|
Sugar:
24
g
|
Vitamin A:
203
IU
|
Vitamin C:
3
mg
|
Calcium:
28
mg
|
Iron:
1
mg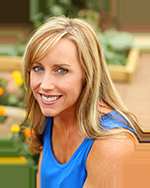 Latest posts by Amee Livingston
(see all)