Egg salad with bacon is a paleo-friendly egg salad recipe. Enjoyed as a lettuce wrap or eaten as is, this is a delicious, quick and easy paleo-friendly lunch recipe.
I love a good egg salad recipe and am always looking for ways to make traditional egg salad a bit healthier and more flavorful. Any breakfast lover will tell you that no flavors go better together than eggs and bacon!  Crumbled bacon in egg salad is just heavenly. I like to save a little extra bacon to garnish on top, along with a sprinkling of paprika.  Great for a quick and healthy lunch and it's Paleo-diet friendly!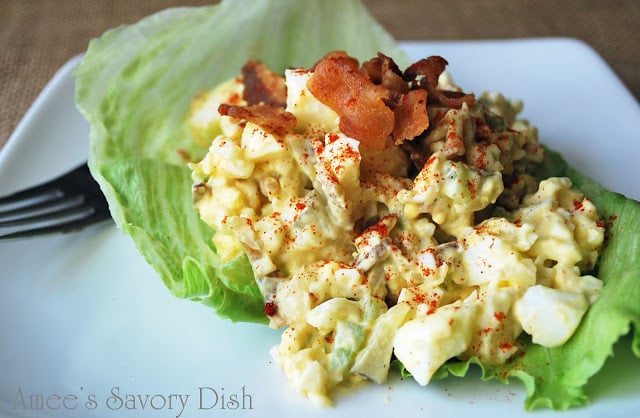 I hope you like this egg salad with bacon recipe as much as I do!


Egg Salad with Bacon

Ingredients:
7 eggs, hardboiled and peeled
1/3 cup Paleo mayonnaise
8 slices, cooked and crumbled uncured bacon
3 tbsp sweet vidalia onion, finely diced
1/3 cup celery, finely diced
dash cayenne pepper
2 tbsp dill pickle, finely diced
sea salt and freshly cracked pepper, to taste
paprika for garnish

Directions:
In a large bowl, combine mayo, onion, celery, cayenne pepper, pickle and salt and pepper.  Stir until ingredients are well mixed.  Chop your eggs and add to the mixture, then stir in most of the bacon (reserve a couple chopped slices for garnish).  Top with paprika and serve over a bed of greens or in a lettuce boat.  
More delicious and healthier egg salad recipes: