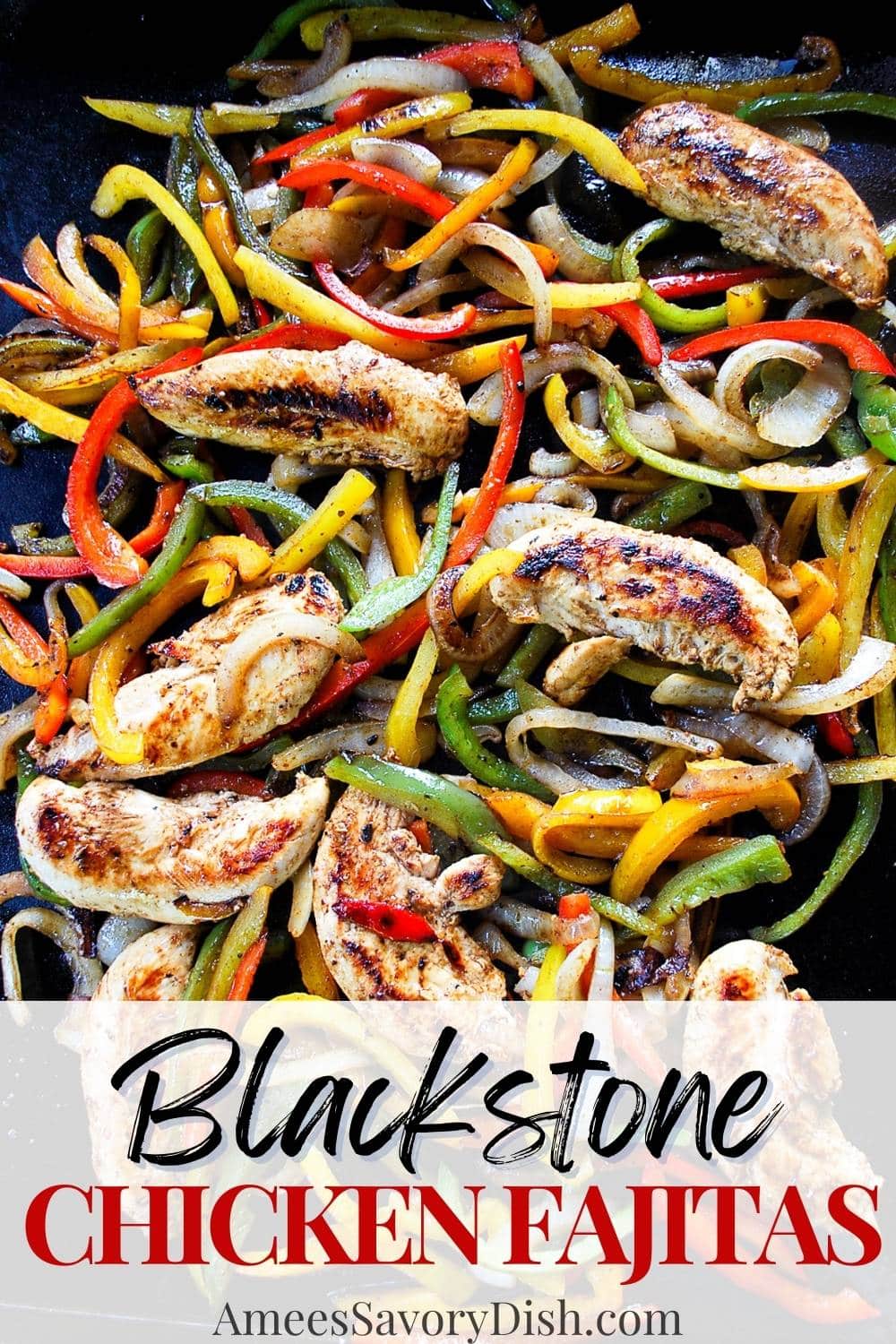 Blackstone Chicken Fajitas! This quick and easy recipe makes a batch of chicken fajitas complete with juicy, charred bell peppers and onions on a flat-top grill. These easy-to-follow instructions will teach you to make seared Mexican marinated chicken with fajita peppers and onions, just like your favorite Mexican restaurant!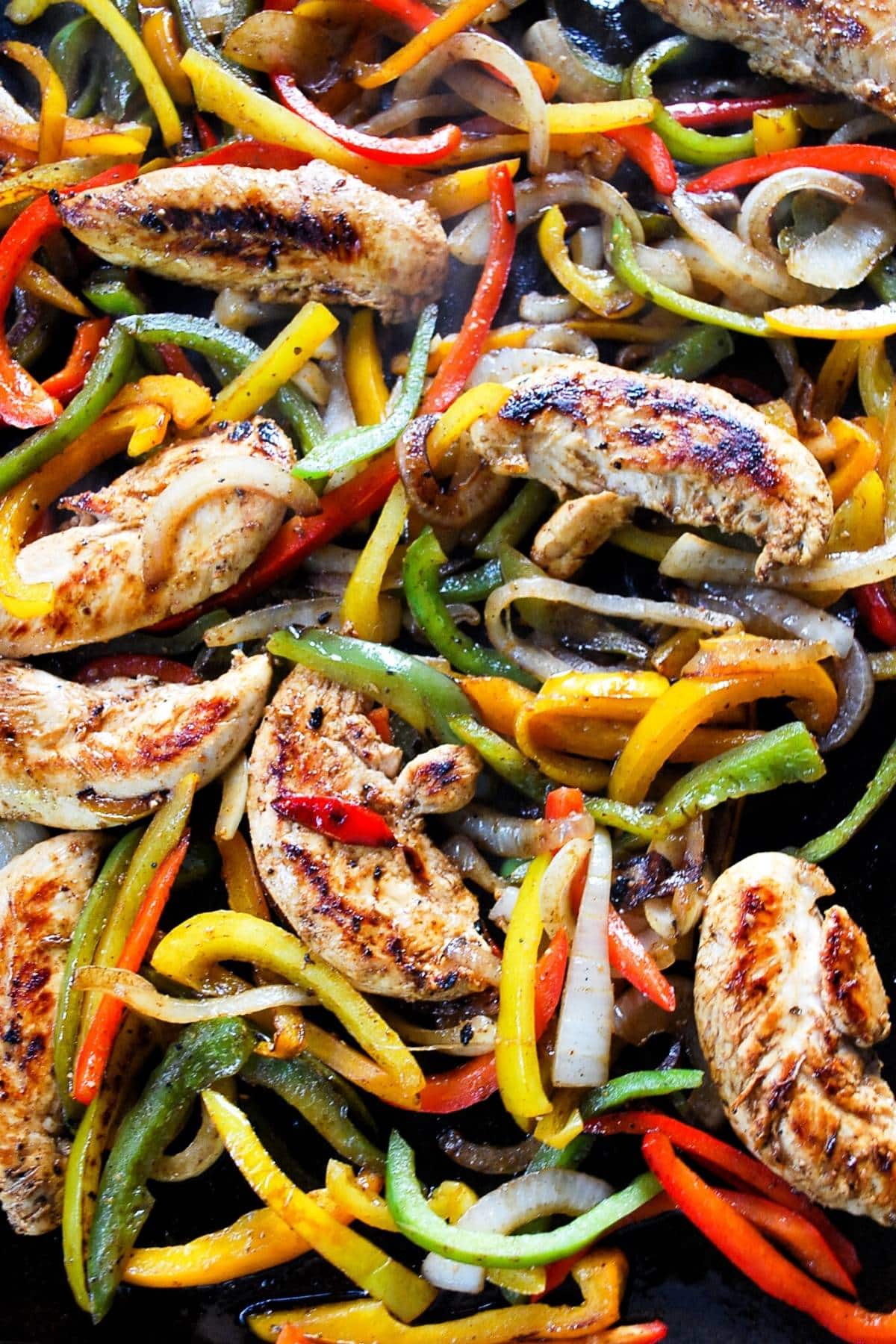 Blackstone griddle flat-tops are made from cold-rolled steel (cast-iron), which is the ideal material for homemade fajitas with authentic flavor. If you don't have a Blackstone grill, my go-to alternative cooking tool for fajitas would be a cast-iron skillet.
Making fajitas on a Blackstone griddle eliminates the margin for error because it lets you ultimately control the heat distribution and provides plenty of space for all the ingredients. Unlike sheet pan baked fajitas, with this method, you don't run the risk of overcooking the peppers and undercooking the chicken or vice versa.
Consider doubling the recipe because the leftover fajitas are delicious and repurposed in salads, nachos, omelets, and more. Prefer steak or shrimp fajitas? This Blackstone fajita recipe is easy to modify if you decide to switch up the meat.
Why You Should Cook Fajitas On A Blackstone
Cooking fajita meats and veggies on a Blackstone griddle results in succulent strips of fajita marinated chicken with peppers and onions.
These fajitas are less expensive than a restaurant but just as delicious.
Everyone loves fajitas, and this delicious recipe is easy to scale up for a crowd!
They're healthy, easy to make, and an all-time family favorite.
Equipment & Ingredients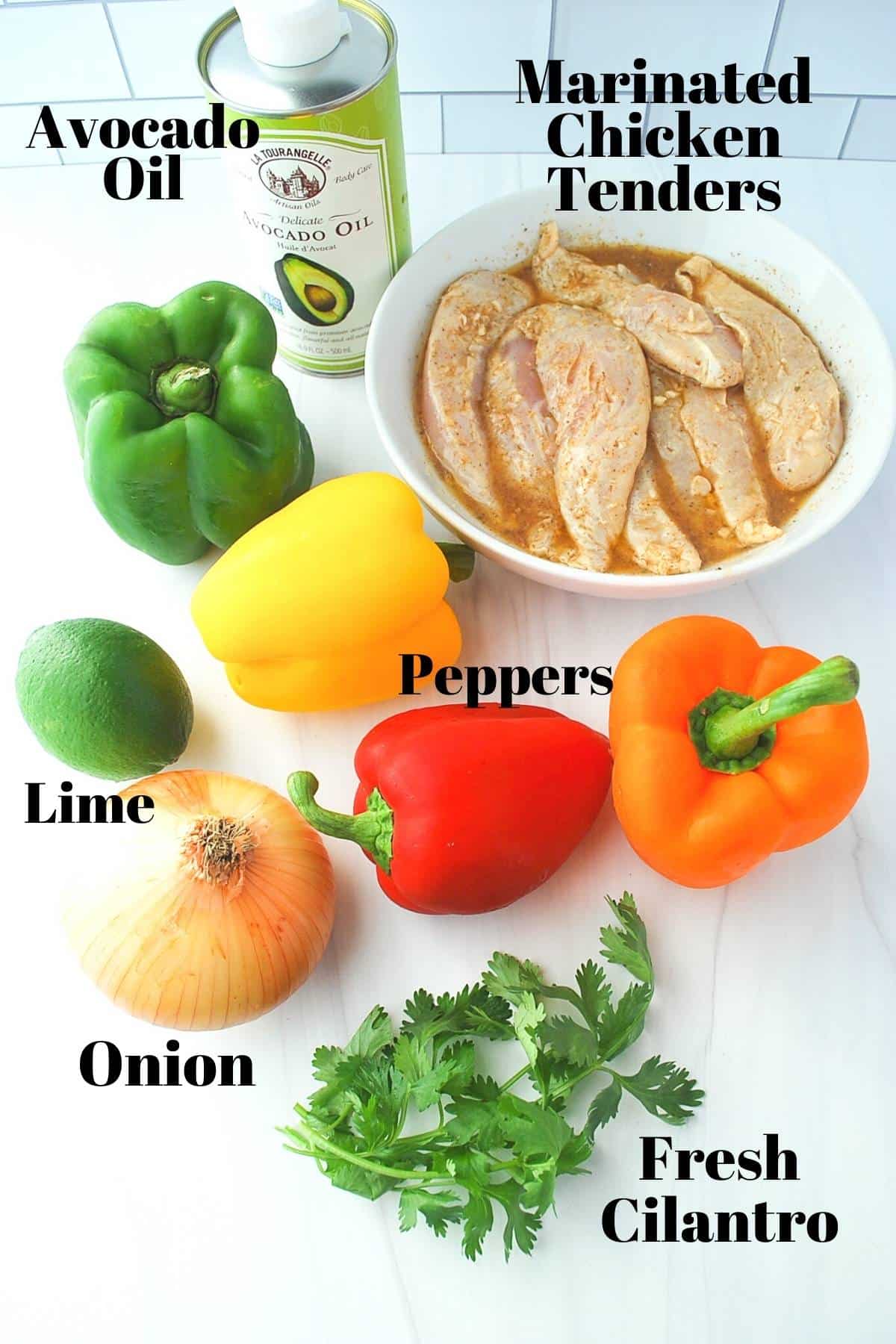 Equipment - This recipe is made on a Blackstone griddle, but you can achieve the same great tasting results on any flat-top griddle or cast iron skillet.
Mexican chicken marinade - Simple ingredients pack in bold, zesty, herbaceous, and smoky flavors while making the chicken extra juicy and tender.
Chicken - I used chicken tenders, but you can also use boneless chicken breasts or chicken thighs, depending on preference.
Bell peppers - Red bell pepper, green, yellow, orange -anything goes!
Onion - Red onion gives the dish a pop of purple and mild oniony flavor, but you can also use white, Vidalia (my favorite), or yellow onion here.
Avocado oil - You'll need a quality oil with a high smoke point to properly grease the outdoor griddle. Olive oil works well here, too.
Fajita seasoning - To flavor the veggies. Try my gluten-free fajita & taco seasoning or your favorite premade blend. I'm a fan of the Badia fajita seasoning for a quick and store-bought version.
Salt and pepper - To enhance and add flavor.
Lime & cilantro - For serving. Freshly squeezed lime juice is the best on fajitas! below for more topping ideas.
How To Cook Chicken Fajitas On A Blackstone
Step 1: Marinate chicken. After making the Mexican chicken marinade, pour it into a resealable bag with the chicken tenders, and set the bag in the fridge for a minimum of 2 hours, but for the best flavor, closer to 4 hours. You can even marinate the chicken overnight to save meal prep time.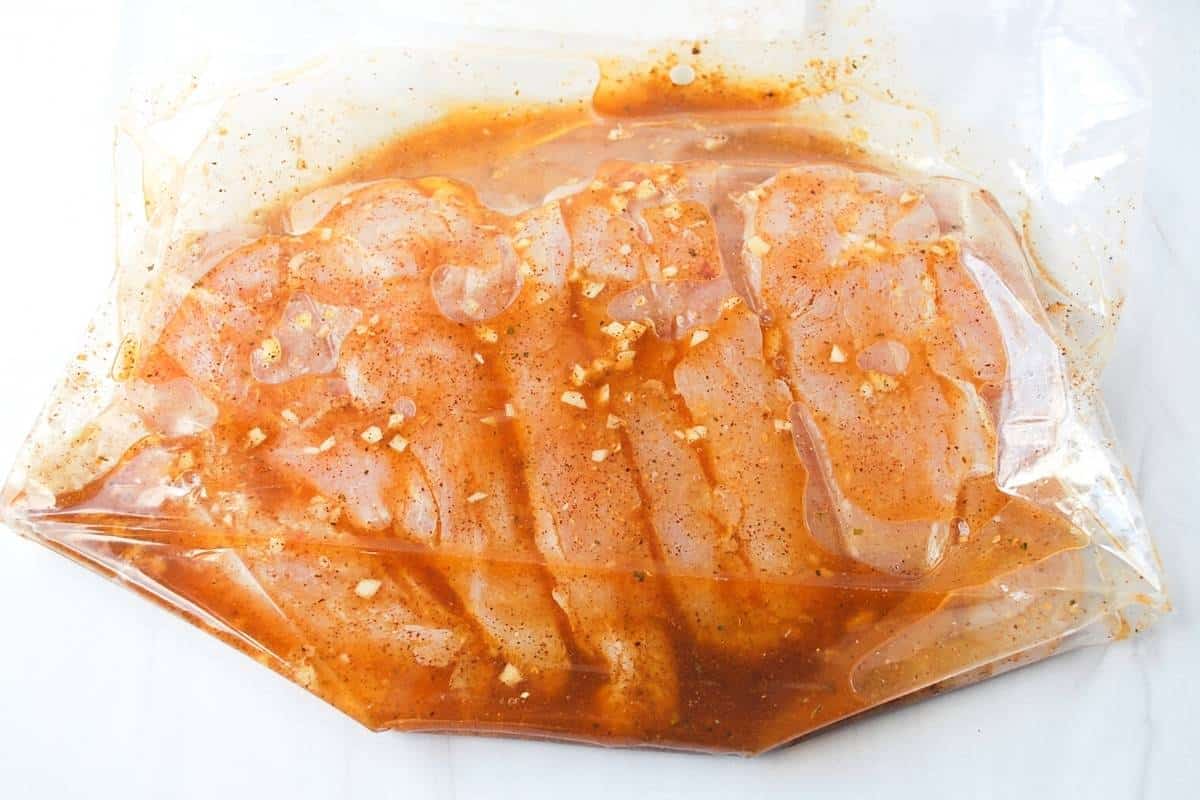 Step 2: Prep fajita veggies. Allow your Blackstone griddle to preheat to medium heat while you slice the peppers and onions into thin strips. Toss the veggie strips together in a large bowl.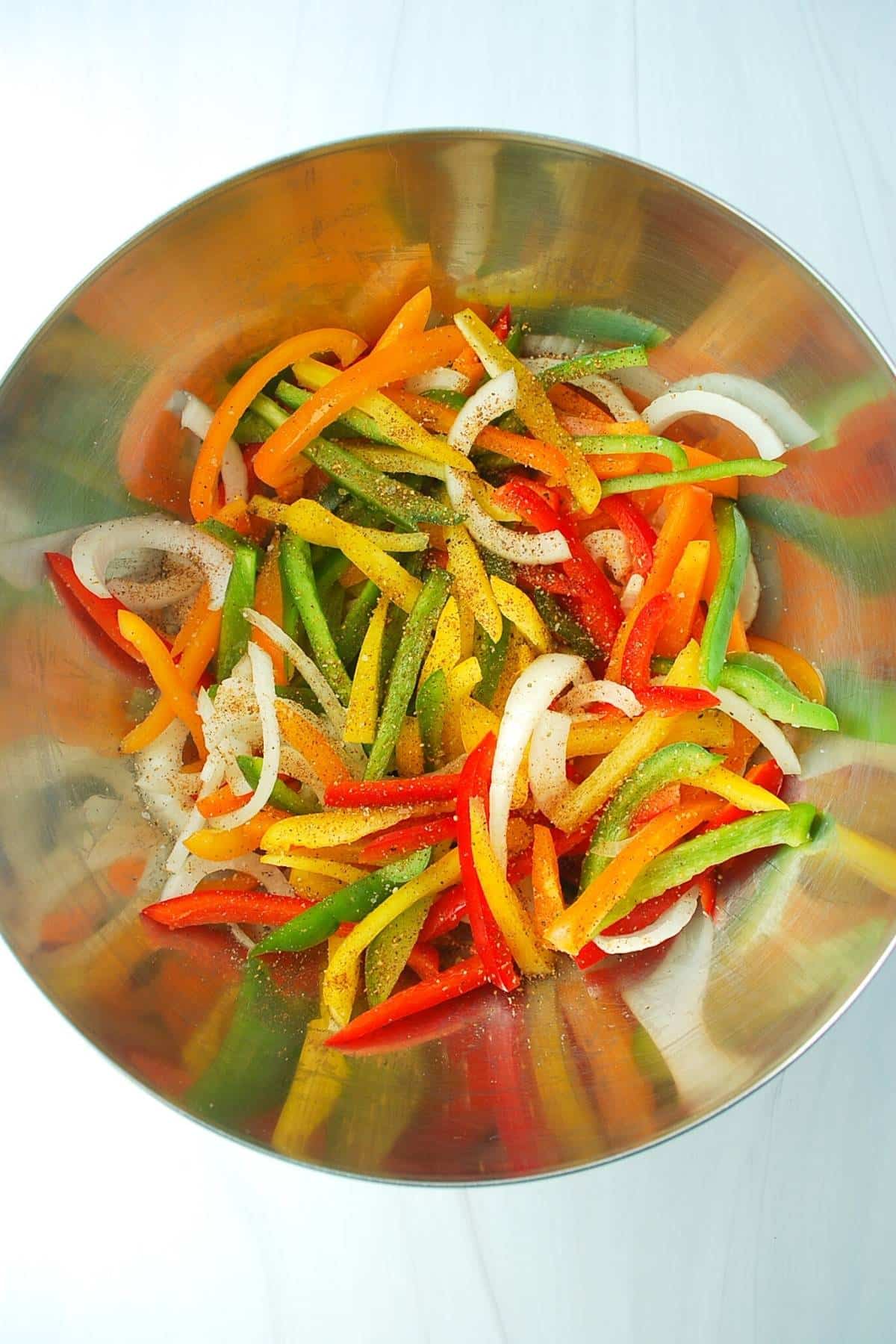 Step 3: Cook fajita veggies. Grease the griddle with avocado oil, using a spatula to coat the entire surface. Spread the veggies on one side of the griddle in a single layer, and cook, occasionally tossing, until the edges begin to caramelize—season to taste with additional seasoning and move to the opposite side of the griddle. Reduce to low heat, so they continue cooking slowly as you cook the chicken.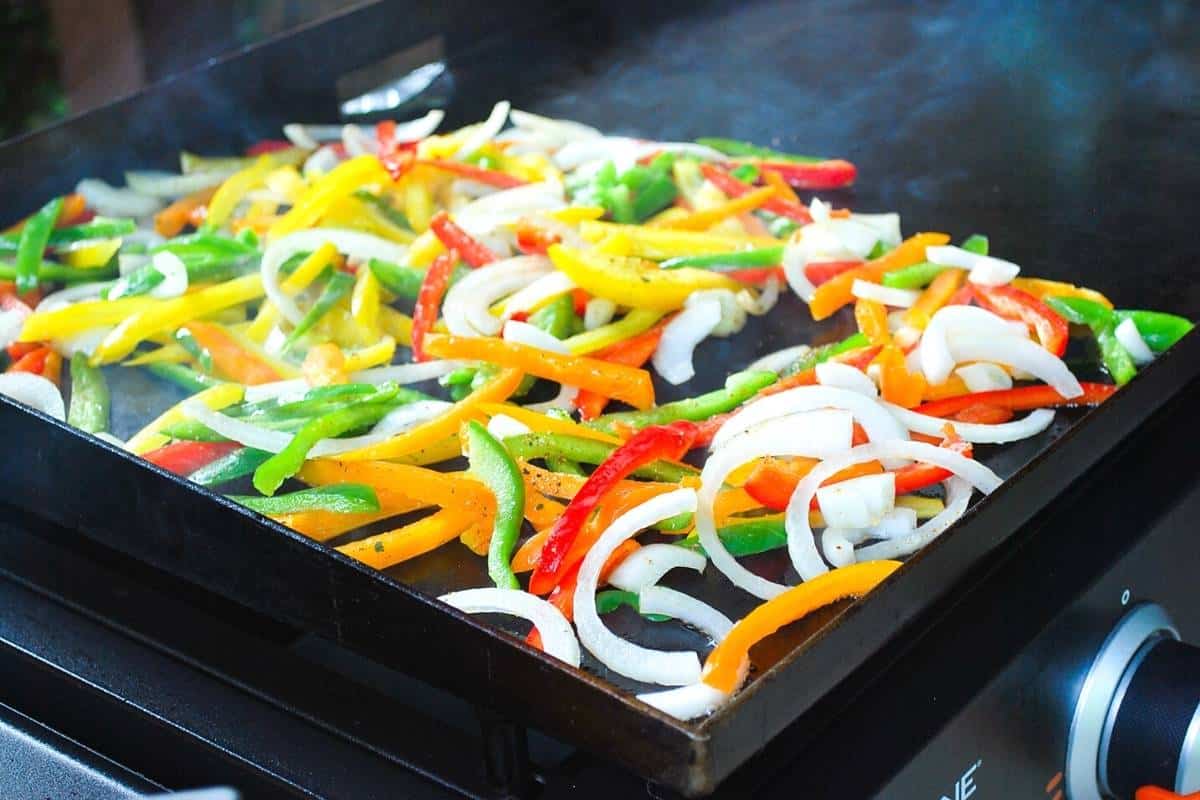 Step 4: Cook chicken. If dry, add more oil to the griddle. Then, add the chicken and the marinade juices and cook until the chicken develops a gorgeous golden sear on each side. If desired, serve with lime wedges, tortillas, and chopped fresh cilantro, and serve hot.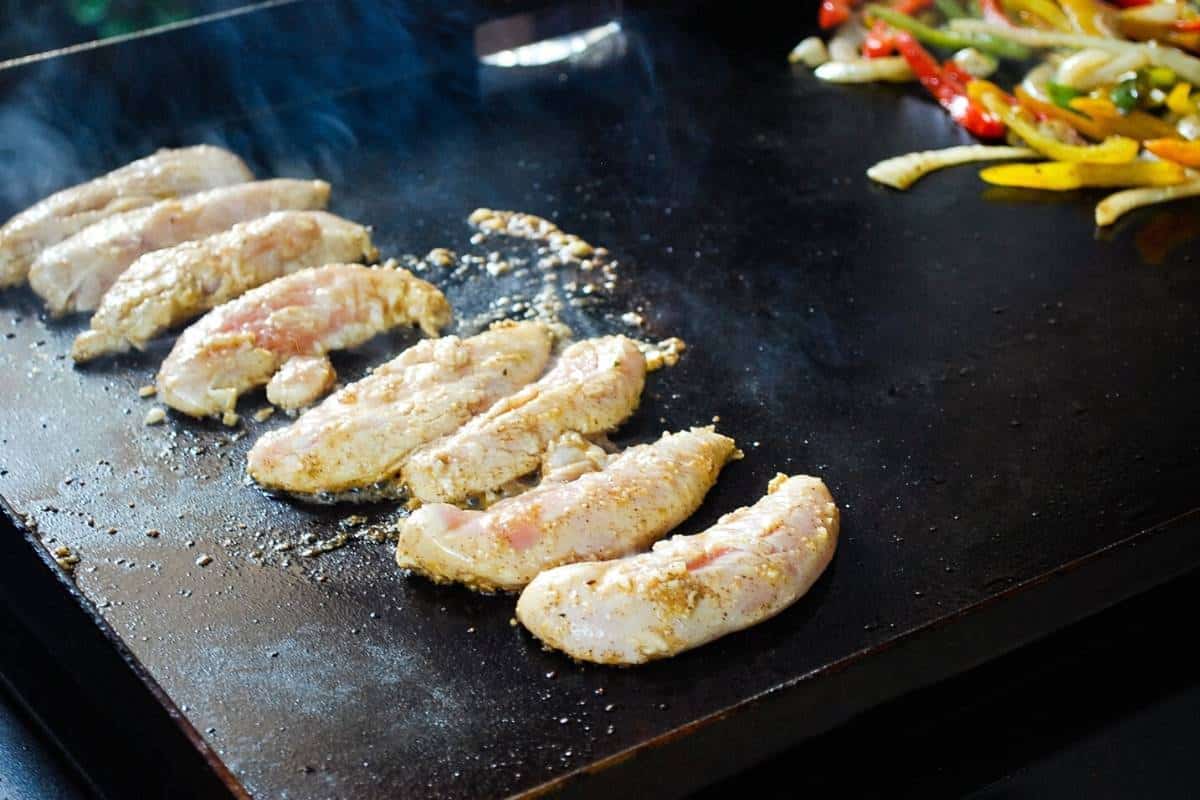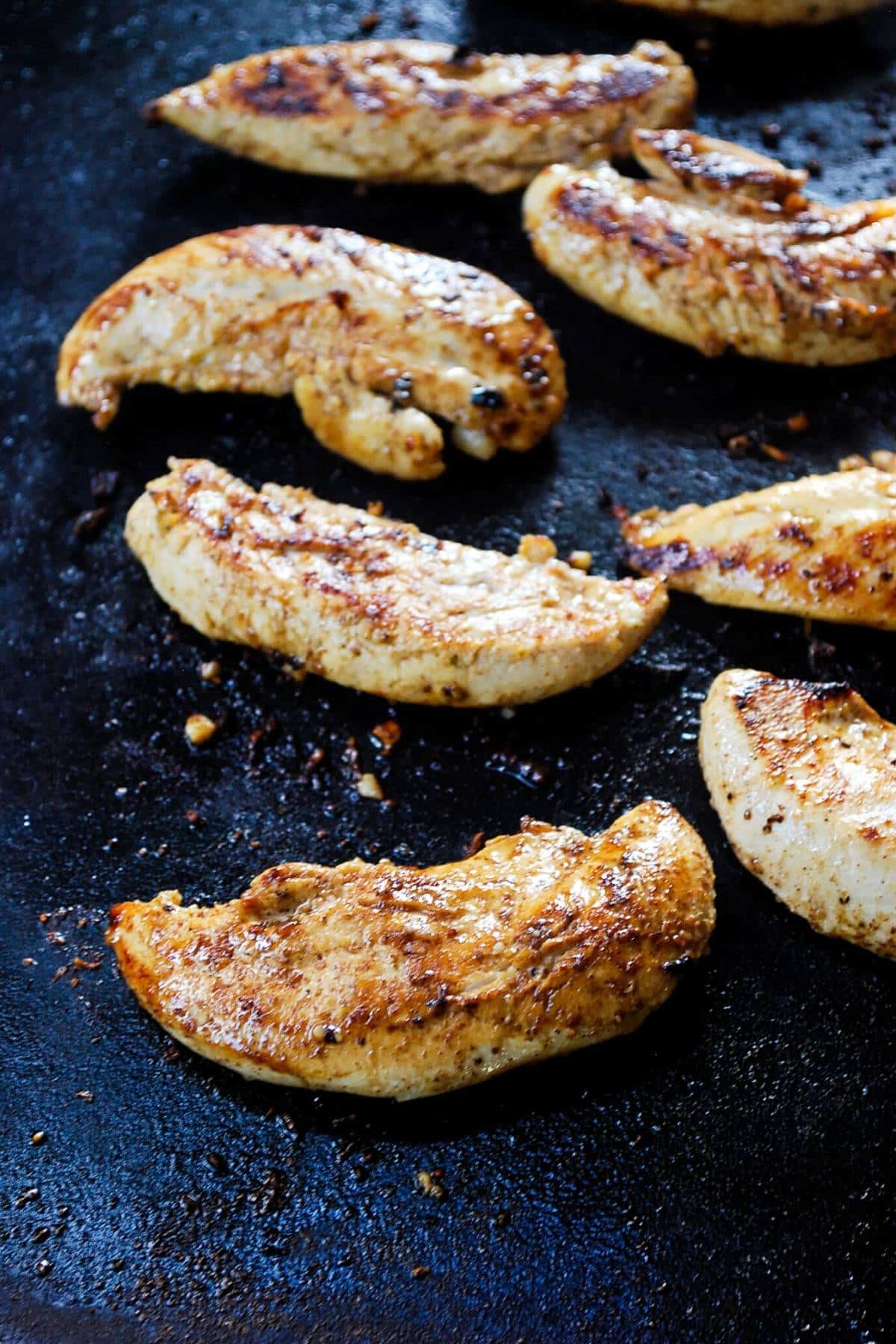 Recipe Tips
Be patient with the griddle as it preheats. It must be HOT. As soon as the peppers and onions hit the flat-top, they should sizzle.
Make sure that your Blackstone is well-seasoned and oiled with a thin layer of oil for the best non-stick surface. Be sure to use an oil with a high smoke point. Avocado oil is my favorite.
Chicken begins to dry out when it's cooked past 165F, so keep an eye on it and promptly remove the pieces from the heat as soon as they reach a safe internal temperature.
Cheese lovers- sprinkle some shredded cheese on top of the peppers to melt right before pulling off the grill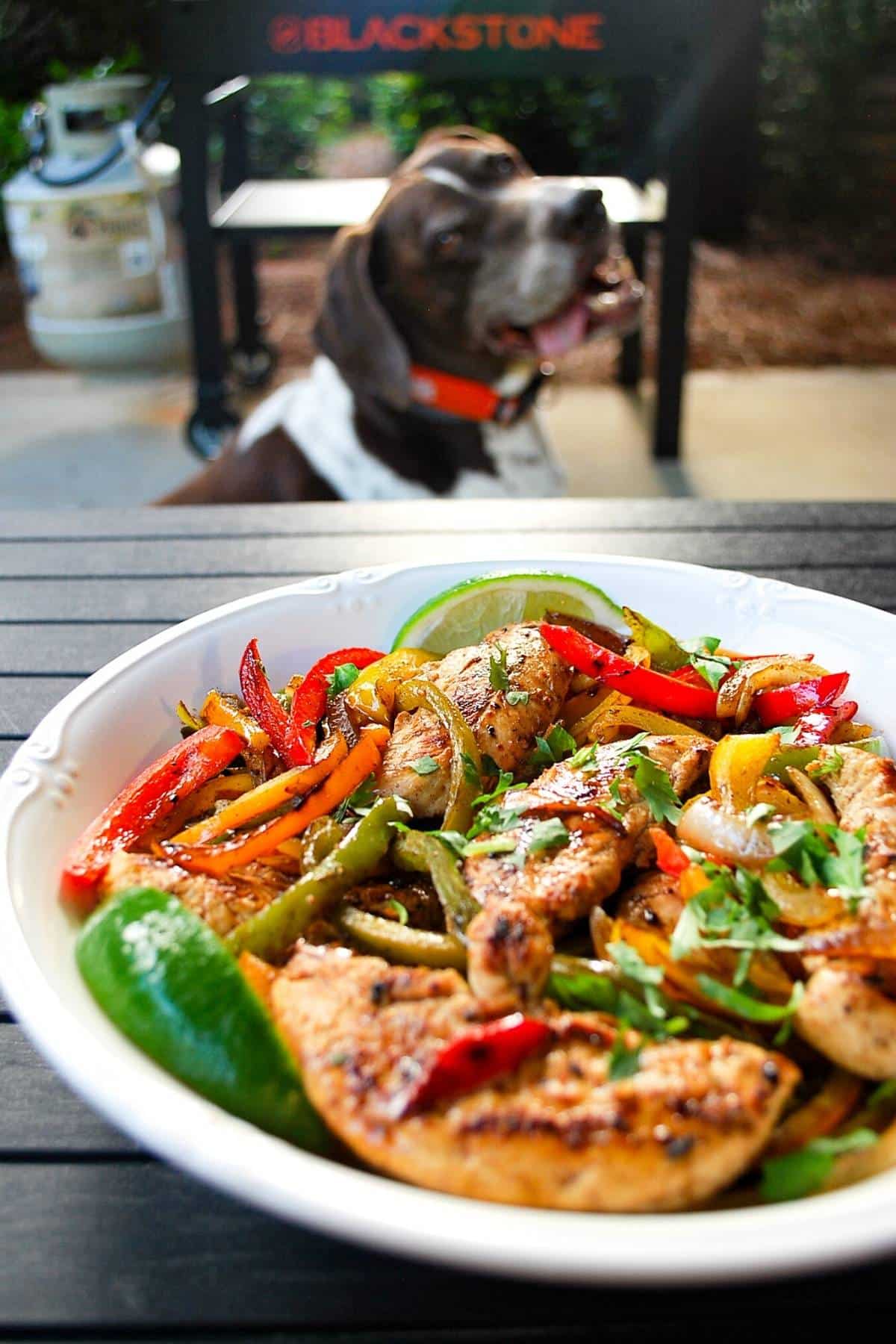 Variations & Recommended Toppings
Blackstone steak fajitas - Feel free to make this with a marinated skirt steak or flank steak. Flat iron and sirloin are also good cuts of steak for fajitas. The Mexican chicken marinade doubles as a great steak marinade!
Blackstone shrimp fajitas - Soak extra-large to jumbo shrimp in Mexican marinade for 30 minutes, then cook on the hot flat-top undisturbed for 2-3 minutes per side.
Recommended fajita toppings - Load up corn or flour tortillas with fajita meats and veggies and your favorite toppings. See the list below for ideas.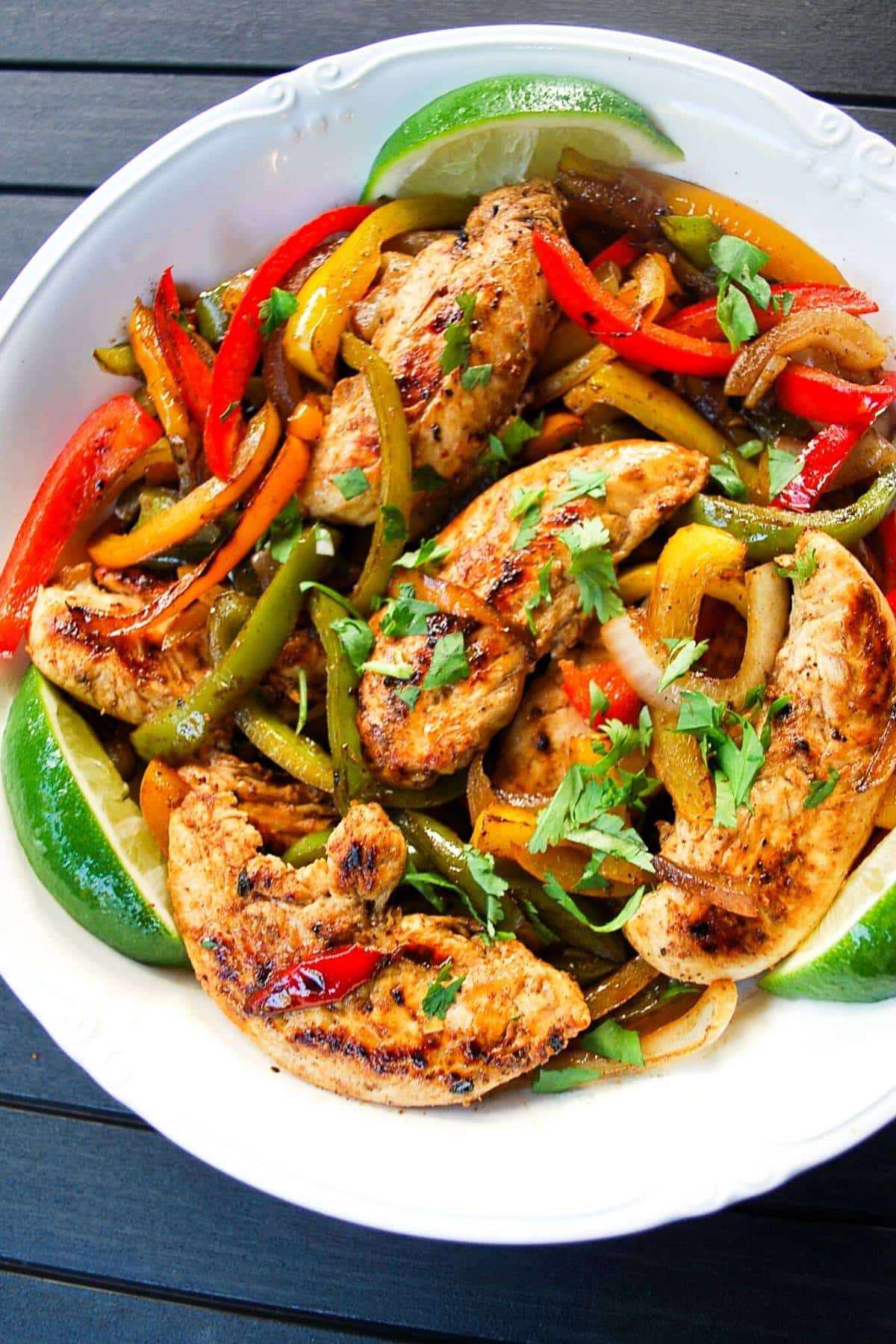 Storing & Freezing
Storing: Allow leftovers to cool to room temperature, then store in a shallow, airtight container in the fridge for 2-3 days. I do not recommend freezing leftover cooked fajita chicken and veggies. Unfortunately, the veggies turn to mush once thawed.
Reheating: Heat a small amount of oil over medium heat, add leftovers, and cook, turning once or twice until hot.
Freeze raw chicken and marinade: Freeze fresh (never frozen) strips of chicken coated in the fajita marinade in a freezer-safe bag for three months. 24-36 before cooking, transfer the bag to the fridge. The meat will marinate and tenderize as it defrosts.
Recipe FAQ
What is the best way to cut chicken breast for fajitas?
Traditionally, fajita chicken is marinated and cooked before it is sliced and served. Once cooked, let the chicken rest for 5 minutes, then cut into strips across the grain of the meat.
How long does it take to cook chicken on a Blackstone griddle?
The precise time it takes to cook chicken on a Blackstone griddle will vary based on the size of your chicken pieces. For instance, chicken tenders will take about 6-7 minutes per side.
What oil should I use to make fajitas on a Blackstone griddle?
You must use a quality oil with a high smoke point like avocado oil, vegetable oil, or sunflower oil.
More Griddle and Skillet Meals You'll Love
If you love this Blackstone griddle chicken fajitas recipe I would be so grateful if you could leave a 5-star 🌟rating in the recipe card below. I love reading your comments and feedback!
Stay posted on my latest cooking adventures through social media @ Instagram, Pinterest, and Facebook. Don't forget to tag me when you try one of my recipes!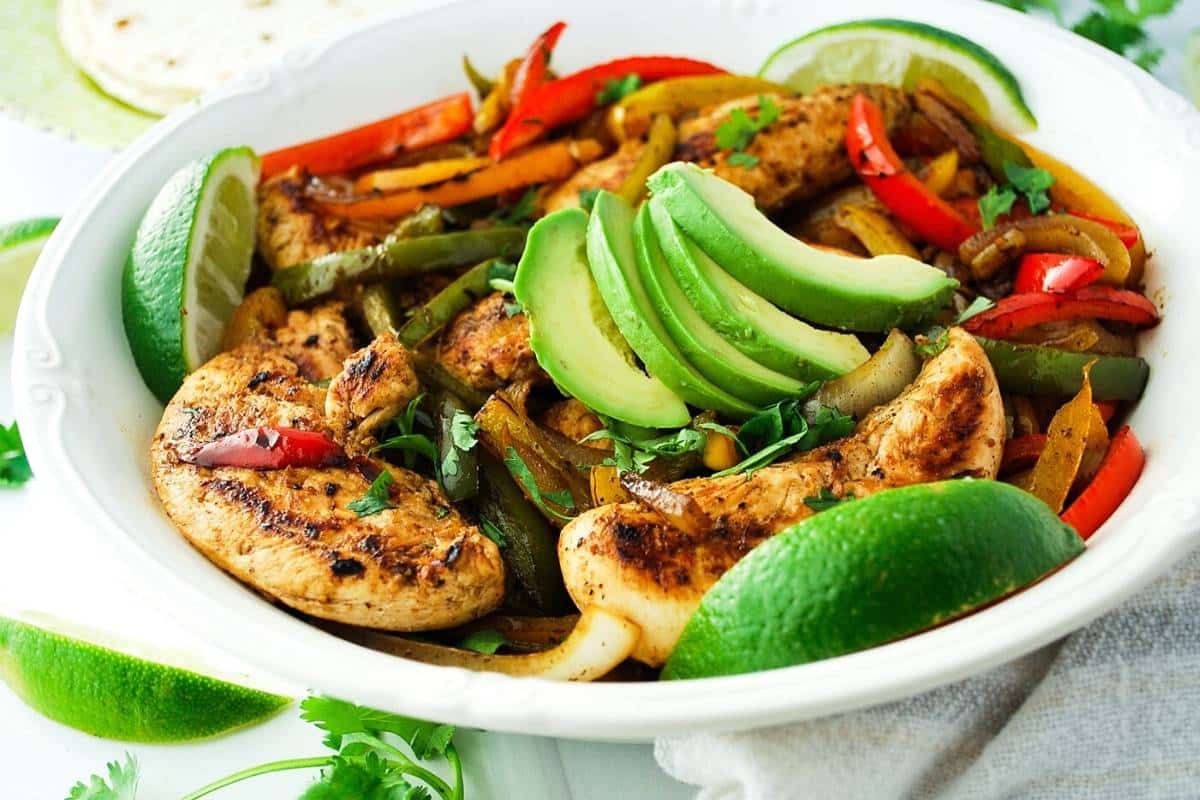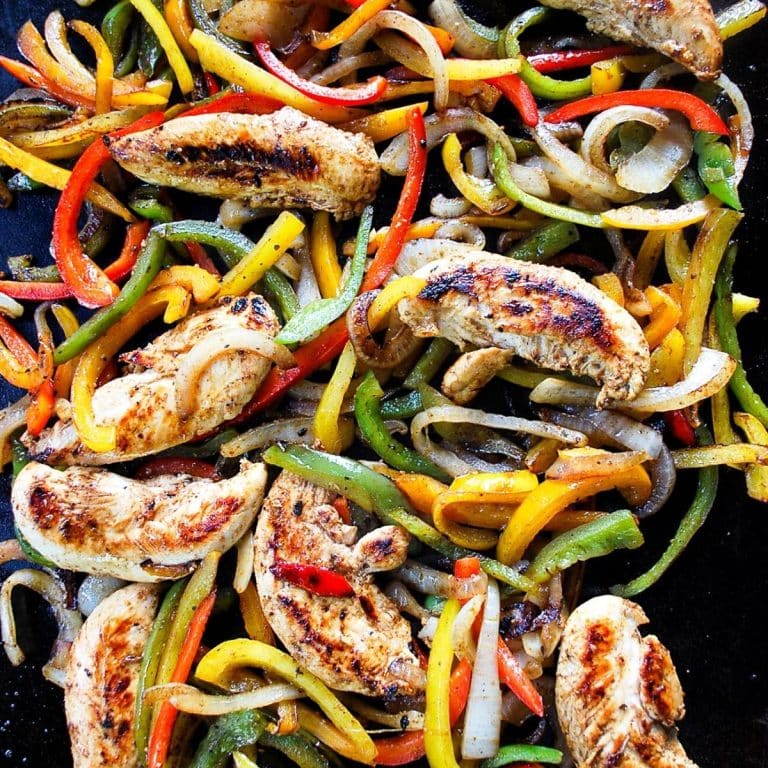 Easy Blackstone Chicken Fajitas
A quick and delicious recipe for easy chicken fajitas prepared on a Blackstone griddle using marinated chicken tenders, colorful peppers, and onion.
Print
Pin
Rate
Equipment
Griddle

This recipe is made on a Blackstone griddle, but any flat top griddle can work, or use a cast-iron skillet.
Ingredients
1

lb

chicken tenders

tendon removed and patted dry

1

red pepper

1

yellow pepper

1

green pepper

1

onion

2-3

tablespoon

avocado oil

for seasoning griddle

1

teaspoon

fajita seasoning

this homemade gluten-free Mexican seasoning or your favorite premade seasoning. I'm a fan of the Badia fajita seasoning.

salt and pepper

to taste

1

lime

sliced in wedges for serving.

Fresh cilantro

if desired, for garnish
Instructions
Prepare the Mexican chicken marinade and pour it into a sealable bag with the chicken tenders and marinate for 4 hours for the best flavor (a minimum of 2 hours). Timesaver tip: You can also do this step the night before and let them marinate overnight.

Preheat the griddle to medium heat (375 degrees F) while you prepare the veggies.

Slice the tops off the peppers, remove the seeds, and slice into thin even strips.

Next, slice the onion into strips and toss them together in a large bowl.

Add 2-3 tablespoons of avocado oil to the griddle and spread around with the spatula to coat the surface.

Add the veggies first, to one side of the griddle, and cook for several minutes tossing occasionally with the spatula until the veggies start to caramelize. Season, to taste, with additional fajita seasoning. Move the vegetables to the other side of the griddle and turn the heat down to low to allow them to continue to slow cook while you cook the chicken.

Add a little extra oil to the griddle, if needed, and add chicken with the marinade juices to the griddle and cook until the chicken gets a nice golden sear on each side and the internal temperature reaches 165 degrees F with a meat thermometer. Be careful not to over-cook the chicken and dry it out.

Serve with lime wedges, tortillas, and chopped fresh cilantro, if desired.
Notes
Be patient with the griddle as it preheats. It must be HOT. As soon as the peppers and onions hit the flat-top, they should sizzle.
Make sure that your Blackstone is well-seasoned and oiled with a thin layer of oil for the best non-stick surface. Be sure to use an oil with a high smoke point. Avocado oil is my favorite.
Chicken begins to dry out when it's cooked past 165F, so keep an eye on it and promptly remove the pieces from the heat as soon as they reach a safe internal temperature.
Cheese lovers- sprinkle some shredded cheese on top of the peppers to melt right before pulling off the grill
Nutrition
Calories:
229
kcal
|
Carbohydrates:
9
g
|
Protein:
25
g
|
Fat:
10
g
|
Saturated Fat:
2
g
|
Polyunsaturated Fat:
1
g
|
Monounsaturated Fat:
6
g
|
Trans Fat:
0.01
g
|
Cholesterol:
73
mg
|
Sodium:
138
mg
|
Potassium:
655
mg
|
Fiber:
2
g
|
Sugar:
3
g
|
Vitamin A:
1146
IU
|
Vitamin C:
125
mg
|
Calcium:
26
mg
|
Iron:
1
mg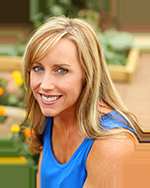 Latest posts by Amee Livingston
(see all)