This delicious chocolate mousse will surprise your guests, because they will never know that it's healthy!  When my husband and I were doing P90X, we were addicted to this stuff.  It's a great way to satisfy your sweet tooth, without sabotaging all your workout efforts.  Of course, everything in moderation.

  This recipe comes from Tosca Reno's "The Eat Clean Diet Cookbook".  I love her passion for health and fitness and her cooking philosophy.  The clean eating motto is eating foods in their natural state, or as close to it as possible.  I recommend using organic tofu for this recipe. I get freaked out by those GMOs!  This dessert is healthy, quick and easy!  Enjoy~
Tofu Chocolate Mousse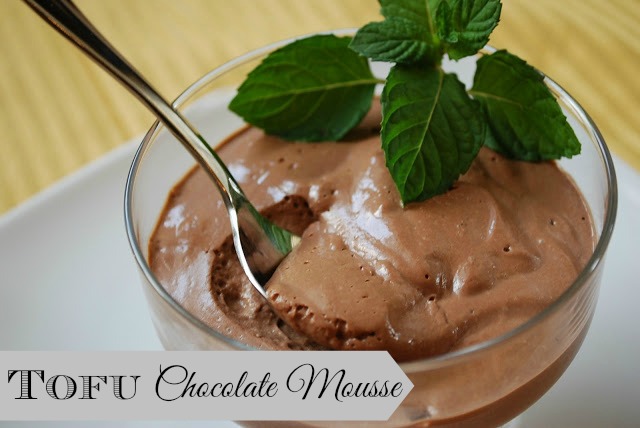 Tofu Chocolate Mousse
Ingredients
¾ cup semi-sweet organic chocolate chips or dark chocolate chips (preferred), melted
12 oz organic silken tofu, at room temperature, drained
½ cup warm skim milk (soy, rice and almond milk work great here, too)
1 tsp best-quality vanilla extract
Instructions
Melt chocolate chips in the microwave in 30 second increments, until melted
Stir until smooth
In a food processor combine all ingredients and process until smooth
Ladle into serving bowls and chill for several hours and serve
This mousse is best when refrigerated overnight and served the next day. Delicious.