I have no idea why I'm craving peaches in the fall, but it resulted in this recipe creation that turned out to be super delicious!!!  I used a new unflavored protein powder from BiPro in this recipe.  What I love about BiPro is that it's all natural, takes on the flavor of whatever you mix it with and has no artificial sweeteners, fillers or bulking agents.  It's a complete, high quality protein.  Another bonus is that it's NSF Certified for Sport, which means that you aren't consuming any banned substances.  It's nature's soluble super protein and it's delicious.   In this bowl of oats, you get good quality protein and healthy carbs, so it's a healthy clean-eating way to begin your day!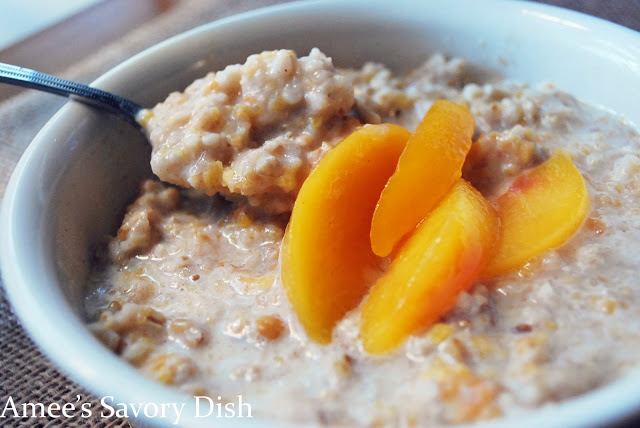 Peaches & Cream "Pro"Meal
*makes 2 servings

Ingredients:
1 cup cooked steel cut oats (can prepare these the night before and refrigerate)
3/4 cup frozen sliced peaches, thawed overnight in the refrigerator
2 tbsp real maple syrup
1 scoop unflavored whey protein powder (BiPro recommended)
1/2 cup organic, whole milk (can sub almond, hemp or soy milk)
cinnamon, to taste
*optional add-ons: hemp seeds, flax seed, chopped nuts

*Tip:  When preparing your steel cut oats, add 1/2 tsp vanilla extract and 1/2 tsp cinnamon for every 1 cup dry oats prepared.  It gives your oatmeal a great flavor.

Directions:
For the Peach Puree:  In a small food processor, combine 1/2 cup peaches and 1 tbsp maple syrup.  Pulse until blended and smooth.  In a separate bowl combine milk, 1 tbsp maple syrup, dash cinnamon and 1 full scoop protein powder.  Whisk until smooth and combined.  Stir peach puree into milk mixture.  Stir oats into the milk mixture until blended.  Divide oats evenly between two bowls.  If you prepared your oats the night before, microwave the oats for 40-45 seconds until heated through.  Garnish oatmeal with remaining sliced peaches.
*BiPro provided me with this product for review.  I was not compensated for this post.  All opinions are my own and not influenced in any way.