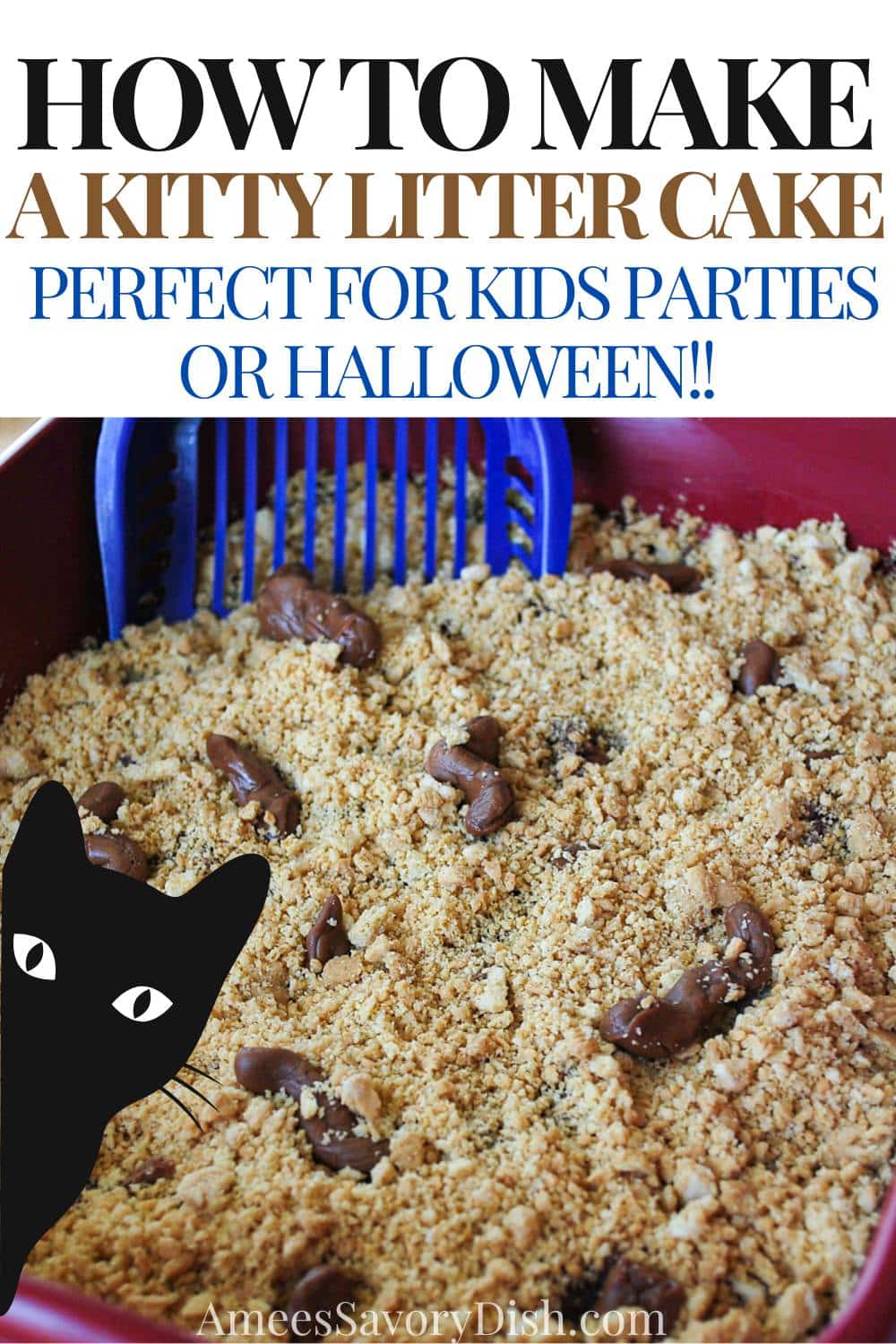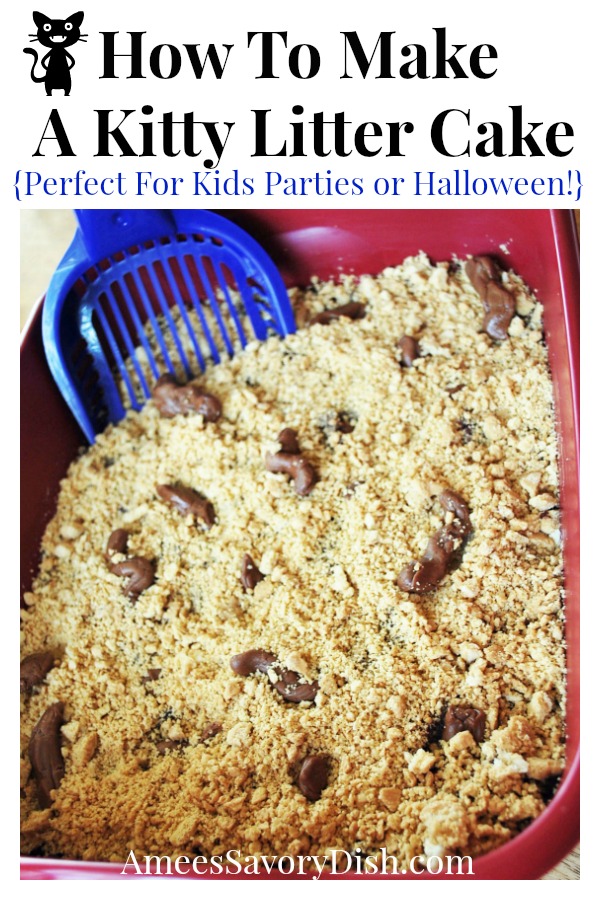 This Kitty Litter Cake is guaranteed to gross you out, and that's a good thing! This is a great gag cake for April Fool's Day and Halloween, plus it's a fun recipe for kids! Made with boxed cake mix, Golden Oreos, instant pudding, and tootsie roll "poop!"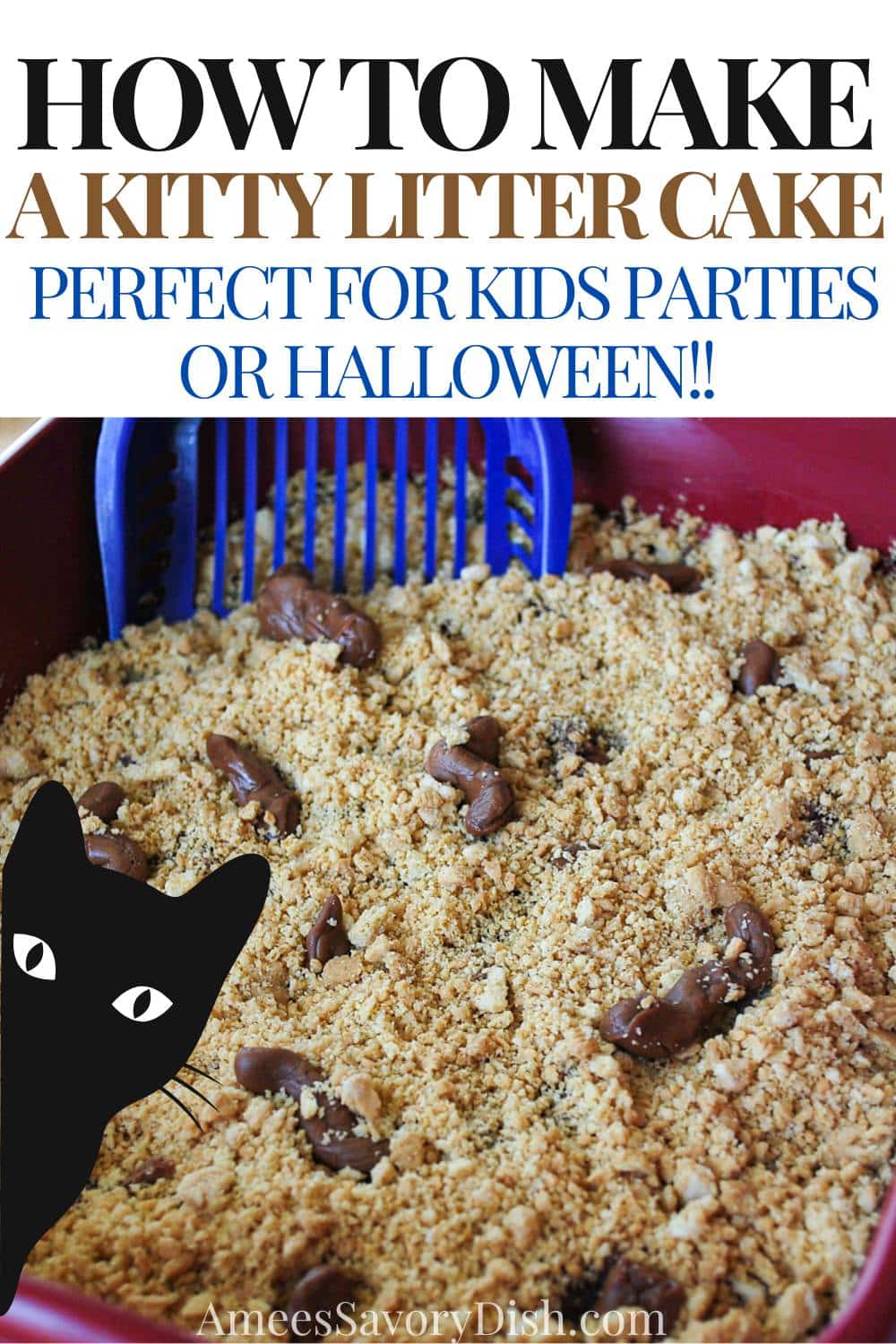 Who would have thought chocolate and vanilla cake crumbles, crushed vanilla sandwich cookies, and vanilla pudding with tootsie roll droppings would look so much like a cat litter box? Gross!
At a glance, this cake looks anything but edible, but that's sort of the point. Stick with me. Layers of moist and fluffy chocolate and vanilla cake, creamy vanilla pudding, Golden Oreos, and tootsie rolls taste WAY better than it looks, especially when served in an actual litter box.
I sent this cat litter cake to school with my son to share along with a 4H project presentation he did on Cat Care. He wasn't initially thrilled about bringing a cake to school in a litter box, but once I filled him in on what's actually in it (all of his favorites), he was all in. His class loved it!
Why This Recipe Rocks
It's made simple with boxed cake mix and instant pudding, but if you want to take your cat litter box cake to the next level and everything from scratch, go for it!
Perfect for April Fool's Day, Halloween, pet-themed birthday parties, or at the very least, it's a conversation starter.
It looks like 💩 but tastes amazing. Kids love it.
Guaranteed to get some giggles.
Equipment Notes
This can probably be left unsaid, but to clear up any potential confusion: PLEASE invest in a NEW cat litter box and NEW cat litter scoop for serving.
It doesn't need to be a top-dollar pet-store litter box. You can almost always find a $1.25 litter box at Dollar Tree or similar discount stores.
Ingredients You'll Need
Chocolate cake mix – I used German chocolate cake mix, but other moist chocolate cake mixes will work.
White cake mix – Make sure you have the ingredients listed on the package for both cake mixes. It will vary depending on the cake, but many call for vegetable oil and/or eggs.
Instant vanilla pudding – To add moisture and rich, creamy flavor to the cat litter, aka the crumbled cakes and cookies
Vanilla sandwich cookies – like Golden Oreos or something similar.
Tootsie rolls – The poo! I suppose something like fun-sized Snickers would also make good poo.
How To Make A Cat Litter Cake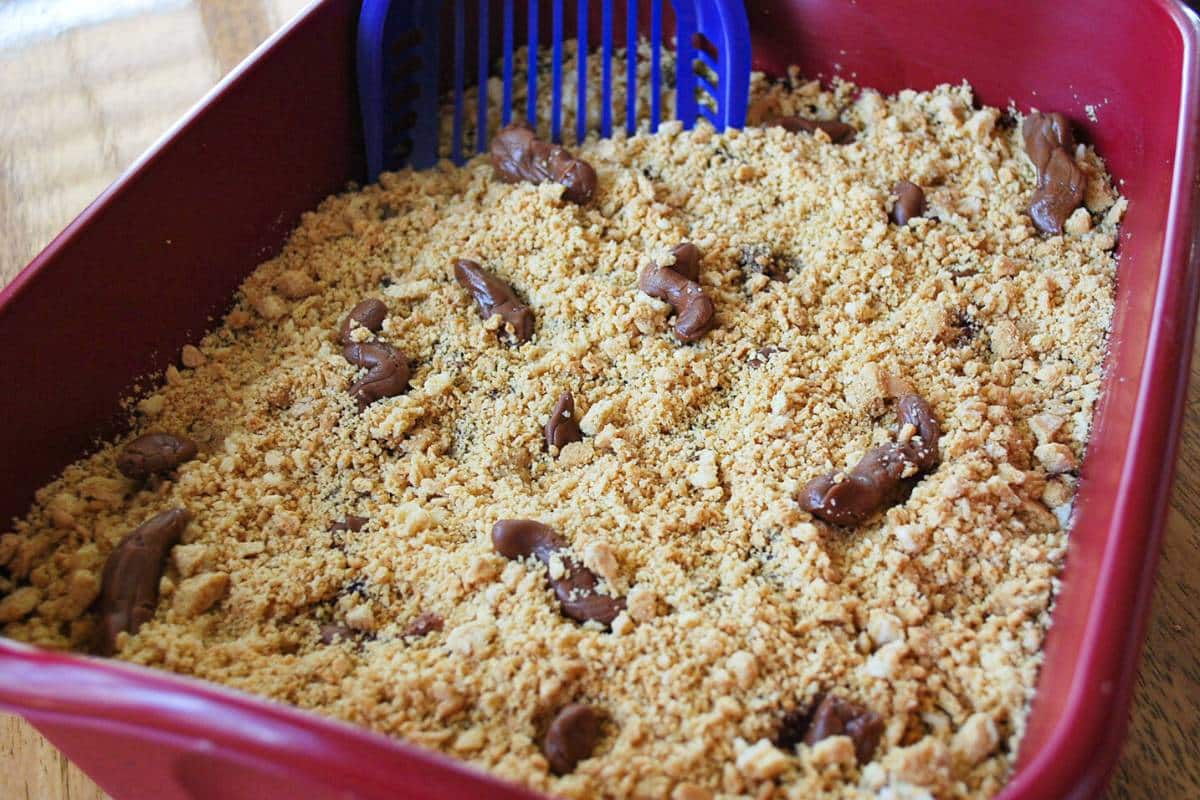 Step 1: Bake cakes. Mix and bake the chocolate and white cake mix according to the package directions. Once baked, let the cakes cool to room temperature.
Step 2: Mix pudding. Meanwhile, prepare the vanilla pudding mix according to the package directions. Cover and place it in the fridge until you're ready to assemble.
Step 3: Crush cookies. Working in batches, crumble the sandwich cookies in a food processor, scraping often until the texture literally resembles fresh cat litter.
Step 4: Assemble cake. Once cooled, crumble both cakes into a large bowl. Toss with about 1⁄2 of the cookie crumbs and just enough pudding to moisten the mixture but not make it soggy. Transfer the "kitty litter" to a sanitized BRAND NEW litter box. I repeat, BRAND NEW litter box.
Step 5: Decorate. Heat half of the unwrapped Tootsie Rolls in the microwave just until pliable, then bend and shape them to look like …well, you know. Bury the pieces randomly within the "kitty litter" and cover with cookie crumbs. Repeat with the remaining Tootsie rolls and cookie crumbs but set one aside.
Step Garnish and serve. Droop the extra tootsie roll over the side of the litter box, and serve with a BRAND NEW -I repeat, BRAND NEW pooper scooper!
Recipe Tips
You can bake the two cakes in any size or shape pan. Check the package instructions for the specified baking times. Once cooled, you'll crumble the cakes, so they don't need to be perfect.
If you don't have a food processor, place the cookies in a zip-top bag, seal it tightly, and whack with a heavy handheld kitchen option until crushed evenly.
To play up the whole gross litter box thing, line the litter box with parchment paper and dot the finished cake with green or blue coloring.
Variations
There are only so many ways you can make a delicious cake that also looks like a litter box, so I don't recommend deviating too far from the recipe if that's the look you're going for.
You can, however, get creative with other combinations of cakes, cookies, pudding, and candies and create a new theme. I think these variations would be pretty cool, especially for kids!
Dirt cake – Chocolate Cake + Crushed Oreos + Cool Whip + Gummi Worms
Unicorn poop – Confetti Cake + Rainbow Sprinkles + Vanilla Pudding + Tootsie Fruit Chews
Storing & Freezing
Storing: Keep leftovers covered with plastic in the fridge for up to 5 days.
Freezing: I'm not sure how freezer-safe a litter box is, but you can freeze the cake in a separate airtight container for 3 months. Let it thaw in the fridge the night before you plan to serve.
Recipe FAQs
What is the dessert that looks like a dirty cat litter box?
That would be this kitty litter cake, of course! The "litter" is made with a cake and cookie crumble moistened with vanilla pudding and dotted with tootsie rolls to look like cat poop.

Is it okay to assemble this cake in advance?
Yes. The day before you plan to serve, you can bake the cakes and assemble everything in the litter box. Then, cover and keep it in the fridge until you're ready to serve.
More Fun Halloween Recipes
If you love this recipe, I would be so grateful if you could leave a 5-star 🌟rating in the recipe card below. I love reading your comments and feedback!
Stay posted on my latest cooking adventures through social media @ Instagram, Pinterest, and Facebook. Also, remember to tag me when you try one of my recipes!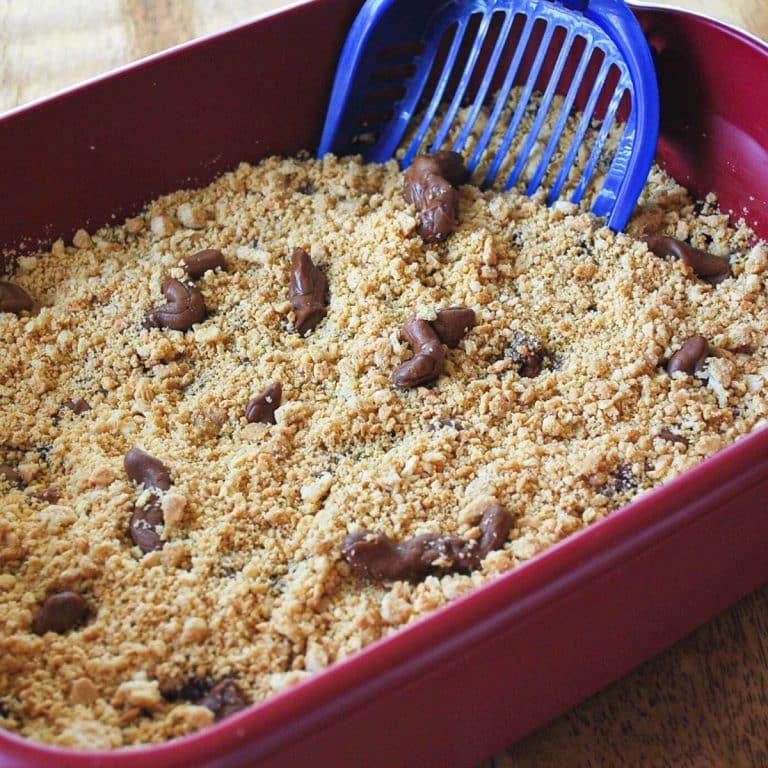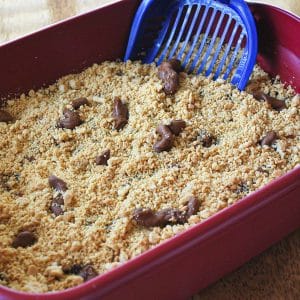 Kitty Litter Cake
This fun party cake looks just like a cat litter box. It is served in a new, clean litter box with a new, clean litter scoop.
Print
Pin
Rate
Ingredients
18.25

oz

package German chocolate cake mix

18.25

oz

package white cake mix

7

oz

instant vanilla pudding mix

Two 3.5 oz packages

12

oz

package Golden Oreos (or your favorite brand of vanilla sandwich cookies)

12

oz

package tootsie rolls

new

unused cat litter box

new

unused cat litter scoop
Instructions
Prepare cake mixes and bake according to package directions (any size pan).

Prepare pudding according to package directions and chill until ready to assemble.

Crumble sandwich cookies in small batches in a food processor, scraping often.

When cakes are cooled to room temperature, crumble them into a large bowl. Toss with ½ of the remaining cookie crumbs and the chilled pudding. You probably won't need all of the pudding, you want the cake to be just moist, not soggy.

Put cake mixture into a clean, washed (never used, please) litter box.

Put half of the unwrapped Tootsie Rolls in a microwave safe dish and heat until softened. Shape the ends so that they are no longer blunt, and curve the tootsie rolls slightly. Bury tootsie rolls randomly in the cake and sprinkle with half of the remaining cookie crumbs.

Heat the remaining Tootsie Rolls until pliable and shape as before. Spread all but one randomly over top of cake mixture. Sprinkle with any remaining cookie crumbs. Hang the remaining tootsie roll over side of litter box and sprinkle with a few cookie crumbs. Serve with the pooper scooper.
Notes
*Calorie info is for dry ingredients only. Tootsie rolls not included.
Fun variations
Dirt cake – Chocolate Cake + Crushed Oreos + Cool Whip + Gummi Worms

Unicorn poop – Confetti Cake + Rainbow Sprinkles + Vanilla Pudding + Tootsie Fruit Chews
Nutrition
Calories:
272
kcal
|
Carbohydrates:
51
g
|
Protein:
3
g
|
Fat:
7
g
|
Saturated Fat:
2
g
|
Sodium:
429
mg
|
Potassium:
99
mg
|
Fiber:
1
g
|
Sugar:
29
g
|
Calcium:
83
mg
|
Iron:
2
mg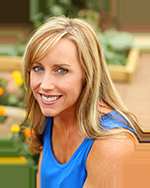 Latest posts by Amee Livingston
(see all)