In case you didn't see these cuties grace the cover of Family Circle's November issue, I had to make and share these little hoots!  I mean, how easy and fun are these guys?!!  My daughter picked up the magazine while we were checking out at the grocery store and said "Mom, you HAVE to make these owl cupcakes for Halloween!"
I came up with a tasty "surprise inside" version.  I'm a little obsessed with stuffing cupcakes lately. My kids don't complain, they love finding a surprise when they take that first bite. I don't bake often, so when I do, it's a real treat in this house. I want to make it worthy of a splurge!
These Surprise Inside Owl Cupcakes are simple to make and feel free to get creative when stuffing your baked treats, there are many delicious chocolates that would work perfectly here.   These cupcakes are stuffed with a Chocolate Peanut Butter Cup and slathered in Chocolate Peanut Butter Frosting.  They are so simple to put together, you'll have plenty of time to bake your cake from scratch. 😉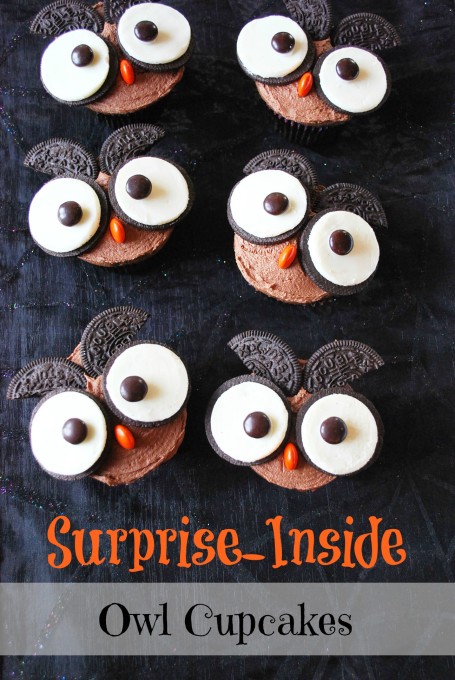 Here's what you'll need for decorating: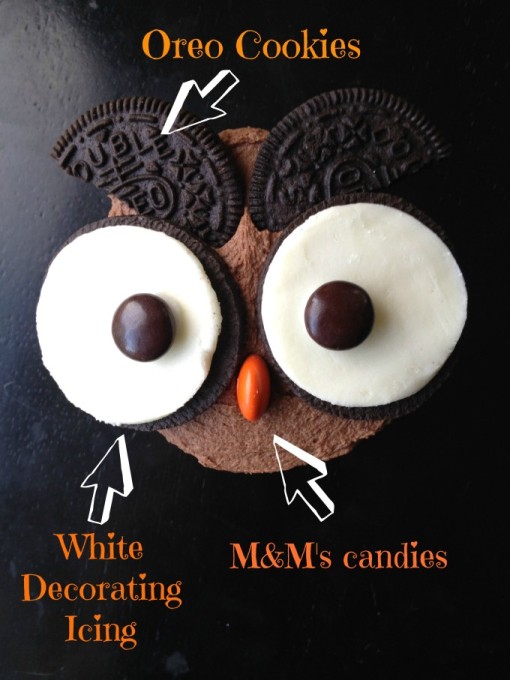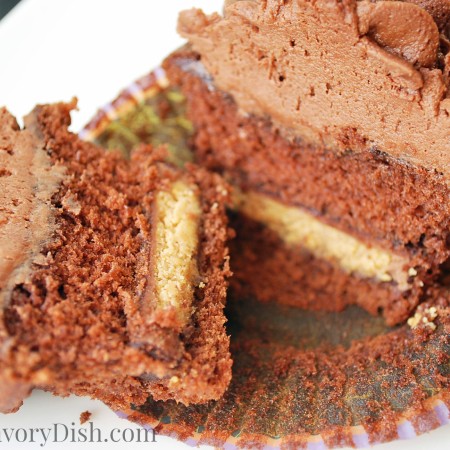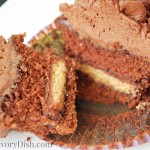 Surprise-Inside Chocolate Peanut Butter Owl Cupcakes
Ingredients
For the cupcakes(recipe adapted from Hershey's Perfectly Chocolate Cake):
2

cups

sugar

1 3/4

cups

unbleached all-purpose flour

3/4

cup

cocoa powder

1 1/2

tsp

baking powder

1 1/2

tsp

baking soda

1

tsp

salt

2

eggs

1

cup

whole milk

1/2

cup

grapeseed oil

2

tsp

good quality vanilla extract

1

cup

boiling water

30

snack-size chocolate peanut butter cups
For the Frosting:
1

stick

1/2 cup salted butter, room temperature

2/3

cup

cocoa powder

3

cups

confectioners' sugar

sifted, plus additional if needed

1/3

cup

whole milk

plus a little more if needed

2

tsp

good quality vanilla extract

3-4

tbsp

creamy peanut butter
For the owls:
1

bag double stuff Oreos

1

large bag M&M's candy pieces

you'll only need the red and brown ones

small tube white decorating icing
Instructions
To make the cupcakes:
Preheat oven to 350 degrees F.

Line muffin tins with 30 paper baking cups and set aside

Whisk together sugar, flour, cocoa,baking powder, baking soda and salt in a large bowl

Add eggs, milk, oil and vanilla

Beat on medium speed in a stand mixer or with a hand mixer for 2 minutes

Stir in boiling water (don't panic...batter will look thin)

Pour a few tbsp of batter into each cupcake liner, place peanut butter cups on top and gently press down (you want the peanut butter cup close to the bottom of the cupcake, but not all the way down to the liner)

Top off with remaining batter until each liner is almost full (a little more than 2/3)

Bake 22-25 minutes, until tops spring back and cakes are done

Cool completely while you prepare the frosting
To make the Chocolate Peanut Butter Frosting:
Using a whisk attachment, whip butter and cocoa until smooth and blended

Alternately add milk and confectioners' sugar until all is incorporated

Add vanilla and peanut butter and whip until smooth
To assemble:
Frost your cooled cupcakes using a smooth knife

Open the Oreos to separate by gently twisting the cookie

Using a very sharp knife, in a sawing motion, slice the plain cookie in half, the half with the icing will be the eyes

Using a little squirt of decorator's icing, attach the brown M&M's to the white iced part of the cookie

Then place the cookies on top of the frosted cupcake

Place the red M&M sideways in between the eyes for the beak

Now dab a little decorator's frosting on the back of the two halved cookie portions and place on top of the eyes
Enjoy your delicious treats!