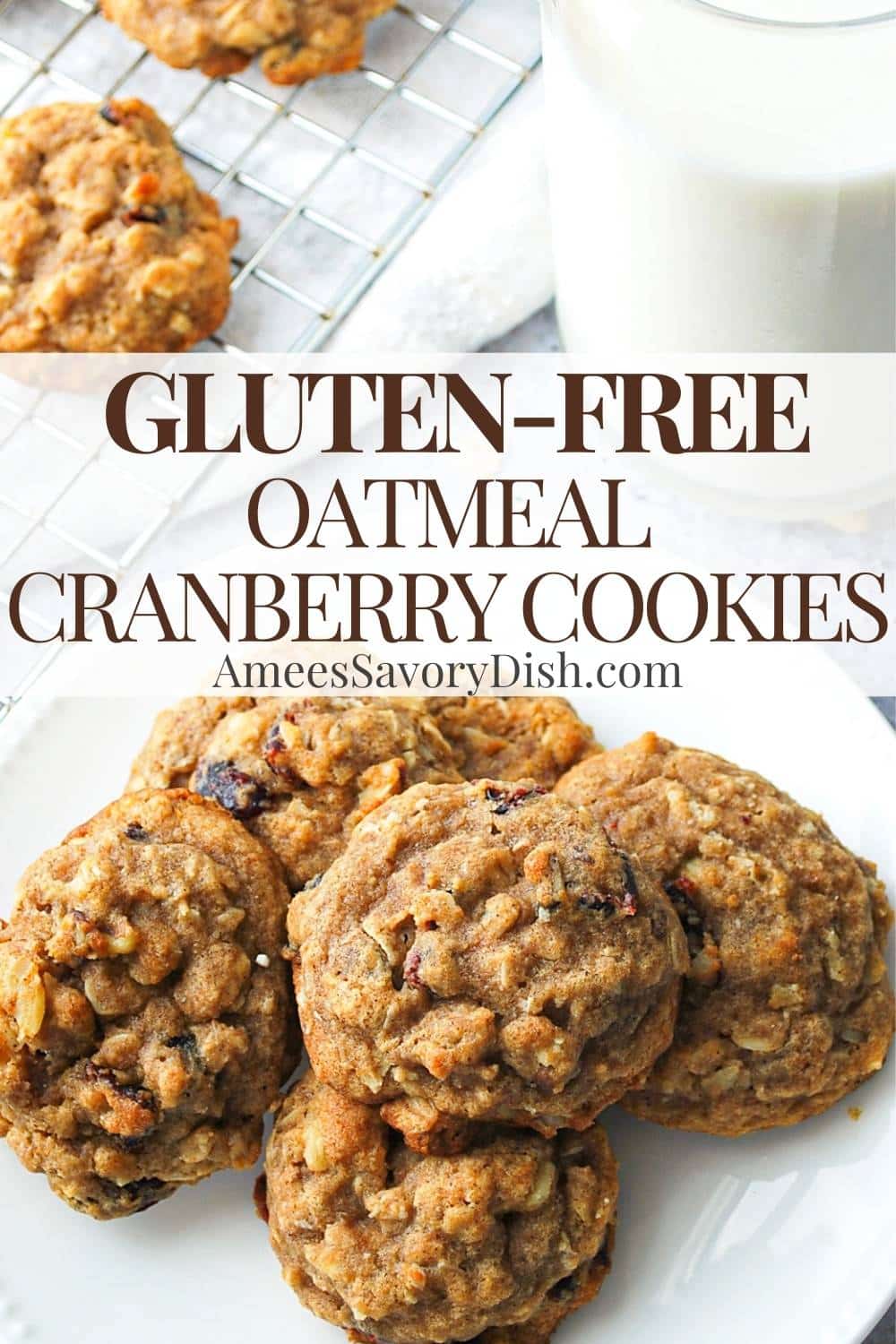 Gluten-free Cranberry Oatmeal Cookies are sure to be a holiday baking favorite. These chewy, delightfully crisped cookies have morsels of tart cranberries and crunchy nuts in every bite. They are easy to make with fuss-free gluten-free baking ingredients and even easier to eat!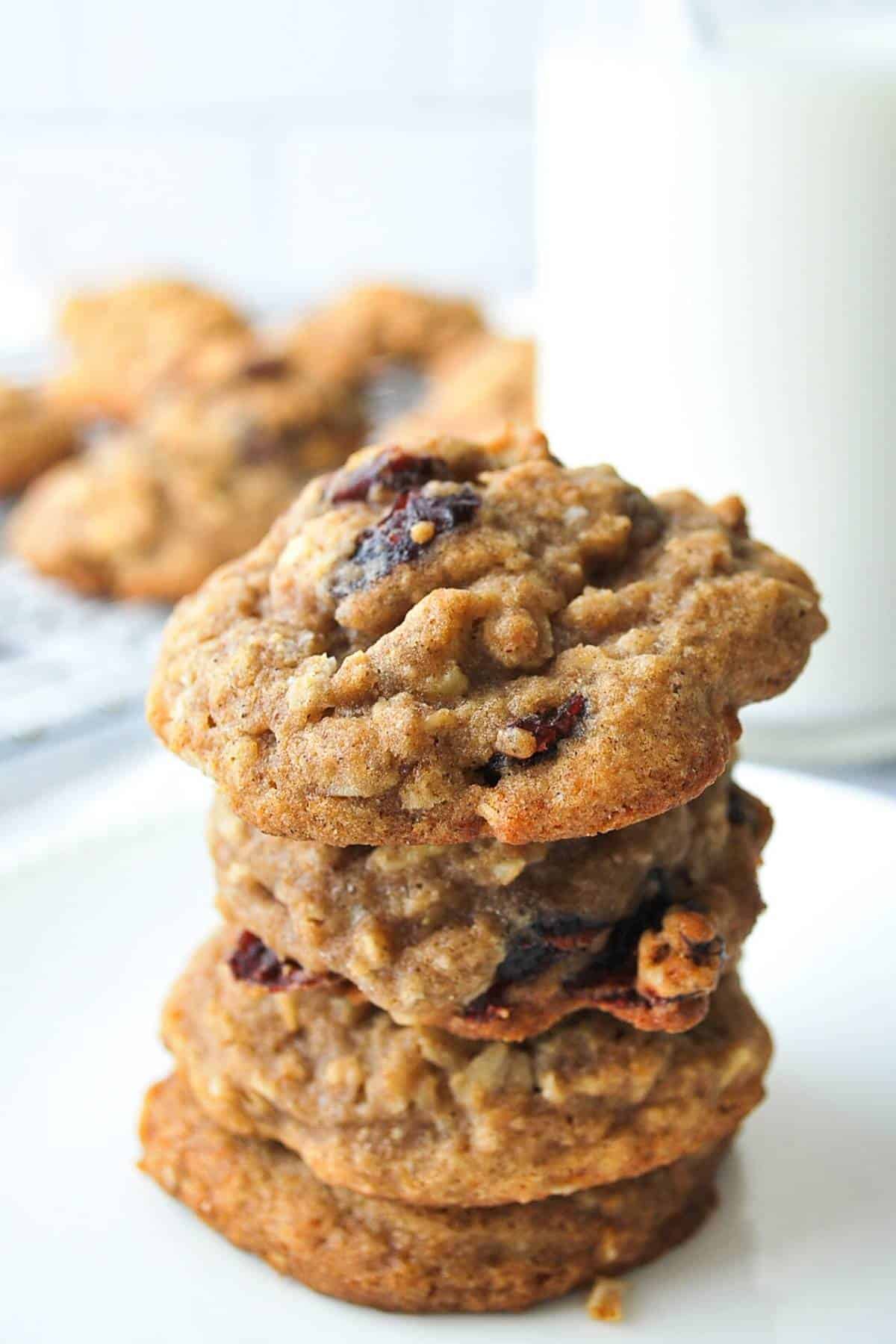 If you like your oatmeal cookies with plenty of texture and flavors, you're going to LOVE these oatmeal cranberry cookies. Lightly browned, moist gluten-free oatmeal cookies are speckled with tart cranberries and crunchy walnuts (or pecans). Needless to say, these aren't your average oatmeal cookies.
This gluten-free oatmeal cookie recipe has been in the making since 2010, when I initially shared my favorite oatmeal cookie recipe: these white chocolate cranberry oatmeal cookies. They are requested at every Christmas cookie exchange, so I decided to give the recipe a gluten-free makeover.
The best part? These cookies are indeed gluten-free, but they have soft and chewy centers and crave-worthy crisped surfaces just like their gluten-containing counterpart, so you'd never know the difference!
Why You'll Love This Recipe
It's quick and easy. This is a great gluten-free baking recipe for beginners.
The ingredients are mainly refrigerated and pantry staples you might already have in your kitchen.
These cookies aren't just for cookie exchanges and holiday dessert platters. They're also hearty enough to enjoy for breakfast and a quick snack.
They're perfect for personalizing with different flavors and mix-ins.
Ingredients You'll Need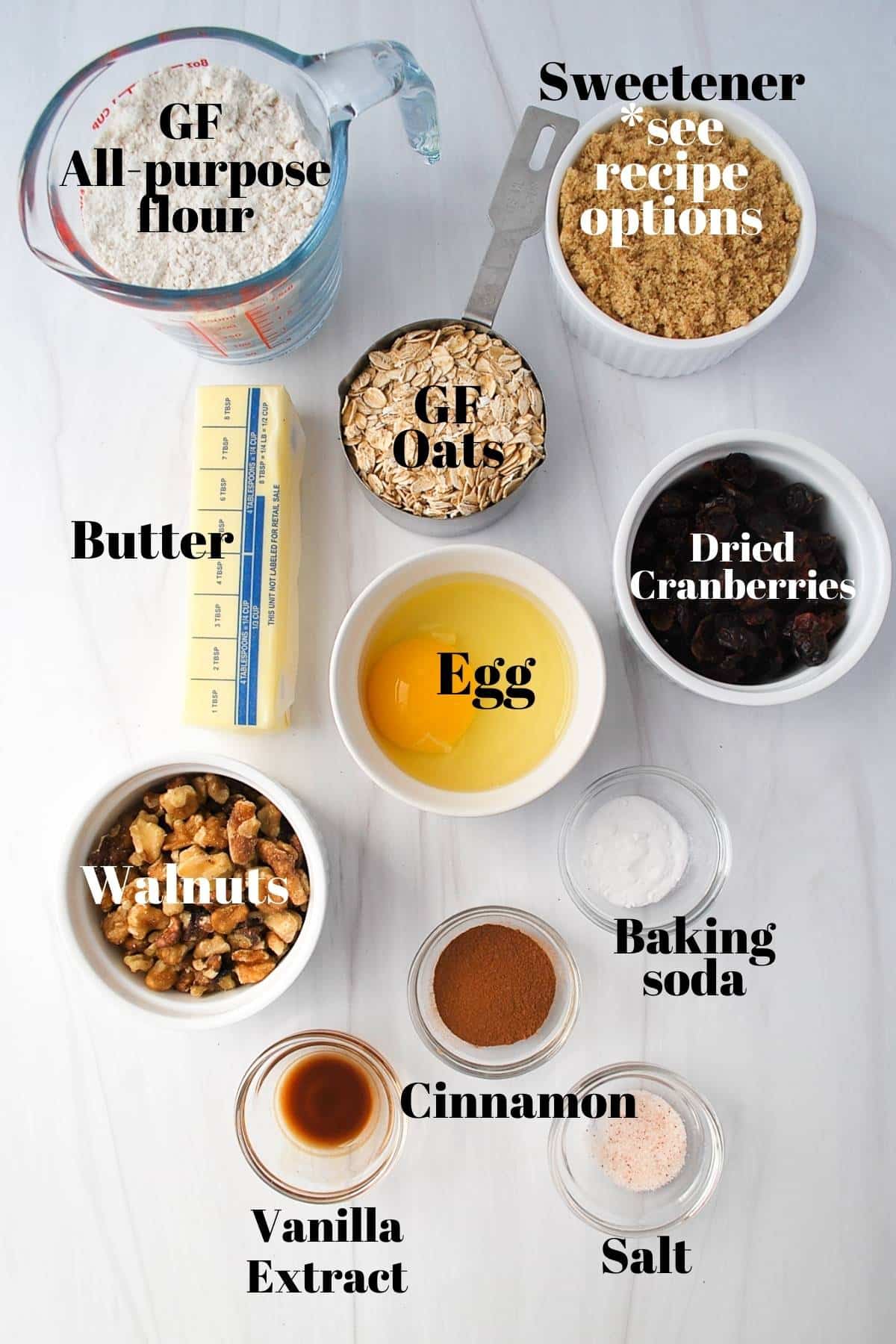 Gluten-free all-purpose flour - I typically use King Arthur measure-for-measure gluten-free flour for my gluten-free baking needs. It's made with refined white rice and brown rice flour, so the texture is similar to cake flour, but the added tapioca & potato starch, cellulose, and xanthan gum help the mixture mimic the baking properties of all-purpose flour flawlessly.
Gluten-free oats - These wouldn't be gluten-free oatmeal cookies without them! While oats do not inherently contain gluten, they're often cross-contaminated with gluten-containing grains during processing, so make sure the oats you use are certified gluten-free.
Baking soda - Creates a perfectly chewy cookie and acts as a flavor enhancer.
Cinnamon - Adds a touch of cozy, warming flavor.
Sea salt - Helps strengthen the cookie dough and refines the sweet flavors.
Brown sugar - I previously made these cookies with coconut sugar, but I switched to brown sugar as it yields a significantly more tender oatmeal cookie while adding rich molasses undertones. Purecane brown sweetener is a terrific zero-calorie, sugar-free brown sugar substitute. *FYI- If you use Purecane or another sweetener blend with erythritol they won't brown as well as using regular sugar. Maple sugar is also a great option.
Butter & egg - They add richness, improve flavor, and help make a tender cookie. The egg also gives the cookies their rise and binds the dough. For the best results, these ingredients should be at room temperature.
Vanilla - Good quality real vanilla extract adds depth to the sweet, creamy taste.
Dried cranberries & chopped nuts - The tasty mix-ins! Cranberries add bursts of sweet-tart flavor, and chopped walnuts or pecans add a complementary crunch.
How To Make Gluten-Free Oatmeal Cranberry Cookies
Step 1: Prepare for baking. Preheat your oven to 350F, and line a cookie sheet with parchment paper or a Silpat baking mat.
Step 2: Combine dry ingredients. Stir the flour, oats, baking soda, cinnamon, and salt together in a large bowl. Set the bowl aside.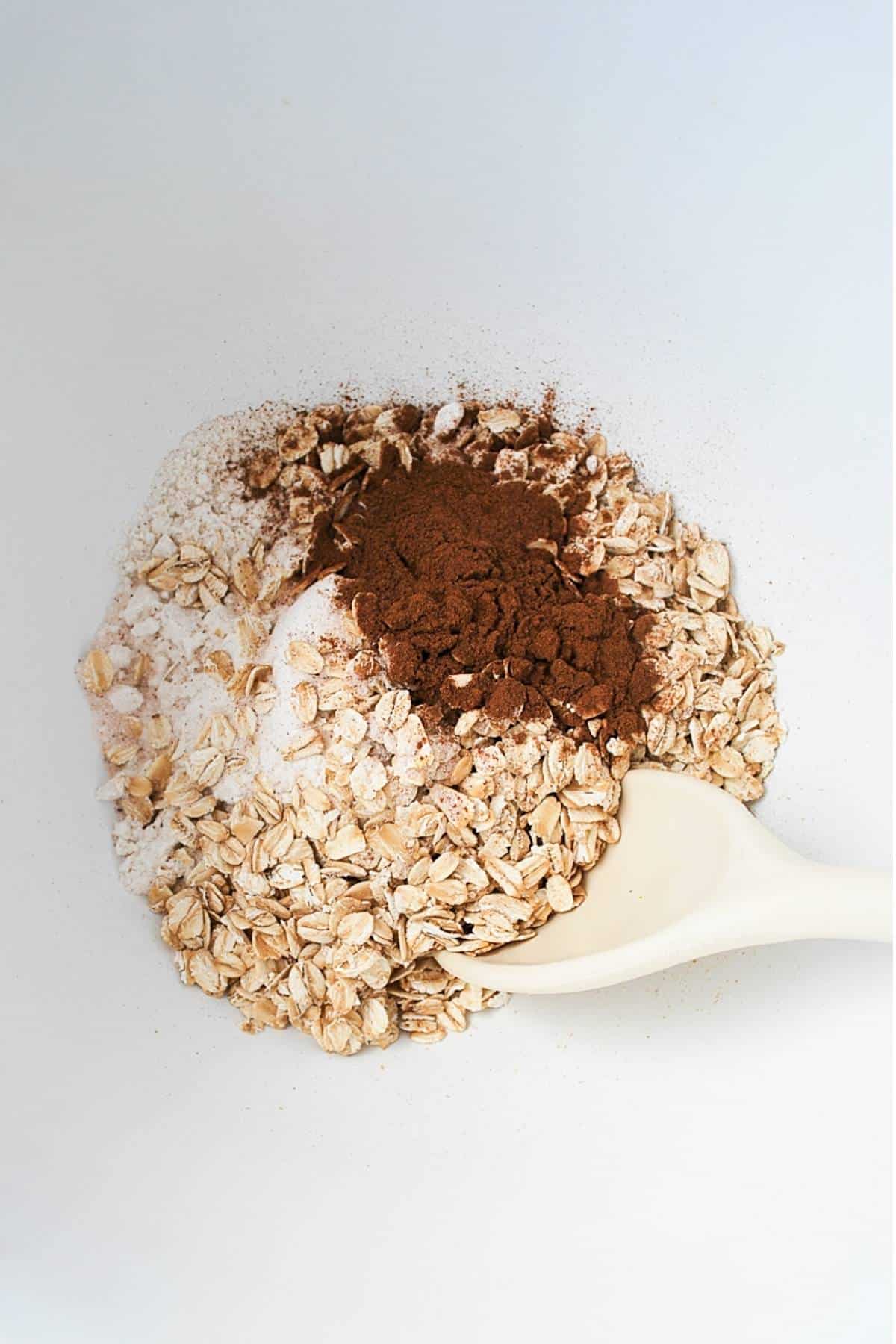 Step 3: Combine wet ingredients. In a large mixing with a hand mixer or in a stand mixer with the paddle attached, cream the softened butter and brown sugar until light and fluffy. Then, add the egg and vanilla extract and beat until smooth.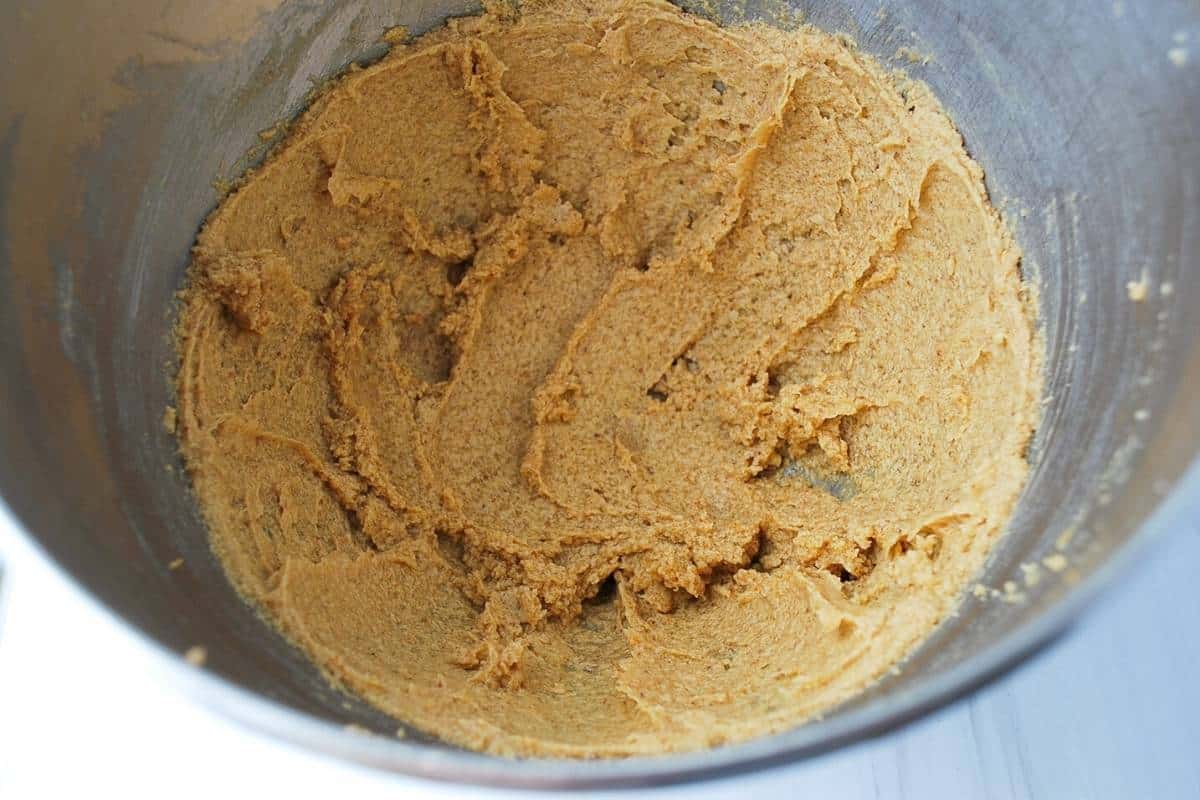 Step 4: Mix cookie dough. Add the dry mixture to the wet mixture, and mix well (but do not overmix!). Finally, stir in the dried cranberries and chopped nuts (again, do not overmix!).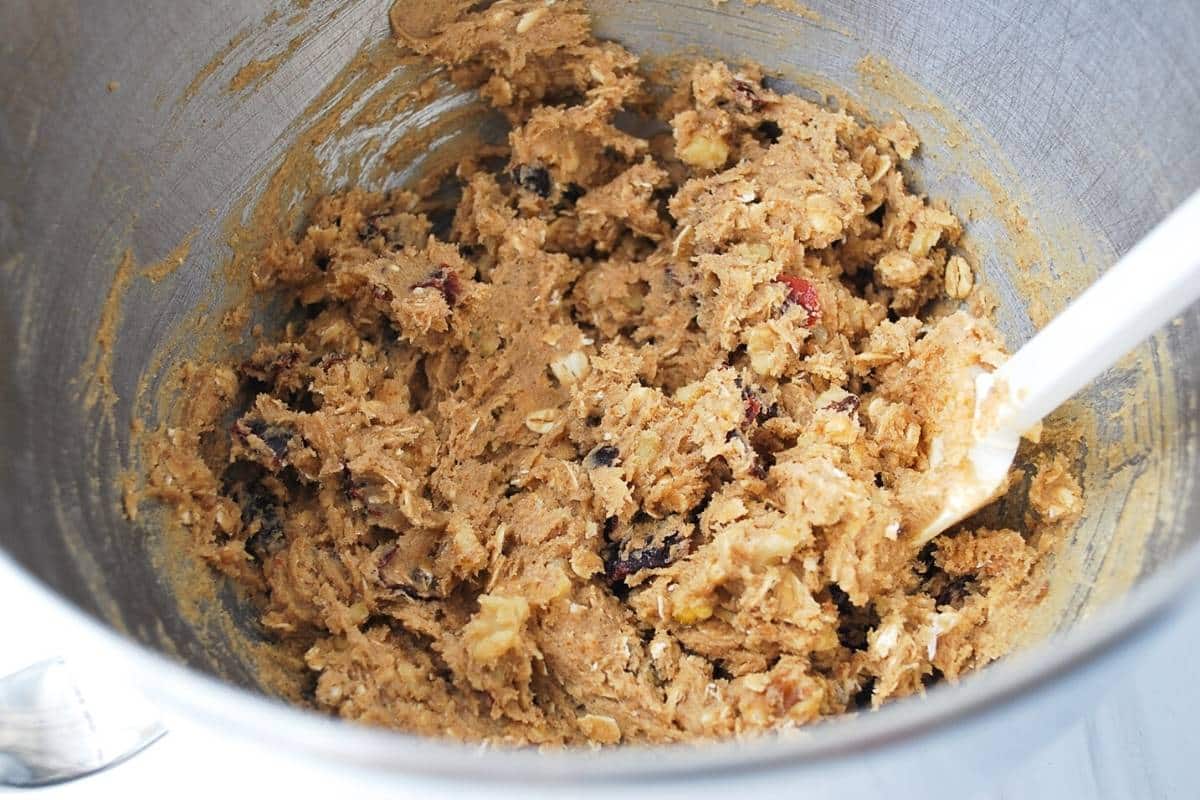 Step 5: Drop cookie dough. Using a heaping teaspoonful each, drop the cookie dough onto the prepared cookie sheet, leaving enough space in between for spreading.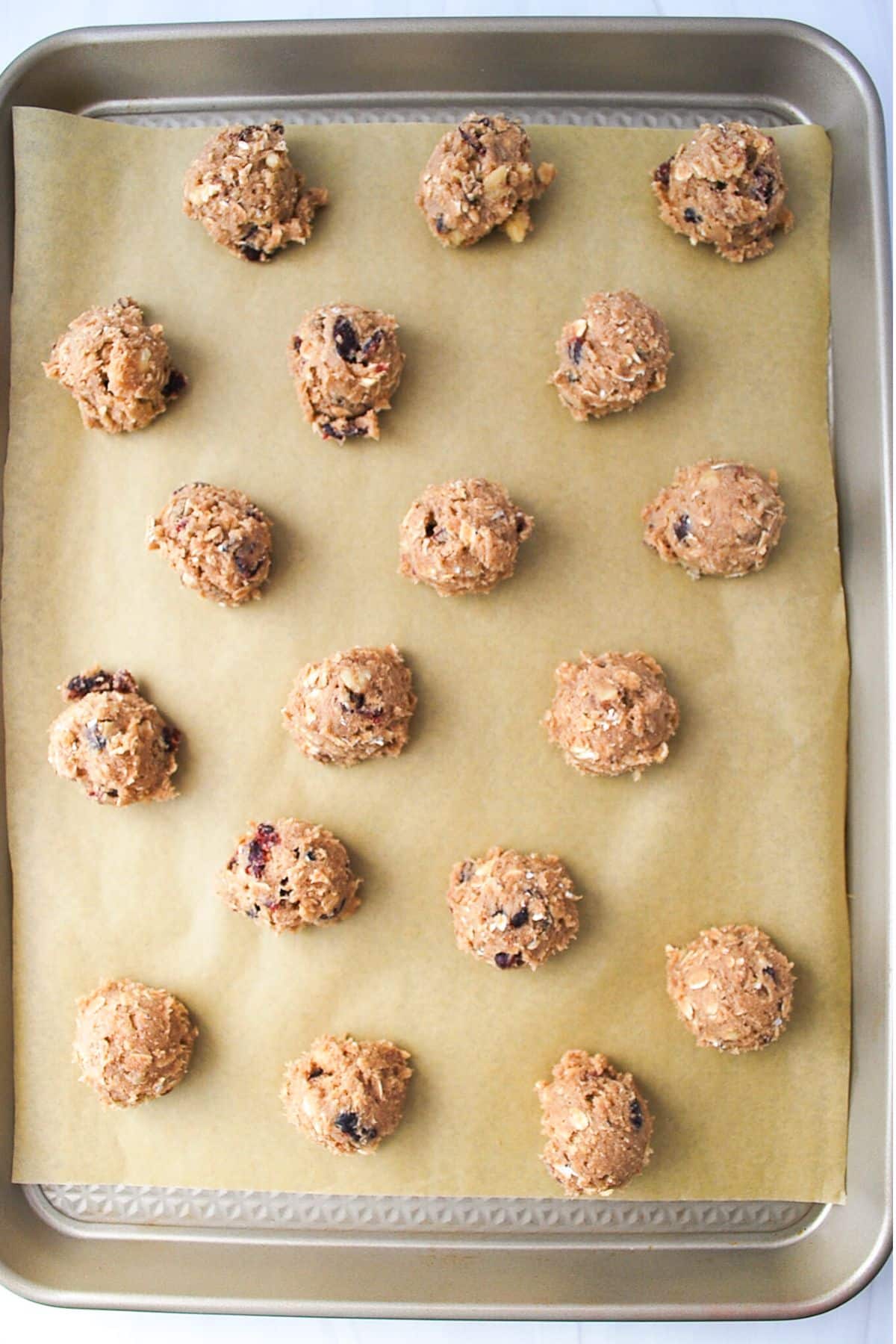 Step 6: Bake & cool. Transfer the cookie sheet to your preheated oven and bake until the edges begin to brown (8-10 minutes). Let the cookies cool on the cookie sheet for a few minutes, then transfer them to a wire rack to cool completely. Enjoy!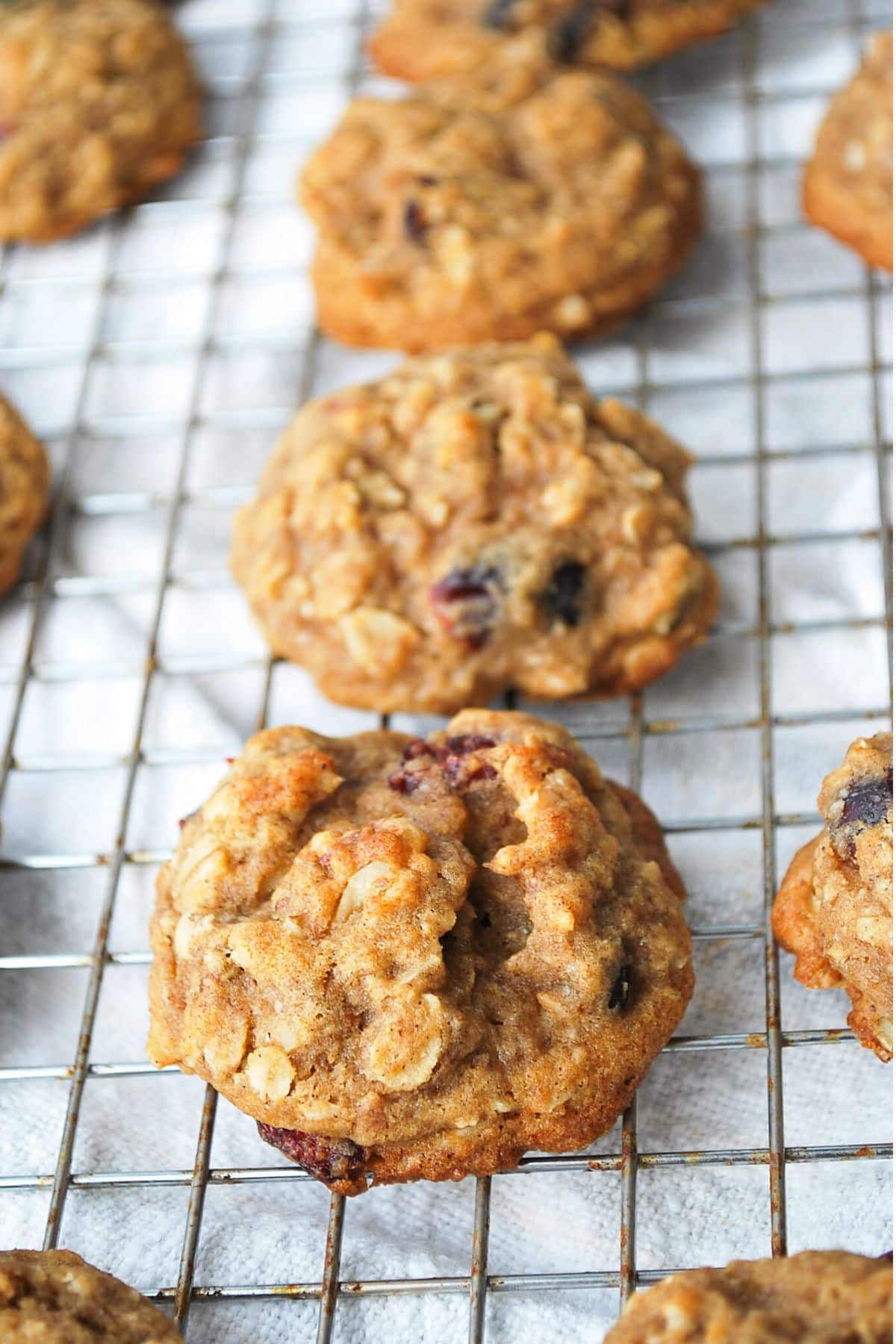 Recipe Tips
Measure precisely. The best way to measure dry baking ingredients is with a kitchen scale. If using a dry measuring cup, you should always spoon the flour from the container into the cup and level it off. If you scoop the flour directly from the container with the measuring cup, you'll end up with more flour than needed.
Chilling cookie dough. If you prefer a somewhat thinner oatmeal cookie with a crisper bite, it's best to bake the dough without chilling it. For a softer, thick consistency, I recommend setting the dough in the fridge for 30 minutes - 1 hour before baking.
Avoid overbaking. The cookies are finished as soon as the edges firm up and begin to brown. It's okay if the tops appear underbaked. They will continue to set during cooling.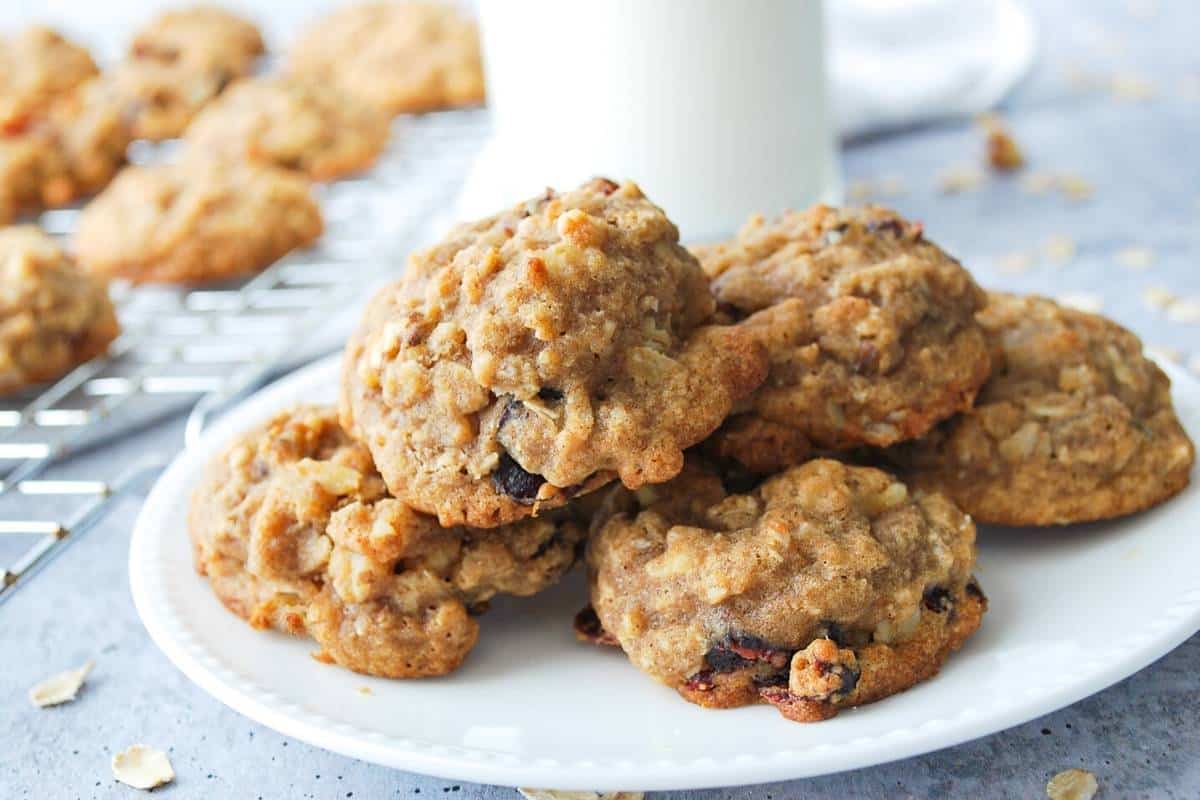 Variations
This oatmeal cookie dough is the perfect canvas for your pick of mix-ins. In addition to dried cranberries and chopped walnuts (or pecans), feel free to fold any of these extras into the dough:
Almonds
Macadamia Nuts
Pistachios
Shredded Coconut
Dried Cherries
Dried Apricot
Dried Pineapple
Raisins
Dates
To make chocolate oatmeal cranberry cookies add:
Milk, semi-sweet, or dark chocolate chips
Dark chocolate chunks
White chocolate chips
Cacao nibs (adds Earthy dark, chocolatey flavor without any added sugar)
Storing & Freezing
Storing: Allow your gluten-free oatmeal cookies to cool completely, then transfer to a shallow, airtight container or resealable bag, and keep stored at room temperature for 6-7 days or in the fridge for one month.
Freezing: If you don't plan to enjoy the entire batch within one week, it's best to store them in the freezer. To keep the cookies from cracking, I recommend placing them on a baking sheet in a single layer and setting the baking sheet the freeze. When the cookies are solid, transfer them to a freezer-safe bag, and keep them frozen for one month. Let the cookies thaw at room temperature before serving.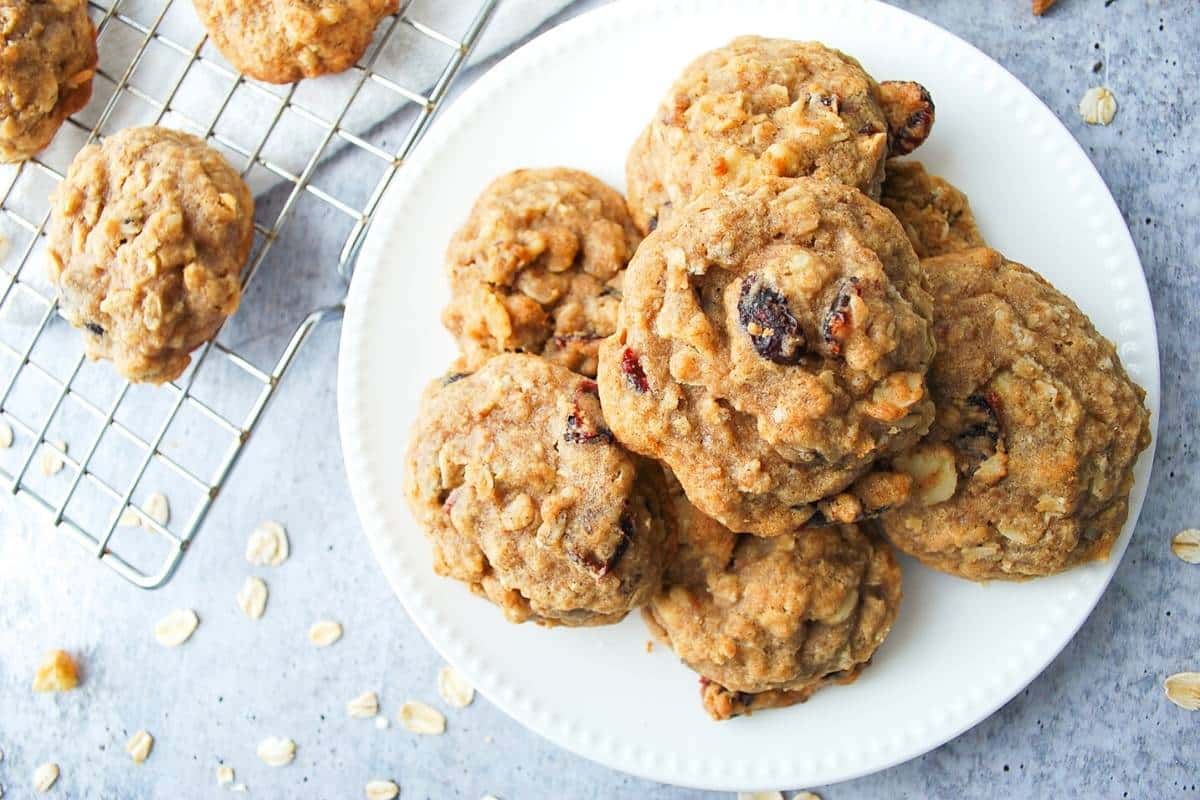 Recipe FAQ
Can you freeze this cookie dough unbaked?
You sure can! This is a great gluten-free oatmeal cookie recipe to double or triple to get a headstart on your holiday baking. To freeze, drop the dough on a baking sheet in a single layer, then place it in the freezer until the dough balls are solid. Next, transfer the frozen dough balls to a freezer-safe bag, and keep them frozen for 1-2 months.

Can you bake this dough from frozen?
I don't recommend baking this dough directly from frozen. Instead, when you're ready to bake, let the dough balls thaw at room temperature just until the dough is no longer frozen solid but still has a chill on it, then bake as instructed.

Can I make these cookies dairy-free?
I have only made the dough with real butter, but using softened vegan butter or coconut oil shouldn't be a problem. The dough should be thick, so set it in the fridge until it thickens if it's too thin.
More Christmas Cookies You'll Love
If you love this recipe I would be so grateful if you could leave a 5-star 🌟rating in the recipe card below. I love reading your comments and feedback!
Stay posted on my latest cooking adventures through social media @ Instagram, Pinterest, and Facebook. Don't forget to tag me when you try one of my recipes!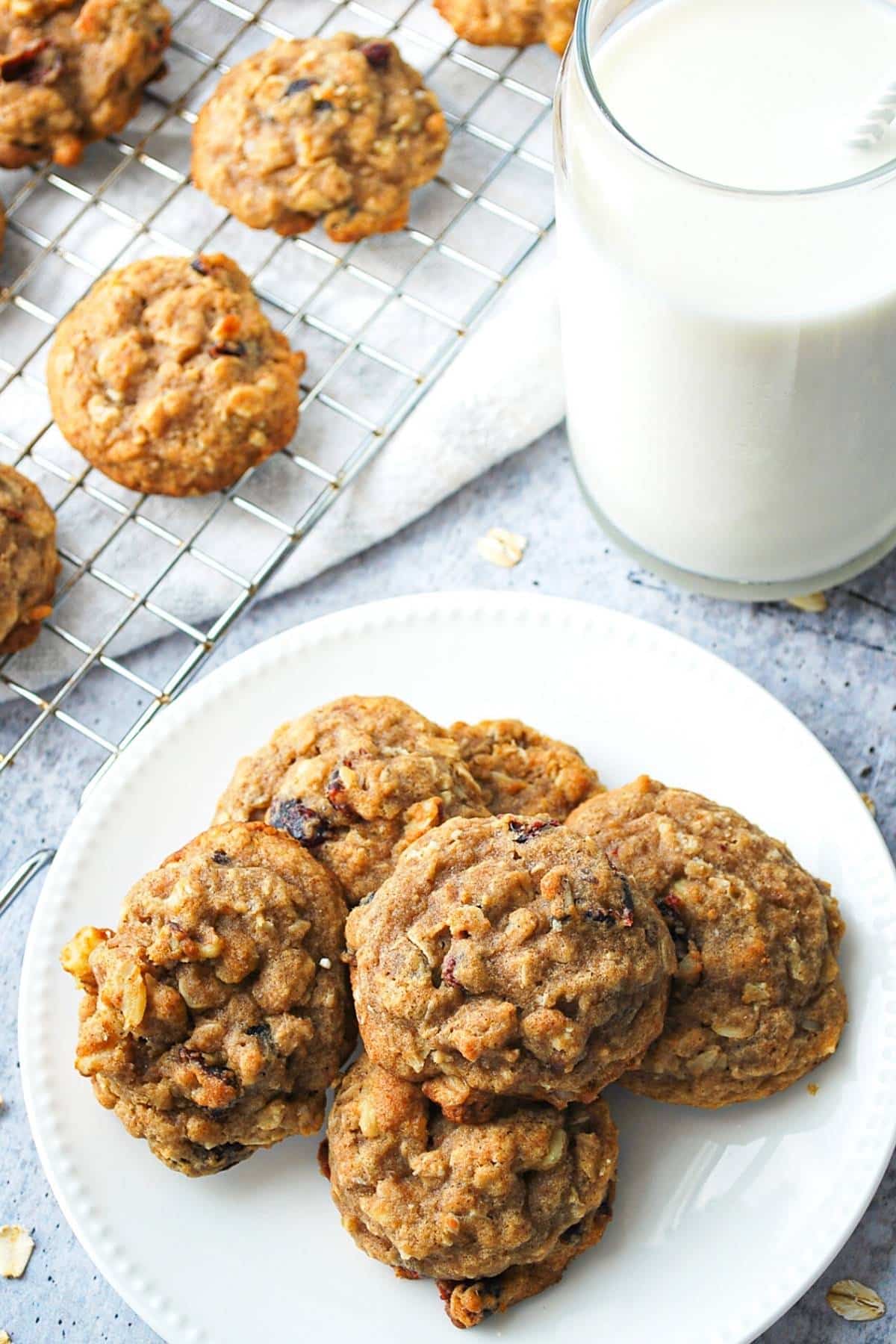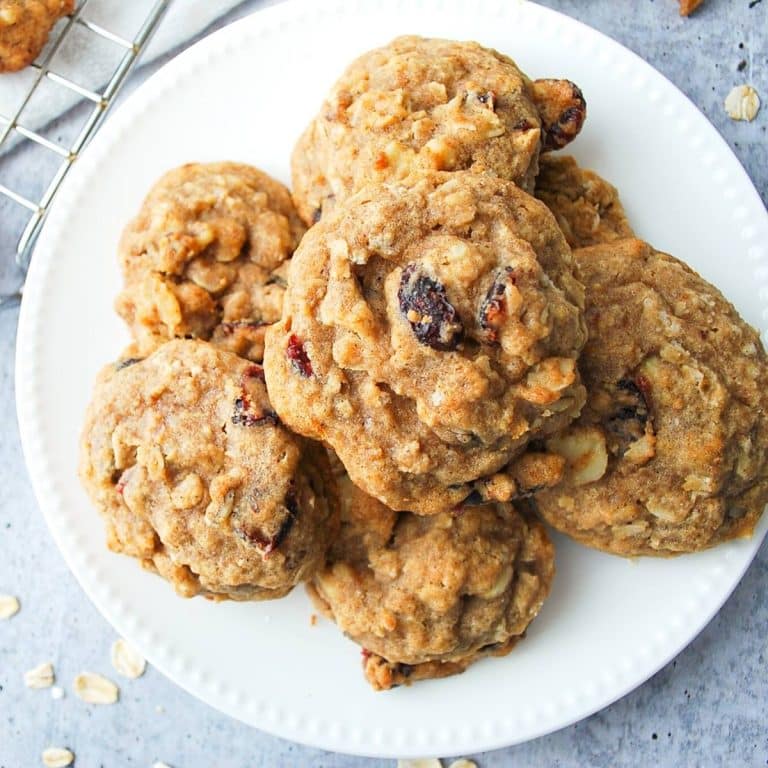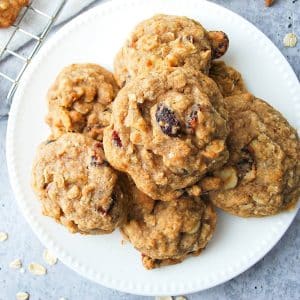 Gluten-Free Oatmeal Cranberry Cookies
Soft, chewy, gluten free oatmeal cookies with crunchy walnuts.
Equipment
1 Mixing bowl

1 Baking sheet

Parchment paper

Oven
Ingredients
1

cup

gluten-free all-purpose flour

King Arthur measure for measure gluten-free flour recommended

½

cup

gluten-free oats

½

teaspoon

baking soda

½

teaspoon

sea salt

1

teaspoon

cinnamon

1

cup

brown sugar

Maple sugar and coconut sugar are also good alternative options. You can also use a sugar substitute, like Purecane brown zero-calorie sweetener-see notes below.

½

cup

softened butter

1

whole egg

room temp

1

teaspoon

real vanilla extract

½

cup

dried cranberries

½

cup

chopped walnuts

or pecans
Instructions
Preheat oven to 350 degrees F.

Combine the flour, oats, baking soda, cinnamon, and salt in a large bowl and set aside.

In a large mixing bowl, cream butter the butter and sugar until light and fluffy.

Add the egg and vanilla extract and beat until smooth.

Add the dry ingredients and stir until well mixed (I use the stir setting on my stand mixer for this). Stir in the nuts and dried cranberries.

Drop by heaping teaspoonfuls onto a parchment or silpat lined cookie sheet.

Bake for 8-10 minutes or until edges begin to brown (mine were perfect at 8 minutes). Cool on wire racks and enjoy.
Notes
*FYI- If you use Purecane or another sweetener blend with erythritol they won't brown as well as using regular sugar. I often use half Purecane and half coconut sugar or maple sugar with good results.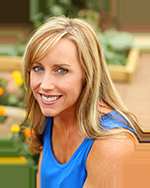 Latest posts by Amee Livingston
(see all)