Summer squash pie a gluten-free savory dessert, full of flavor and not too heavy. Perfect for a lighter dessert on a warm, summer evening.  
Summer squash pie is made with one of my favorite summer vegetables, yellow squash. I've included the link for the crust in the recipe, below.  Make sure you use the butter version of the recipe (not the coconut oil).  It's delicious with the buttery filling!
Enjoy this summer squash pie recipe!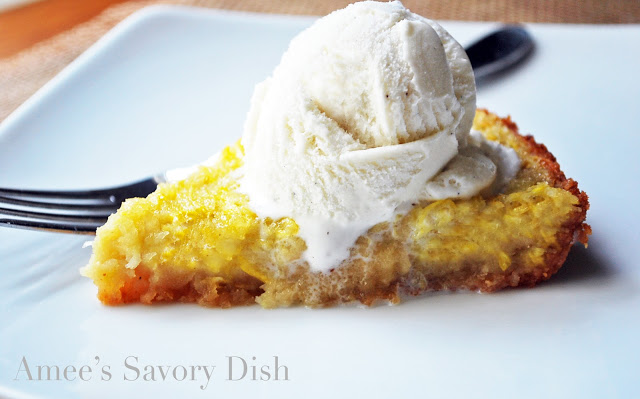 Summer Squash Pie
*Makes 2 pies
Ingredients:
2 baked and cooled Coconut Almond Pie Crusts (use butter instead of coconut oil for best flavor!)
2 cups yellow squash, very finely grated
1 1/4 cup organic granulated cane sugar
3 eggs, beaten
1 stick grassfed butter, melted
1 tbsp multi purpose gluten-free flour (King Arthur Brand recommended)
1/3 cup unsweetened flaked coconut
1 tsp vanilla extract
Preheat oven to 350 degrees.  Combine all ingredients in a large bowl with a wooden spoon until well blended.  Pour into prepared pie crusts and bake 40 minutes or until lightly golden on top.  Cool slightly and serve warm.  It's amazing with a small scoop of vanilla ice cream or frozen yogurt on top!