This stuffed patty pan squash recipe is fun to serve and delicious to eat! This recipe stuffs beef, quinoa, spinach and cheese into summer patty pan squash.
I am featuring another stuffed squash recipe this week with these beautiful patty pan squash from our local farmer's market.  Haydengrove Farms has the most gorgeous produce and I love supporting our local farmers.  
The stuffed patty pan squash contains a blend of grass fed beef, quinoa, spinach, garlic, onion and Parmesan cheese.  The flavors are so wonderful together!  This has also been a really successful attempt at getting my kids to love quinoa.  
Cooking the quinoa in beef broth gives it a lot of great flavor before adding to the dish.  The recipe makes enough filling for 6-8 squash (depending on the size) but I only had four, so I baked the extra filling in small ramekins to eat later.  This is a one dish meal that the whole family will enjoy.  Who wouldn't love eating out of their own little squash bowl?!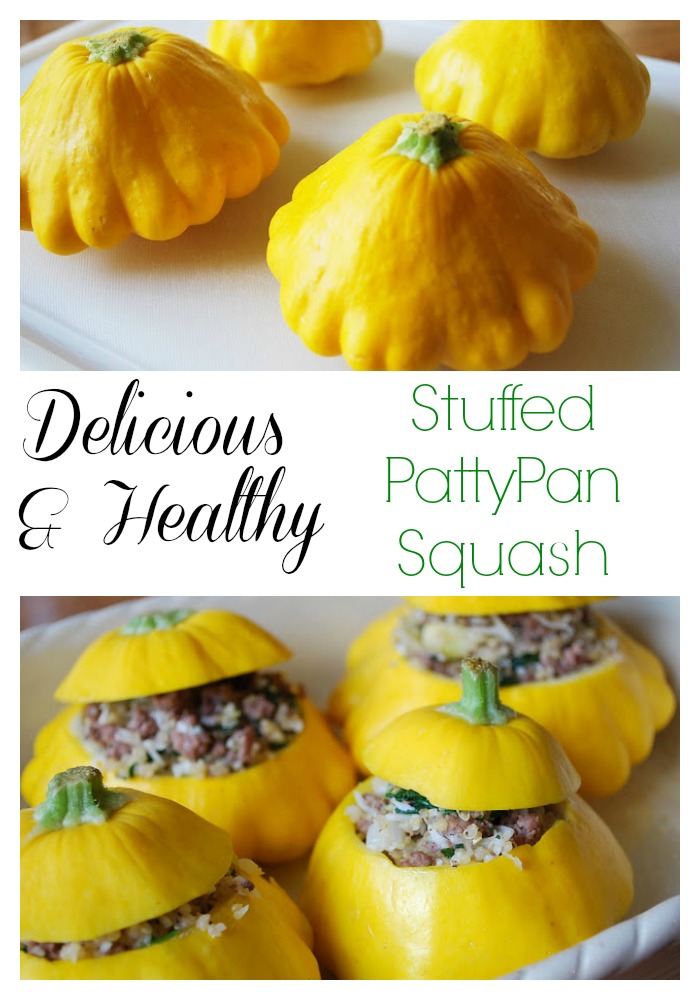 Stuffed Patty Pan Squash 


Directions:
Preheat oven to 350 degrees.  Spray a 9×13 baking dish with a little cooking spray.  Bring the beef broth to a boil over high heat.  Add quinoa, reduce heat to low and simmer for 12-15 minutes until all liquid is absorbed.  Set aside and allow to cool.  Now you are ready to prepare your squash for filling.
Slice the very bottom tip off the patty pan so it will lay flat in the baking dish.  Like this.


Now slice the tops off the squash and carefully scoop out most of the inner flesh, being careful not to break through the sides and bottom.  Dice the scooped squash into small pieces and use 1/2 of the amount for your filling.  Save remaining squash for another recipe or enjoy it raw with a little sea salt.  *If you do not want to use the beef in this recipe then use all of the squash for the filling.  Heat olive oil in a large saute pan over medium heat.  Cook onion, garlic and squash in the olive oil for about 3-4 minutes until onions begin to soften.  Add ground beef and cook until no longer pink.  Stir in spinach (if using fresh cook until just wilted).  Remove from heat and stir in cooked quinoa, cheese and season with salt and pepper.


Fill squash, full to the top, with stuffing mixture.  Place tops back onto the squash and drizzle with a little olive oil.  Now they are ready for the oven….


Cover pan with foil and bake for 30 minutes.  Remove foil and bake 7-10 minutes more.  Enjoy!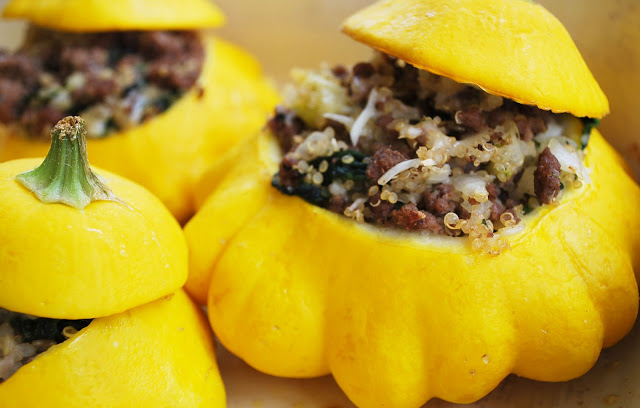 Stuffed Patty Pan Squash Recipe