Spicy cheese stuffed peppers are delicious as an appetizer or game day snacks. Hot peppers are stuffed with a mixture of spicy cheddar cheese and cream cheese, then baked until the peppers are soft and the cheese is melted and golden brown.
I use banana and jalapeno peppers for this stuffed peppers recipe.  The jalapenos hold up better when cooking, but I have a lot of banana peppers in my garden right now, and this is my family's favorite way to enjoy them. 


Spicy Cheese Stuffed Peppers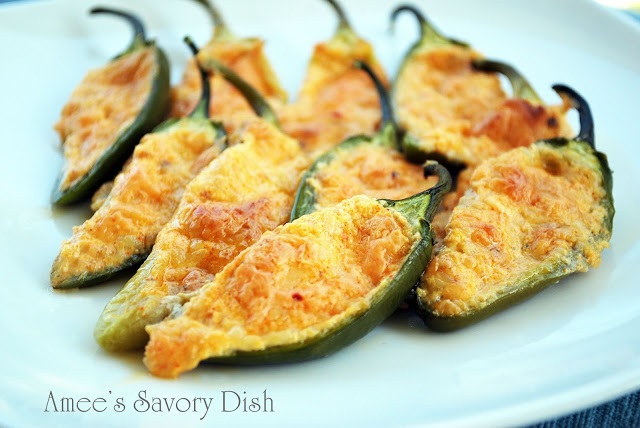 Ingredients:
15-20 medium-large peppers (jalapeno or banana)
8oz Chipotle White Cheddar cheese (such as Cabot's), shredded
8 oz reduced fat cream cheese
1 tsp Hungarian sweet paprika
sea salt and pepper to taste
olive oil 


Preheat oven to 400 degrees.  Slice peppers lengthwise in half.  Scoop out seeds and membrane.  In the bowl of an electric mixer, blend remaining ingredients until thoroughly mixed.  Stuff peppers with cheese mixture and place on a foil lined baking sheet.  Drizzle with olive oil.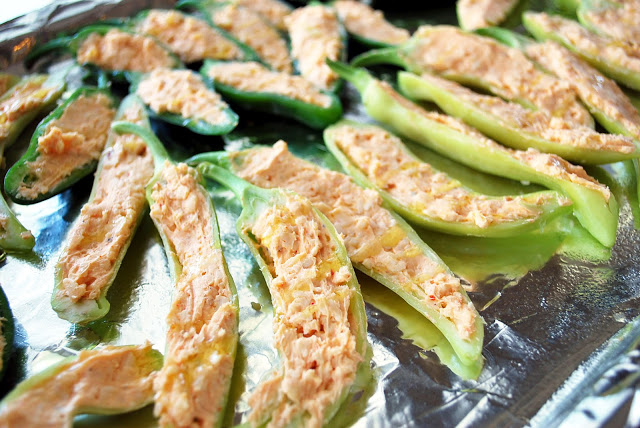 Bake at 400 degrees for 20 minutes or until cheese begins to brown.  Makes a wonderful appetizer!
Other spicy snacks that I love: