Sirloin Cobb kebabs are a delicious and healthy twist on a traditional Cobb salad recipe. This easy beef kebabs recipe makes the perfect weeknight dinner!
As promised, I am sharing the recipe for the Sirloin Cobb Kebabs that my team and I prepared for our food challenge at The Chopping Block in Chicago.  If you haven't read about my fabulous Live Well event in Chicago with the Beef It's What's for Dinner group, then you can catch up here.  
My talented teammates for this fun challenge included: Jennifer from The Fit Fork (your go-to gal for great fitness tips and delicious fuel for your healthy lifestyle) and Shaina (the busy mom, photographer, writer and recipe developer) from Food For My Family.  You'll absolutely love these creative ladies, who embrace healthy living as much as I do, so please visit their mouthwatering sites ASAP!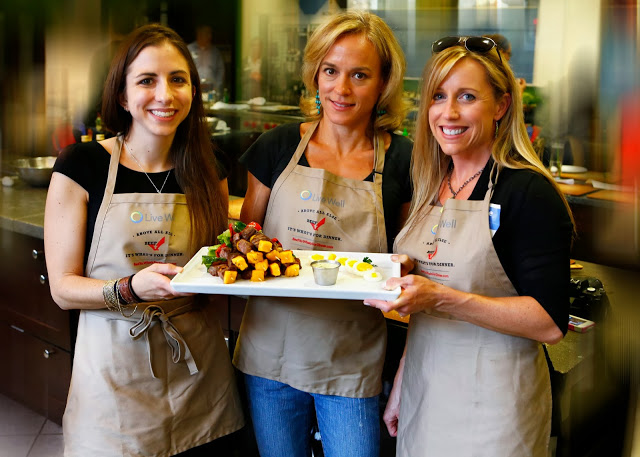 Our challenge was to come up with an original dish using the classic Cobb Salad as our inspiration.  The requirement for our dish was to use Sirloin beef (which is, by the way, about 150 calories per 3 oz serving and under 6 grams of fat) and the recipe needed to be healthy and quick to prepare.  This task was right up our alley, since we are like-minded foodies who love to create healthy, family-friendly dishes. I have to say that we were a dynamite trio.
Our sirloin cobb kebabs turned out perfectly, so without further ado

…

…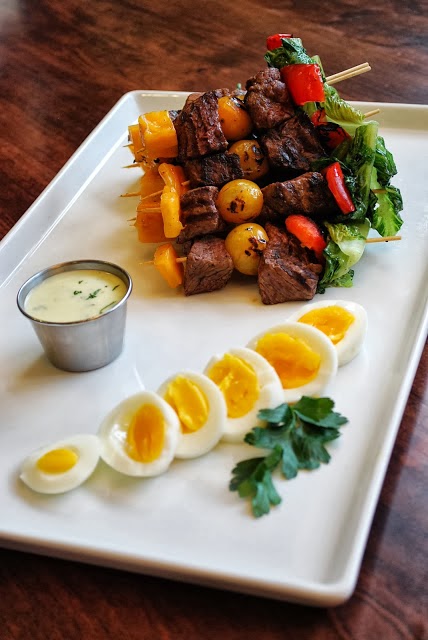 Ingredients for the kebabs:
1 ½ lbs top sirloin, cut into 2" bite size pieces

2 red peppers, cut into 2" size pieces

1 pint golden cherry tomatoes, keep whole

3-4 large romaine leaves, rinsed and patted dry
Ingredients for the dressing:
1/3 cup light ranch dressing

medium lemon, juiced and zested

1 clove garlic, minced

1 tablespoon fresh parsley, minced

¼ cup extra virgin olive oil
Additional ingredients:
3 large eggs

Bamboo skewers

Sea salt and pepper to taste
Directions:
Prepare your medium boiled eggs (firm white and semi-firm yolk). Place eggs into a small pot and cover with cold water.  Bring water to a full boil, then turn off heat, cover with a lid and set the timer for 6 minutes.  When the timer goes off, immediately place eggs in an ice bath to stop the cooking process. Set aside while you prepare your other ingredients.
To prepare dressing, mix together the ranch dressing, lemon juice, lemon zest, garlic, and half of the fresh parsley. Slowly whisk in the olive oil. Top with remaining parsley before serving.
For the kebabs, soak wooden skewers in water to prepare them for the grill for 10 minutes (or use metal skewers).  Toss steak cubes, peppers, cherry tomatoes and romaine in a little olive oil and season lightly with sea salt and fresh cracked pepper.  Place steak cubes, peppers and cherry tomatoes on a skewer, leaving room for the romaine and cheese on the end (but do not add them yet).
Grill kebabs over medium-high heat for 2-3 minutes per side (so steak is medium rare).   Lay romaine leaves onto the grill and cook quickly until each side is starting to wilt and ends are getting brown, approximately 1 minute per side.  Remove from grill, chop into large pieces for skewering and set aside.
In a grill pan, flash cook the cheese until it just gets warm and soft enough to skewer.  Now add the romaine and cheese to the kebabs.  Peel and slice your eggs and arrange on a platter with the kebabs.  Garnish with fresh parsley and serve with the dressing on the side for dipping.