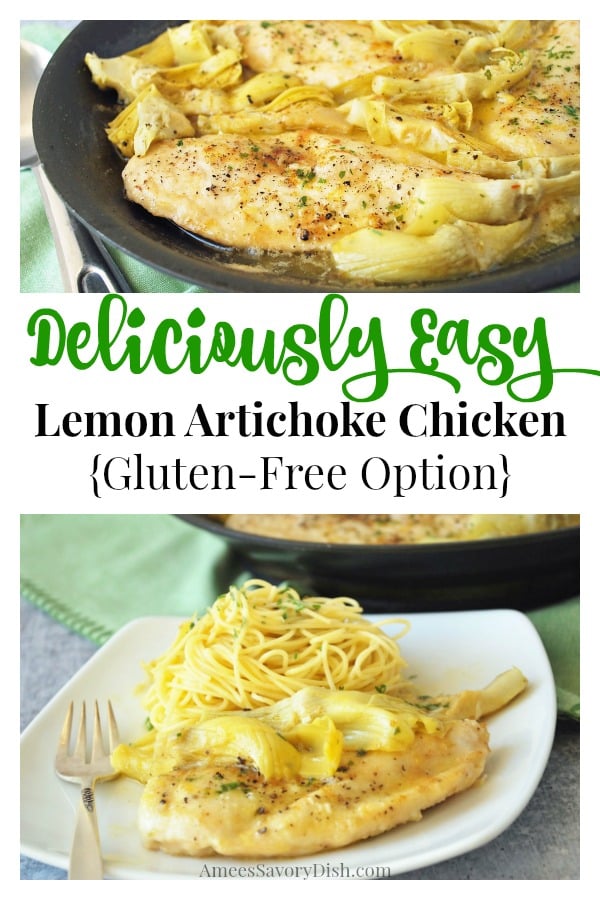 This deliciously easy Lemon Artichoke Chicken is made with thin chicken breast cutlets, marinated artichokes, fresh lemon juice, and parsley. This winner, winner, chicken dinner comes out tender, juicy, and extremely flavorful! It's a favorite weeknight meal in this house.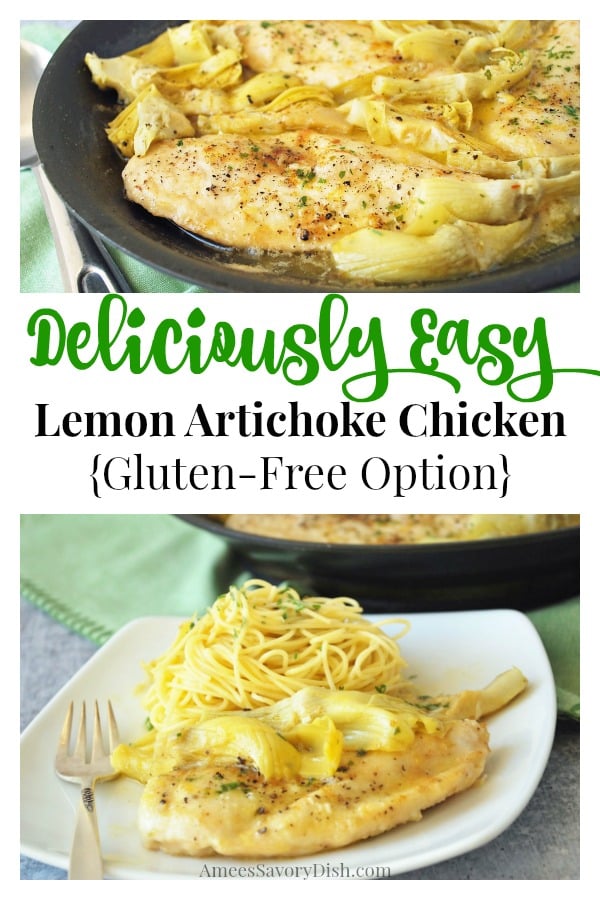 If you've been following my blog for a while, then you know that I'm all about quick and easy healthy meals. I cannot bring myself to eat boring, bland food. Taste is just as important as nutrient quality in my book. Whipping up fast nutritious meals that are equally enjoyable to eat is essential!
How To Make Moist Chicken Recipes
There are a few key components to making tender and juicy chicken recipes:
Fat (butter, olive oil, etc.)
Salt and Seasonings (Herbs, etc)
Acids (Citrus juices, vinegar, wine, etc.)
If you have these key components, you are on your way to creating delicious proteins that are moist and loaded with flavor. I also recommend using the thinly sliced boneless chicken breasts for this recipe. They are usually sold as chicken cutlets in the grocery store. Since they are thin, they are easier to dredge in the flour and cook quickly and evenly, so you end up with better flavor penetration throughout the meat.
Have you used these cutlets before? I love them for quick weeknight meals. I also use them for my favorite Pancetta Chicken Piccata recipe.
Pair this Easy Lemon Artichoke Chicken with Grilled Parmesan Asparagus packets or my favorite Slow-Roasted Green Beans for an incredible plant-rich meal.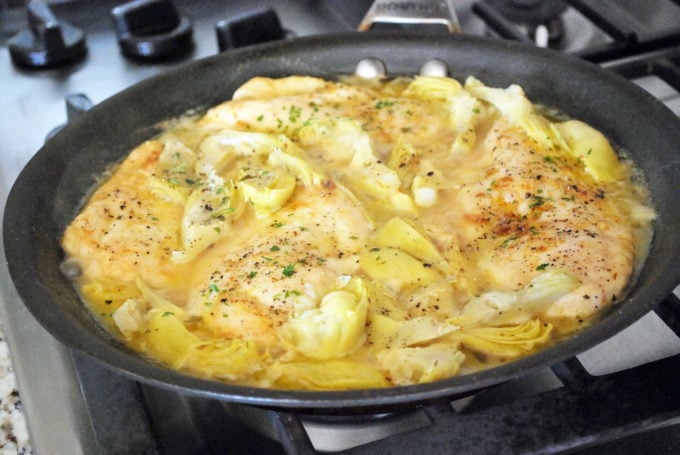 Another Tip For Making Lemon Artichoke Chicken
I use the Better Bouillon chicken stock instead of regular chicken stock because it not only keeps for a long time in the refrigerator, but I can portion out just what I need without wasting extra stock. It also adds more flavor intensity than regular chicken stock, which I love for boosting the wow factor in my recipes.
If you want to make the gluten-free version of this recipe, just swap the unbleached all-purpose flour with gluten-free all-purpose flour. Easy peasy.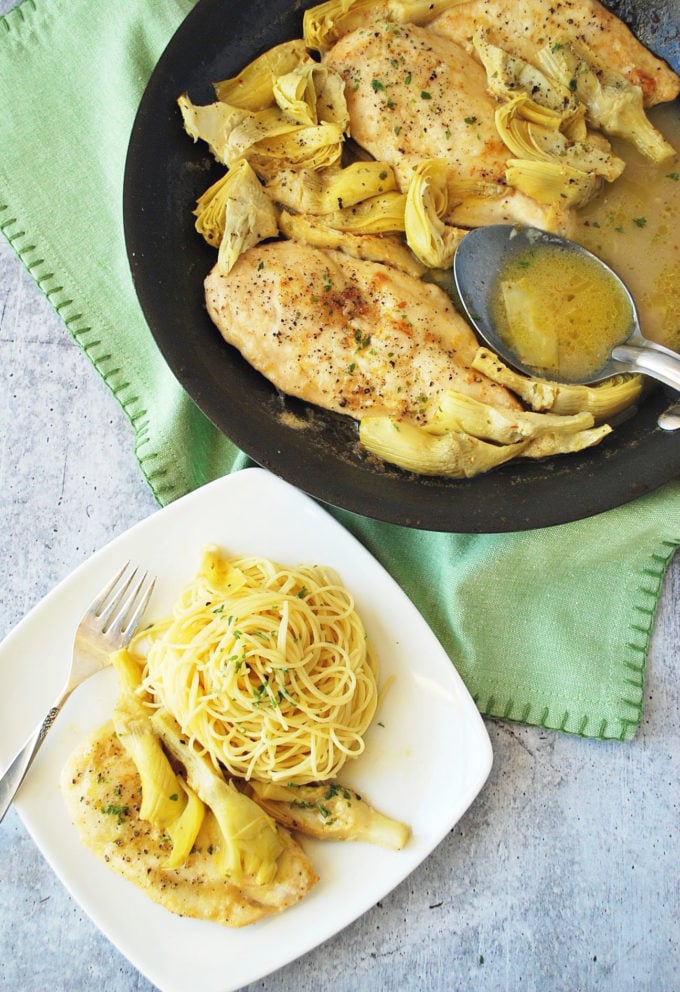 This delicious Lemon Artichoke Chicken pairs beautifully with your favorite pasta (I love some of the quinoa blend and higher protein pasta), rice, mashed potatoes or mashed cauliflower for a low-carb dinner option. However you chose to eat for your goals, this recipe fits right into most dietary plans.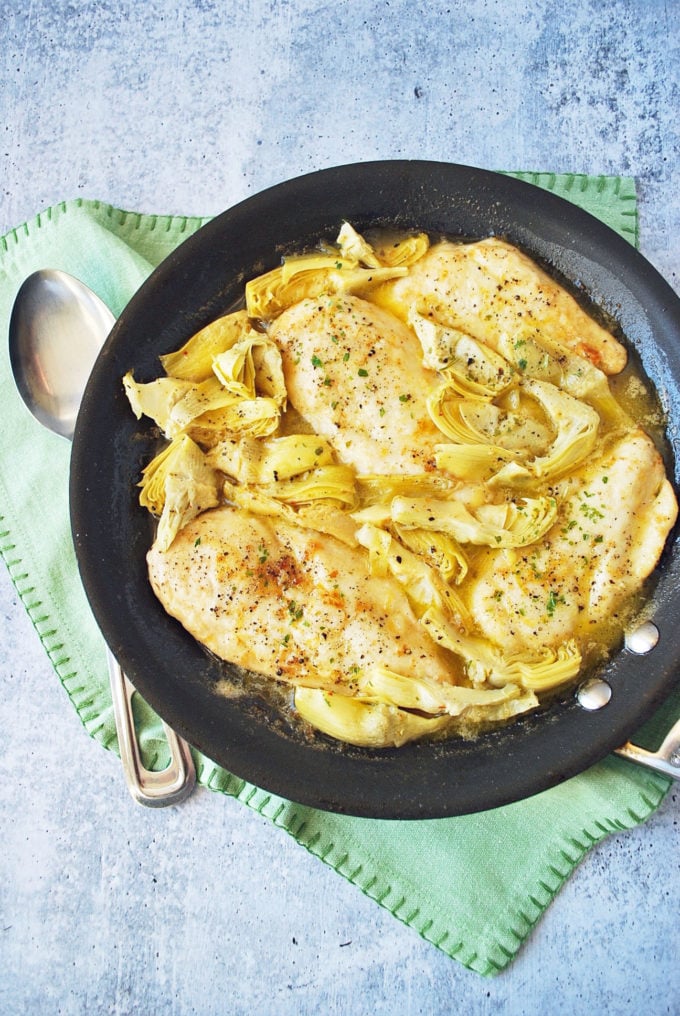 As most of you know, I'm a big fan of carb cycling. There are days where I eat higher amounts of carbohydrates on heavy training days and days where I lower my carb intake when I'm not training or doing a less-intense activity. This works well for me to keep me fueled and feeling great for my training sessions while enjoying foods that I love to eat.
I mean, because pasta...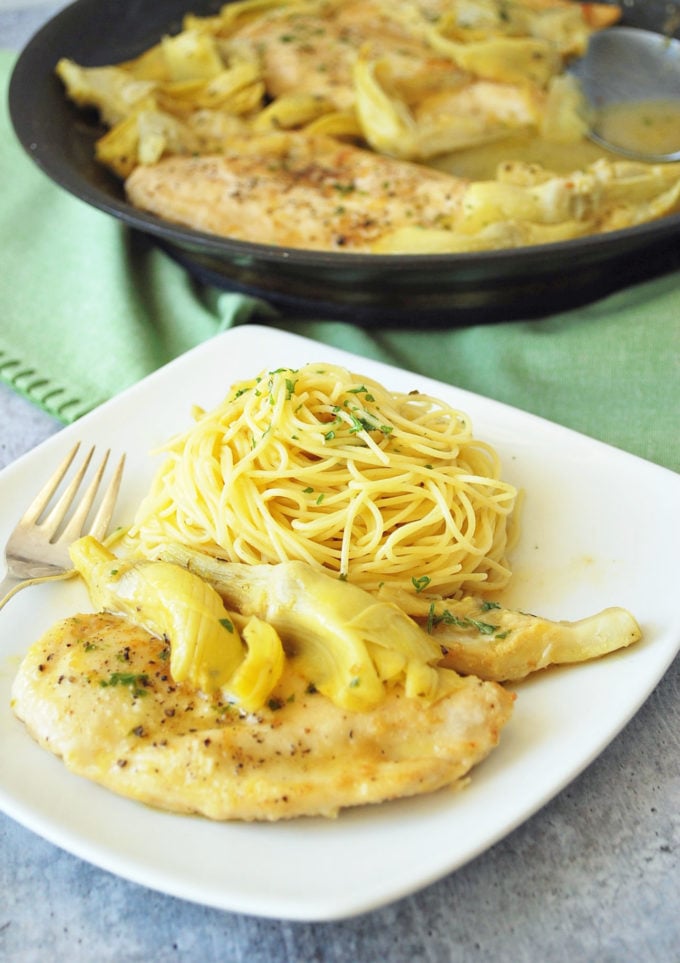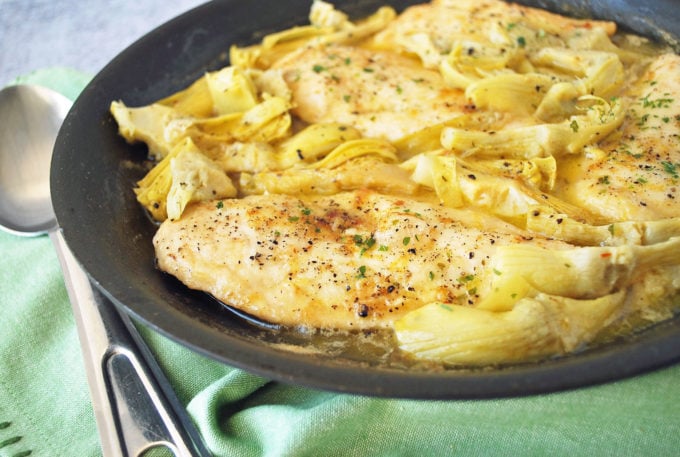 Don't forget to tag me on Instagram @ameessavorydish if you make this recipe! I love to see your creations!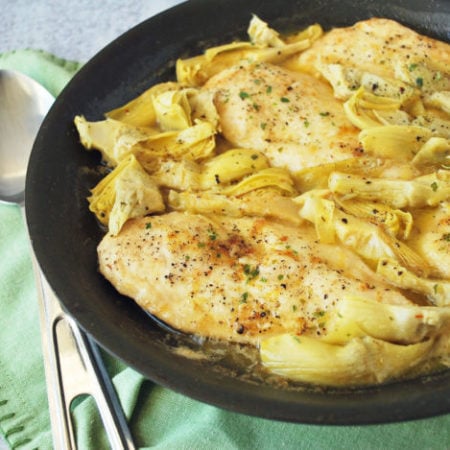 Easy Lemon Artichoke Chicken
A fast and delicious recipe for lemon artichoke chicken made with thin chicken breast cutlets, marinated artichokes, fresh lemon juice and parsley. This winner, winner, chicken dinner comes out tender and extremely flavorful!
Ingredients
4

boneless chicken cutlets

*the very thinly sliced ones (about 4 oz each)

2

large

lemons, zested and juiced

*about ⅓ cup juice

12

oz

jar marinated artichoke hearts, drained

¼

cup

unbleached all-purpose flour

*can sub with GF all-purpose flour

1

teaspoon

Better Bouillon (concentrated chicken stock)

½

cup

hot water

2

tablespoon

butter

2

tablespoon

extra virgin olive oil

1

teaspoon

salt

1

teaspoon

pepper

1

teaspoon

garlic powder

1

tbsp

chopped fresh parsley leaves

*or to taste
Instructions
Using a microplane zester, zest lemons then cut in half and squeeze lemons for juice (you should have about ⅓ cup of fresh lemon juice)

In a large ziplock bag, combine the flour, salt, pepper and garlic powder and shake well to mix

Drop chicken cutlets into bag, one at a time, and coat with flour mixture shaking off any excess flour. Set aside

Heat a large skillet over medium-high heat and add the olive oil

When pan is ready, add the butter, then add the chicken cutlets as soon as the butter is melted.

Cook chicken for 2-3 minutes until lightly golden brown on each side.

Stir Better Bouillon chicken stock concentrate into ½ cup hot water until mixed

Reduce heat to medium-low and add prepared broth, drained artichokes, lemon juice, 1 teaspoon lemon zest (or more to taste)

Simmer on low heat until sauce is thickened, about 5 minutes.

Garnish with fresh chopped parsley and serve over pasta, rice or mashed potatoes.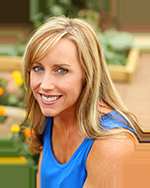 Latest posts by Amee Livingston
(see all)