This is a lightened-up, quick and easy chicken parmesan recipe that the whole family will love.  If you don't have time to prepare the homemade marinara recipe (*see last post), substitute your favorite jar of sauce.  Traditional chicken parmesan uses egg and breadcrumbs.  I prefer this lighter variation.  You still get all the flavor, without as much breading.  Enjoy~


Ingredients:
4 boneless, skinless organic chicken breasts
1/2 cup white whole wheat flour (or spelt flour)
1/2 tsp garlic powder
1 tsp sea salt
1 tsp freshly ground black pepper
3 tbsp extra virgin olive oil
2 cups "Best Marinara Sauce" (*see previous post for recipe)
1/2 cup freshly grated mozzarella cheese
1/2 cup freshly grated parmesan cheese
Preheat oven to 350 degrees.  In a shallow dish, mix flour, sea salt, garlic powder and pepper.  Dredge chicken breasts in flour mixture and shake off excess.  Heat olive oil in a large skillet over medium-high heat.  Saute chicken breasts until lightly golden brown on both sides, about 5 minutes.  Place browned chicken breasts in a baking dish sprayed with non-stick spray.  Top with the 2 cups of marinara sauce.  Sprinkle mozzarella and parmesan cheese on top.  Bake at 350 degrees for 30 minutes.  Serve with your favorite healthy pasta.  We love Dreamfields linguine or any of the Barilla Plus pastas.  Enjoy~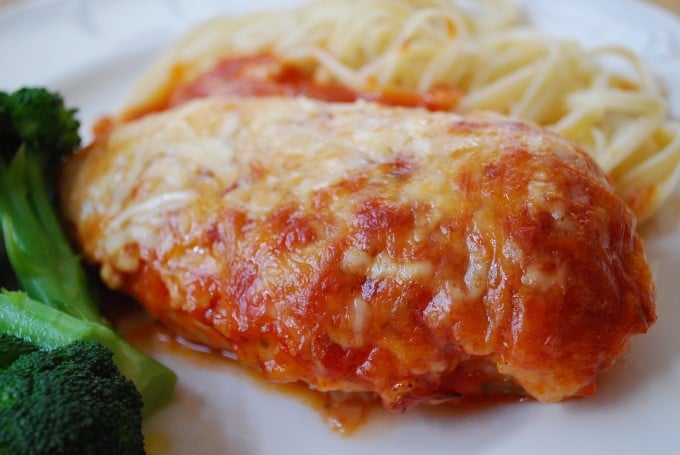 4 servings
adjust servings
Ingredients
4

boneless, skinless organic chicken breasts

1/2

cup white whole wheat flour (or spelt flour)

1/2

tsp garlic powder

1

tsp sea salt

1

tsp freshly ground black pepper

3

tbsp extra virgin olive oil

2

cups "Best Marinara Sauce" (*see previous post for recipe)

1/2

cup freshly grated mozzarella cheese

1/2

cup freshly grated parmesan cheese
Instructions
Preheat oven to 350 degrees.
In a shallow dish, mix flour, sea salt, garlic powder and pepper.
Dredge chicken breasts in flour mixture and shake off excess.
Heat olive oil in a large skillet over medium-high heat.
Saute chicken breasts until lightly golden brown on both sides, about 5 minutes.
Place browned chicken breasts in a baking dish sprayed with non-stick spray.
Top with the 2 cups of marinara sauce.
Sprinkle mozzarella and parmesan cheese on top.
Bake at 350 degrees for 30 minutes.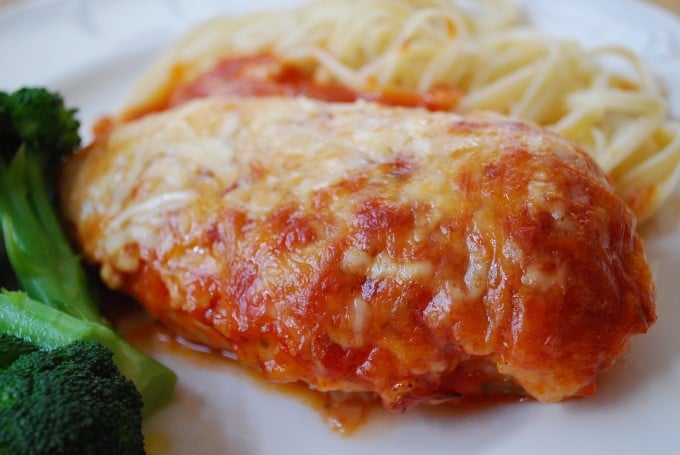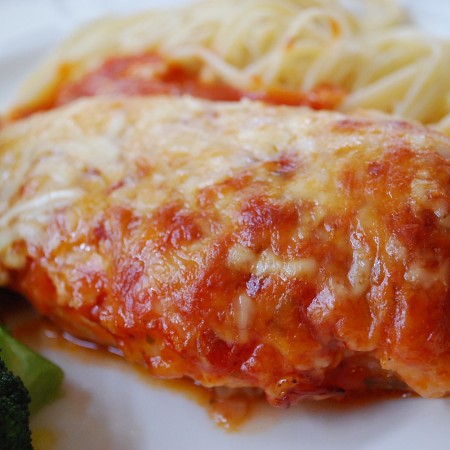 Try this healthier twist for chicken parmesan to save calories without sacrificing taste!