I am sharing this Pepperoni Pizza Quinoa Cups recipe with you today from my friend, Lauren, over at LaurenKellyNutrition.  This kid-friendly meal came from her "The Everything Wheat-Free Diet Cookbook" and let me tell you, it's amazing!  My kids said that these pizza cups were (in their words) "super delicious!!" and my husband and I loved them, too!  The flavors blend beautifully and they really do taste like a pepperoni pizza without any of the guilt.  The texture is perfect and Lauren's accompanying pizza sauce recipe is perfect for dipping them or smearing on top.  I love all of the nutritious ingredients in these cups and how easy they were to throw together.  This will definitely be a regular in our meal rotation!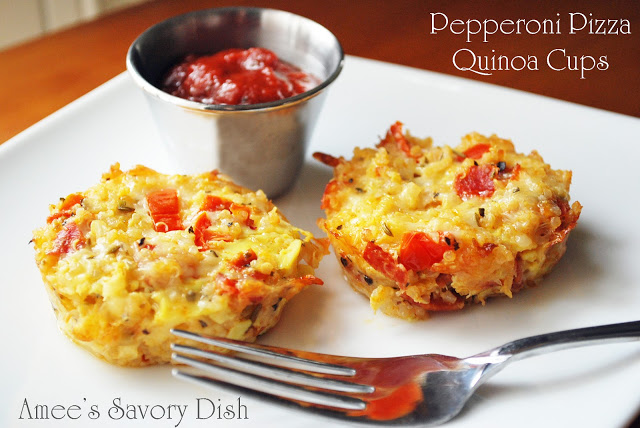 Pepperoni Pizza Quinoa Cups
from "The Everything Wheat-Free Diet Cookbook" by Lauren Kelly, CN
Makes 12 cups

Ingredients:
1 cup cooked quinoa
3 cloves garlic, minced
1/2 cup nitrate-free pepperoni, diced
1 medium onion, finely chopped
1 cup shredded mozzarella cheese
1/4 cup finely minced mushrooms
1 tsp oregano, diced
1 tsp basil, dried
1/2 tsp paprika, dried
1/2 tsp fennel seed
2 large eggs
1/2 cup grape tomatoes, diced
1 tsp tomato paste
*Easy pizza sauce for dipping (recipe below)

Directions:
Preheat oven to 350 degrees.  Spray a muffin tray with nonstick cooking spray.  Place all the ingredients, except pizza sauce in a medium size mixing bowl.  Stir thoroughly to combine.  Pour the quinoa mixture into muffin tins.  Bake for 15-20 minutes, until cheese is melted.  Let stand for 5-10 minutes to cool before serving.  Serve with easy pizza sauce for dipping.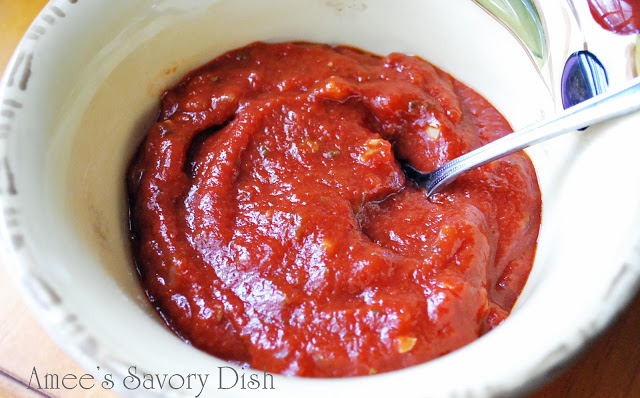 Easy Pizza Sauce

from 

"The Everything Wheat-Free Diet Cookbook"

 by Lauren Kelly, CN

Ingredients:

1 tsp extra-virgin olive oil

1-2 cloves garlic, finely chopped ( I used two small)

1/2 medium onion, finely chopped

1 (15oz) can tomato tomato sauce

1 (6oz) can tomato paste

1 tbsp ground oregano

1 tsp ground basil

1/2 tsp turbinado sugar (I used 2 tbsp coconut sugar here)

1/2 tsp salt


  Directions:

In a skillet over medium heat, place the oil, garlic and onions.  Simmer until they soften, about 2-3 minutes.  In a medium bowl, mix together tomato sauce and tomato paste until smooth.  Stir in oregano, basil, sugar and salt.  Add the cooked garlic and onions and stir.  Makes sauce for about 4 (10″) pizzas.