I should call this okra and tomato stew recipe garden vegetable stew, because I took everything that was ripe in my garden and added it to this dish.  It turned out scrumptious! 
I love okra and tomatoes.  It is that main reason that I planted okra this year and I am so glad that I did.  It has been easy to grow and it grows FAST, so I always have fresh okra on hand. 
Some folks don't like the slimy texture of okra, but when it's prepared this way, you don't have the slime.  It turns out tender and tasty. 
I added zucchini and fresh green beans to this dish, so it is a great meal for vegetarians (just substitute vegetable bouillon for chicken).  Delicious served with brown or wild rice.  This is one of my favorite meals of summer.  
Okra and Tomato Stew
Ingredients:
1 small vidalia onion, finely chopped (or 1/2 large vidalia onion)
2 garlic cloves, minced (you can add up to 4 cloves garlic, depending on your preference)
2 (15 oz) cans diced organic tomatoes (or 4 whole garden fresh tomatoes pulsed in a food processor, leaving some small chunks of tomato)
1 1/2 tbsp sugar
2 tbsp red wine vinegar
1/2 cup fresh green beans, cut into small pieces
1/2 cup fresh zucchini, cut into small cubes
1 1/2 cups fresh okra, cut into 1 inch slices
fresh black pepper to taste
1 1/2 tbsp extra virgin olive oil
1 packet liquid chicken broth concentrate (such as savory choice*see below)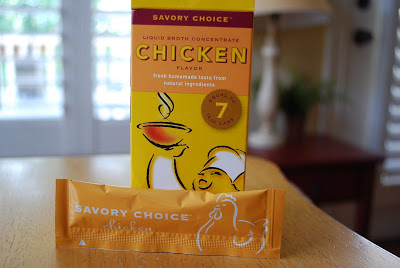 Directions:
Place sliced okra in a pan and cover with cold water.  Bring to a boil, lower heat to medium and cook for 5 minutes.  Drain and rinse well.  This step helps to reduce the slime on the okra.  Heat olive oil in a large saute pan over medium-high heat.  Add onion and cook until soft, but not brown.  Add garlic and saute until garlic is lightly golden.  Add okra, zucchini, green beans, tomatoes, chicken broth concentrate, red wine vinegar, sugar and pepper.  Bring to a boil, then reduce heat to low and simmer for 30 minutes or until vegetables are tender.