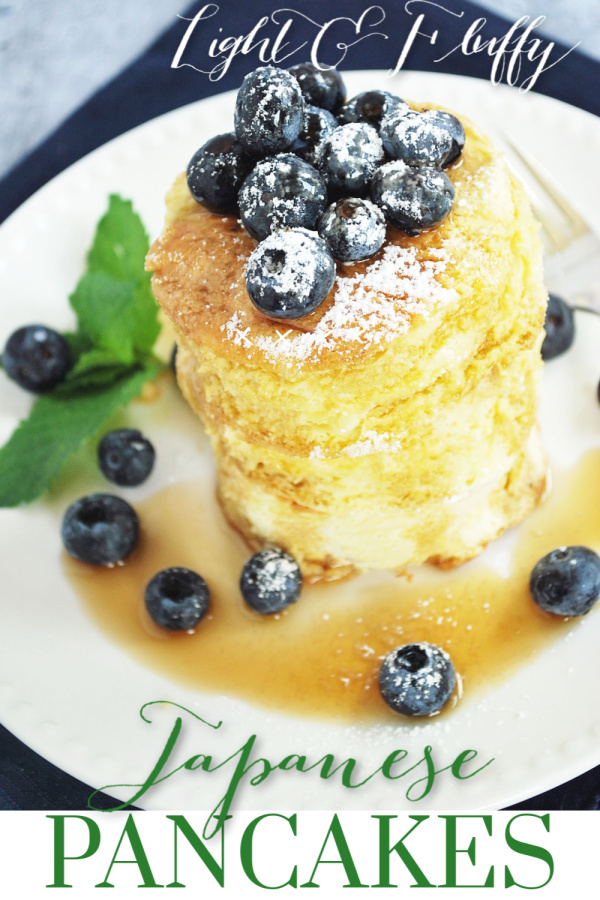 These delicious light and fluffy Japanese Pancakes are a custard-like soufflé pancake made with eggs, cake flour, milk, sugar, and fresh lemon juice.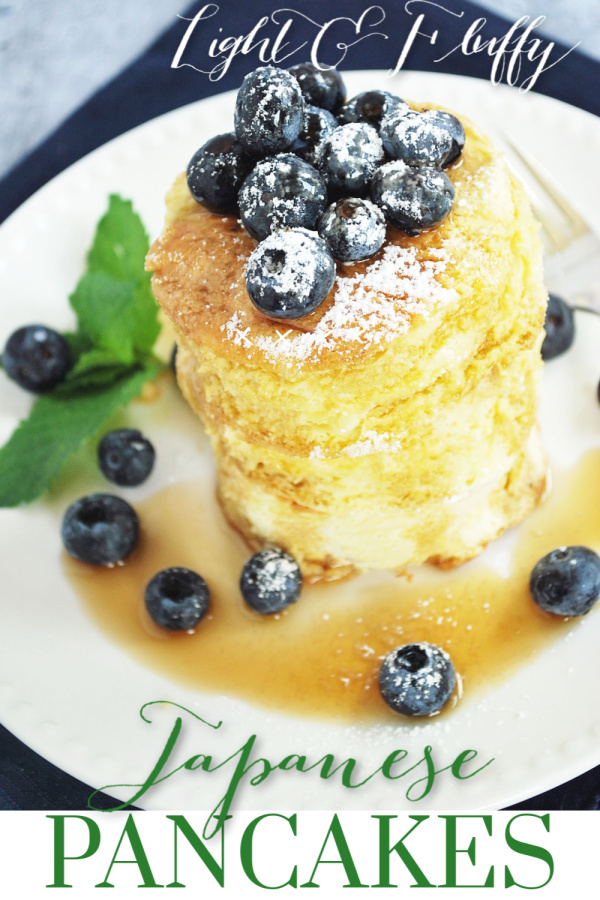 If you haven't heard of these trendy soufflé pancakes, you're probably wondering what are Japanese pancakes? Japanese pancakes taste like a rich vanilla custard but with a light and fluffy cake-like texture.
This eggy deliciousness is pillowy, moist and sweet and all the rage these days on Instagram. Watch it wiggle see it jiggle. If you're a child of the 70's, you're having flashbacks of jello commercials right now.
Cooking Tools You'll Need To Make Japanese Pancakes
To make these fluffy gems, you'll need a non-stick skillet with a lid and stainless steel pastry rings (shown below). I'll link to the rings that I purchased on Amazon to make these pancakes. The molds are essential for helping the pancakes hold their shape as the wobbly goodness rises during the cooking process.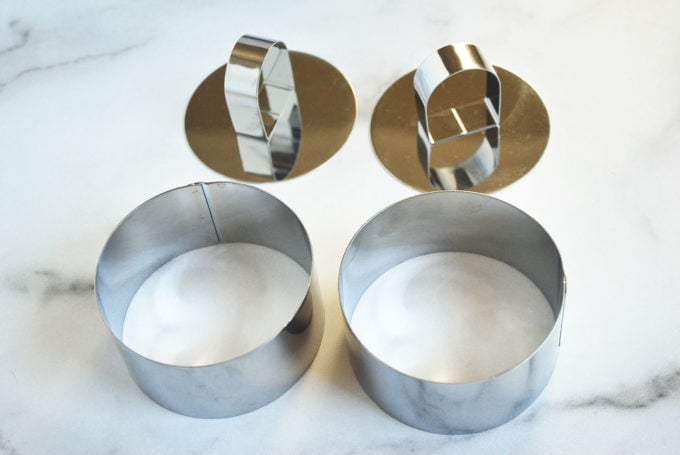 Ingredients You'll Need For Making Soufflé Pancakes
To make Japanese pancakes from scratch you'll need these simple ingredients that you probably already have on hand: cake flour, eggs (separated), milk, sugar, a good quality vanilla extract, fresh lemon juice, baking powder, and salt.
If you don't have cake flour on hand, you can use all-purpose flour and sift it with corn starch. For every one cup of flour, take out 2 tablespoons and replace it with 2 tablespoon of cornstarch. Awesome hack, right?! Don't go out and buy cake flour just for this recipe when you can DIY it yourself.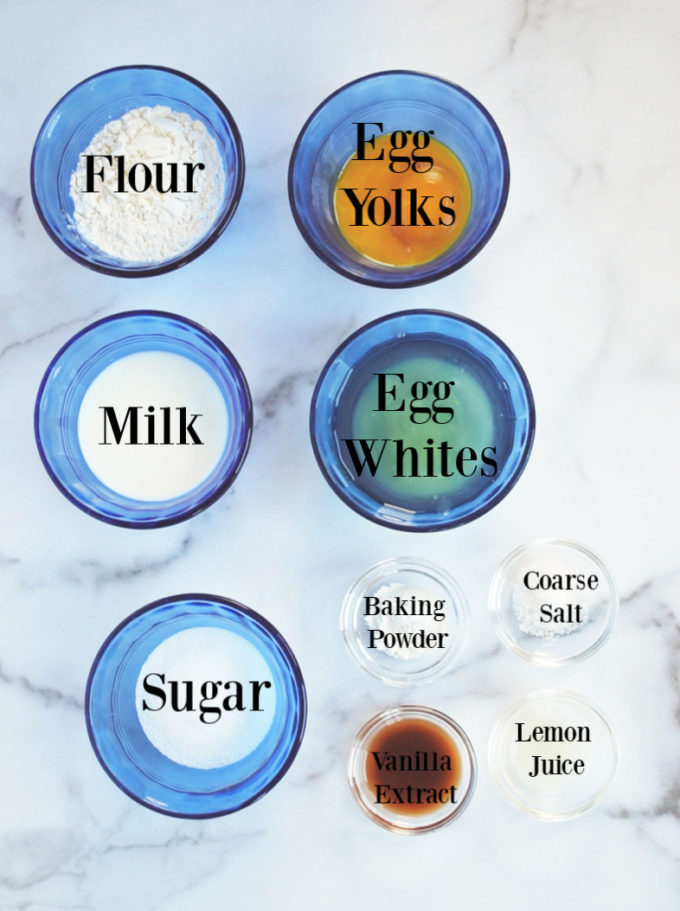 How To Make Japanese Pancakes Light & Fluffy
The secret to making Japanese pancakes so fluffy is in the meringue-like batter. The egg yolks are separated from the egg whites and then later folded together to form a light and airy batter that cooks in an enclosed lidded skillet for 5-6 minutes.
First, start by placing the egg yolks, 1 tablespoon sugar, vanilla and baking powder in a large bowl and whisk until mixed.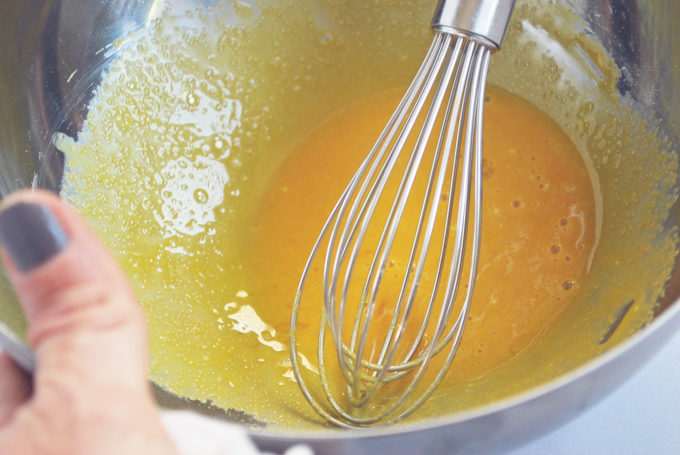 Next, add flour and milk and whisk until smooth.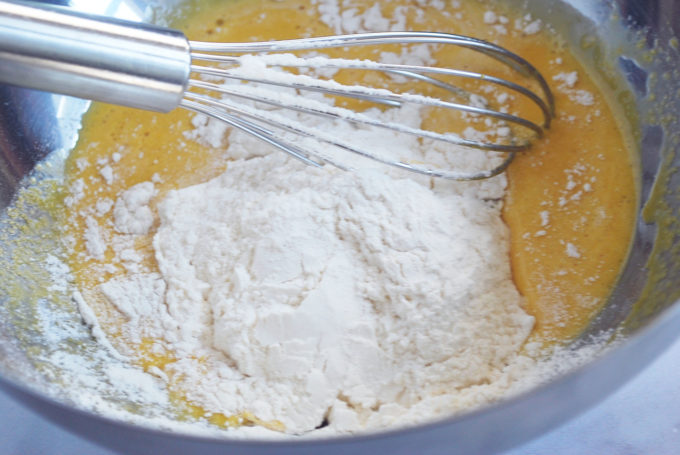 You'll end up with a rich yellow base batter.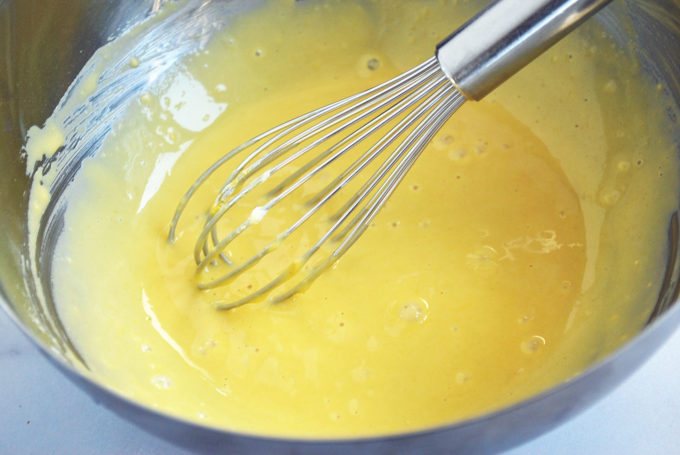 In a stand mixer, whip the egg whites with lemon juice and salt. Then, slowly add in the remaining sugar.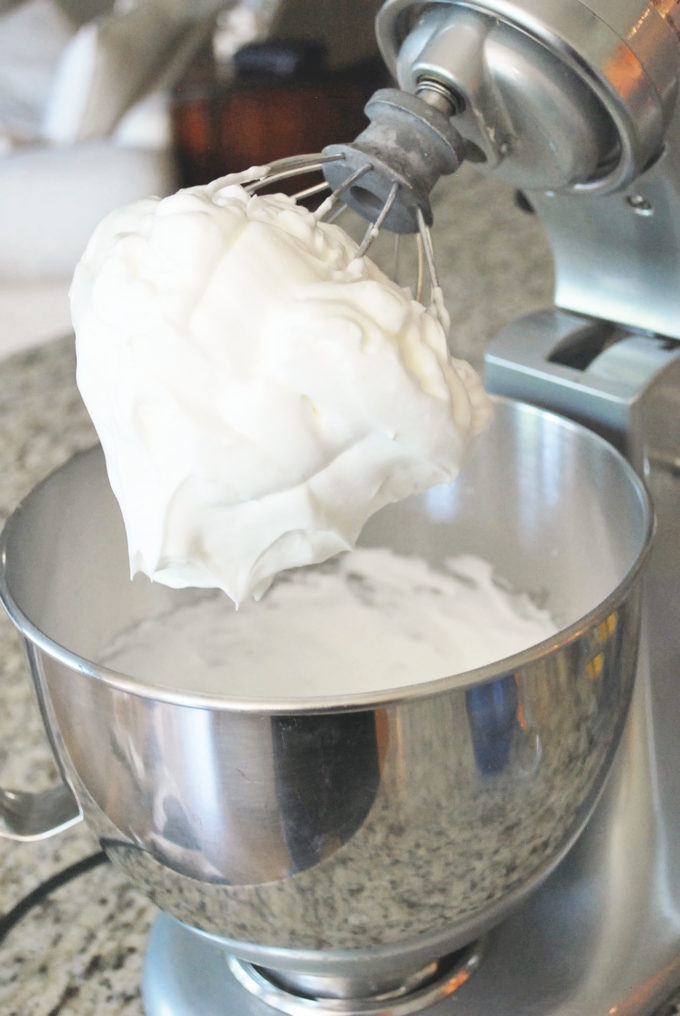 Then, you're going to gently fold it all together.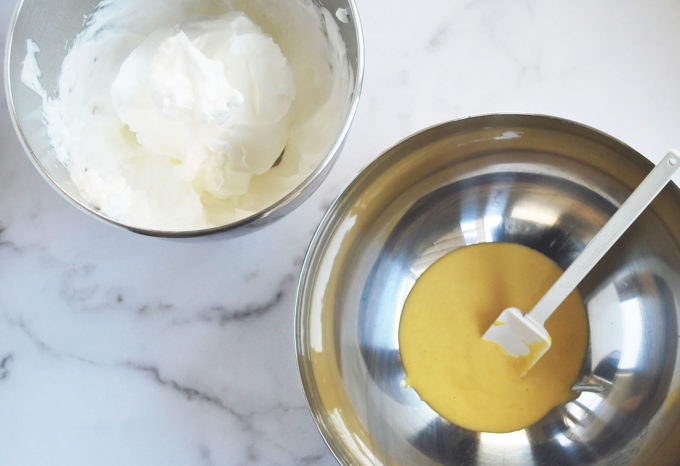 Add meringue ⅓ cup at a time until just blended.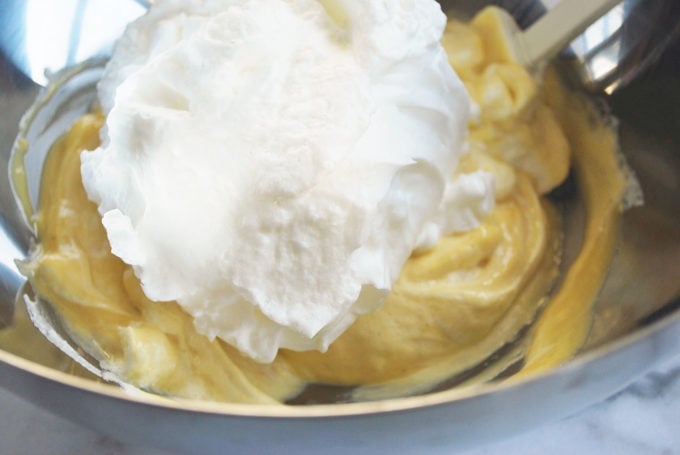 It should look like this with no remaining streaks. Just don't overmix or stir too much so it stays nice and fluffy.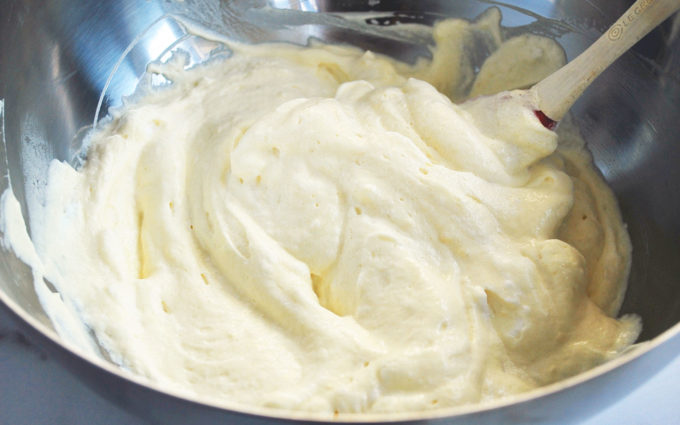 Now you're ready to cook.
How To Flip Japanese Pancakes
Flipping soufflé pancakes can be a little tricky. It's important to cook these babies on low heat and be patient. Japanese pancakes are cooked in a lidded skillet for several minutes each side. Wait until the pancakes rise and begin to bubble so they are firm enough to flip in the rings. Slide a thin, wide spatula underneath the ring and quickly turn to cook the other side.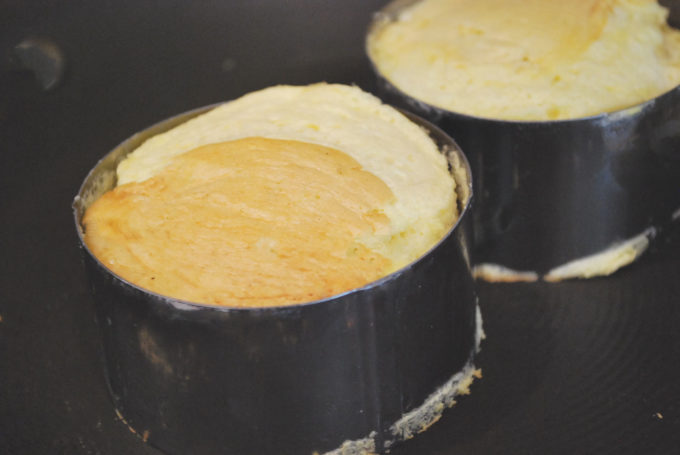 What To Serve With Japanese Soufflé Pancakes
Of course, go with your favorite pancake toppings! I love fresh berries, melted butter, good quality maple syrup (sometimes I go with Walden Farms sugar-free maple syrup to reduce calories) and a sprinkling of powdered sugar.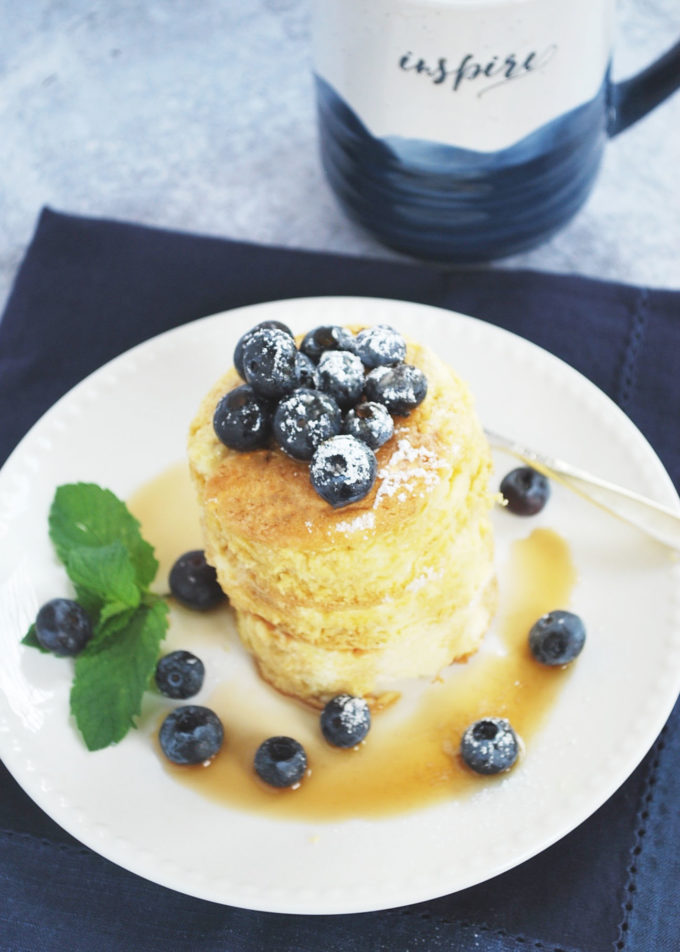 These fluffy Japanese pancakes can be a little tricky to master but totally worth the effort.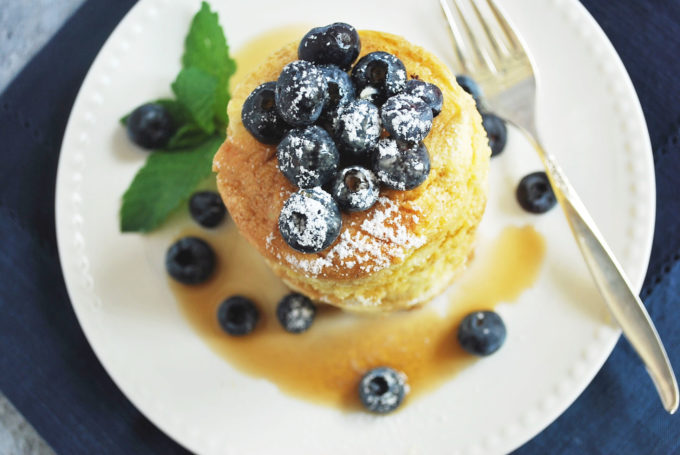 I used these molds to make these pancakes. These pastry rings are great for pancakes and can also be used for beautiful food presentations (food towers, rice, salads) and to cut dough, cookies, and cakes.
A few more of my favorite pancake recipes are these Sweet Potato Pancakes made with kefir, Easy Protein Blender Pancakes, and Wild Blueberry Matcha Pancakes.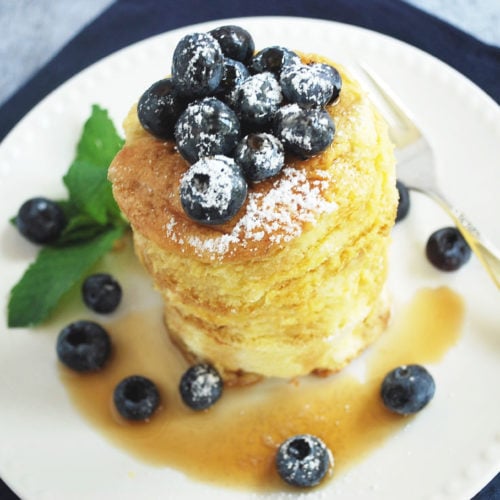 Light and Fluffy Japanese Pancakes
These delicious light and fluffy Japanese Pancakes are a custard-like soufflé pancake made with eggs, cake flour, milk, sugar, and fresh lemon juice.  
Print
Pin
Rate
Ingredients
2

egg yolks

chilled

4

egg whites

chilled

6

tablespoon

cane sugar

2

teaspoon

vanilla extract

1

teaspoon

baking powder

6

tablespoon

unbleached cake flour

* such as King Arthur brand

¼

cup

whole milk

½

teaspoon

fresh lemon juice

½

teaspoon

salt

cooking spray

*for greasing molds
Instructions
First, start by placing the egg yolks, 1 tablespoon sugar, vanilla and baking powder in a large bowl and whisk until mixed.

Then add flour and milk and whisk until blended.

Place egg whites in the bowl of a stand mixer and add lemon juice and salt.

Using the whisk attachment, whip on medium speed until foamy (about a minute)

Continue to whip while slowly adding in the remaining 5 tablespoon of cane sugar.

Turn up the mixer to high speed and whip until stiff, glossy peaks form and meringue doubles in size. This will take about a minute. Be sure to not overbeat the meringue.

Heat a non-stick skillet with a lid over low heat

Coat the inside of the ring mold with cooking spray (can also use butter but spray is easier)

Using a rubber spatula, gently fold the meringue into the egg yolk mixture, ⅓ cup at a time, until just mixed and no streaks remain.

Remove the lid from the skillet and spray the pan with cooking spray.

Pour ½ cup of batter into each 3" wide pastry ring and place the lid back on the skillet

Cook on low heat until they begin to rise and start bubbling (about 3-4 minutes)

Remove the lid and slide a flat spatula (carefully, they are fragile) and flip the pancake in the ring to cook the other side.

Replace lid and cook until pancakes spring back to the touch (about 2-3 minutes)

Repeat until all pancakes are done.

Serve with butter, real maple syrup, fresh berries, and powdered sugar, if desired
Nutrition
Calories:
84
kcal
|
Carbohydrates:
14
g
|
Protein:
3
g
|
Fat:
2
g
|
Saturated Fat:
1
g
|
Cholesterol:
50
mg
|
Sodium:
237
mg
|
Potassium:
45
mg
|
Fiber:
1
g
|
Sugar:
10
g
|
Vitamin A:
77
IU
|
Vitamin C:
1
mg
|
Calcium:
48
mg
|
Iron:
1
mg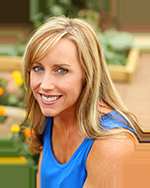 Latest posts by Amee Livingston
(see all)