This post and photos may contain Amazon or other affiliate links. As an Amazon Associate I earn from qualifying purchases. If you purchase something through any link, I may receive a small commission at no extra charge to you. All opinions are my own.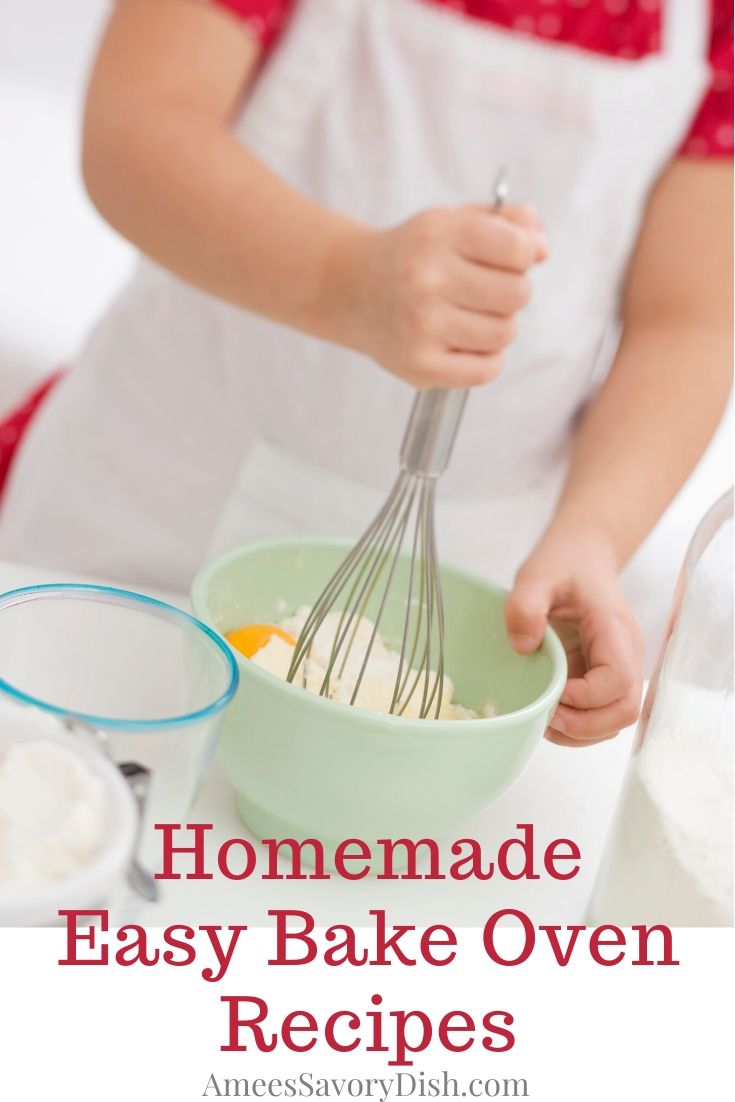 Homemade Easy-Bake Oven recipes allow your child to create delicious recipes in an Easy-Bake Oven, without the need to spend money on expensive prepackaged mixes.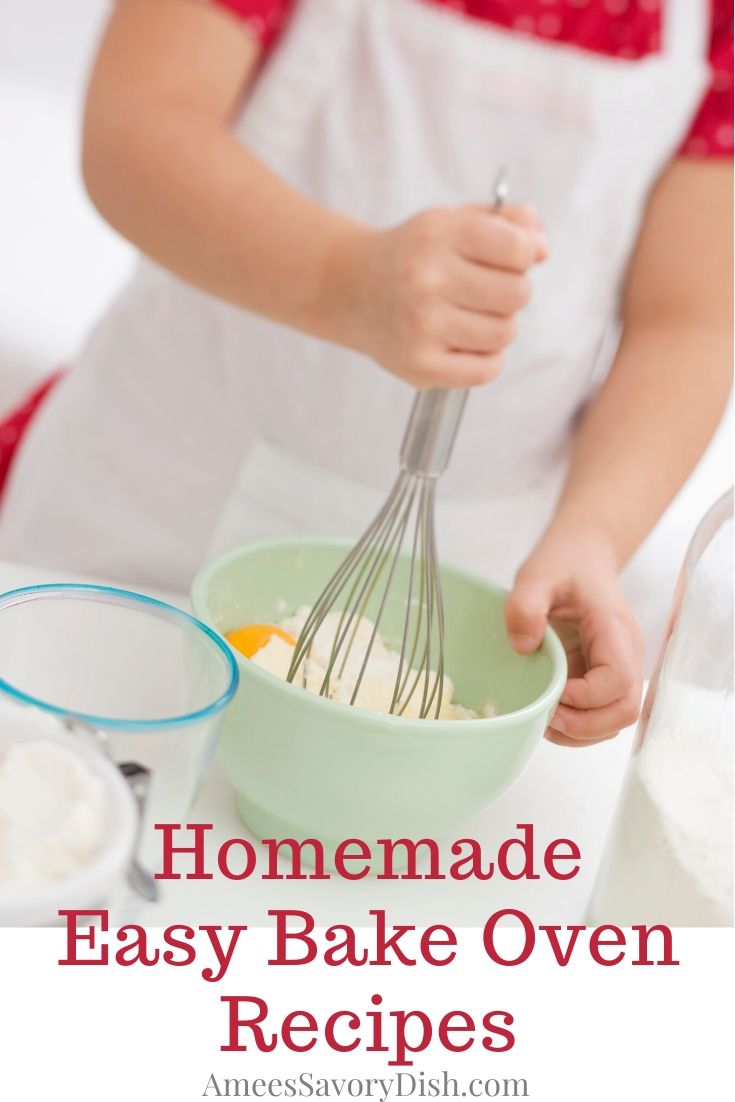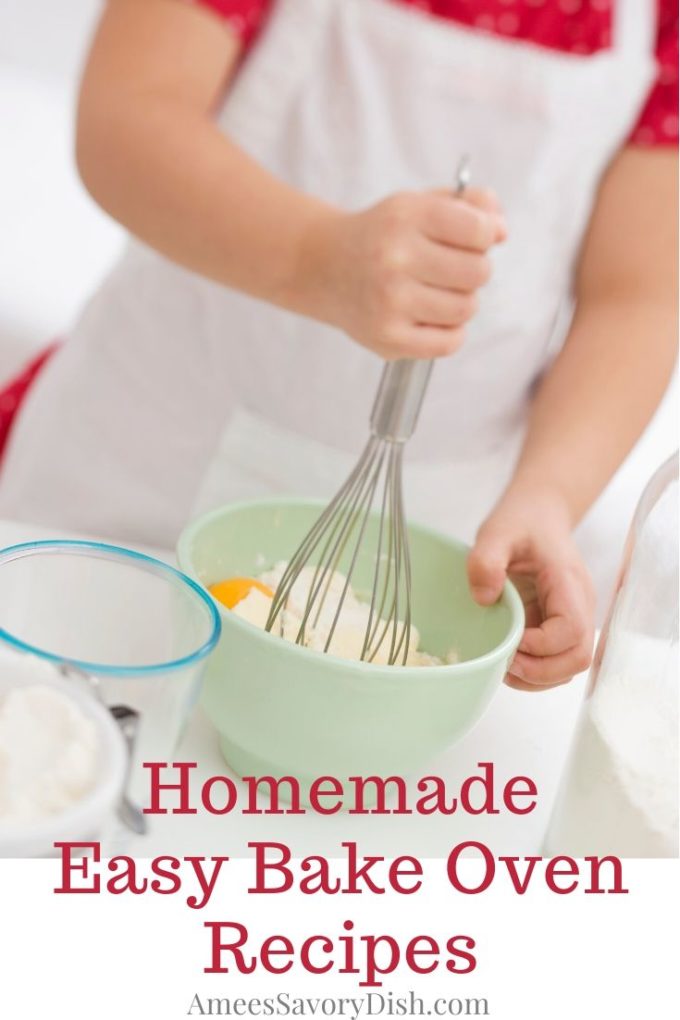 You can save your money and stop buying those pre-packaged, ridiculously overpriced Easy-Bake Oven packets. I can't believe how much they charge for a little flour and sugar…seriously?! It's so easy to make your own mixes and they're just as delicious. Not to mention, these Easy-Bake Oven recipes use minimal ingredients that you will, most likely, already have in your fridge and pantry.
This week I was going through my cookbooks and found some really old children's cookbooks that my mom saved for me. How fun are they?!! All of these must be from the 1970's, as if the graphics and floral motif didn't already give that away. 😉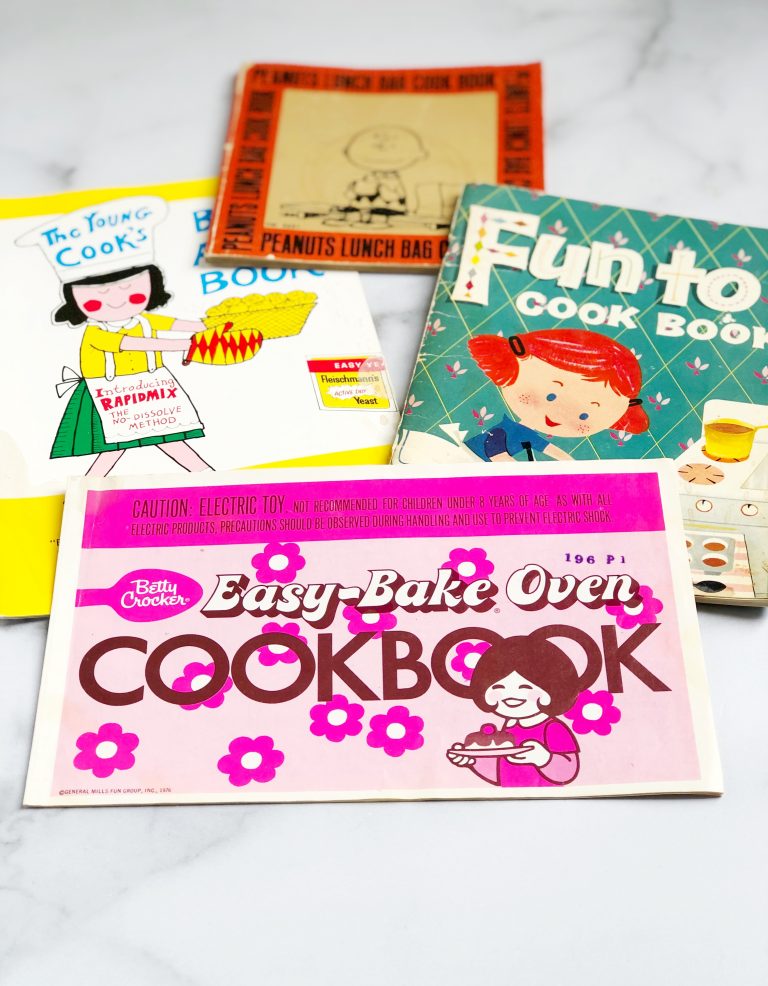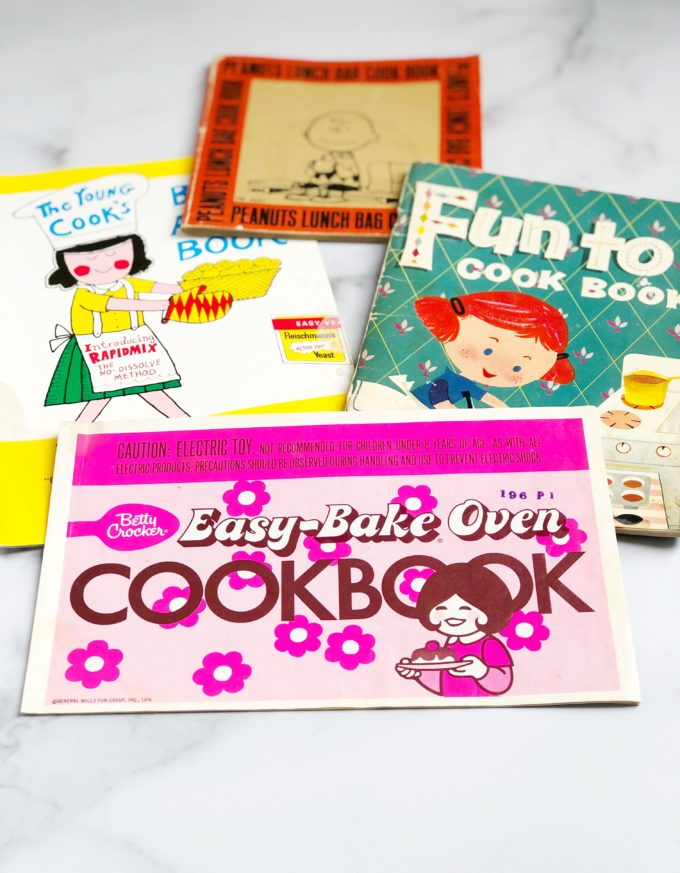 Baking-Up Memories
I'm so glad that she kept my childhood cookbooks and now I can pass them along to Lauren. It's fun to watch her cook in her Easy Bake Oven, it reminds me of how much I used to love mine. I had the original candy apple red model that came out in 1973, the year I was born. I guess that you could say that my love for baking started with a mini red oven with tiny baking tools and little round pans. I thought I was something special baking up delicious, personal-size, treats all by myself. This little oven has come a long way in function and design and still inspiring young baking enthusiasts everywhere.
My daughter and I had fun this morning making Peanut Butter Fudge in her Easy-Bake Oven. It's super easy to make and it's one of her favorite DIY recipes.
The following DIY Easy Bake Oven recipes come from the original Betty Crocker Easy-Bake Oven Cookbook. The only problem is that it makes me feel really old! 😉
Homemade Easy Bake Oven Recipes

Peanut Butter Fudge *We give it 5 stars!
½ cup confectioners' sugar
1 tbsp peanut butter
2 tsp cocoa
2 ½ tsp milk
½ tsp softened butter
¼ tsp vanilla
Grease easy bake pan with cooking spray or butter. In a bowl, mix all ingredients until smooth. Spread into greased pan and bake in pre-heated Easy Bake Oven for 5 minutes. Allow the fudge to cool and refrigerate for 5-10 minutes before slicing and serving.
Milk Chocolate Brownies
2 tbsp flour
1 tbsp milk
2 tsp sugar
2 tsp powdered chocolate drink flavoring for milk
1 ½ tsp softened butter
pinch baking soda
dash salt
Grease pan with butter or cooking spray. Mix all ingredients until smooth. Spread into easy bake pan and bake in pre-heated Easy Bake Oven for 12 minutes. Cool. Top with chocolate glaze (below)
Chocolate Glaze: In a small bowl, combine 3 tsp confectioners' sugar, 1 tsp powdered chocolate drink flavoring for milk, and ½ tsp milk until smooth.
My chocolate chip buttercream recipe would be delicious on these brownies, too!
Sugar Buttons
⅓ cup flour
2 tbsp softened butter
2 tsp sugar
In a bowl, mix flour, butter, and sugar thoroughly. With your fingers, shape dough into ½ inch balls. Place 4 balls in pan; use fingertips to press down gently (cookies will have cracks at the edges.) Sprinkle with sugar. Bake 10 minutes in a pre-heated Easy Bake Oven or until lightly brown. Cool. Bake remaining balls, 4 at a time. Makes 16 cookies.
Cinnamon Coffee Cake
For the topping:
1 tsp Bisquick baking mix
1 tsp brown sugar
⅛ tsp cinnamon
For the cake:
2 tbsp Bisquick baking mix
2 tsp milk
½ tsp sugar
½ tsp softened butter
Grease pan with butter or cooking spray. In a bowl, mix 1 tsp baking mix, brown sugar, and cinnamon. Set aside. In another bowl, mix 2 tbsp baking mix, milk, sugar, and butter thoroughly. Spread in the pan and sprinkle topping over the top. Bake for 15 minutes in a pre-heated Easy-Bake Oven. Cool and cut into wedges.
Biscuits
¼ cup Bisquick baking mix
1 tbsp water
In a bowl, mix the baking mix and water to make the dough. It will be sticky, so rubbing a little olive oil on your fingers helps while you work with the dough. Drop dough by ½ teaspoons into the pan. Press the dough down, lightly, with your fingers to flatten. Bake 6 biscuits in a pan for crusty sides and up to 12 per pan for softer biscuits. Bake 15 minutes or until light brown. Makes 12 biscuits.
If you make these recipes with your kiddos, be sure and tag me on Instagram! I'd love to share your creations! If you are looking to purchase one, you can grab it on Amazon below. *Affiliate link.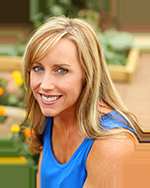 Latest posts by Amee Livingston
(see all)