You might be surprised to hear that incorporating sprints into your workout routine is one of the best ways to build a rock solid core.  Sprints not only improve your power output, but they strengthen the abdominal muscles, back muscles, quadriceps, hamstrings and glutes.  I try to incorporate some form of sprint training once a week.   Sprinting is an incredible form of HIIT training and a great compliment to any Olympic weightlifting or strength training routine.  Learning proper rest timing and technique will help you learn how to maximize the sprint for a rock solid core.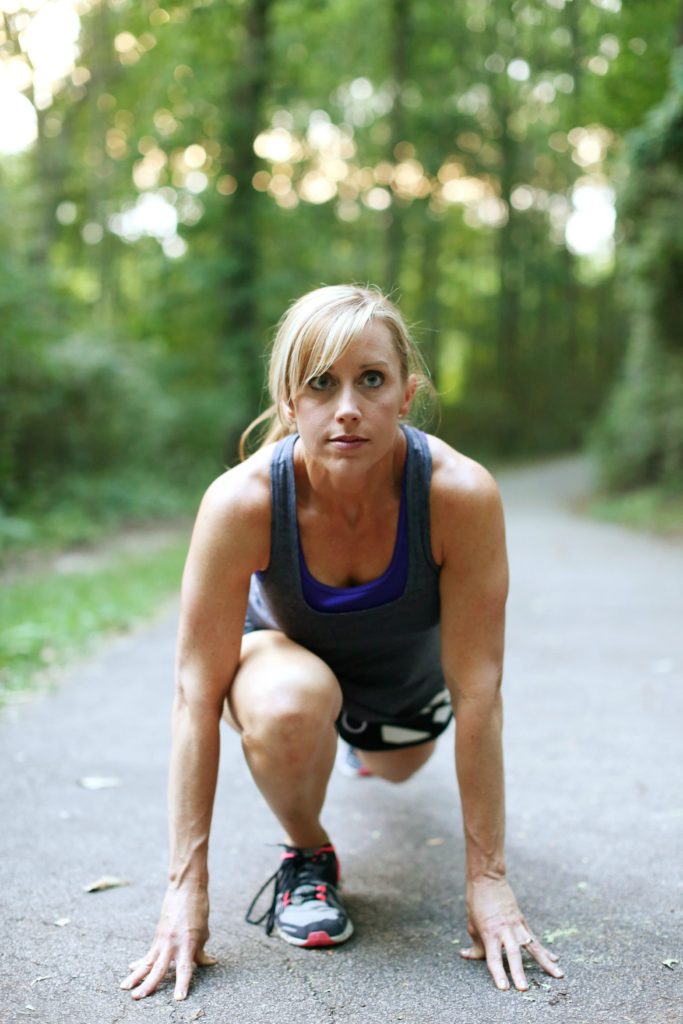 Recovery timing and intensity are the key components to structuring a good sprint workout routine.  The sprint should be at maximal effort with enough recovery time to replenish your ATP-PC energy system.  When you begin any workout, regardless of intensity, the ATP-PC (adenosine triphosphate and phosphocreatine) energy system is recruited to generate energy for your body from the breakdown of ATP in the muscles.  However, this energy system taps out quickly, only being able to sustain 10-15 seconds of true maximal effort intensity.  Without proper rest to replenish these stores, you will lack the ability to work at your max potential.  If you continue to work at a lower energy output, you end up working on muscular endurance as glycolysis kicks in, not explosive power during that brief max-effort window.
There are three main systems that are used during exercise to provide the energy for performance: The ATP-PC System (short and sweet at around 10-15 seconds), The Glycolytic System (glycolysis 30-50 seconds of work) and The Oxidative System (the aerobic system that kicks in around 2 minutes) which fuels long duration work, such as steady-state cardio and endurance exercise.  To make sure that you incorporate enough rest in your sprinting routine, rest 10-12 seconds for every 1 second of maximal effort work.  Even elite level athletes have a difficult time sustaining more than 20 seconds of true 100% maximal effort work.
Sprint mechanics are key for proper force generation and efficiency.  Improve your frontside mechanics by keeping your pelvis neutral and maintaining alignment of your shoulders, hips and ankles.  Don't just reach with your feet, lean forward from the ankles while keeping your core stable with a triple flexion of the ankle, knee and hip in synchrony.  The backside mechanics should involve a triple extension of the ankle, knee and hip while maintaining a neutral pelvis.  The neutral pelvis will help produce the most force output and keep your core engaged and chest upright during the movement.
A good example sprint workout would be:
Warm up: 5-10 minutes
5-10 rounds 50-100 meter sprints (resting 10-12 seconds for every 1 second of sprinting)
Stretch: 5-10 minutes
Here's one that I did this weekend with accessory strength work added at the end.  I rested 2 minutes in between sprints.  For the SLRDLs(single leg Romanian dead lifts), I used a medium-weight kettlebell (35 lbs) in one hand for stability and posterior chain work.  You don't have to use any weight at all or go really heavy to benefit from this exercise!
Start with your knees soft and your weight balanced on one foot.  Lean forward as you shoot your hips back (this is not a hinge at the waist, but more of a seesaw motion) and keep your back flat and the leg you are not balancing on straight as you reach towards the ground in front of you with the opposite hand.  Keep this movement slow and controlled to really engage those stabilizing muscles and only go as far as you can while maintaining proper form.  When you're ready to add weight, start with one weight with two hands (I like using kettlebells for this), then move to one weight in one hand.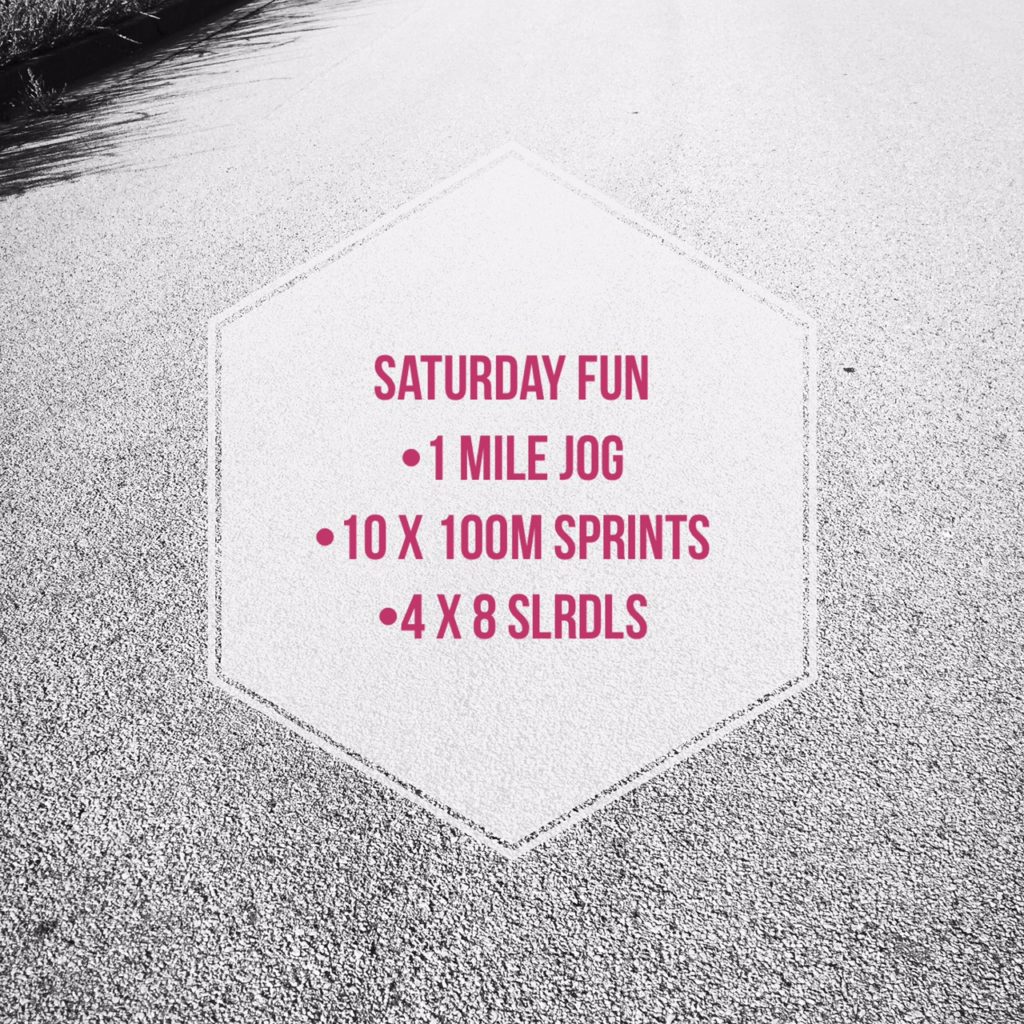 Always make sure that you incorporate a good warm-up routine before sprinting.  I like to go for a 1 mile warm up interval jog at a very easy pace, followed by a 5 minute dynamic whole-body stretch.  It's also important to stretch well after an intense bout of exercise, while the muscles are still warm.  Pay close attention to the glutes, calves, hamstrings, quads and core.  I love myofascial release, with a foam roller, post-workout to relieve muscle tightness.  If you are a beginner exerciser, I recommend starting a fast-paced walking program and build up to jogging intervals, then sprinting.  You can also do sprint intervals on a stationary bike or rowing machine to switch things up a bit.  If you have a medical condition or health concerns, it's best to consult with your doctor before beginning a new exercise program.
SaveSave
SaveSave
SaveSave