For some reason I can't stop singing Alicia Keys in my head...."New York! Concrete jungle where dreams are made of, there's nothin' you can't do. Now you're in New York...." and that's exactly how I felt on my recent trip to New York with The Beef Checkoff. Dream big. Work hard. Learn from others. Gather inspiration and get outside your comfort zone. These where the main takeaways from my exciting and very inspiring adventure in the big apple.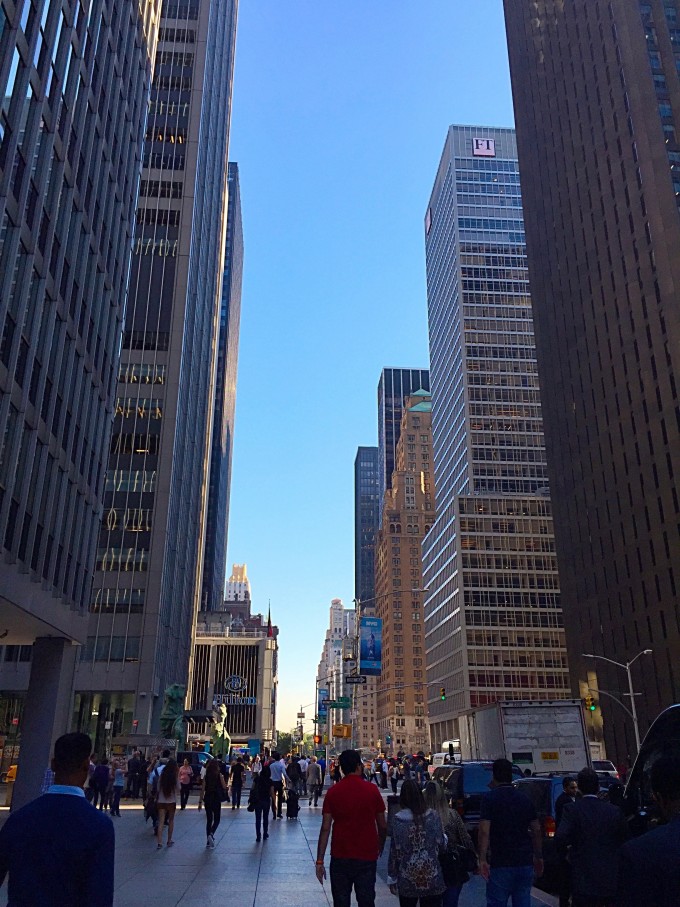 We started with a trip to Google's Port Authority Building. I mean, this has to be the coolest place on the planet to work! Whoever designed the interior is a genius. It's like a giant playground for adults and it's casual Friday every day. Everyone looked happy and relaxed.
I can see how those creative juices flow freely when you work in such a chill environment. I wish that I had more pictures of the interior, but I was too smitten with taking in the scenery to pull out my camera. I did manage to get the sign at the entrance, though.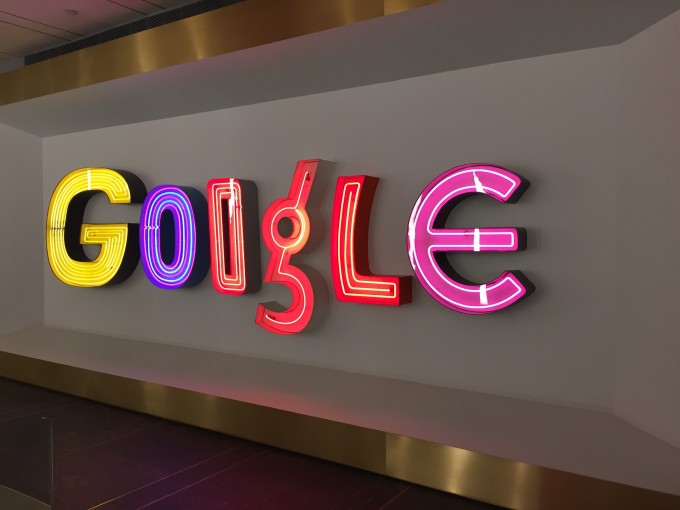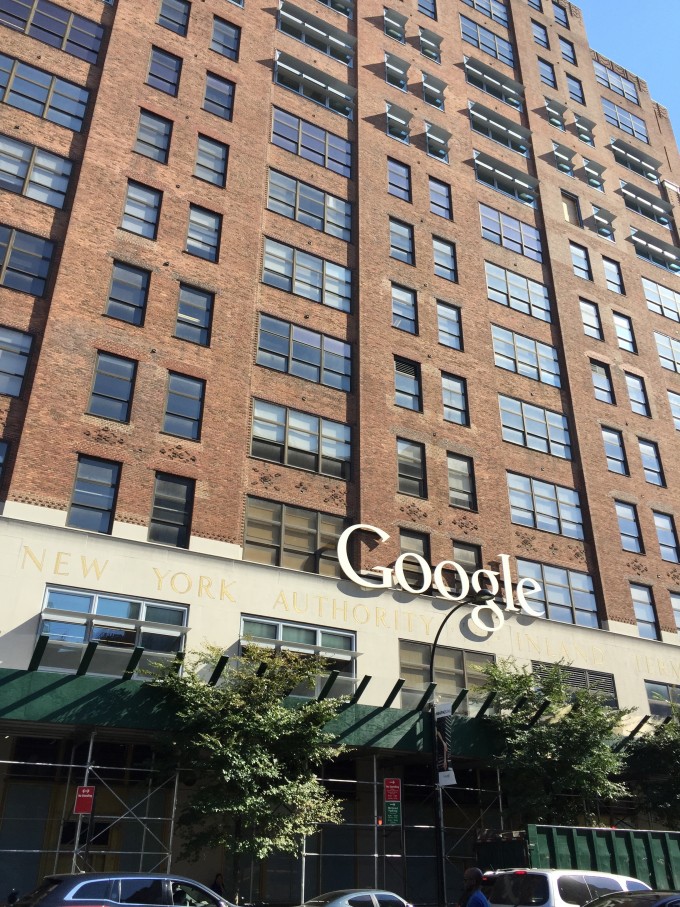 We received a warm welcome from our Google hosts, Chrissie and Kathryn. Chrissie talked about why video matters for bloggers and Kathryn discussed the 10 Fundamentals of Creative Strategy. I'll admit, I have vlogging phobia. I hate listening to my own voice and seeing myself on camera...don't get me started, it makes me cringe!
I know that I need to break out of my comfort zone and start creating tutorials and videos to share with all of you. It's the next great step in blogging and I know that I just need to suck it up and take the leap. If I'm going to learn the tricks of the trade, I was definitely in the right place.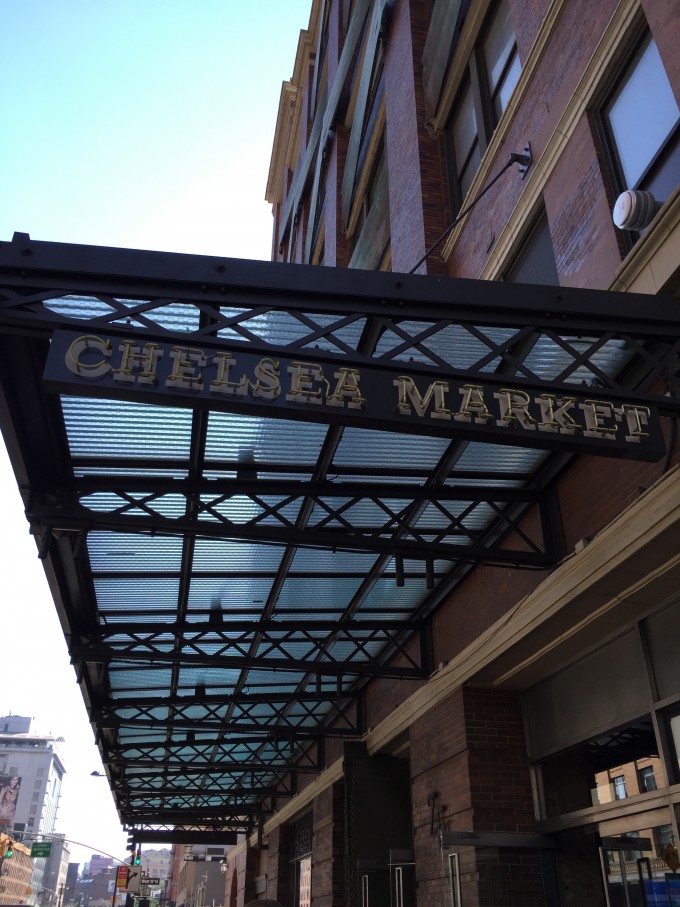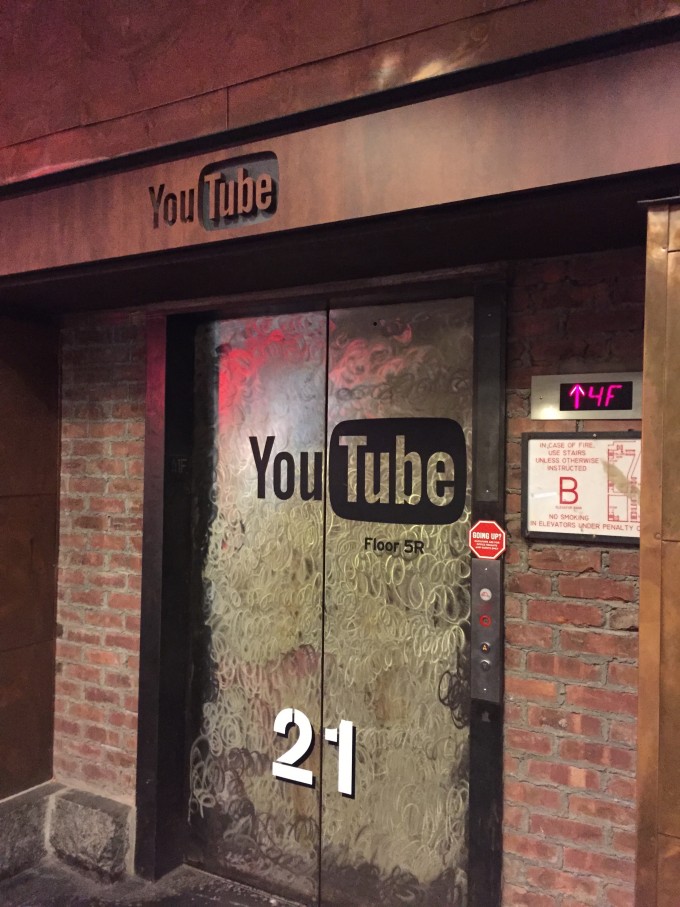 Our adventure carried on to YouTube Studio Space at Chelsea Market across the street. This place is amazing! They were hosting a happy hour for their employees while we were there. These guys hit the jackpot. It looked like an amazing spread, too. Your job would be so much more fun when you're sipping on a margarita. Just sayin'. 🙂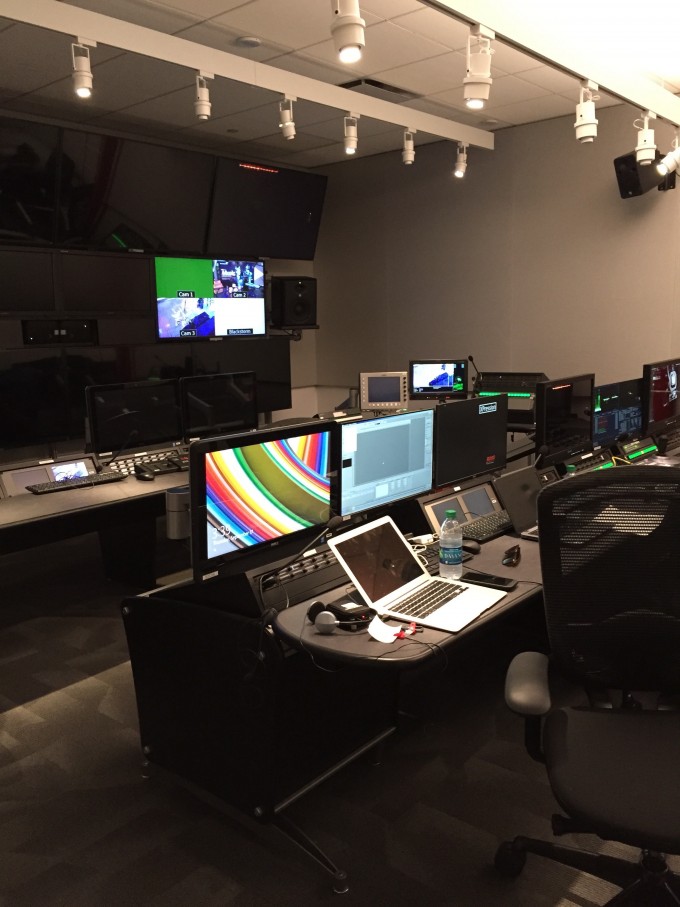 Hanging out in the diner studio set-up with fellow Beef Bureau member, Toby Amidor from Toby Amidor Nutrition. All we need is some tasty food and one of those cocktails from the employee happy hour...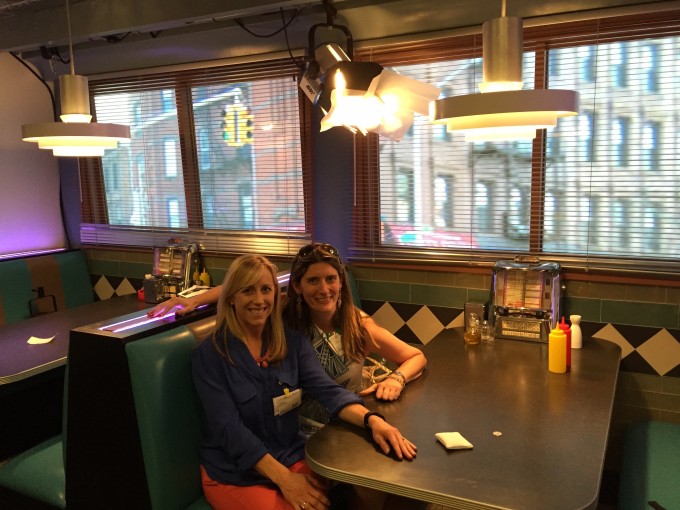 This was a really neat tour. We got the scoop on how they work with their content creators and background information on YouTube and their locations. We also were surprised with a Q&A with Jen and Leo from Just Eat Life. They shared their vlogging journey with us and some of their favorite tips and tricks. Their work is amazing, be sure and check out their videos on YouTube. Here we are cheesing it up for a fun group photo.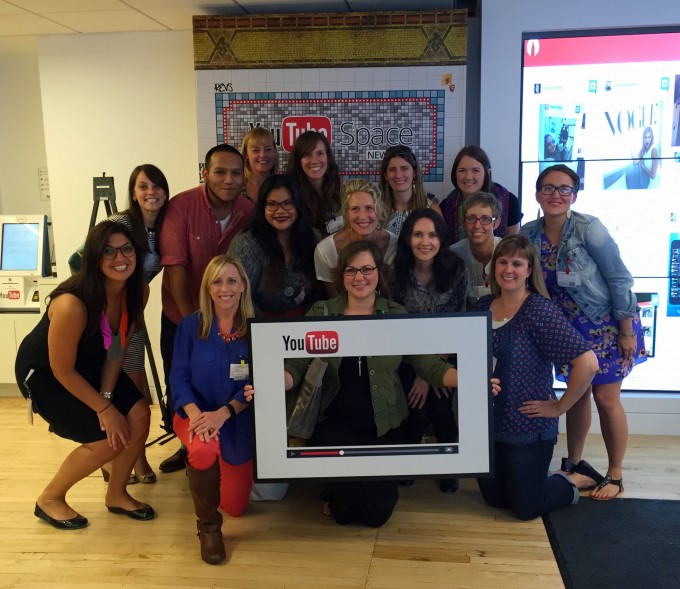 We had a little down time to browse Chelsea Market. This place is fantastic...a foodie heaven. I picked up a Chelsea Market cookbook, so you might see some Chelsea-inspired recipes coming soon.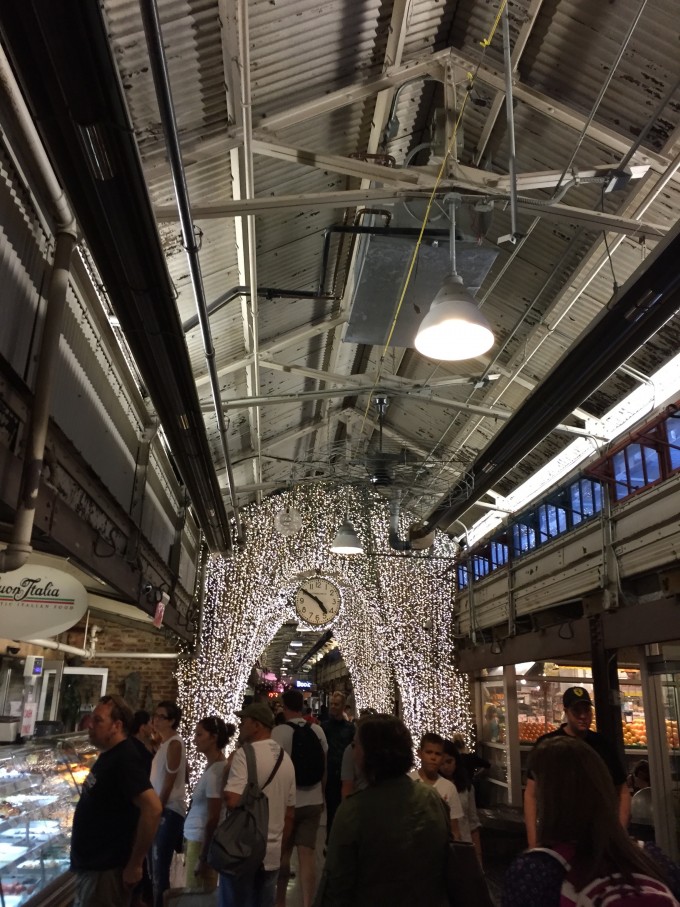 I picked up an exotic spice sampler from Spices and Tease. They had every spice that you could imagine from all over the world. The Ras el hanout will be perfect for the North African Spiced Beef Ribeye Wraps from Ally's Kitchen.
This was the recipe winner from the Easy Entertaining with Beef recipe contest I co-hosted with Laura from Real Mom Kitchen earlier this year. Be sure and check it out in the link above, all of the recipes were winners in my book!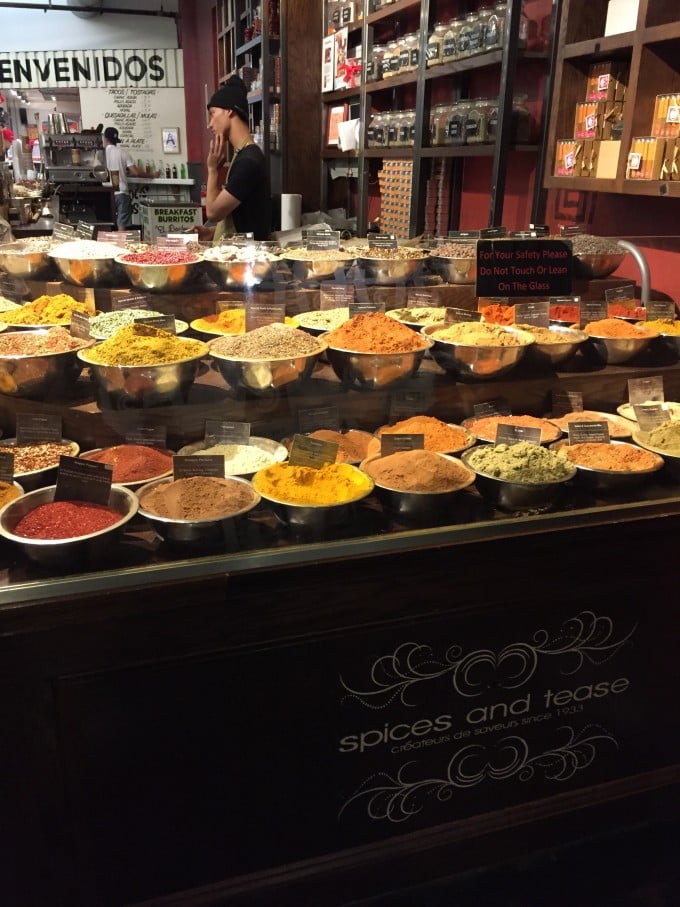 I always bring my kids a souvenier from my trips, so I popped into Eleni's and got them each a Statue of Liberty cookie (wish I got a pic of those!) and a mini cupcake for myself. I had to see if their red velvet measured up to my grandma's recipe. My taste buds approved.
That evening, we were indulged in a fabulous meal at ABC Cocina. They might just have the best tacos on the planet. Their seared steak and short rib tacos melted in your mouth. I also wish that I had some of their blistered shishitos right now. So good!!
Dinner highlights...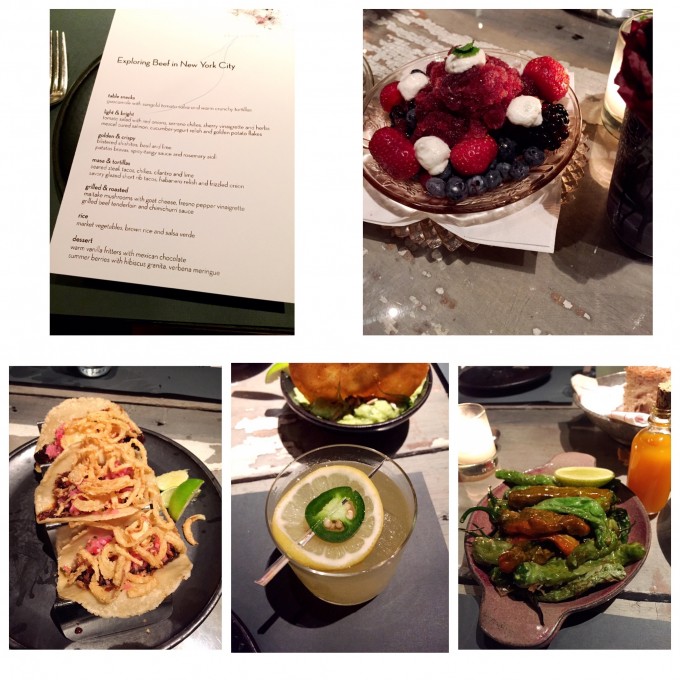 Day two started with an interactive video content creation workshop with Denise & Lenny from Chez Us. They gave us so many great tips on creating video for our blogs. I guess it's time that I bite the bullet and get that show on the road!
Next, we visited a couple of butcher shops, Fischer Bros. & Leslie and Lobel's. They answered some common questions that customers have about beef and gave us a little background on their businesses.
Fischer Bros. & Leslie is a Kosher butcher that has been around since 1949. They really pride themselves on quality and service. It was interesting to hear about the Kosher process. Fischer Bros. & Leslie have high standards in observing Kashruth (the Jewish religious dietary laws regarding the suitability of food).
Their meats are trabored, soaked and salted under the supervision of a full-time Mashgiach Temidi. This is a strictly monitored process. I had no idea how much went into Kosher labeling. I can see why Kosher meats come with a pretty price tag.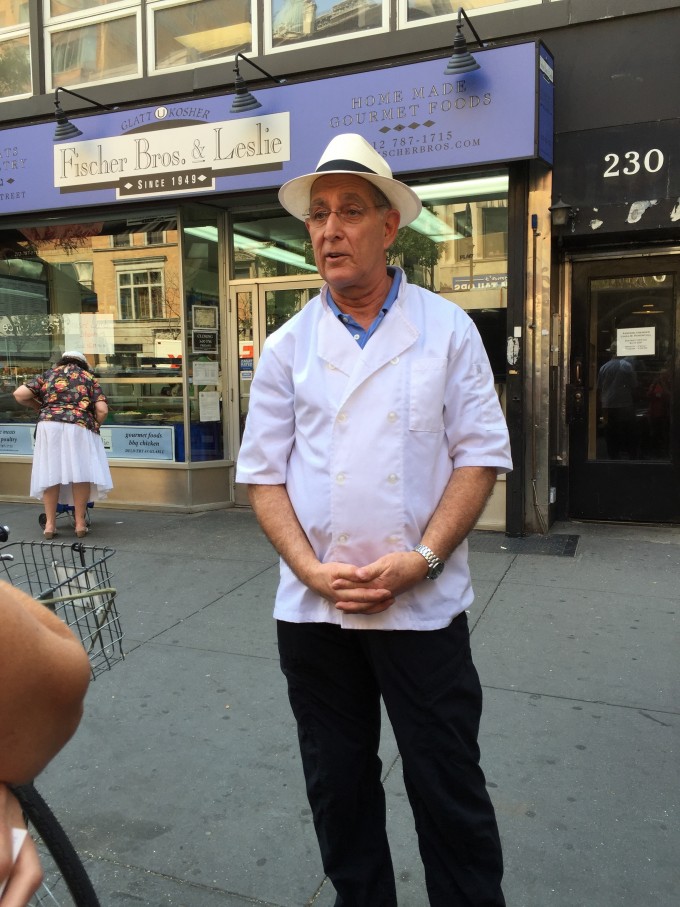 Butcher shops are also adapting to the changes in our busy society and offering more prepared food selections for those with little time to cook.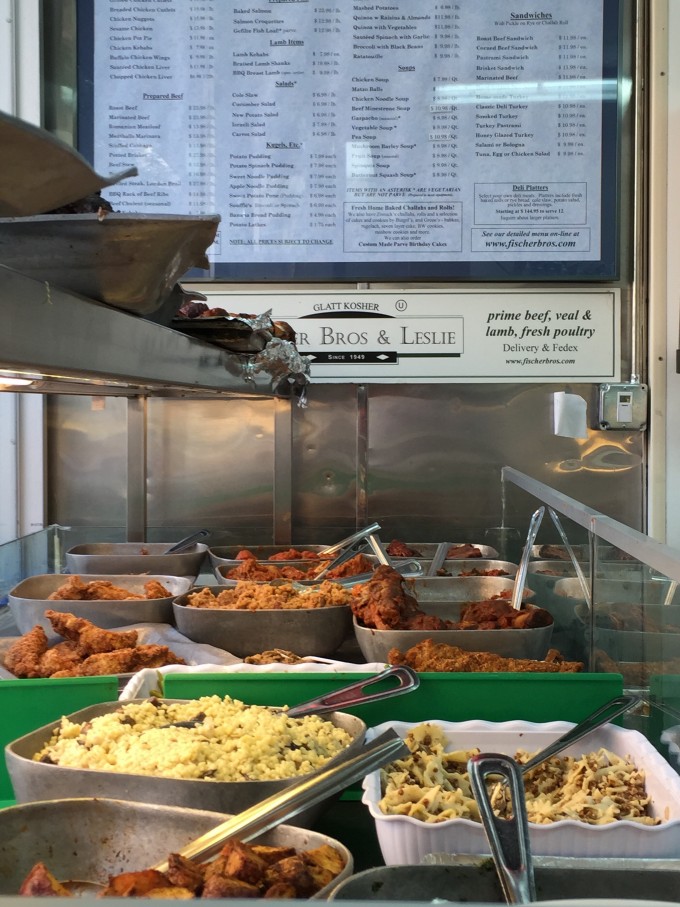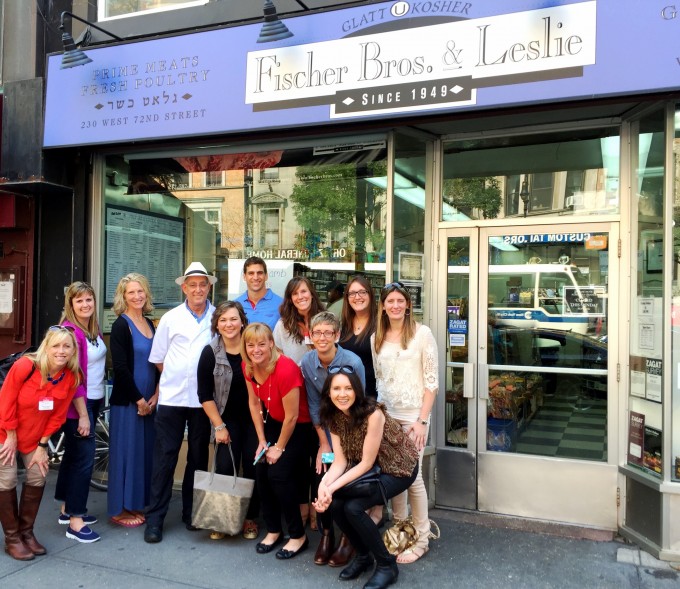 Lobel's is a beautiful butcher shop. You can tell from the moment you walk in that this is a high-end establishment.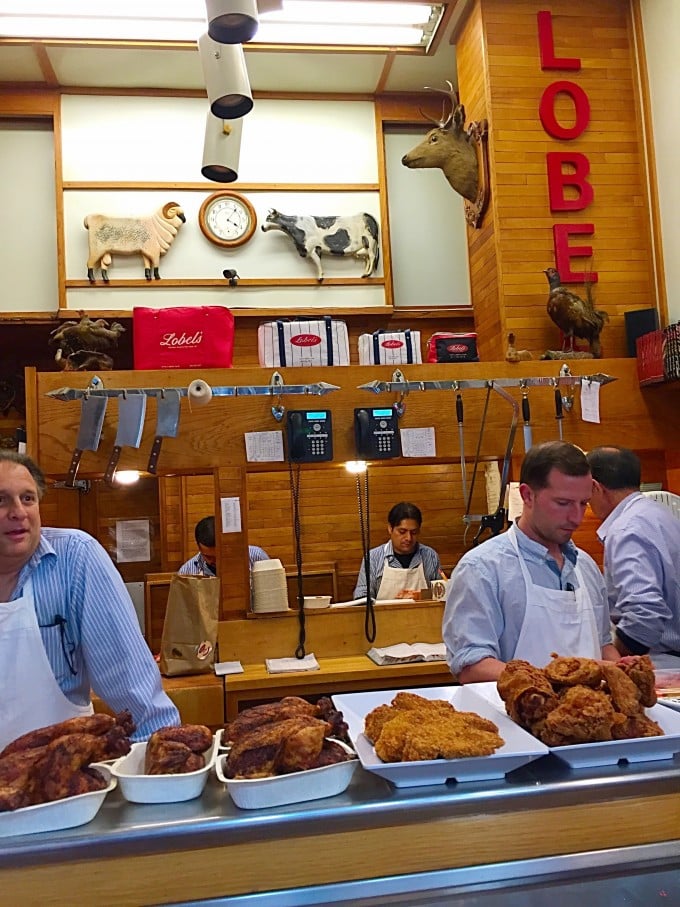 Lobel's has been a purveyor of fine meats for five generations, with a focus on high-end cuts. They also pride themselves on exceptional customer service and product quality. You can see from the counter above, that they are also carrying prepared meats, for customer convenience.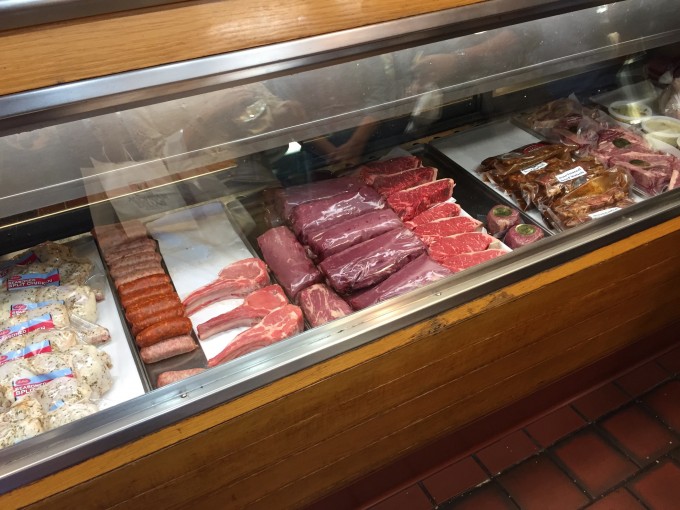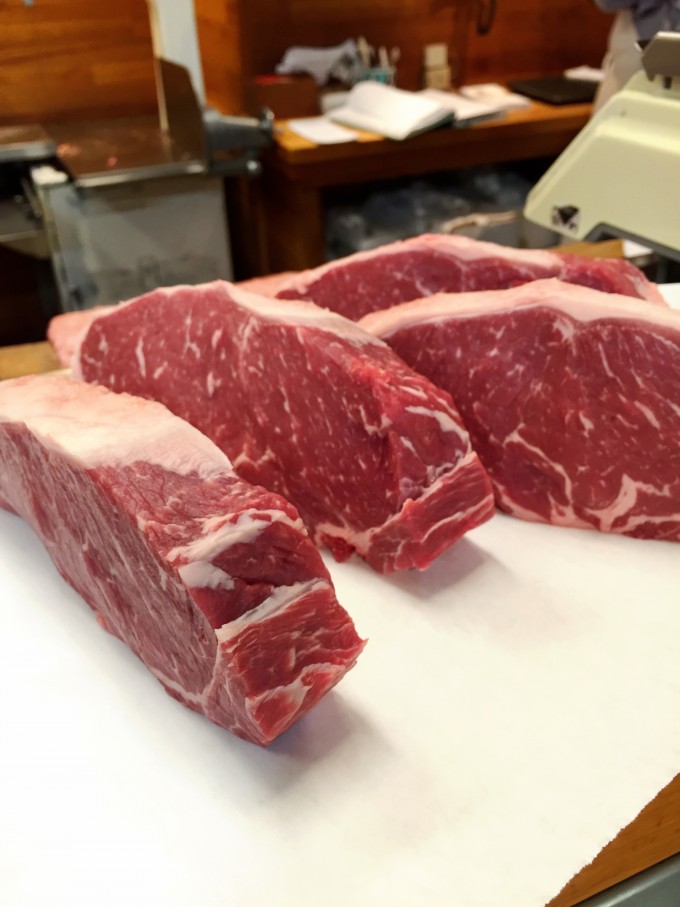 If you'd like to try some of their fine meats, you can order from Lobel's online at Lobels.com.
After our butcher shop tours, we had some free time to enjoy the city. Laura, from Real Mom Kitchen, and I took a walking tour of Manhattan. First stop was La Maison Du Chocolat. I had to pick up some of these incredible Parisian chocolates for Flynn. Good dark chocolate is his favorite thing ever. I also had to try one out for myself. Delectable!
Then, we had to stop in to Magnolia's Bakery for a cupcake. I had to compare their red velvet to Eleni's and I have to say that Eleni's was the winner. I was disappointed that after waiting in that long line that my cupcake was a bit dry. I'm picky about my red velvet, ya'll. If I'm going to splurge, it had better be worth it! Their frosting was tasty, though.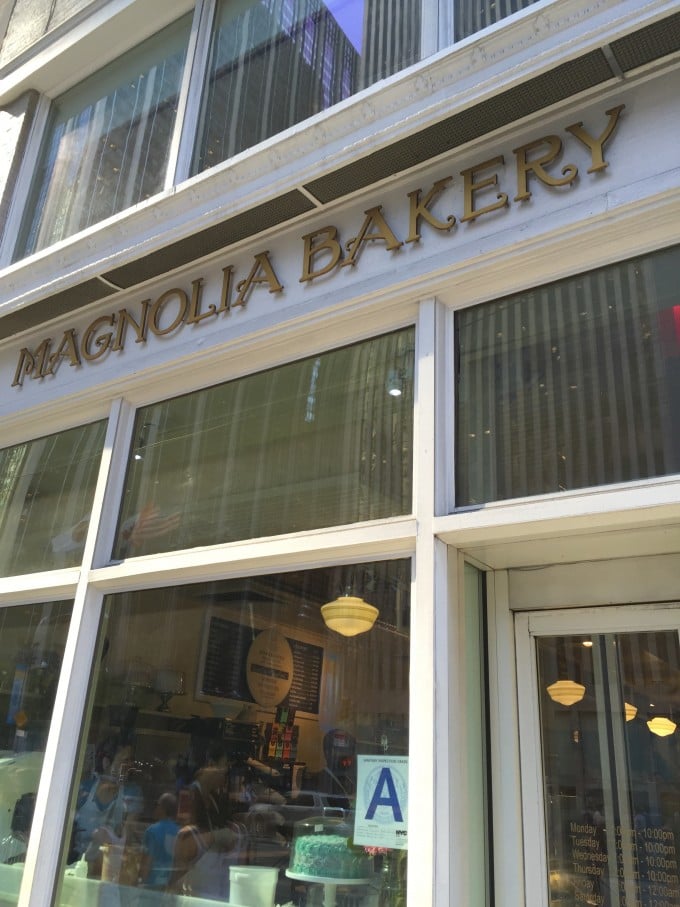 A flirty "Lady" Liberty...only in New York. 🙂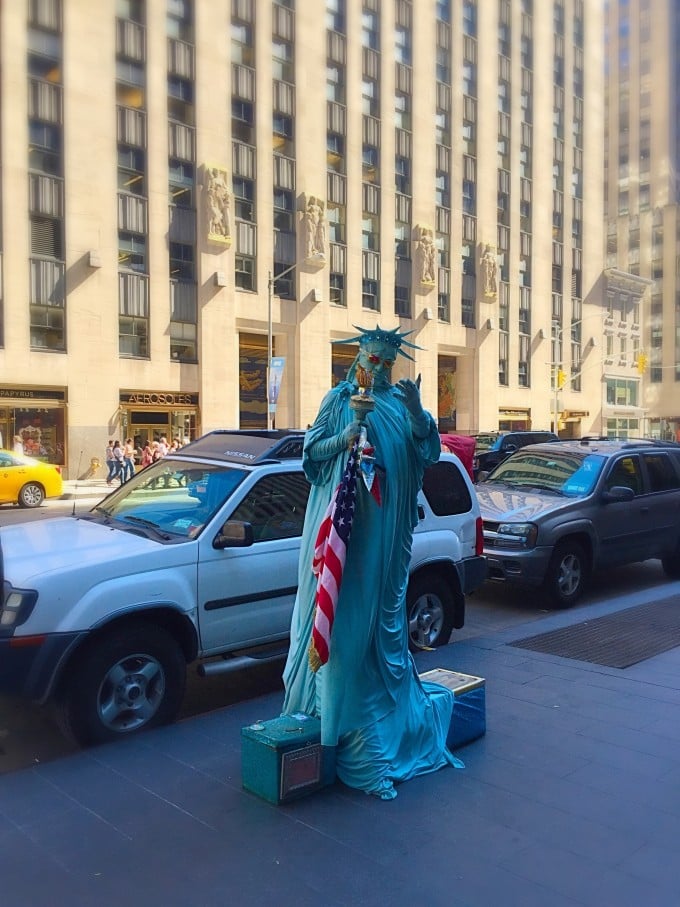 After our break, we met up with Suzanne Strassburger from Strassburger Steaks for a walking tour of Morton Williams Supermarket to get an overview of different cuts of beef and packaging in the meat case. She is so much fun, ya'll! Here she is sporting her cowboy hat and filling us in on some cool beef facts.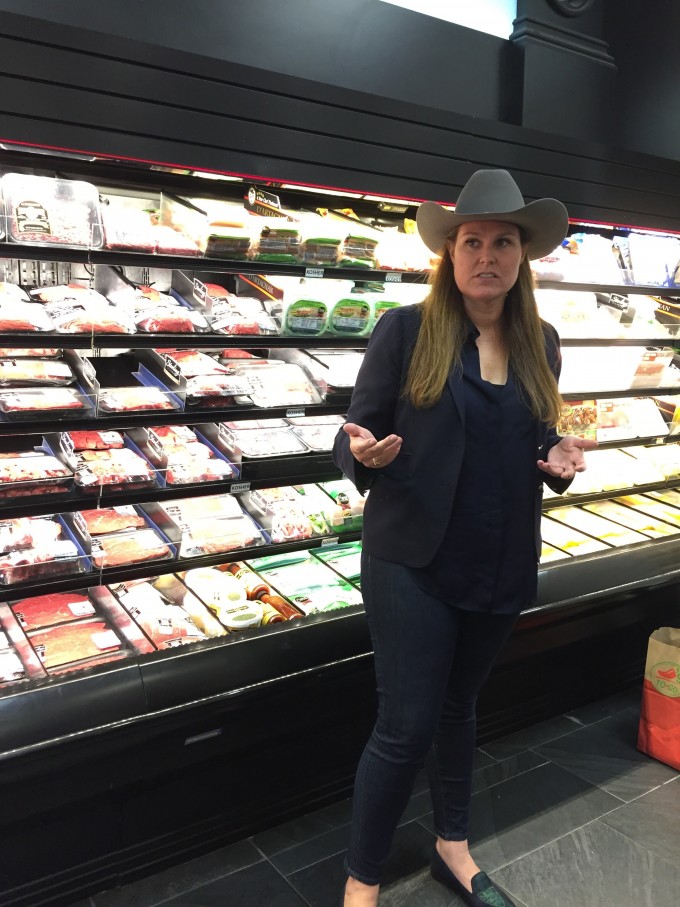 Suzanne gave us some great points to share with you:
Meat is graded into three categories: Prime (most marbling and usually just sold to high-end restaurants, Choice (the most common grade found in grocery stores) and Select (the most lean and usually has the least amount of flavor and marbling)
Meat should be the last thing that you put into your grocery cart. It needs to stay cold and be refrigerated as soon as possible.
Buy beef in bulk to save $
Shop manager's specials for savings (grocery stores are required to sell by a certain date, but meat is still safe and good for cooking within a few days)
Loins and rounds are going to be your leaner cuts
Always cook ground beef to 160 degrees for safe eating
Dinner on our final night was at Parlor Steakhouse. We enjoyed a nice presentation from Chef Carlos. He gave us a great tip when salting meat. He recommended using Kosher salt, because it adheres to the meat better than any other type of salt. The food here was amazing and their staff was exceptional.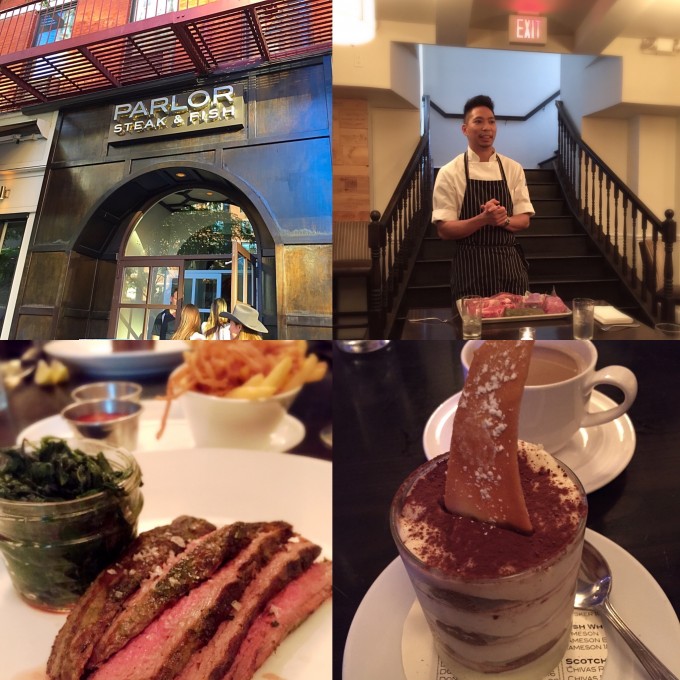 That about sums up my memorable trip to NYC! If you have any questions about beef, please leave them in the comments below. I'll do my best to get them answered for you. Knowing how to buy beef economically is important, as well as knowing how to prepare the different cuts available.
Lean beef is a great addition to a healthy diet.
*All travel and expenses were provided by The Beef Checkoff. All opinions are always my own.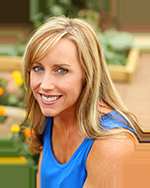 Latest posts by Amee Livingston
(see all)