A simple and delicious recipe for sous vide pork chops prepared with a flavorful garlic and fresh herb rub. If you aren't familiar with sous vide cooking, you can learn more about it here. *I received the Nomiku sous vide cooker for review. All opinions are my own.
Sous Vide cooking is marvelous. Similar to a slow cooker, it does the work for you during the day, so you can save your precious time for other things...like lifting heavy barbells, working, taking care of the kids, or whatever strikes your fancy. Thanks to a genius invention called the Nomiku, sous vide is now affordable and accessible for the home cook. It allows you to make incredible recipes without spending much time in the kitchen. These sous vide pork chops rubbed with garlic and herbs are a cinch to make and taste like you spent hours preparing them.
What Is Sous Vide Cooking?
I wasn't too familiar with this cooking method when I received the Nomiku to try out, but I certainly was intrigued. I did a lot of research on cooking times and temperatures before playing around with recipes. It's a thermal immersion cooking method that simmers food in a controlled water temperature in an air-tight or vacuum-sealed bag. The beauty of sous vide, is that you don't have to worry about overcooking. The food won't get any hotter than the controlled water bath that it's in. You're not boiling your food, you're keeping it at a constant temperature for a designated amount of time. For all of the sous vide FAQ's visit Nomiku for more details.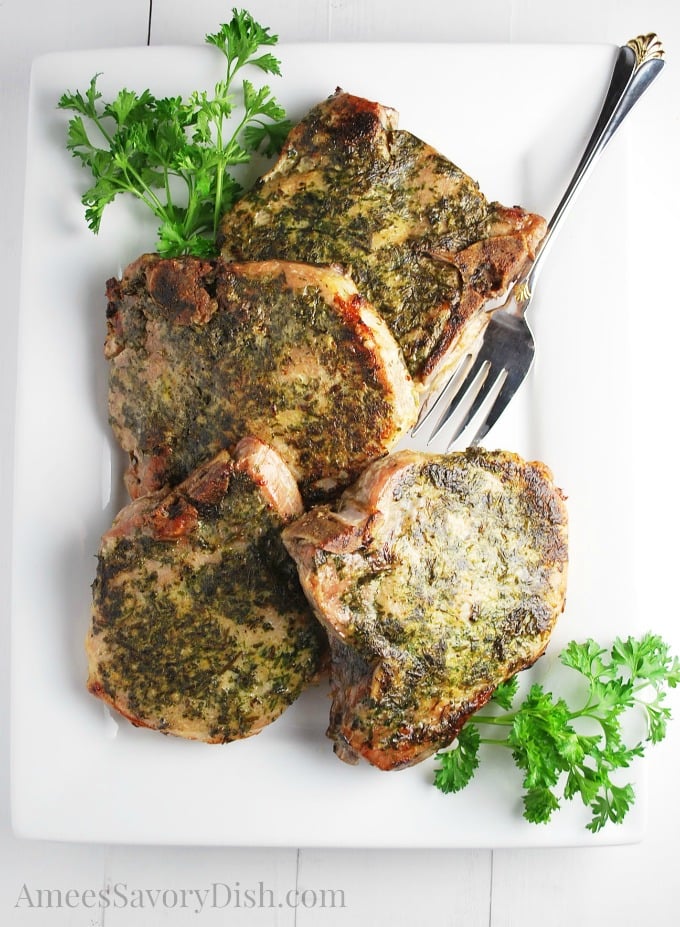 I wanted this recipe to be full of flavor, so I used a fresh herb combination for the rub, combined with lemon zest, garlic, vinegar, olive oil, and salt & pepper. Pulse herbs a few times in a food processor to chop before adding the remaining ingredients.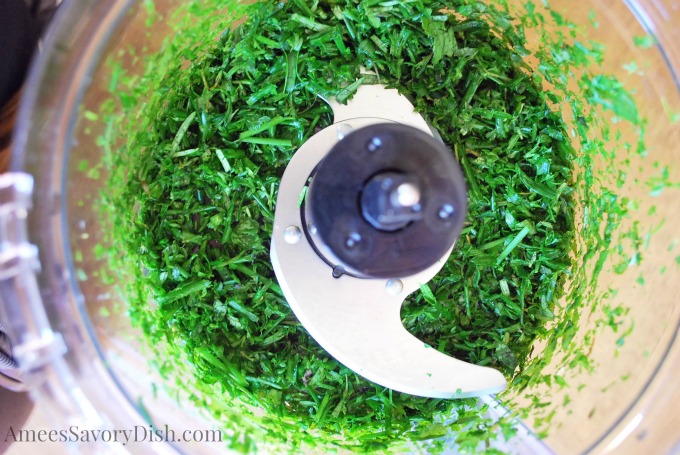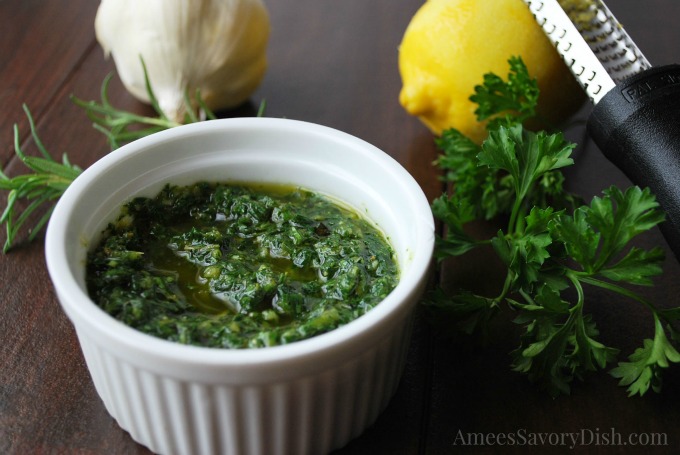 I have a Foodsaver for vacuum sealing the meat, but a ziplock bag squeezed of all the air after it's submerged in water will work fine, too.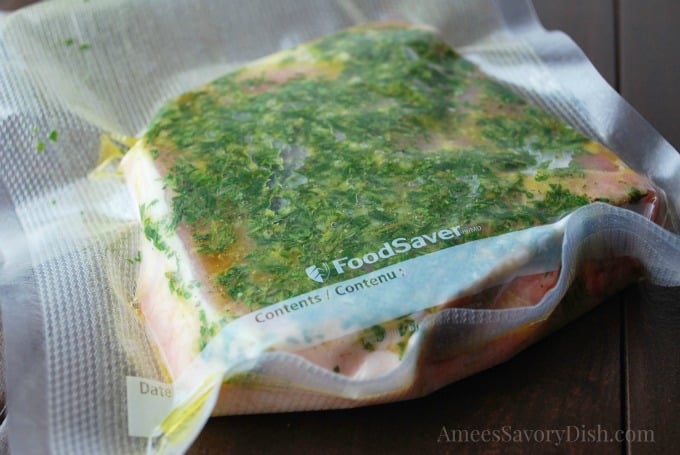 The Nomiku is super easy to use, just clip onto the side of a deep pot, plug it in, tap the front to turn on and turn the knob to adjust the temperature. Then let it heat the water to the chosen temperature.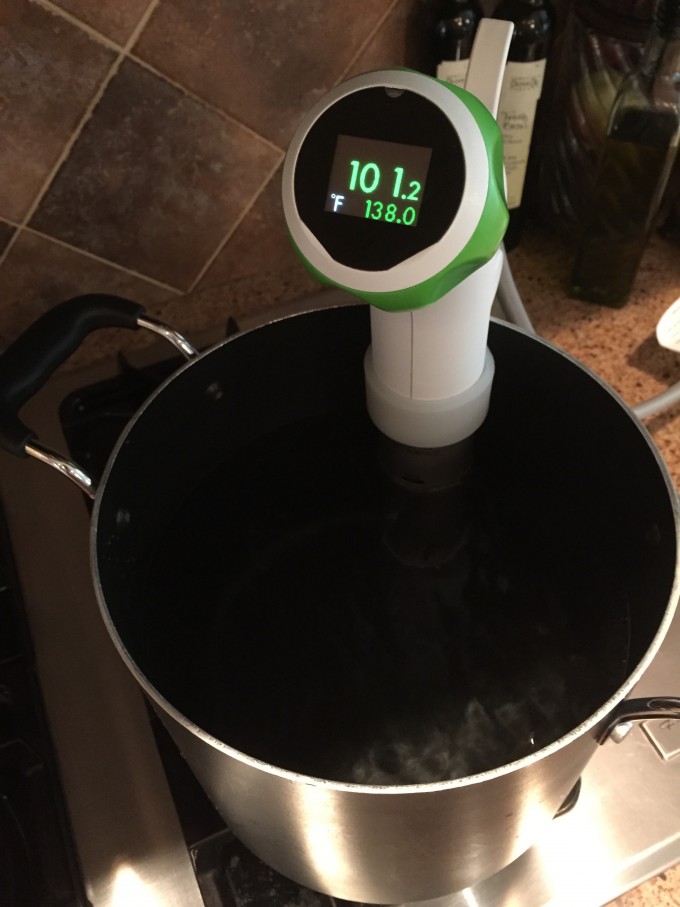 The Nomiku delivers a tender and juicy pork chop, the only step left is to crisp up the fat and exterior of the meat. You can do this in a greased cast-iron skillet, on a hot grill, or under a broiler (my chosen method).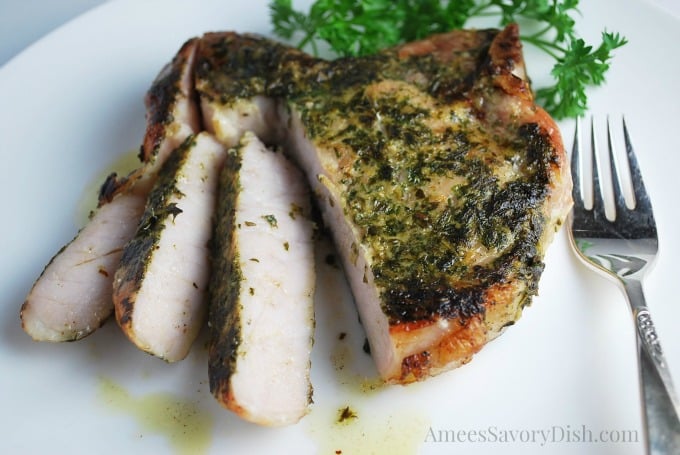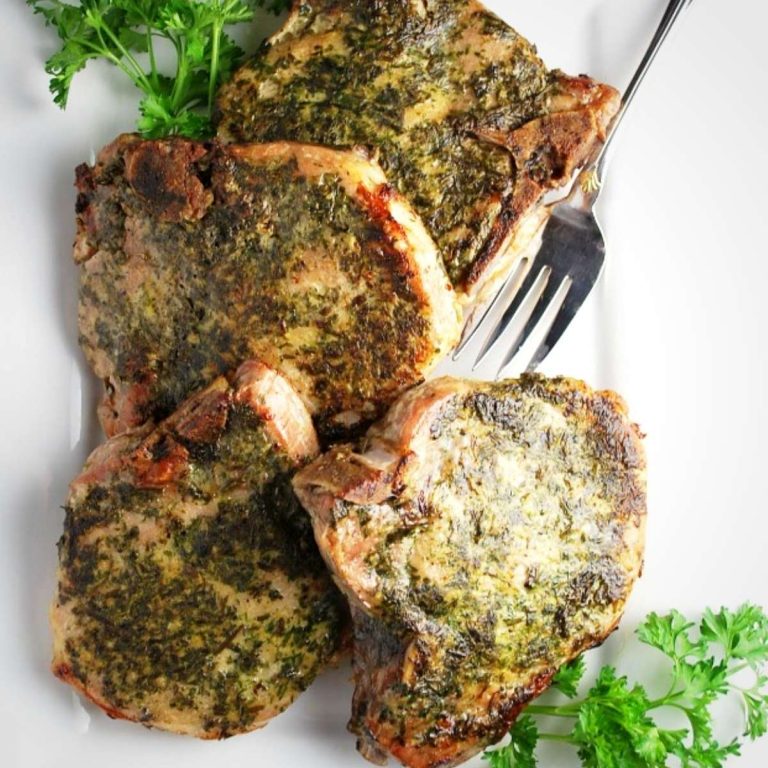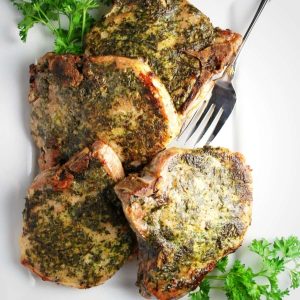 Sous Vide Garlic Herb Rubbed Pork Chops
Pork chops rubbed with a mixture of fresh herbs and olive oil cooked in Sous vide bath and broiled to finish
Ingredients
4

large bone-in pork chops

about 1 ½" thickness

¼

cup

parsley

10

large basil leaves

¼

cup

rosemary

stems removed

¼

cup

chives

6

sprigs thyme

remove stems

2

cloves

garlic

minced

1

lemon

zested

1

tablespoon

white balsamic vinegar

½

teaspoon

salt

1

teaspoon

fresh cracked pepper

¼

cup

extra virgin olive oil
Instructions
Pulse fresh herbs in a food processor until finely chopped

Add minced garlic, lemon zest, vinegar, salt and pepper and olive oil and blend until a nice paste is formed, add a little extra EVOO, if necessary.

Rinse chops and pat dry.

Rub all over with herb mixture and seal in a plastic bag (I seal them individually for even cooking), making sure to removed all the air (I use my Foodsaver for this).

Heat Nomiku to 140 degrees.

Drop sealed pork chops into the heated bath, making sure that the entire pork chop is submerged.

Cook for 2 hours.

Preheat the oven to 550 degrees F (broiler setting).

Remove chops from bag and place on a baking sheet coated in olive oil.

Broil chops about 3-4 minutes each side to crisp up the fat and lightly brown the outside.

Be sure to watch carefully, so they don't burn.

Serve immediately.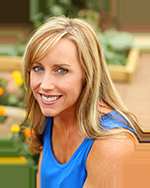 Latest posts by Amee Livingston
(see all)