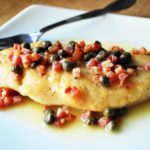 Print
Gluten-Free Chicken Piccata
A simple gluten-free chicken piccata recipe that's perfect for a busy weeknight meal made with finely diced pancetta, capers, lemon, and butter. 
Squeeze lemons for juice (you'll want about 1/3 cup) and set aside.

In a large ziploc bag, combine GF flour, salt and pepper.

Shake until blended.

Drop chicken cutlets into the bag, one at a time, and shake until coated.

Shake to remove excess flour.

Heat a large skillet over medium-high heat and cook the pancetta until fat is rendered and bacon is crispy.

Remove pancetta from the pan and set aside.

Add the butter and oil to the skillet and until melted, then add chicken and cook for 2-3 minutes until lightly brown on both sides.

Reduce heat to medium-low; add broth, pancetta, lemon juice and capers.

Simmer until sauce is thickened, about 3-5 minutes.

Serve over brown rice.