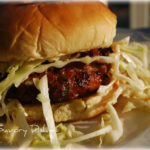 Print
Asian Style Pork Burgers
Ground pork burgers seasoned with Asian spices, grilled, and topped with tangy Asian slaw.
For the slaw:
2

cups

freshly shredded cabbage

2

tbsp

rice vinegar

1

tbsp

low sodium soy sauce

1

tsp

toasted sesame oil

1

tsp

natural brown sugar
For the burgers:
Mix all ingredients except buns together in a large mixing bowl. Don't be afraid to get in there with your hands and get messy.

Form 5 patties that are about 1 inch thick. Chill in refrigerator for about one hour. Meanwhile, make the slaw.
For the slaw:
Mix vinegar, soy sauce, sesame oil and brown sugar in a small bowl. Toss with cabbage in a large bowl. Set aside until burgers are done.

Place patties on a plate and refrigerate for about one hour. Meanwhile, make the slaw.
To cook burgers:
Grill burgers for about 4-5 minutes per side over medium high heat, or until juices run clear.

Lightly spray cut sides of buns with butter flavored cooking spray and place them cut side down on the grill. Cook for 2 minutes, or until lightly toasted.

Place burgers onto bottom sides of buns and top with Asian slaw and your favorite Asian condiments, such as sriracha, wasabi, or chili sauce.