This post and photos may contain Amazon or other affiliate links. As an Amazon Associate I earn from qualifying purchases. If you purchase something through any link, I may receive a small commission at no extra charge to you. All opinions are my own.
My very personal and transparent story about being young, fit, and healthy and receiving a shocking breast cancer diagnosis following a routine mammogram.
My Breast Cancer Diagnosis Story
I've been an avid exerciser for most of my adult life. In high school, I poured my heart into gymnastics and cheer. In college, when I did exercise (let's just say I was really social), I did whatever group fitness classes were hot at that time and lots of running.
Post-college, running was my jam and I dabbled in a little yoga. Over the past 15 years or so, I've participated in just about every group fitness class imaginable and ran a lot of races before I got into CrossFit and Olympic weightlifting.
Now, my workout routine mostly consists of strict gymnastic work, Olympic lifting, powerlifting, and a small amount of cardiovascular training. I feel strong, I've found my fitness groove, I'm in the best shape of my life… and I have cancer.
I Did Everything Right
It all started a couple of weeks ago when I went for my annual mammogram screening. I've been having regular mammograms for about 10 years now due to lumps resulting from fibrocystic breast disease, which is fairly common in young women. I have what doctors refer to as "busy breasts" because the tissue is very dense and can form fibroadenomas that come and go.
I was called back within a day or two and asked to come in for a follow-up mammogram, so the radiologist could take a closer look at an area that looked suspicious. At the follow-up visit, I was told that I would definitely need a biopsy, so it was scheduled for the following week.
My mammogram showed a cluster of microcalcifications in my left breast. The findings were very small, so they had to perform a stereotactic, breast biopsy that uses mammography to identify the location. This would be my 5th breast biopsy in total, I had two core needle biopsies in each breast back in 2013 for what would later be diagnosed as benign fibroadenomas.
I received my results a couple of days later that my pathology report showed that I had Ductal Carcinoma in SITU, high nuclear grade (level 3), and estrogen receptor-positive.
The Call
The kids and I had come home from dinner at our favorite Thai restaurant and there was a message on our answering machine from my breast oncologist, who is also our friend and neighbor, letting me know that he had gotten my biopsy results back and it was definitely something that we need to discuss.
He left the message at 8:22 pm, so I knew right then it was serious business. I sent a message to his wife to give him my cell number and asked if he was able to call me back. He returned my call right away and gave me the news, that I had cancer but it was caught early.
In SITU means that it hasn't spread past the ducts, the cells are contained. I was in shock and very calm. We discussed the pathology report and the next steps for treatment. The next order of business was an MRI to make sure that nothing was missed and the BRCA test to check my DNA.
It's Good To Be Proactive
My diet has always been pretty good, but over the last 5 years, it's been pretty great. I eat mostly whole foods and very minimal processed foods, with lots of vegetables and fruits, lean meats (I don't eat much saturated fat), healthy fats and fiber-rich whole grains.
I've been so passionate about my healthy lifestyle that I wanted to help other people achieve their best health and that's how I got involved in blogging and coaching in the fitness industry. I've invested so much time trying to do everything right and help to educate others, yet I still got cancer. Sometimes, we just can't outsmart our DNA.
If I could accomplish anything by sharing my story, I pray that it can increase awareness and motivate young women to get screened. If you can find it early, your chance of survival is great. I'm so grateful that mine was caught early before it became invasive. So for the love of God, check your boobies!
The Wait is Agony
Today, it's been one week since my breast cancer diagnosis. Yesterday, we met the plastic surgeon who will be doing my breast reconstruction. We discussed expanders, took some measurements, and went over the whole reconstruction process. It was a lot to digest. Thank God Flynn was there, he is a medical nerd and asked all the right questions. My head has been spinning with information. It's so hard to process it all.
To back up a bit, I decided with my oncologist to go with a bilateral mastectomy with reconstruction. Due to the nature of my cancer being high nuclear grade (level 3), meaning it can have a higher chance of recurrence, mastectomy was the safest option. Also, having estrogen receptor-positive cancer means that my hormones feed my cancer. In order to, hopefully, avoid being on Tamoxifen (a hormone suppressing drug) for 5+ years, the mastectomy was the best choice.
I may still need radiation and possibly, Tamoxifen if my MRI comes back that it's in my lymph nodes. The MRI is scheduled for tomorrow and I'll have those results back sometime next week. I went to genetic counseling today to take the BRCA test to see if I carry a gene that makes me more susceptible to breast and ovarian cancer. I'm praying that this comes back negative. If I'm BRCA positive, then a hysterectomy is recommended to prevent ovarian cancer. No more surgeries….two is enough.
Everything is happening so fast. I'm just trying to take things one day at a time. The physical impact of cancer is difficult, but the emotional impact of cancer is half the battle. No one can prepare you for this kind of news. Reality hits me in waves. There are definitely highs and lows. Being at the cancer center today made it very real.
I had a hard time driving home because I could barely see the road from the tears. How is this happening to my body? How is this even real? It feels like a really bad dream, but I don't dare ask God "Why me?" because really "Why not me?!" Kids don't deserve cancer. Pediatric cancer patients break my heart. We need to find a cure. Cancer seriously sucks.
My heart has grown so much more compassionate for people dealing with these things. I understand the fear of the unknown, the agony of waiting, the emotional roller coaster that takes you for a daily ride. At the same, the blessings flow from thoughtful messages to prayer requests and kind gestures from so many people. I feel the loving embrace of everyone around me and know that I'm definitely not in this alone.
Read more about my journey battling breast cancer and how you can reduce your own risk:
Ten Tips To Manage Stress and Improve Your Health
Five Things You Can Do Now to Reduce Your Risk of Getting Cancer
If you have recently been given a breast cancer diagnosis, below are some great resources for support.
The Pink Fund (for financial assistance)
BreastCancer.org (for resources)
Susan G. Komen (information and financial assistance)
Young Survival Coalition (for women diagnosed under 40)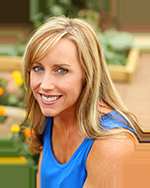 Latest posts by Amee Livingston
(see all)