This post and photos may contain Amazon or other affiliate links. As an Amazon Associate I earn from qualifying purchases. If you purchase something through any link, I may receive a small commission at no extra charge to you. All opinions are my own.
Today is the last day in the body that I'm familiar with, tomorrow begins my new normal. I would be lying if I said that I'm not afraid. I'm most nervous about how I'm going to feel when I wake up from surgery. I'm already prepared for the level of discomfort that I've been forewarned about.
I've talked to a few women who have been through it before and apparently pain meds and muscle relaxers are going to be my new best friend. Have I mentioned how much I hate taking medication?!! I'd almost rather endure pain than feel like a spaced-out crazy person, so we shall see how this goes….
Oh, and I'm also a terrible patient, because apparently I can't exercise for 6 weeks and I just might go nuts…or drive my family nuts, or annoy my doctor because I didn't listen, which ever comes first. I just don't know if I can wait that long and I already feel really, really sorry for my husband.
He is excited to have time off to take care of me. My friends from the neighborhood and the gym have created a meal train for us, so we are set on food for the next several weeks. I'm pretty excited to not cook for a while. I just wish it were under more fun circumstances. I have some talented foodie friends, so I know that everything will be delicious!
Cards and gifts have been coming in and really putting a smile on my face. I honestly cannot put my gratitude into words, everyone has been so amazing! Every message received and prayer spoken has deeply touched my heart. I have one hell of an army around me and I feel so protected and loved right now.
It's been a silver lining in this unfortunate situation. I've had so many women reach out to me after my diagnosis and tell me that because of my story, they made an appointment for a mammogram that they had been putting off. I'm so happy that I am creating awareness and encouraging women to be proactive. For now, this is my calling and purpose.
My friend, Aaron, sent me these cool paracord bracelets for the whole family. Wasn't that awesome?!! He is amazing for taking the time to make these for all of us.
My blogging friend, Biz, over at My Bizzy Kitchen sent me a box full of surprises, it was like Christmas all over again! I felt like a little kid opening each one. I love all of her inspirational messages.:)
She is such an amazing lady, you need to read her blog! She cracks me up all the time with her posts, her recipes are incredible and she is one of the most honest and genuine people that I know. Biz has very openly and honestly shared her journey through grief after losing her husband.
I've always admired her strength and courage. I was just blown away by her thoughtfulness and the fact that she took the time to buy, wrap and send me all these cool gifts. She sent me some pretty spring nail polish in one of the packages, so I think I'll treat myself to a mani/pedi today and paint my toes the robin's egg blue. It makes me happy to think of spring. Spring represents a new beginning.
I got this beautiful necklace from a couple close friends right after my diagnosis and I've worn it every day since.
Speaking of faith, my friend Betty gave me a beautiful leather-bound devotional book called "Jesus Calling" Enjoying Peace in His Presence. The next day, my friend Tiffany sent me the same book in the mail, but in a beautiful pink cover and the perfect size to carry around in my purse. Now, I have one for my nightstand and one to take wherever I go.
I've never been much of a devotional reader, but my mom has always been a fan of The Daily Word. She will share them with me from time to time. I started reading the passages in my new books and the one for today spoke directly to my heart…
"Let me help you through this day. The challenges you face are much too great for you to handle alone. You are keenly aware of the helplessness in the scheme of events you face. The awareness opens up a choice: to doggedly go it alone or to walk with Me in humble steps of dependence. Actually, this choice is continually before you, but difficulties highlight the decision making process. So consider it all the joy when you are enveloped in various trials. These are gifts from Me, reminding you to rely on Me alone."
Psalm 63: 7-8; James 1: 2-3
Wish me luck. Today, tomorrow and every day I rely on Him. Every day is a new day and each day is a blessing. xo~
Read more about my journey battling breast cancer and how you can reduce your own risk:
Three Words I Never Thought I'd Hear…You. Have. Cancer
Ten Tips To Manage Stress and Improve Your Health
Five Things You Can Do Now to Reduce Your Risk of Getting Cancer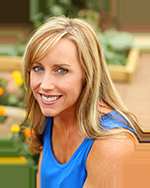 Latest posts by Amee Livingston
(see all)