This post and photos may contain Amazon or other affiliate links. As an Amazon Associate I earn from qualifying purchases. If you purchase something through any link, I may receive a small commission at no extra charge to you. All opinions are my own.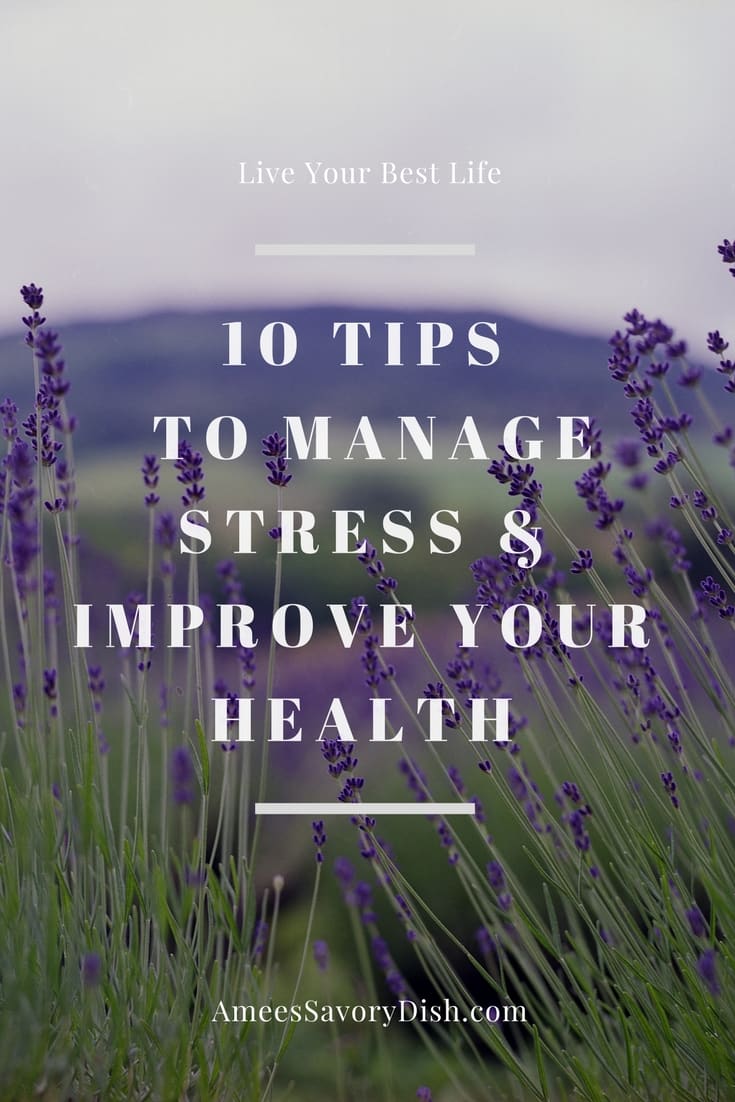 I'm sharing my favorite tips to manage stress and improve your health. Anyone can implement these stress-reduction strategies into their busy schedule. I was provided clothing by prAna for this post in exchange for my honest review. All opinions are my own.
---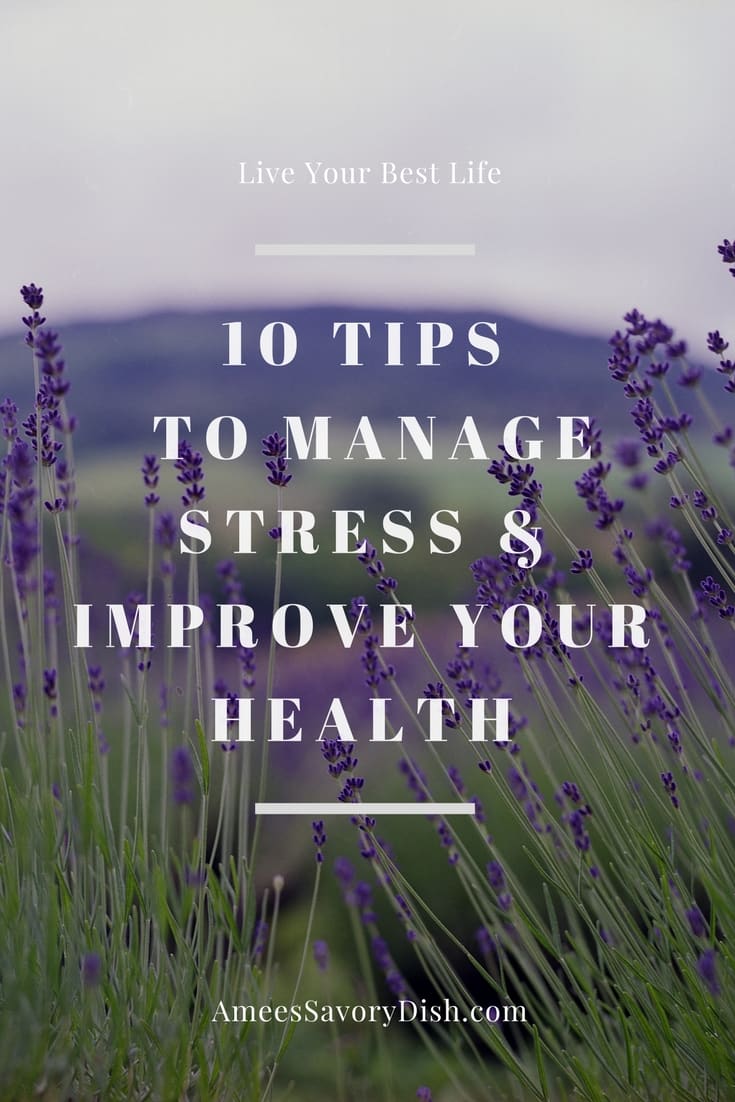 I love creating recipes, lifting ALL the weights, writing about food, working with my clients and spending time with my family. Those things bring me so much happiness and fulfillment. I have always embraced these aspects of my life with intention and commitment. One area of my life that I was failing to nurture was properly managing my stress levels.
After being diagnosed with breast cancer in March 2016, I realized that needed to change. I had a big priority shift and started focusing on body kindness practices as a part of my physical healing. It's not just about sweating it out in the gym, but also implementing the right recovery and relaxation strategies for achieving balance in the body.
Loving your body after breast cancer is an important part of the healing process. It's also important to be patient with your body. Healing after cancer can be a long, difficult road. We have to foster both our emotional and physical health. Our mental state directly impacts our overall wellness.
The following tips have been a big part of my own strategy to reduce stress and bring a little more zen into my life. I haven't always been the most patient person in the world, especially when it comes to slowing down and taking it easy when my body needs rest. I would say that this is an on-going process that I haven't perfected, but these tips really do help to shift my mindset.
My Top Ten Tips To Manage Stress and Improve Your Health
Get outdoors
Not only is it a nice to get outside and enjoy the fresh air, but your body makes Vitamin D when your skin is exposed to the sun. Definitely a big perk, since Vitamin D deficiency has increased in our country. Find outdoor activities that you enjoy and even get your family or friends outside to join in the fun. Everyone can benefit from soaking up the sunshine, even if it's just for a quick stroll.
Take long, brisk walks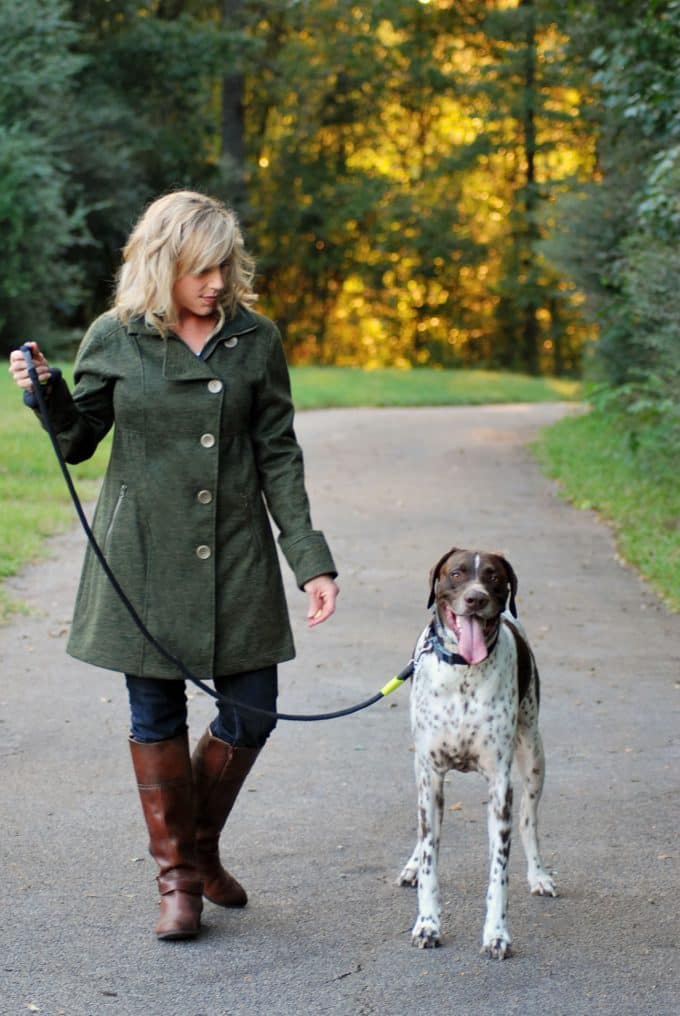 I love walking in my new prAna Kara jeans, they almost feel like I'm wearing yoga pants! If you don't know much about prAna, they have some of the most stylish, comfortable apparel around. I also love that they embrace sustainability as one of their core philosophies. *Pictured: prAna Martina Long Heathered Jacket in Dark Olive; prAna Kara Jean in Indigo.
Walking is a morning ritual that I have with my dog, Brownie. He doesn't let me skip a day, either! Talk about puppy dog eyes! He can sure lay on the guilt if we don't head out the door first thing in the AM. Dogs are great for accountability, since they also benefit from daily exercise, but you don't need a furry companion to get in your steps. Grab a friend or enjoy a little solitude to catch up on your favorite podcast.
Walking not only has tremendous health benefits, it's great for fat-loss, too. Make sure that you are moving at a brisk pace for at least 30 minutes to reap the best benefits.
My walking buddy is pretty darn cute, ya'll. He has me wrapped around his paw, for sure.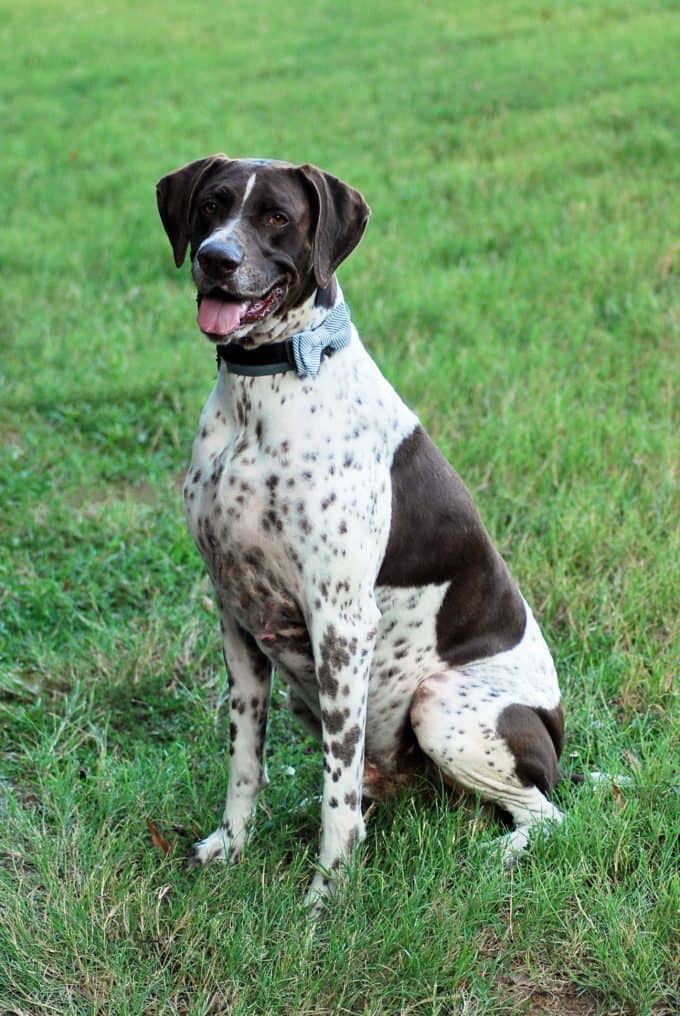 Keep a gratitude journal.
Gratitude journaling is incredible for mood enhancement and cognitive health. I heard Ben Greenfield talking about keeping a gratitude journal on his podcast, Ben Greenfield Fitness. Focusing on thankfulness every morning can positively reframe your mindset for the rest of the day. Being grateful has a big impact on your emotional well being. The link between gratitude and wellness has been studied in depth and there is some really convincing research explaining the neuroscience of why gratitude makes us healthier.
It's completely normal to deal with feelings of depression, denial and anxiety after cancer and I have worked through them all. I've really gained a healthy new perspective on life during this process. The biggest positive impact on my emotional health has been learning to celebrate the small victories, taking things one day at a time. My goals needed to be realistic.
I had to fight hard and consistently to get my strength and mobility back. Working through scar tissue is not fun! There was frustration and tears before there were PR's. Reminding myself of how far I've come, helped a lot when things didn't go as I planned. When I start my day thinking about all the wonderful things in my life that I have to be thankful for, this gratitude practice sets the tone for my day. Be appreciative each and every day for the blessings in your life. Think about the S.M.A.R.T. model when setting your goals.
Meditate
No, I'm not talking about sitting in a dark room and humming chants. You don't have to do anything eccentric to meditate, it can be as simple as unplugging from all media and stimulation and sitting in a quiet space. Meditation can be as quick 5 minute practice, you don't need a lot of time to reap the benefits. The benefits are incredible, too. I love the app Headspace for a simple daily meditation practice.
Get Organized
Lack of organization can be a big underlying cause of anxiety and stress. Declutter your space, it actually helps to clear your brain. I cannot work well in a messy environment, so the more organized I am, the more efficient I become. Even if organizing isn't really your thing, there are professionals that do this for a living, so hire someone else to get the job done.
Get Plenty of Sleep
Not getting enough sleep can wreak havoc on your body and drive up cortisol levels. Sleep changes your hormone balance and your recovery ability. It also affects how your body responds to nutrients, exercise, and stress.
At least 1-2 hours before bed, turn off the TV, computer, and cell phone and darken the room. Give your body some time to wind-down and relax. Establish a pre-bed sleep ritual that signals your body to switch gears. This will help boost levels of soothing chemicals in your brain to help you get plenty of Zzzz's. My friend, Regan Miller Jones, just started a great podcast called "This Unmillenial Life" (it's awesome, BTW!) and addressed this topic in her first episode. She shares some great strategies for getting more sleep, like eating a healthy snack before bedtime. This trick definitely works great for me.
Don't Sweat the Small Stuff
How often do we worry about things that really don't matter?! I'm the first to admit that I've always been a terrible worrier. For those of you that have battled cancer, I know that you can probably relate to what I'm about to say: Even after your treatment ends and you go back to your normal, everyday life, you still have this haunting fear in the back of your mind wondering if it's ever going to come back. After all, something triggered my cancer cells to turn on in my body. What's going to prevent it from popping-up somewhere else?
I've spent countless hours reading books, listening to podcasts, browsing scientific studies, talking to medical professionals and other survivors to try to gather as much information as possible to stay healthy and cancer-free. Focusing on healing through dietary and lifestyle habits have become even more of a priority over the last year.
Going through a life-changing diagnosis really helps put everything else into perspective. The small, trivial, things that used to worry me really aren't that significant anymore. I try to focus on the stress-reducing practices in this post, to remain optimistic and re-frame my mindset. Don't sweat the small stuff. It drains your positive energy. Smile. Laugh. Give freely. Love hard.
Exercise Regularly and Embrace Biofeedback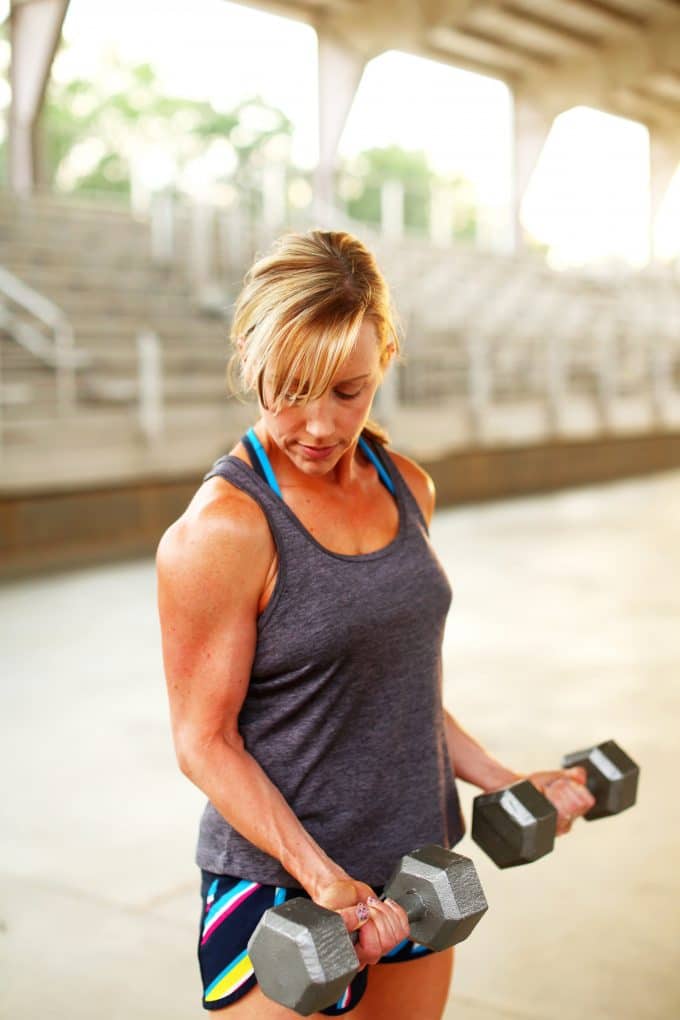 Shoot for at least 30 minutes of exercise five days a week, this includes walking, biking, swimming, lifting weights or any other physical activity that you actually enjoy. The more fun that you have exercising, the more you'll be motivated to keep doing it. I've learned to really listen to my body when it comes to training volume, workouts and recovery.
Your own biofeedback is one of the most important coaching cues for your training. I learned a lot about biofeedback training from Jen Sinkler (love her!) and how to implement it into my own training. There are days when I have a planned workout that gets changed on the fly, based on how my body is feeling that day. There's nothing wrong with ditching the cardio or weights for a calming session of yoga if you need a little extra recovery time. I used to freak out if I deviated from my training plan. Now I listen to my body and adapt as needed.
Focus on Eating Nourishing, Whole Foods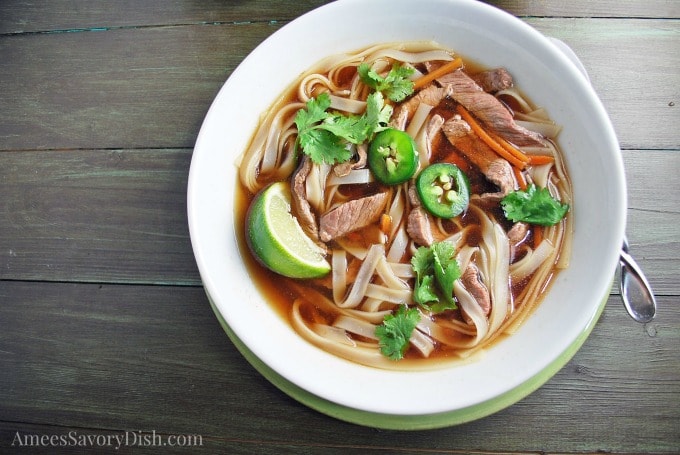 For those of you that are familiar with my blog, you know that I focus on quality, nutrient-dense food. I'm also a believer in treating yourself every now and then. Let's live a little! Life is short and sweet. Everything in moderation, unless your body hates you after you eat certain foods, then everything you can tolerate in moderation. 🙂
Try to focus on eating lots of vegetables and fruits, with lean proteins, healthy fats and whole grain starches in moderation. Eating a wide variety of whole foods can help you fill your nutrient requirements and prevent deficiencies. This can also have a huge impact on hormone and stress levels.
Learn To Say No
This is a BIG one for me. I am a people pleaser and always struggled with saying no to things that I really didn't want to do. There are only so many hours in the day and they need to be used wisely and productively. I would agree to certain projects or tasks that I really didn't have time for and then I would end up tired and stressed. Don't get me wrong, I still feel it's important to volunteer and help out when others are in need, just not to bite off more than I can chew.
I hope that these ten tips to manage stress and improve your health are helpful for you to create an action plan to manage the stress in your own life. If you have any other tips or comments, please feel free to share in the comments below.
I wish you all peace, love, success and happiness!
Read more about my journey battling breast cancer and how you can reduce your own risk:
Three Words I Never Thought I'd Hear...You. Have. Cancer
Five Things You Can Do Now to Reduce Your Risk of Getting Cancer
References:
Sleep Loss Results in an Elevation of Cortisol Levels the Next Evening: https://www.ncbi.nlm.nih.gov/pubmed/9415946
Latest posts by Amee Livingston
(see all)