*I'm a compensated member of the Beef Expert Bureau and proud ambassador for lean beef as a part of a healthy lifestyle. All opinions are my own.
There's a lot of confusion around healthy eating these days. People are unsure about how to eat for weight loss success with so much advice circulating the web.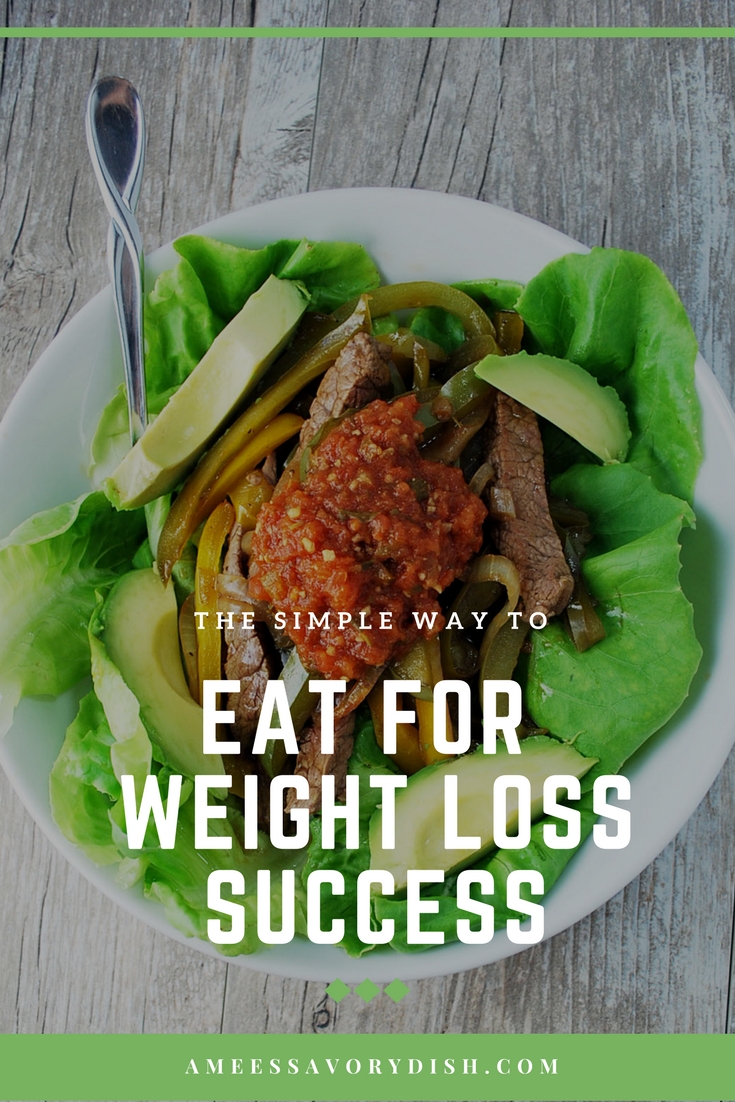 "Ketogenic diets are best for weight loss!" "High carb, low fat diets are best for athletic performance and body composition!" "Vegan diets are the key to health and longevity!" These are just a few of the dietary recommendations that are abundant on the internet and there are plenty of passionate supporters to back them up.
The most important consideration when choosing the best diet for YOU is to figure out what is really sustainable long term. Any eating pattern that is looked at in the short term and associated with language like "I'm going on a 30 day cleanse" or "I'm doing a 6-week diet plan" could be setting you up for disappointment, rebound, and failure.
I'm not here to promote any fad diets or tell you that one certain way of eating is going to work for everyone. We are all physiologically unique and respond differently to certain foods and eating patterns. If you have food sensitivities, you can work with a physician and/or dietitian to figure out what foods trigger your symptoms and tailor a diet to your individual needs.
I don't believe in eliminating healthy foods, just because some trendy diet says that it's a good idea. You better provide some good science to back that up! One really important thing to keep in mind is that YOU are the best advocate for your health. You know your body better than anyone else and it's up to you to pay attention to how your body responds to different foods when you eat them and make the necessary adjustments.
One helpful tool that I can share with you on how to build a healthy plate for weight loss is this handy (get it...using your hands...handy) guide from Precision Nutrition. No matter what dietary lifestyle pattern you follow, this tool is a helpful guide for estimating your portions. For men, you would double this amount, so two palms of protein, two cupped handfuls of carbs, two fists of veggies, and two thumb-size portions of fats.
This is great when calorie counting makes you want to pull all your hair out. Honestly, it's not necessary either when you begin to understand proper portion sizes. Calorie math can be flawed and this method is much less complicated.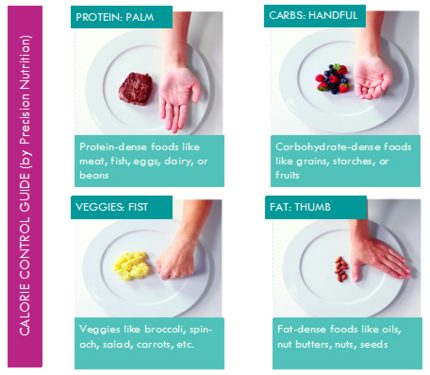 Photo credit: Precision Nutrition
Ten Tips To Eat For Weight Loss Success
Focus on the fiber shooting for 25-30 grams of fiber each day. Great sources of dietary fiber are beans, whole grains (oatmeal is a personal favorite), popcorn (I love air-popped popcorn for a fiber boost), acorn squash, berries (top oatmeal with raspberries or blackberries and you have an awesome fiber-rich combo!), chia seeds, etc.
Eat whole, minimally processed foods and try to limit or avoid refined flours and sugars as much as possible. Keep it real, y'all.
Go for healthy sources of fats like olives, avocados, nuts, and seeds. For the thumb-size portion of fat, it's about a tablespoon of nut butter, olives, olive oil or ¼ of an avocado per meal for a woman and double that amount for a man. It's also fine to enjoy real butter, cream, coconut oil, and egg yolks in moderation as a portion of your fat intake.
Chose lean sources of protein and shoot for 20-30 grams at each meal. A palm-sized portion of lean protein is about 3-4 oz. My favorite sources of lean protein are lean ground beef (90% or leaner), lean steak cuts, fish, chicken, egg whites (I usually do 1-2 whole eggs and 2-3 whites, the yolk can count towards your fats for the meal), cottage cheese, yogurt, and pork tenderloin. A recent Beef Wise study determined that lean beef can be included as part of a weight-loss plan with positive results. It's great to have a variety of tasty protein sources in your diet to keep things interesting. Lean beef is full of great nutrients for active individuals.
Eat 5-6 servings of vegetables every day. Carbs are not the devil. There are great sources of carbohydrates that you shouldn't avoid like nutrient-dense vegetables, so eat them daily and eat them often!
Avoid drinking your calories. Try to stick to water, unsweetened tea, and coffee. This can make a big impact over time and you'll stay hydrated without raising your blood sugar. Limit alcoholic beverages to special occasions.
Drink up the H20! Shoot for half your body weight in ounces of water. You can even add a small pinch of salt to your water for better absorption.
Keep a food journal to keep track of food intake and eating habits. You don't have to count calories to be successful, but tracking can be really helpful to help you recognize your eating patterns and how you can improve them. Tracking my food, periodically, is really helpful for me to hit my protein and fiber goals. Keep track so you can stay on track!
Incorporate probiotic and prebiotic-rich foods in your diet. Gut health can have a huge impact on your body composition and weight loss efforts. You may remember this tip from my post about What You May Be Missing In Your Weight Loss Strategy.
Eat slowly and stop at 80% full. This tip seems simple, but it can be really effective at reducing your overall food intake and improving your digestion process. Digestion begins with enzymes in your saliva, so take time to chew slowly and put down the fork between bites. Shoot for a minimum of 15-20 minutes per meal. This also allows time for an engaging conversation around the dinner table and a great opportunity to spend time with family.
Here are a few of my favorite recipes for breakfast, lunch, and dinner to help you eat for weight loss success:
Breakfast
Southwest Beef Breakfast Muffins
Healthy Pumpkin Spice Baked Oatmeal
Pepper Steak Breakfast Burritos
Wild Blueberry Matcha Protein Pancakes
Lunch
Dinner
Beef Sausage, Kale & Aged Cheddar Stuffed Sweet Potatoes
Instant Pot Mediterranean Beef
Balsamic Beef Asparagus Roll-Ups
Healthier Chicken Vegetable Casserole
Protein-Rich Snacks
Protein-Packed Stuffed Baked Apples
Avocado Deviled Eggs
Of course, there are many more recipes to chose from on my blog, so feel free to stay a while! These recipes just happen to be a few of my absolute favorites. 🙂
Just remember to be patient with your progress and kind to your body in the process. New habits take time to establish and small changes are always better than never getting started. <3
Latest posts by Amee Livingston
(see all)