This post and photos may contain Amazon or other affiliate links. As an Amazon Associate I earn from qualifying purchases. If you purchase something through any link, I may receive a small commission at no extra charge to you. All opinions are my own.
I started a new strength program this week, after being given the green light to start lifting again. I was eager to jump in full speed, it's been a long time since I've thrown weight over my head, but I'm also being smart about my training and not getting too crazy. I don't want to pull or tear anything and end up out of commission again. If something doesn't feel right, I don't do it. However, lots of super heavy lower body work is definitely in order! I'm feeling stronger every day.
This pretty much sums up how I felt going into my session Monday…
This week's training consisted of 5& 10RM back & front squats (definitely not my old max…don't freak out), snatch and clean & jerk ladders, 5 & 10RM pause deadlifts, 10RM strict press and lots of ab work.
I was really giddy about getting in the olympic lifts, because I couldn't wait to see how my lifting mobility is one month post-op. My squats felt great, hard, but really good.
Monday was tough. I was only able to build to 160 for a 5RM, didn't want to get too crazy after not squatting weight in over a month.
Also, I've lost some weight over the last few months, so I'm in desperate need for some meat on these bones!! Bring on some muscle gains!!! I've tried to keep my protein up and drink up my BCAA's. It did help a lot with having good muscle retention after my unintentional weight loss.
I felt great starting my snatch lifts, starting off with power snatches and then moving into full snatches into the ladder. I worked up to 82% today, which I couldn't be more pleased with after everything my body has been through, lately.
It's crazy how comfortable my olympic lifts felt this week, but I can't even hang from a pull-up bar and do one single pull-up without feeling like my pecs are ripping apart. The expanders put a lot of pressure on the pectoral muscle, so it's not that I've necessarily lost the strength, It's just too painful to get into that position to move.
It's more myofascial pain than anything else, certain positions pulling on taut bands of muscle and scar tissue. I know it will get a lot better once the implants go in and I'm doing a lot of mobility to try and work this mess out. My implants go under the muscle and, unlike regular breast augmentation, there's no breast tissue between muscle and skin. I've already amused myself flexing my pecs in the mirror.
The first of April, Flynn competed in the USA Weightlifting Masters Nationals in Savannah, GA. I wouldn't miss it for the world and I'm glad that I was feeling great to travel down to watch him perform.
He wasn't really thrilled with his performance, but to his credit he was still fighting off a bad respiratory infection, recovering from a torn triceps and dealt with a lot of stress with my diagnosis and surgery the month prior. It really took a toll on his body and his training.
I'm super proud of him for going out there, despite everything and giving it his all! Even though he struggled on his snatch lifts, he came back and nailed his clean and jerks! It was a great learning experience for him. Now he's even more dedicated and focused on improving his performance for next year.
A little well-deserved R&R….
After Savannah, we spent the weekend in Hilton Head, SC at the Sonesta Resort. This is our view from our balcony. Pretty sweet, right?! I'm going to give you a little tip. I snatched this place up on Hotwire.com.
Yep, pretty awesome, right?! I'm a deal finder and I always search 4+star hotels on Hotwire in places that we want to stay. I know that we usually can't go wrong with 4 stars and all of the 4 star hotels on HHI are amazing.
I just love a deal, don't you?! If you go to Hilton Head, it's a great way to save money on lodging. You're welcome.
Then Flynn had to head back to work to pay the bills and the kids and I stayed with my parents in Bluffton for several days. It was a lot of R&R and really good food.
I managed to get in my daily workouts and even ran into this guy on my morning jog. He was good motivation to start doing sprints.
One of my favorite meals in SC wasn't a fancy one, it was at Fat Patties, a new burger joint in downtown Bluffton. I love the vibe of this place and the food was delicious.
There's just nothing better than a good burger and french fries. I don't indulge like this often, but when I do it's totally worth it! I didn't go for dessert, but my daughter said the burnt marshmallow ice cream is the bomb! They also make their own adult ice cream with different liquors. Cheers!
Love the outdoor bar with live music at night.
My epic Fat Patties Burger….
I worked on making a few new workout videos for Instagram. Here's one that I did for some banded squat mobility that I've been working on. This works outer thighs, hip abductors and quads. Trust me, you'll feel these.
I've been giving my legs a lot of extra love, lately, with these squats. Place the band around your quadricep just above the knee (I use performance bands, but you can use a regular band and tie it to the length you need for resistance) and, with proper squat form (chest up, neutral spine, knees tracking over toes) lower into a squat driving the knees out against the band as you go down and come back up. They are great for those with knee caving issues when squatting.
I had to squeeze in some last minute studying for my NASM (National Association for Sports Medicine) Certified Personal Trainer exam, because I had it scheduled for the day that I came back home.
I signed up for the certification last fall and utilized every bit of the 6 months that you have to take the test to study. I was really impressed with the curriculum, it's very comprehensive.
I wanted something meaty in anatomy, kinesiology, programming structure and fitness assessments and I definitely got all of the above and more.
The NASM test is a proctored exam, so I had to go to a testing center in Atlanta or Macon. I chose Macon, since it's on the way home from my parents. I was sweating bullets taking that test, it was pretty tough!
Thankfully, I passed and should receive my certification sometime in the next week or so. It feels good to add this to my list of credentials.
I passed! Yay!!
I'm working on a new project to add a fitness page to my website soon. I'll keep you updated when it's ready to go! Fun things to come. Have a great week friends! xo~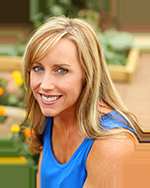 Latest posts by Amee Livingston
(see all)