This post and photos may contain Amazon or other affiliate links. As an Amazon Associate I earn from qualifying purchases. If you purchase something through any link, I may receive a small commission at no extra charge to you. All opinions are my own.
The road to recovery starts with the first step.
What a difference a week makes.
I'm officially on the road to recovery. It will be one week tomorrow since I had the bilateral mastectomy surgery to remove my breast cancer. Until recently, I was too loopy on Percocet and muscle relaxers to type up an intelligent update, so I figured it would be best to save that for a coherent state of mind. 🙂
I stopped taking Percocet two days ago and switched to alternating Advil and Tylenol to manage my pain. I cannot tell you how much better I feel having my brain back. I don't like feeling foggy, dizzy and nauseated. It was a necessity when I first came home to manage my pain, but as soon as my discomfort became tolerable I quit taking the hardcore stuff. I remember when Oprah had an entire episode of housewives hooked on painkillers. I can't imagine actually enjoying that feeling. I'll take an exercise-induced adrenaline high, thank you very much.
Painkillers made me whiny, which led to my first official meltdown on Saturday. It's not that I haven't already had a good cry, I've definitely had a few moments during this cancer process, but I just apparently needed to let it all hang out. I was trying to fix my own breakfast and not bother Flynn, he was busy grilling some food to freeze later and I had already asked him to help me with a few things that morning.
I'm not a fan of having to constantly ask for every little thing. I got up pretty early and I was really hungry, so I heated up some oatmeal that he had made and portioned out for me. I wanted to let him sleep in, so everything went well making coffee and heating up a bowl of oats all by myself. However, I struggle with opening medicine bottles and have strict orders not to reach for high objects, so I had to wait until he got up to get my meds and some protein for my meal.
When Flynn woke up, he got out the protein powder and the shaker bottle and gave me my meds, so I poured the almond milk in and added the whey protein in the jar and no matter how hard I tried, I could not close the lid. Something so simple was damn near impossible. It hurt like hell to snap a lid shut.
Flynn had stepped out of the room to check the grill and after a few minutes of struggling, the waterworks started to flow. I've never felt so helpless in my life. I'm used to being the strong one, now I'm the dependent weakling. Let me tell you, it really sucks.
I know that I shouldn't complain. I knew that this would be the hard part of the process and it would be a pretty lengthy process to feel back to normal again. On a good note, everything went really well with my mastectomy surgery. I had a bilateral nipple-sparing mastectomy, so instead of having an incision that goes horizontally across the top of my breast, he was able to cut along the bra underwire line on the side of the breasts to remove all of the tissue.
This is great from a cosmetic standpoint, since my incision will not be visible from a frontal view. My surgical oncologist couldn't guarantee that I would be able to keep my nipples if the pathology report, from the surgery, came back showing that the cancer was too close to the nipple to safely keep them. If that were indeed the case, I would require another surgery to remove them.
Luckily, the margins were wide enough, so they can officially stay and all cancer is gone from my breast and surrounding tissue after the mastectomy. That means no more drugs or treatment is necessary going forward. This is incredible news! Since my real boobs tried to kill me, I'm looking forward to having a nice, perky fake pair. At least the new ones will play nice from now on.
The drains have been the worst part of the initial recovery process. One of my drain tips is stabbing me in the armpit, so that doesn't feel that great. I can see it pushing through the skin and it grosses me out. Apparently, having a little more body fat would serve me well right now. My friend, Jennifer (who is an RN), brought me some numbing cream to rub where the port is poking me.
I'm really thankful for my many nurse friends giving me advice and helping me during my recovery. I have two drains on each side of my chest that empty into these plastic bulbs that have to be emptied several times a day. Flynn happily took on this job and he's been logging the output in a spreadsheet each day. I'm really looking forward to getting these things removed. It's pretty annoying lugging them around everywhere I go. It also makes sleeping a bit challenging, so I've slept on the couch since I got home last week. If I accidentally flip over and tug on one of these tubes, it doesn't feel so hot.
I had my big reveal a couple days ago. I was really, really scared to look at myself in the mirror. I needed to change out my gauze, so Flynn helped me take off my bra. My poor chest looked so battered, Flynn compared it to me strapping on a bulletproof vest and someone opening fire at my chest, it was so black and blue. But, honestly, it didn't look as terrible as I expected.
I got expanders put in immediately after my mastectomy and they were able to add a little saline the day of the surgery. For those of you that aren't familiar with this process, they slowly fill the expanders with saline over the course of a couple months until you reach the size that you want. I've been forewarned that it hurts like hell when they fill them, something great to look forward to. You get the best results by stretching the skin gradually.
Luckily, I'm totally cool with small boobs. I'm too old to earn a living sliding down poles and running will be so much easier. Eventually, they will look pretty normal, but they'll never feel the same. Right now, I have almost no feeling in my breasts, except from the pain from the expanders and drain tubes. It feels like I'm toting around a couple of heavy rocks in my bra and they're pushing on my chest.
Everyone has been so amazing to me during this whole process, my friends, my family, the blogging community, my doctors, my nurses, the Harbor of Hope support group and the many women who have come forward to tell me about their own breast cancer journeys.
I am so thankful for my wonderful support system.
I feel so blessed to have all of these wonderful people in my life and I'm really thankful for all of my new connections. God has this really cool way of bringing people into your life at just the right moment. This diagnosis has changed me forever, but I love the new version of me that's emerging. I've never felt so full of life and so appreciative that I'm living it.
Read more about my journey battling breast cancer and how you can reduce your own risk:
Three Words I Never Thought I'd Hear…You. Have. Cancer
Ten Tips To Manage Stress and Improve Your Health
Five Things You Can Do Now to Reduce Your Risk of Getting Cancer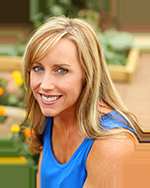 Latest posts by Amee Livingston
(see all)