This post and photos may contain Amazon or other affiliate links. As an Amazon Associate I earn from qualifying purchases. If you purchase something through any link, I may receive a small commission at no extra charge to you. All opinions are my own.
Cornbread dressing gets a delicious and healthy makeover with the addition of quinoa, cranberries, and pork sausage.
*This post was sponsored by Jones Dairy Farm. All opinions are mine and not influenced in any way.
I'm excited to share a unique dressing recipe for the upcoming holidays that I created for Jones Dairy Farm. The recipe uses quinoa, cornbread, dried cranberries and Jones Dairy Farm All-Natural Pork Sausage.
You can find my cornbread dressing recipe and over 25 more unique creations at StuffingandMore.com, complete with cooking tips, a fun recipe poll (Stuffing vs. Dressing) and more!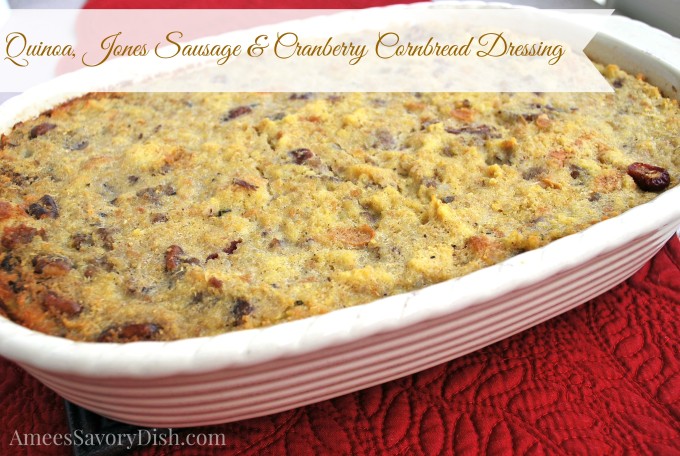 I love learning about the farms behind the foods that we eat. We've been eating Jones Dairy Farm sausage patties for several years, they are my kid's favorite frozen patties. The Jones family farm has been in business for over 125 years, starting as a dairy farm. When the head of the family, Milo, became sick with Rheumatoid Arthritis, they were unable to keep up with the farming operations. However, Milo, could make his mother's killer recipe for sausage and became a pioneer in food manufacturing.
In 1920, Jones Farm became the first meat-packing plant to quick-freeze sausage. The rest is history and now you can find a full range of products, including bacon, ham, Canadian bacon, turkey sausage, turkey bacon, braunschweiger and scrapple. Still run by Phillip Jones, a sixth generation member of the Jones family, the mission remains the same to deliver natural, high quality, authentic products that you and your family can feel good about. Don't forget to follow Jones Dairy Farm on Facebook and Twitter!
This cornbread dressing is a great side dish next to roast turkey, chicken, or pork.
I hope you enjoy my healthier cornbread dressing recipe!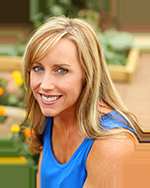 Hi, I'm Amee and I'm completely obsessed with recipe makeovers! I am a southern girl raised in South Carolina and currently living in the Charlotte, NC area with my husband and two children. I am a personal trainer, cancer exercise specialist, foodie, recipe developer, freelance content creator and breast cancer survivor.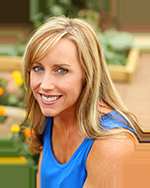 Latest posts by Amee Livingston (see all)