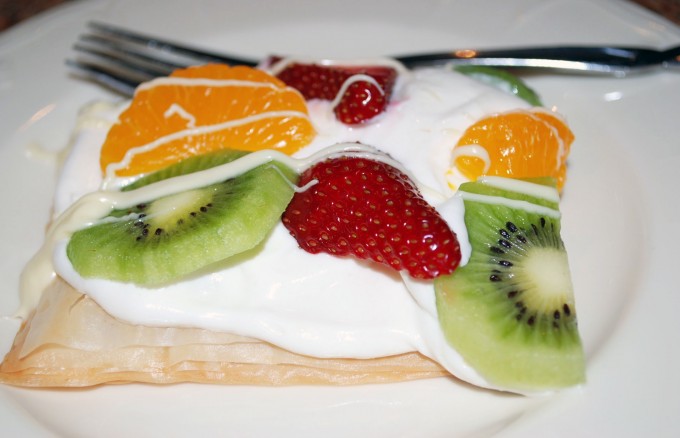 This is another amazing dish from Skinnytaste.  This tart is so flavorful, delicious and low in calories.  I love the touch of drizzled white chocolate on top.  I had to give some of this tart away so I wouldn't eat it all.  I don't think it counts as "low calorie" when I eat three portions!!  I loved this summery dessert and I hope you do, too. Enjoy~
Phyllo Fruit Tart
Courtesy of Gina's skinny recipes
Ingredients:
1 tbsp organic butter, melted
1 tbsp canola oil
8 sheets phyllo dough (14×9)
1 package fat-free cream cheese
3 tbsp powdered sugar (or whey low powder)
1 cup cool whip (or Truwhip)
1 can mandarin oranges, drained
4 kiwifruit, peeled and sliced
1 ½ cups sliced, fresh strawberries
1 oz white chocolate, melted (I used about 2 oz)
In a small bowl,combine butter and oil.  Place one sheet of phyllo dough on a baking sheet.  Brush with butter mixture.  Repeat with remaining sheets.  Bake at 400 degrees for 5-7 minutes until browned.  Cool completely.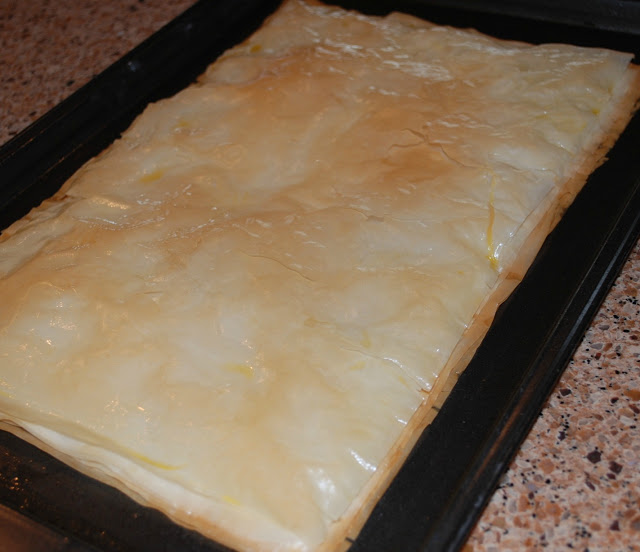 Beat cream cheese until smooth.  Add powdered sugar.  Beat Well.  Fold in cool whip.  Spread over cooled phyllo. 
Top with fruit in your favorite fancy pattern. 
Melt chocolate in the microwave and drizzle over fruit. 
Servings: 8; Points:4; Calories 183; Fat 6 grams; Protein 4.5 grams; Carbs 26 grams; Fiber 3
grams