This post and photos may contain Amazon or other affiliate links. As an Amazon Associate I earn from qualifying purchases. If you purchase something through any link, I may receive a small commission at no extra charge to you. All opinions are my own.
Recently, I competed at the National Masters competition in Savannah, GA for Olympic Weightlifting. It was only my second USA Weightlifting competition since I started competing in this sport this year and I might add that it was an awesome experience!!
I started learning Olympic weightlifting in CrossFit four years ago and Olympic lifting was definitely one of the most challenging aspects of the sport. It takes YEARS to refine technique and I continue to work on dialing-in the details on a daily basis.
I have long legs, a short torso and thrive at metabolic conditioning work, so I am definitely stepping outside of my comfort zone when I step onto that platform. Improving my own confidence and knowledge in the sport was the main reason that I pursued a certification as a Level 1 Sports Performance Coach with USA Weightlifting last year.
I started working with Coach Sean Brown from HD Barbell after my first competition at the Buford Open in January. My husband has been working remotely with Sean since last summer and has seen tremendous progress.
Impressed by his credentials, programming and coaching demeanor, I was thrilled to get a spot on his team when he had an opening this year. Every coach knows the importance of having a coach and a supportive team for encouragement.
Since my husband and I primarily train at home in our own gym, having a remote coach is the best way to stay accountable and on track to meet our goals. Not to mention, constructive criticism is so much cooler in an Irish accent. 🙂
Olympic Weightlifting 101
I thought it would be great to share a little insight into how an Olympic weightlifting meet is run and briefly explain the sport, for those of you that aren't familiar. Olympic weightlifting is a weight class sport, so you compete against athletes the same gender, age group, and weight class. The weight classes for women are 48, 53, 58, 63, 69, 75, 90 and 90+ kg. I currently compete as a 53 kg lifter. If you are over the age of 35, you are considered a masters athlete.
For Olympic weightlifting, you have two lifts to complete, the snatch and the clean and jerk. For each lift, you get 3 attempts, increasing in weight each time unless you have a failed lift. If you miss, you can follow-up with an additional attempt to make the same weight or increase, if you want to jump up in weight. Whatever weight you and your coach decide on as your opening weight (your first lift), you need to make sure it's a weight that you are confident that you can lift successfully. It will set the tone for the rest of your lifting session.
As you approach the platform, you have a 1-minute running clock to complete the lift. You lift in front of three judges and they will signal with a light or a flag if the lift is good. You want to always make sure that you get the cue to drop the bar after you finish the lift.
There is a warm-up area behind the platforms where you prep for your session. Usually, your coach will take you through a warm-up and increase the weight load to, at or near, your opening weight. After introductions are made, you have 10 minutes to get ready to compete.
Getting Introduced
We decided on 40 kg as my opener. I was confident that I could nail it on the first try.
Piece of cake.
Then we went to 43 kg.
Another good lift. Still felt good at this weight. Then we bumped to 46 kg. My current snatch PR is 45 kg. This was a gamble, but I really shouldn't have missed this lift. As you can see, I got under the bar.
But I lost it behind me…ugh!!!! If I would have made this lift, I would have taken third on the podium by 1 kg. Next time!!! Goals!!!!!
I opened my clean and jerk session with 55 kg. Here, I'm about to jump from the power position to get under the bar.
Then I went to 57 kg.
Hitting my last clean and jerk at 61 kg.
Overall, I was pretty happy with my performance. Five out of six ain't bad! Getting to compete at Nationals this year was a really big deal after being diagnosed with breast cancer exactly one year ago. Two surgeries later and a lot of hard work and there I was….standing on that platform showing cancer who's boss. Hell yeah!
It felt like I had climbed a mountain and reached the top, even though I didn't make the podium, I made my goal to qualify and compete at nationals. This experience was priceless and I was so impressed with the way Sean coached me through this meet. I know exactly what I need to do to accomplish my goals for next year.
Put in the work, set your eye on the prize and see where it takes you. Honestly, I'm just really in love with the journey. Are you working towards goals this year? Make sure that you have fun and embrace the process. Progress requires patience and slow progress is always better than no progress! Now go get after whatever sets your soul on fire! You've got this!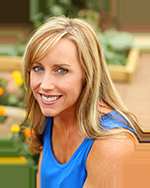 Latest posts by Amee Livingston
(see all)