This post and photos may contain Amazon or other affiliate links. As an Amazon Associate I earn from qualifying purchases. If you purchase something through any link, I may receive a small commission at no extra charge to you. All opinions are my own.
A list of favorite motivational songs to lift your your mood and boost your spirits to tackle a tough workout or get through difficult times.
When I first read Amee's post, "Three words I never thought I'd hear…" I had lots of emotions.. and then it hit me, this could be anybody. As a registered dietitian, fitness enthusiast and the blogger behind Cape Fear Nutrition, I believe exercise and nutritious food is the ticket to good health. However, this I cannot deny: Cancer does not discriminate. Cancer affects the fit, the strong, the young and the beautiful. Amee is all of the above.
Today I am honored to be Amee's guest blogger. With the help of Amee herself, and some of our mutual friends from the blog brûlée, I 'm putting together a playlist of fight/fitness/motivational songs. The list is a mix of 31 songs; genres range from Classic Rock to Country Music. Please share your favorite fight song in the comments section below. More importantly, please use the #ameestrong Playlist for whatever it is you might need a lift with right now. GO!
You've Got a Friend in Me, Randy Newman
Always Look on the Bright Side of Life, Monty Python
You Raise Me Up, Josh Groban
One Day More, Les Miserables Soundtrack
Beautiful, Christina Aguilera
What you Own, Rent
Brave, Sara Bareilles
Stronger, Kanye West
The Fighter, Gym Class Heros
Survivor, Destiny's Child
I will Survive, Gloria Gaynor
Girl on Fire, Alicia Keys
Fight Song, Rachel Platten
Like a Prayer, Madonna,
Roar, Katy Perry
Stronger, Kelly Clarkson
I Won't Back Down, Tom Petty
Raise Your Glass, Pink
I'm Still Standing , Elton John
Walk On, U2
Beautiful Day, U2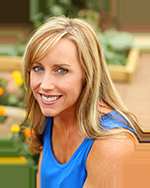 Latest posts by Amee Livingston
(see all)